A PERT chart, or PERT diagram, provides an excellent way to schedule, organize, and map out activities for a project.
There are a few different types of PERT chart software available on the market, so it's important to choose the right one for your needs. When selecting a PERT chart software program, it is essential to consider the features that are most important to you.
This article will analyze the different PERT chart software options out there, helping you make an informed decision regarding the best software for you. No matter which project management software program you choose, ensure that it offers the features you need to create PERT charts quickly and effectively. With the right software, creating PERT charts can be a breeze.
What Is the Best PERT Chart Software to Use in 2022?
Read through the following list for details on the best PERT software choices on the market today to help select the ideal one for you.
Lucidchart
Creately
Visme
SmartDRAW
Visual Paradigm
EdrawMax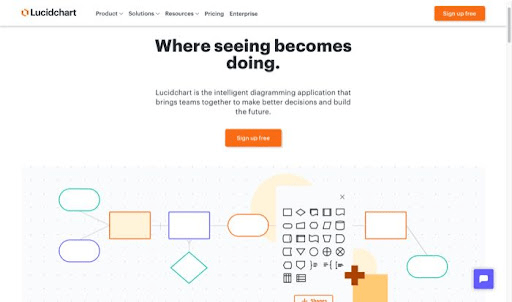 Lucidchart is one of the most popular software options for creating different types of diagrams, including the PERT chart, which is an excellent visualization tool. Lucidchart provides all the necessary features for chart creation, making it a valuable and easy-to-use tool for professional diagramming.
Lucidchart is an online program that offers a free trial plan, allowing you to work with your team and draw and share your charts.
I like Lucidchart for the abundance of different features, templates, and possible diagrams.
Top Features
Collaboration and communication: To make your project go more smoothly, use real-time co-authoring, in-editor chat, shape-specific comments, and collaborative cursors to connect with your team.
Advanced customization tools: Lucidchart provides a whole range of professional tools for customizing your chart.
Powerful integration: Connect with Google Workspace, Microsoft, Atlassian, Slack, and more.
Extensive library: Pull from many different templates, diagrams, and symbols within Lucidchart's library.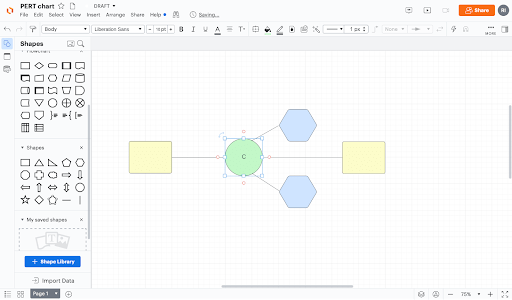 Pros
Intuitive interface
Ability to use the software on your PC, Mac, or Linux
Free trial plan
Shared vision
Many templates to use
Cons
Lack of default appearance settings
Set limit of width and height of PDF file
Pricing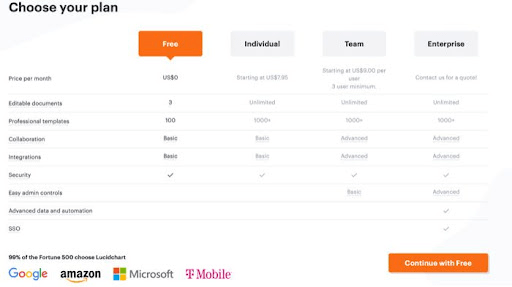 Lucidchart offers four pricing plans:
Free: This pricing plan offers the chance to start your work with the software to see if it works for you.
Individual ($7.95/mo per user): This package offers over 1000 templates along with the basic functions of collaboration and integration.
Team ($9.00/mo per user): This pricing plan is suitable for small teams, allowing for the editing of unlimited numbers of documents and the use of more than 1000 templates. In addition, it unlocks advanced collaboration and integration features as well as simple admin controls.
Enterprise (contact for details): This service package is for you if you work with a big team. The enterprise plan includes SSO and all advanced features.
Why we recommend this tool: Lucidchart is the number one software for creating charts and making diagrams. It is a professional app with a huge library of templates and symbols and all-important features for your charts.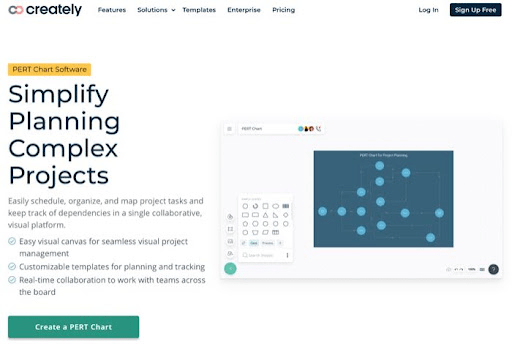 Creately is great software for creating PERT charts and other diagrams. With Creately, you can map project tasks, create schedules, and organize with ease. Visualization tools help with chart presentation. With its powerful customization tools and tons of different templates, create a professional chart with Creately in no time at all.
What I like the most is that in Creately, everything is at hand; all the templates you will use are easy to find in the library.
Top Features
Powerful visuals: Add, edit, delete, customize, and create professional charts.
Advanced data integrations: On Creately, you can include items from various platforms that are typically not connected.
Library of templates and symbols: Explore an impressive array of templates and symbols to help you implement your ideas into your charts.
Real-time collaboration: Inform your team in real time about all updates, and work together regardless of distance.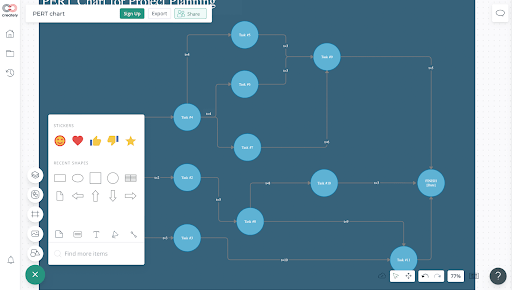 Pros
Drag and drop feature
Tools for professional diagraming
Intuitive software
Free trial package
Cons
Minor bugs while editing
Web tool used to crash
Pricing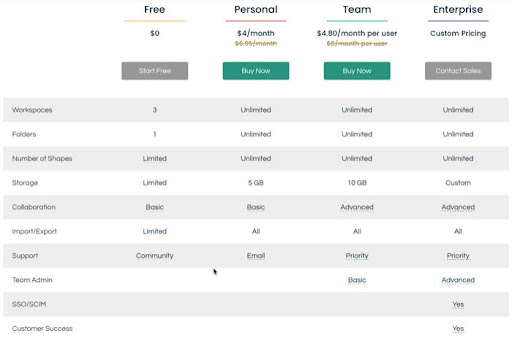 In Creately, there are four service packages included. Take a look and see which option works for you:
Free: The free trial plan of Creately includes basic, limited features, three possible workspaces, and one folder to start from.
Personal ($6.95/mo per user): This plan is good for one person. It unlocks all features and allows uploading files with a storage plan up to 5GB.
Team ($8/mo per user): This package is great for small teams and includes basic options for team admin. All features are allowed.
Enterprise (contact for details): If you work with a large team and need unlimited professional options, this plan is for you.
Why we recommend this tool: Creately is ideal for those who want a simple user experience and wish to get started. It is a great tool for making PERT charts, mapping out project tasks, organizing work visually, and creating schedules. With the powerful customization tools and extensive library of templates and symbols, you will be able to create professional-looking charts with ease.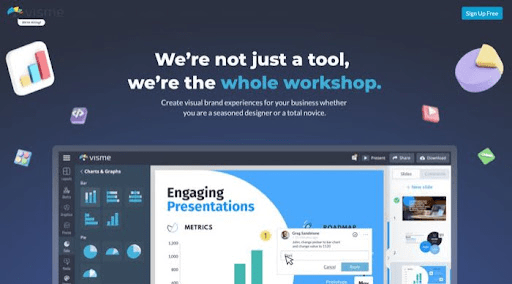 Visme is a simple professional tool for creating a visual brand experience for your business. This software is wonderful for people working as seasoned designers or total novices. It offers all important features for different diagrams, including the PERT chart.
One of the benefits of the Visme software is that it comes with templates for a wide range of graphics. Also, the unlimited time period for the free pricing plan cannot be beat!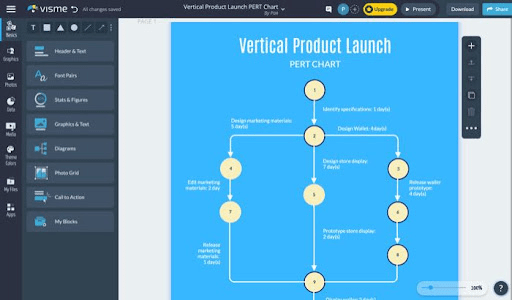 Top Features
Template library: Visme software provides a wide range of templates for each type of graph or chart.
Data updates: Visme includes historical snapshots, live updates, and real-time updating.
Free tutorials: Learn how to use the Visme through its free online course and video tutorials.
Pros:
Pre-designed templates
Simple UI
Variety of tools for optimizing graphic or web design
Cons:
Can be difficult to find what you are looking for
May be confusing to use at times
Limited number of templates and symbols
Pricing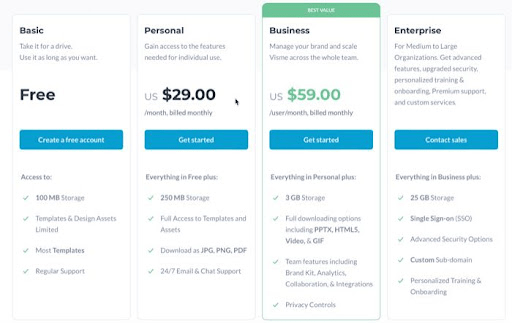 Visme offers four pricing plans: Free, Personal, Business, and Enterprise.
Free: The free plan is good for taking the program for a drive. It includes the basic features so you can give it a shot and see how it works.
Personal ($29.00/mo per user): This level unlocks all features and allows you to create unlimited projects.
Business ($59.00/mo per user): This is great for small teams and includes team collaboration features.
Enterprise (contact for details): Gain access to all advanced features as well as custom sub-domains in this pricing plan.
Why we recommend this tool: Visme is a fantastic program due to the numerous templates and online courses available. The easy user interface and customization options allow you to quickly create an accurate, professional PERT chart owing to its intuitive design and tools.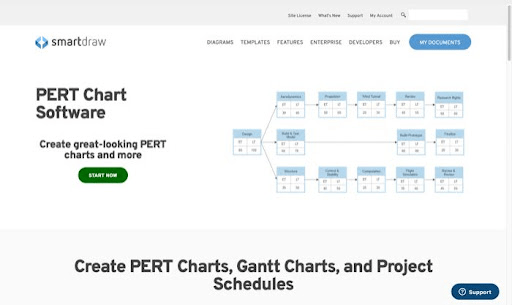 SmartDraw is known for its vast library of templates for a wide range of charts and diagrams. SmartDraw is also an excellent tool for creating a PERT chart.
Create a PERT chart in minutes with the help of SmartDraw's simple guide. Simply choose a template and enter your project data to generate your PERT chart with symbols, numbers, and task flows.
I prefer SmartDraw software because it is at the top of all the tools for creating charts. It has all the needed features, powerful integrations, and advanced customization tools.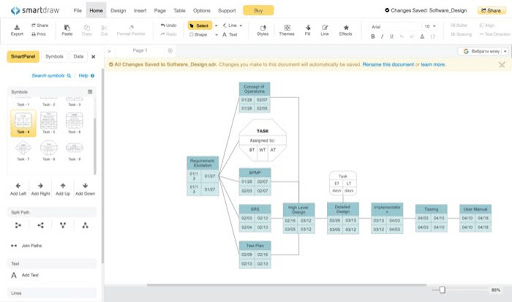 Top Features
Advanced formatting: SmartDraw includes improved professional customization tools and a huge library of symbols and templates.
Powerful integrations: SmartDraw works with MS Office®, Google apps, Jira, AWS, Teams, and more.
Share and export: Move your files and documents in all formats and export wherever you need without problems.
Communication: Easily share your ideas, projects, and feedback with your team members.
Pros
Free trial plan for seven days
Intuitive interface
Tons of advanced symbols
Integration with tools
Cons
Limited functions in web app
Poor client support
Pricing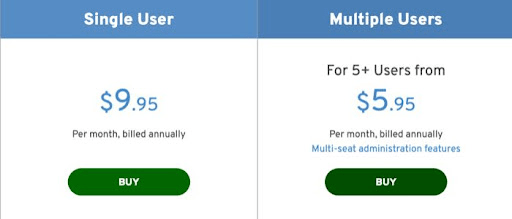 It won't take a lot of time to choose the pricing package for you:
Free: This plan runs for seven days—enough time to determine if SmartDraw is right for you.
Single user ($9.95/mo per user): This package unlocks all options available in SmartDraw.
Multiple users ($5.95/mo per user): This plan is excellent for teams over five members. It has multi-seat administration features and unlimited ability to use the software.
Why we recommend this tool: SmartDraw is one of the most popular software options available for users with different needs. It offers a variety of features that make it ideal for creating PERT charts.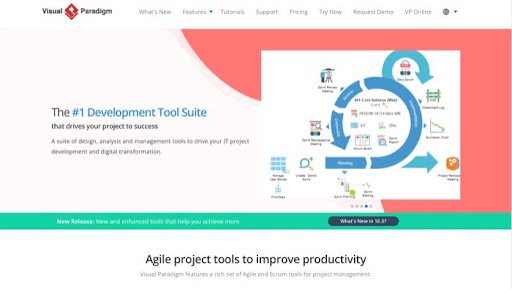 Visual Paradigm is a cloud-based diagramming program that enables you to design a variety of diagrams. Quickly create a PERT chart using Visual Paradigm's templates and icons. The collaboration tools provide the opportunity to easily distribute your chart to others.
What I like the most about this software is that Visual Paradigm has a user-friendly interface, ready-to-use templates, and good client support.
Top Features
UML diagramming: Visual Paradigm has advanced UML diagramming for system modeling.
Extensive library: Numerous different templates and symbols for creating and editing charts are available.
Agile and Scrum tools: This software includes Agile and Scrum tools for professional project managers.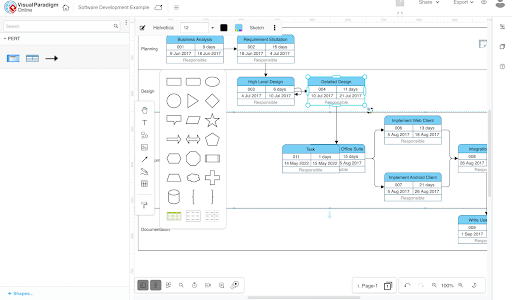 Pros
Easy modeling structure
Animation features
Tons of templates
Web and mobile app
Cons
Pricing

Visual Paradigm has four pricing plans. Choose the right plan for you based on the features included in each package.
Modeler ($6.00/mo per user): This plan includes basic features and the ability to collaborate with your team members.
Standard ($19.00/mo per user): Gain access to all modeler features, high-fidelity mockup tools, and strategic analysis tools.
Professional ($35.00/mo per user): This package provides advanced options and a database view editor.
Enterprise ($89.00/mo per user): This pricing plan is great for your professional business.
Why we recommend this tool: Visual Paradigm is extremely versatile and can be used for a wide variety of projects. This tool is very user-friendly and easy to use. Its wide range of features and options make it a perfect choice.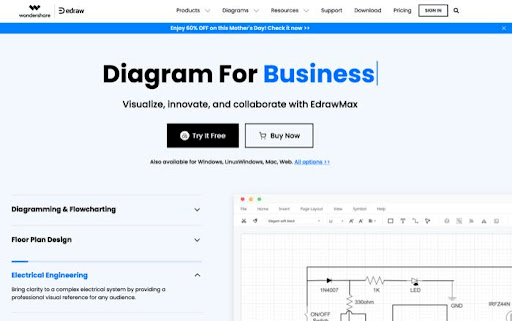 EdrawMax is an all-in-one diagram software that makes it simple to create professional-looking flowcharts, org charts, mind maps, network diagrams, UML diagrams, floor plans, electrical diagrams, science illustrations, and more. With EdrawMax, you can create PERT charts quickly and easily.
Personally, I like this software because it has an extensive library of symbols and templates. You can also use EdrawMax to create other types of diagrams. It is very user-friendly and has an intuitive interface.
Top Features
Inbuilt templates: Quickly create a PERT chart using EdrawMax's inbuilt templates and shapes.
Share and export: Share your projects in real time with your team members easily, and export your chart in various formats without trouble.
Powerful customization: EdrawMax has advanced customization options so you can tailor your chart to meet your needs.
UML editor: EdrawMax has an advanced UML diagram editor for system modeling.
Network diagrams: With this software, you can easily create network diagrams.
Electrical diagrams: You can also use EdrawMax to create electrical diagrams.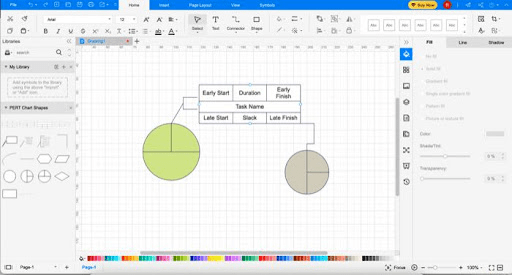 Pros
Easy-to-use interface
Wide range of features and options
Extensive library of symbols and templates
Cons
The free version has limited features
Cannot combine templates
Pricing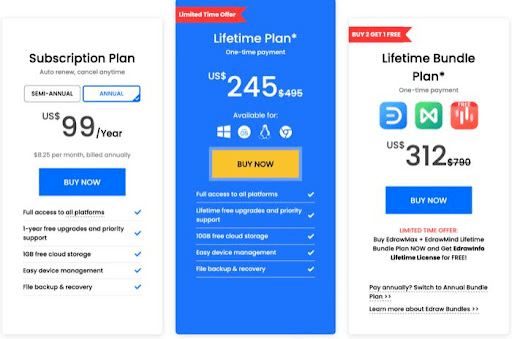 EdrawMax has three pricing plans to choose from:
Subscription Plan ($8.25/mo per user): This plan is the cheapest option, and it includes all features you might need, giving you full access to all platforms.
Lifetime Plan ($245/one-time payment): This package is available on different platforms and has increased cloud storage and lifetime upgrades.
Lifetime Bundle Plan ($312/one-time payment): Purchase all of EdrawMax's features and functions as well as any possible applications and get the most out of your investment.
Why we recommend this tool: EdrawMax, the best-selling diagram creator, is a versatile drawing program that may be used to create a wide range of diagrams, including PERT charts. EdrawMax allows you to produce professional-looking visuals quickly and effortlessly.
The Wrap Up
There are many software applications available with which you can create PERT charts. Selecting the best one depends on the needs of your project.
For smaller projects, a simple online tool may be sufficient. For larger projects, you might want to consider a more robust tool that can handle more complex scheduling. 
Whichever tool you choose, a PERT chart can be a valuable asset for keeping your project on track.