The SpreadsheetDaddy Index
At SpreadsheetDaddy, we live and breathe spreadsheets.
That's why we decided to do something that's never been done before.
We analyzed 5,820,565 organic search keywords to create the SpreadsheetDaddy Index showing the top 10 tasks in Microsoft Excel and Google Sheets that users struggle with (see the table below).
Key Takeaways – The Editor's Picks
VLOOKUP is the most searched function both in Microsoft Excel and Google Sheets, ranking #1 in the United States, the UK, Canada, Australia, and New Zealand.
Microsoft Excel has a much larger user base in comparison to Google Sheets (5,335,855 vs. 484,710 keywords across all the countries analyzed).
Gantt charts are the most searched chart type

 for both Excel and Google Sheets users.

Tasks such as

merging cells, highlighting duplicates, freezing rows, and applying conditional formatting consistently rank in the top 10 across the boardI
We've aggregated 5,820,565 keywords searched in Google across five countries with the help of Ahrefs, a professional keyword research tool. Here's a quick overview of our dataset:
| | | |
| --- | --- | --- |
| Country | Keyword Analyzed (Microsoft Excel) | Keyword Analyzed (Google Sheets) |
| The United States | 4,037,510 | 356,593 |
| The United Kingdom | 532,173 | 43,500 |
| Canada | 387,877 | 42,076 |
| Australia | 299,697 | 31,359 |
| New Zealand | 78,598 | 11,182 |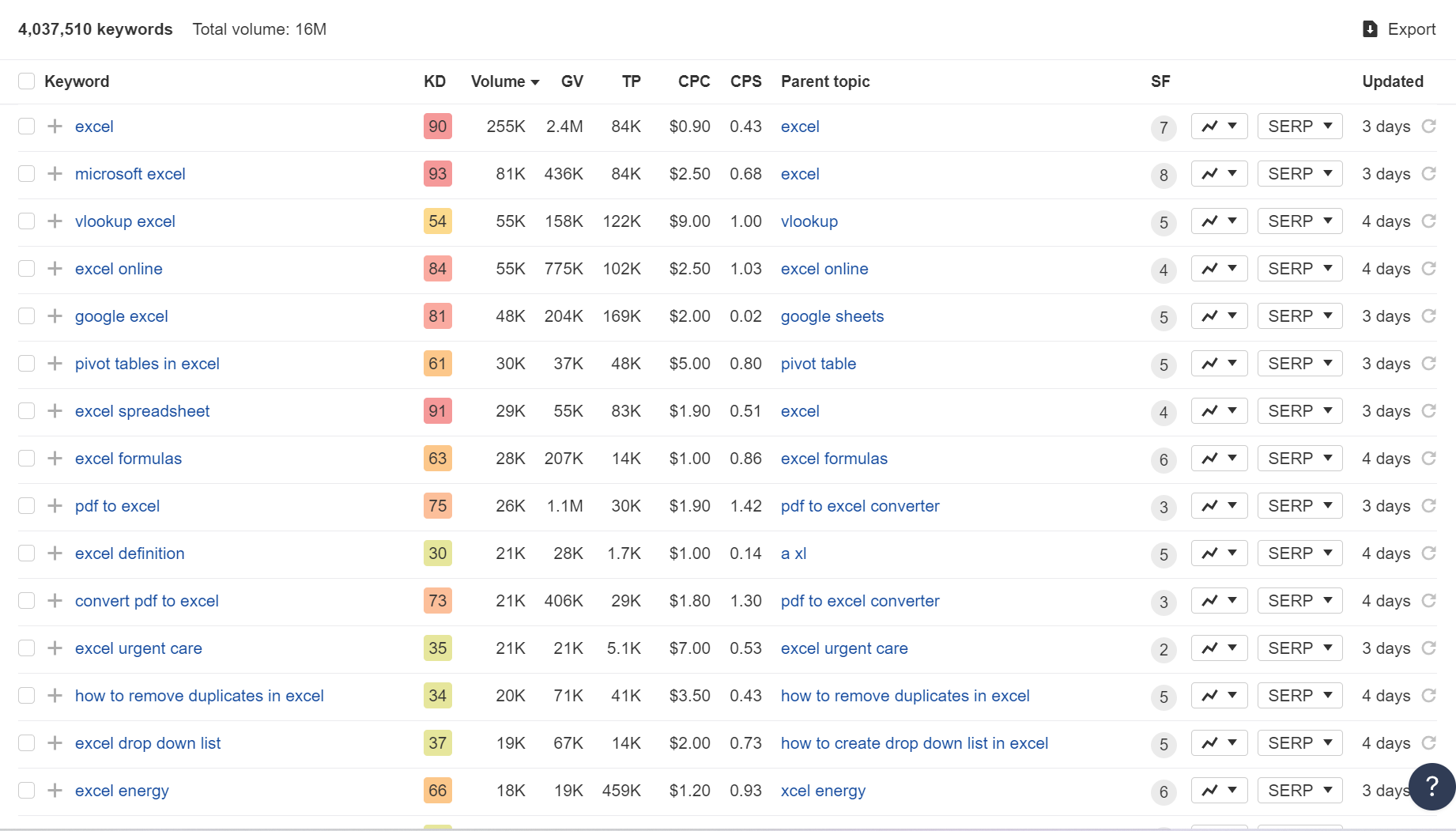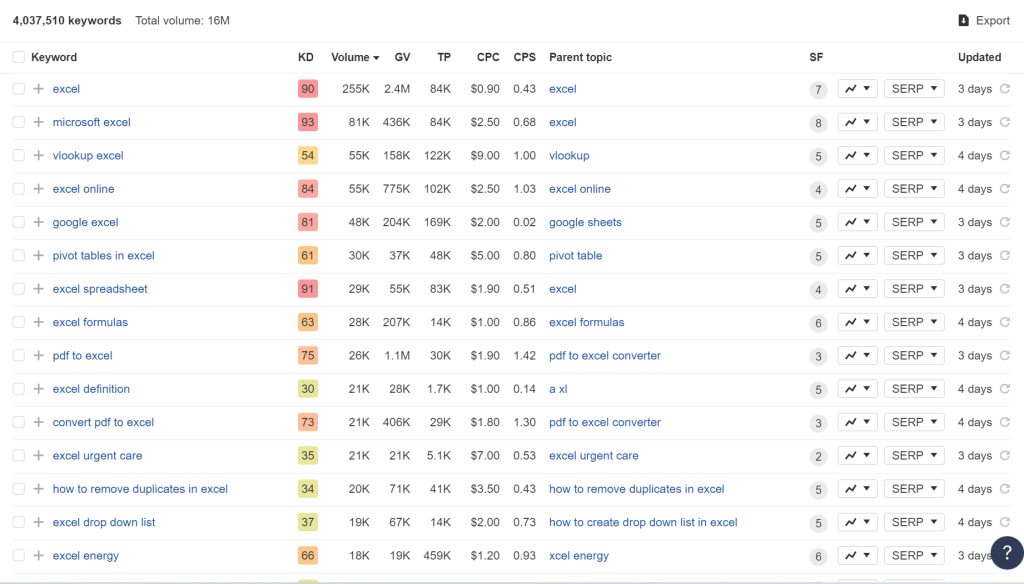 As for our methodology, we processed all the keywords in the Ahrefs database containing either "Excel" or "Google Sheets."
Once there, the monthly search volume data was extrapolated for a 12-months period.
We took into account that different keyword variations have their own monthly search volume— "merge cells excel" and "how to merge cells in excel" are technically different keywords. Ahrefs has a separate metric called Traffic Potential to take that factor into account, and we factored that in to prevent data from being skewed.
Top 10 Tasks That Most People Don't Know How to Do in Excel & Google Sheets
Here are the top 10 tasks users struggle with when using Microsoft Excel and Google Sheets (separated by country):
The United States
The United Kingdom
Canada
Australia
New Zealand
The United States
| | | | | |
| --- | --- | --- | --- | --- |
| Rank | Microsoft Excel | Annual Search Volume | Google Sheets | Annual Search Volume |
| #1 | vlookup excel | 660,000 | vlookup google sheets | 72,000 |
| #2 | pivot tables in excel | 360,000 | how to merge cells in google sheets | 40,800 |
| #3 | how to remove duplicates in excel | 240,000 | how to alphabetize in google sheets | 37,200 |
| #4 | excel drop down list | 228,000 | highlight duplicates in google sheets | 37,200 |
| #5 | how to merge cells in excel | 204,000 | countif google sheets | 37,200 |
| #6 | how to lock cells in excel | 180,000 | sumif google sheets | 32,400 |
| #7 | countif function in excel | 180,000 | pivot table google sheets | 28,800 |
| #8 | how to freeze a row in excel | 168,000 | conditional formatting google sheets | 28,800 |
| #9 | index match excel | 156,000 | how to search in google sheets | 26,400 |
| #10 | gantt chart excel | 156,000 | how to make a graph in google sheets | 26,400 |
The United Kingdom
Canada
Australia
New Zealand