Business budgeting is a chore.
However, nothing is worse than not having a precise estimate of your business expenses and income beforehand.
In this article, we review the 20 best free Google Sheets business budget templates that are easy to customize and fun to use. With these free and ready-to-use templates, you can save tons of time, energy, and resources.
Let's jump in.
1. Free Downloadable Business Budget Template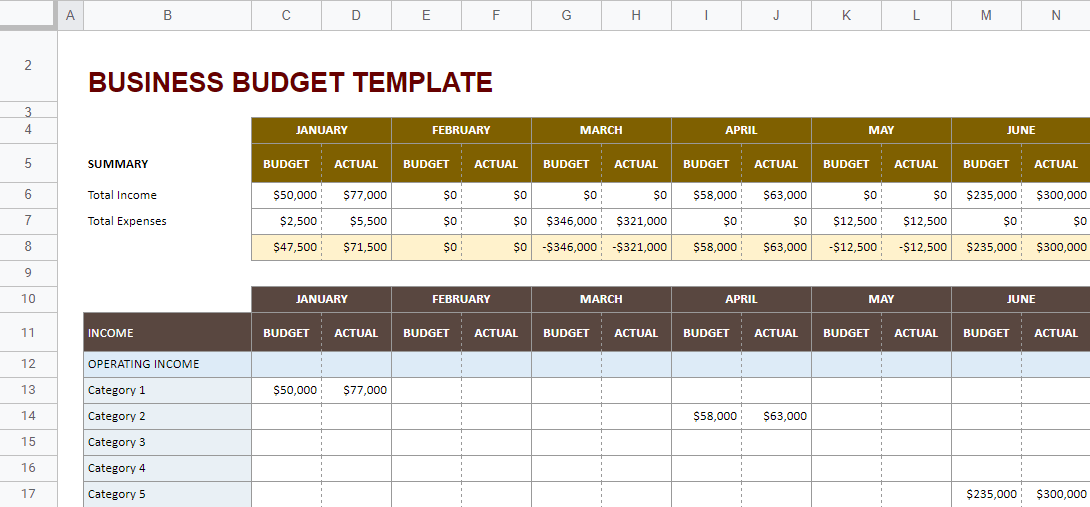 Designed by Smartsheet
We're starting off with this detailed and color-coded business budget template by Smartsheet.
The template is split into two sections:
The first section has a summary of the monthly income and expenses.
The second section contains the categorized breakdown of your income and expenses, which lets you know how your company funds are being managed at all times.
It includes most of the operating income and expense categories you'd need in a business, like payroll expenses, office, insurance, travel, web, etc. Since it's built on Google Sheets, you can easily add more categories to it.
The side-by-side presentation of budgeted vs. actual expenses gives you the exact numbers on your over/under expenditures and income for the month.
2. Small Business Budget Template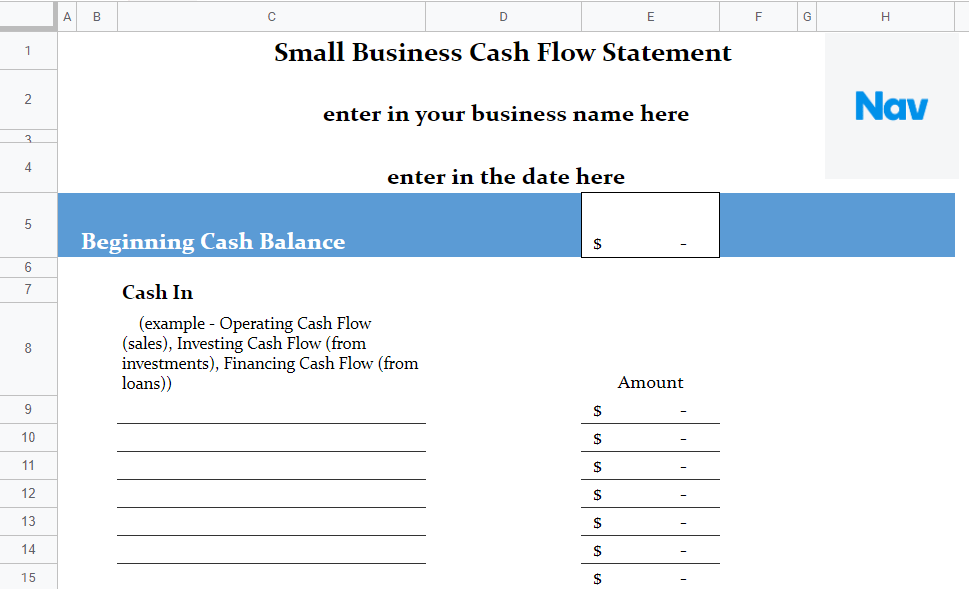 Designed by Nav
This template is specifically made to replace obscure cashbooks.
It contains a beginning cash balance column, 'cash in' (what you made), and 'cash out' (what you spent) fields.
You can use it on a daily basis instead of physical notebooks by changing the date at the top of the template.
From operating cash flow to investments and finances, the template takes care of all recurring and non-recurring incomes and expenses.
3. Start-Up Business Budget Template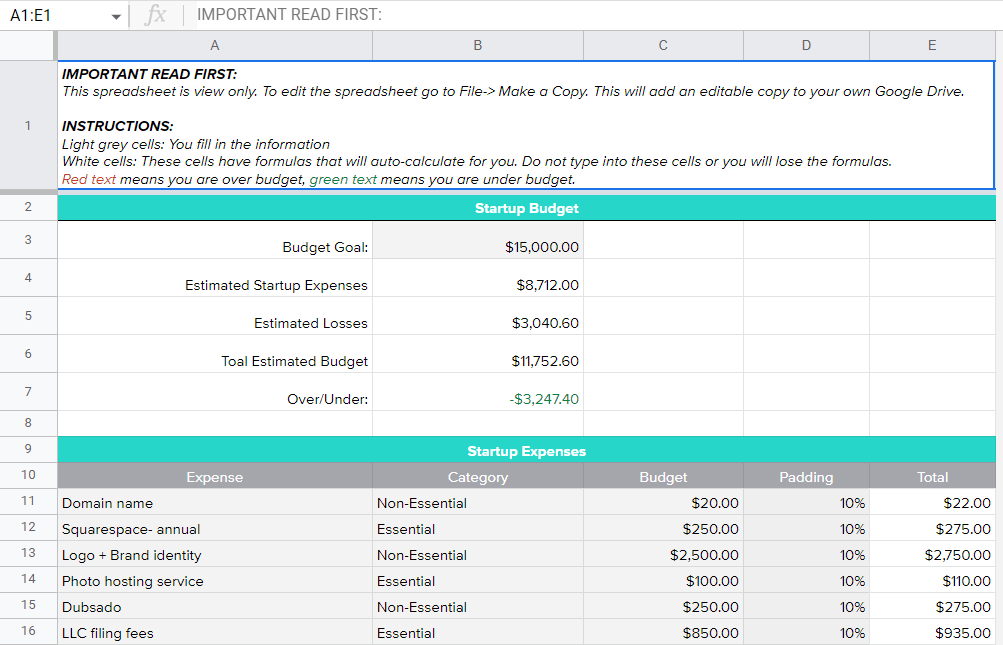 Designed by Kira Deutch
Hello, startup owners! You can use this comprehensive business budgeting template to plan your budget for the year.
This template categorizes expenses by their level of priority and urgency. This will give you a clear purview of the costs you must carry to the next month.
With the padding column, you can also plan ahead for some overhead or incidental expenses, which always occur in startups.
4. Annual Business Budget Template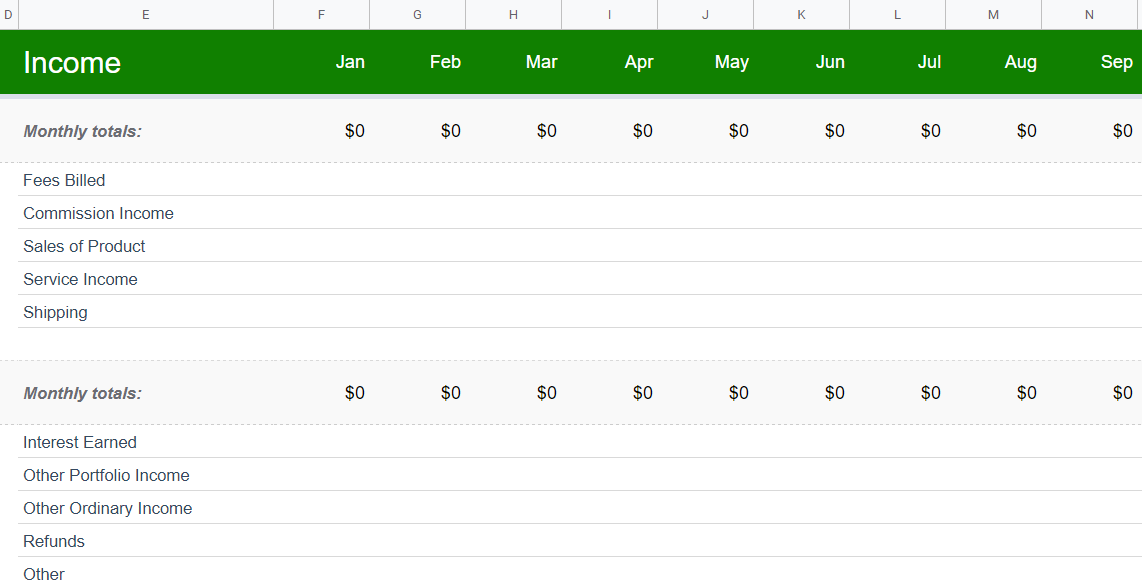 Designed by Billie Anne Grigg
Keeping a record of monthly income is a crucial part of the budgeting process. The process gets trickier when you are dealing with multiple avenues of income.
This thorough Google Sheet lays out every possible source of income for a business, like commission income, sales, service income, portfolio income, and more. You can also edit it out as per your requirement.
Enter your estimated income to see the numbers add up automatically. 😉
5. Monthly Business Budget Template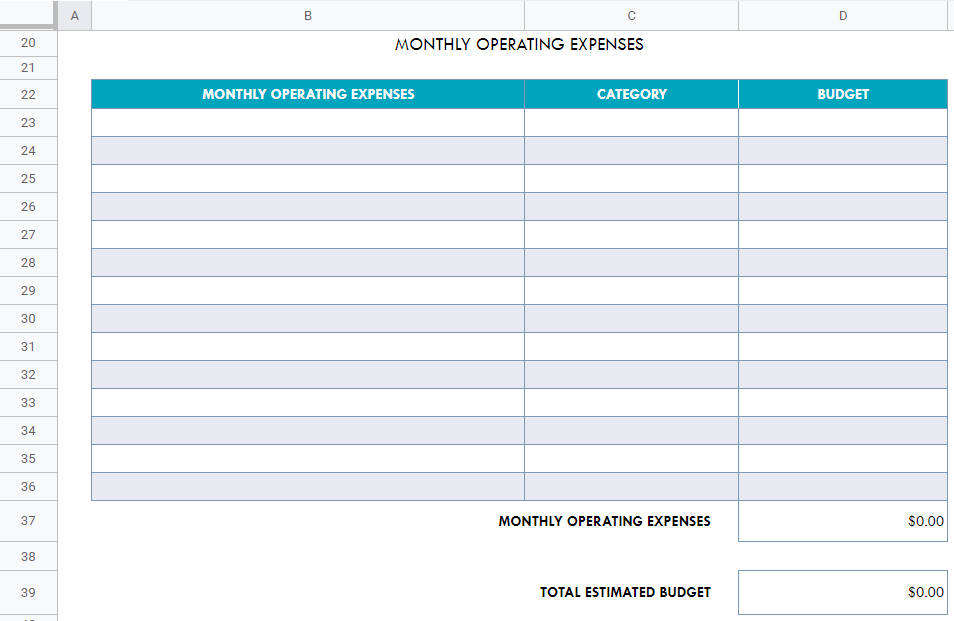 Designed by HubSpot
We have this simple monthly budget template for the operating expenses of your business.
You can log in all the recurring expenses for the month and put them in categories.
This all-inclusive view of your monthly expenses sets you up for the entire year. The automatic tally will add the estimated budgets of the months and give you the desired yearly projection.
6. Business Trip Budget Template

Designed by Charlie on Travel
Need to create a specific, meticulous budget for a business trip? Here you go.
This itemized business trip budget worksheet can help you track the expenses and plan for some incidental expenses.
A budget is the best way to keep travel spending under control. The rows account for all possible travel costs like accommodation, transportation, drinks, gifts, and more.
7. New Business Budget Template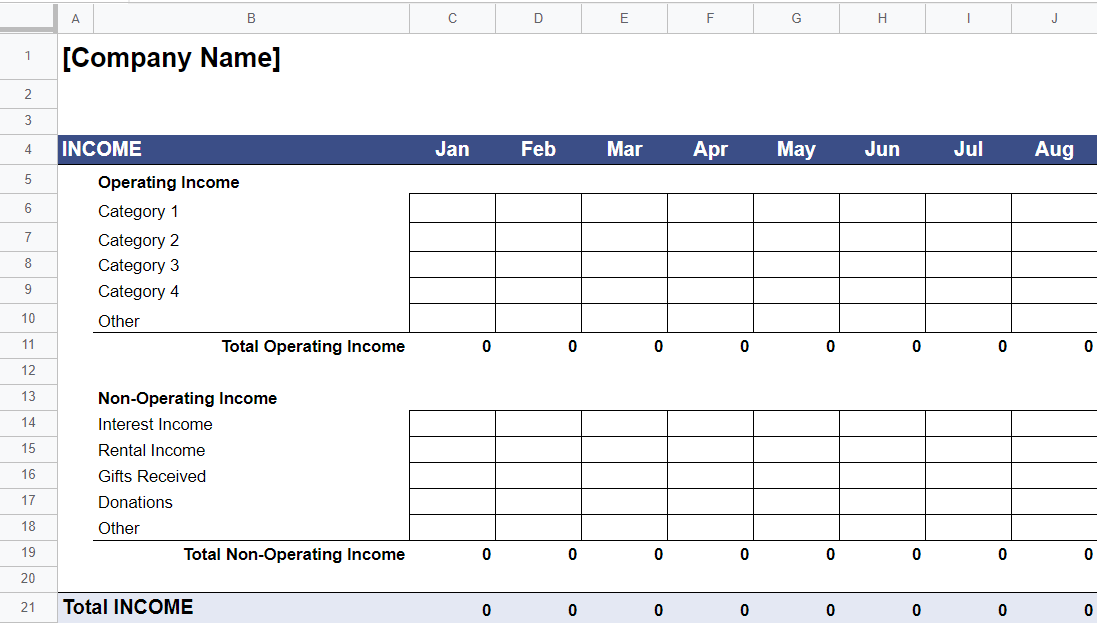 Designed by Vertex42
Setting up a new business? Congratulations! Consider this super-precise budget template as our gift to you!
The spreadsheet breaks down the operating income and expenses into categories. It covers most income sources like interest, rental, gifts, operating, etc.
You can edit the subheads based on your unique needs.
8. Lawn Care Business Budget Template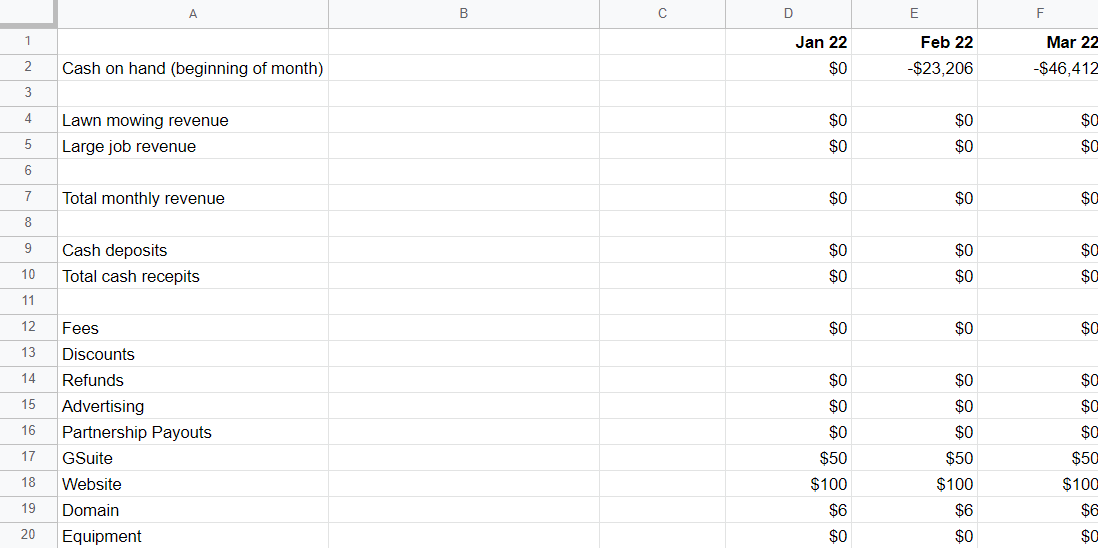 Designed by Yottled
Use this brilliant business budget template by Yottled to sort out the budget and manage the finances of your lawn care business.
This explicit budget planner lays out the cash-in-hand and revenue at the start of the month. The following section takes care of the expenses.
We also appreciate the monthly layout. This allows you to learn all about the monthly income, expenses, overall profits, and their individual progression over the year.
9. Business Proposal Budget Template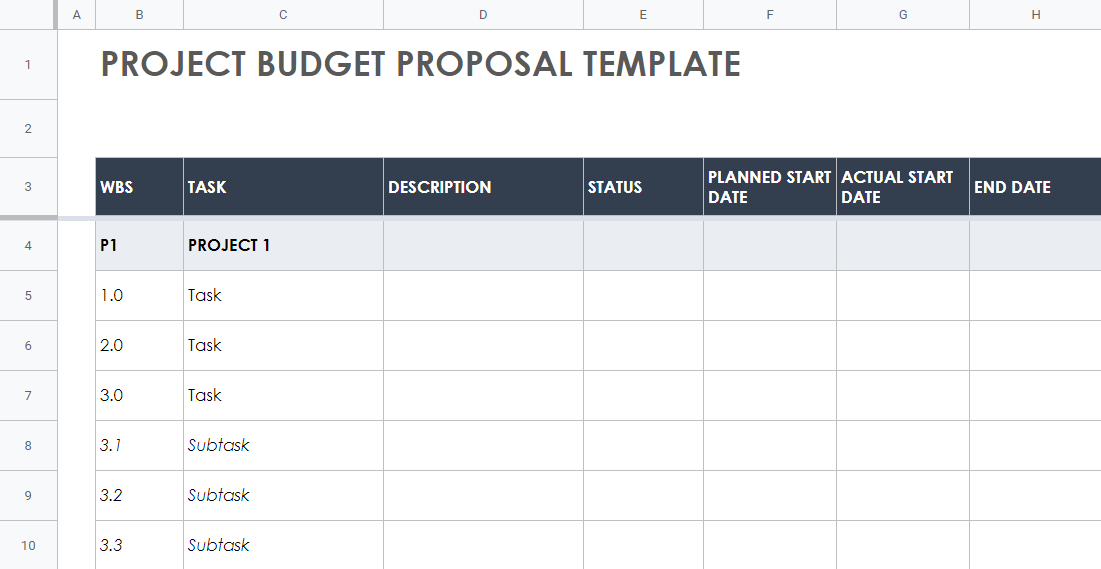 Designed by Smartsheet
Designing business proposals requires a ton of time, labor, and resources, most of which often need to be accounted for.
You can step ahead and plan out the entire project through this template.
Since time is of greater essence to business proposals, this very simple and to-the-point template divides tasks and subtasks into status, planned start date, and actual start date.
It also includes columns for accounting for the labor charges, helping you estimate the cost of developing the proposal.
10. Real Estate Investor Business Budget Template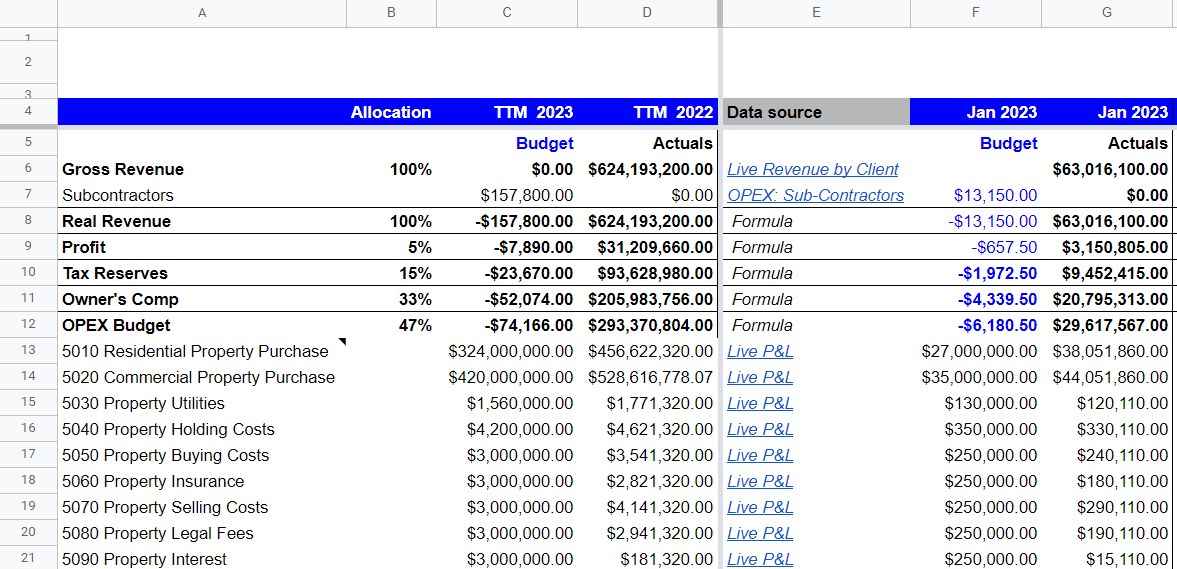 Designed by Liveflow
This one-of-a-kind budget sheet by Liveflow is ideal for an established real estate investor.
The spreadsheet helps you track your gross and net revenue across your entire real estate portfolio. The following sections cover most of the specific real estate expenses, investments, and miscellaneous costs.
11. Catering Business Budget Template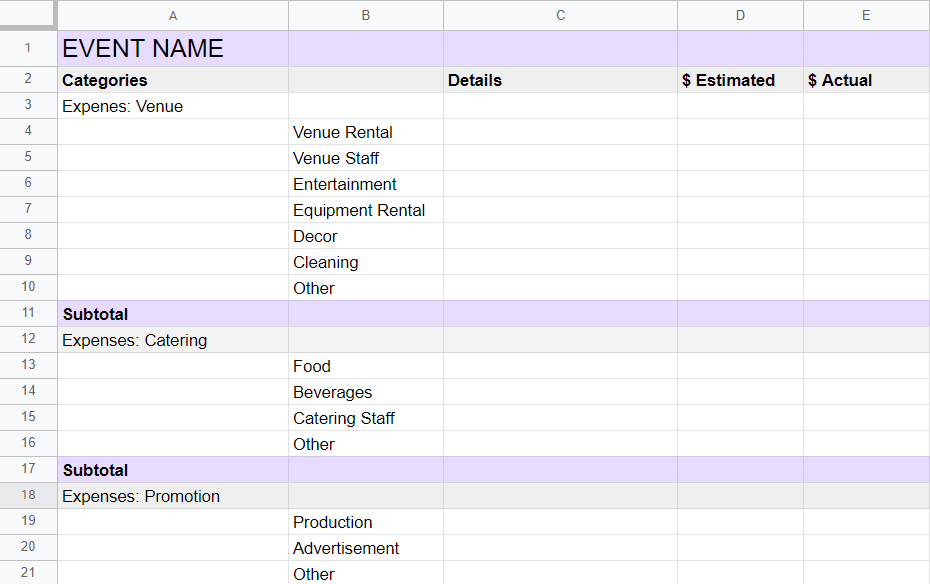 Designed by Stylist Mindset
Budgeting for a catering business is tricky, as the job is filled with variable costs. For an accurate view of the financials, use this Catering Business Budget Template by Stylist Mindset.
This specially designed template breaks down the catering business expenses into four major heads:
Venue

Catering

Promotion

Miscellaneous
Within the heads, you will find subheads for each area of spending. The final difference between the estimates and the actuals for each month helps in getting a better command over your business' monthly operating expenses.
12. Construction Business Operating Budget Template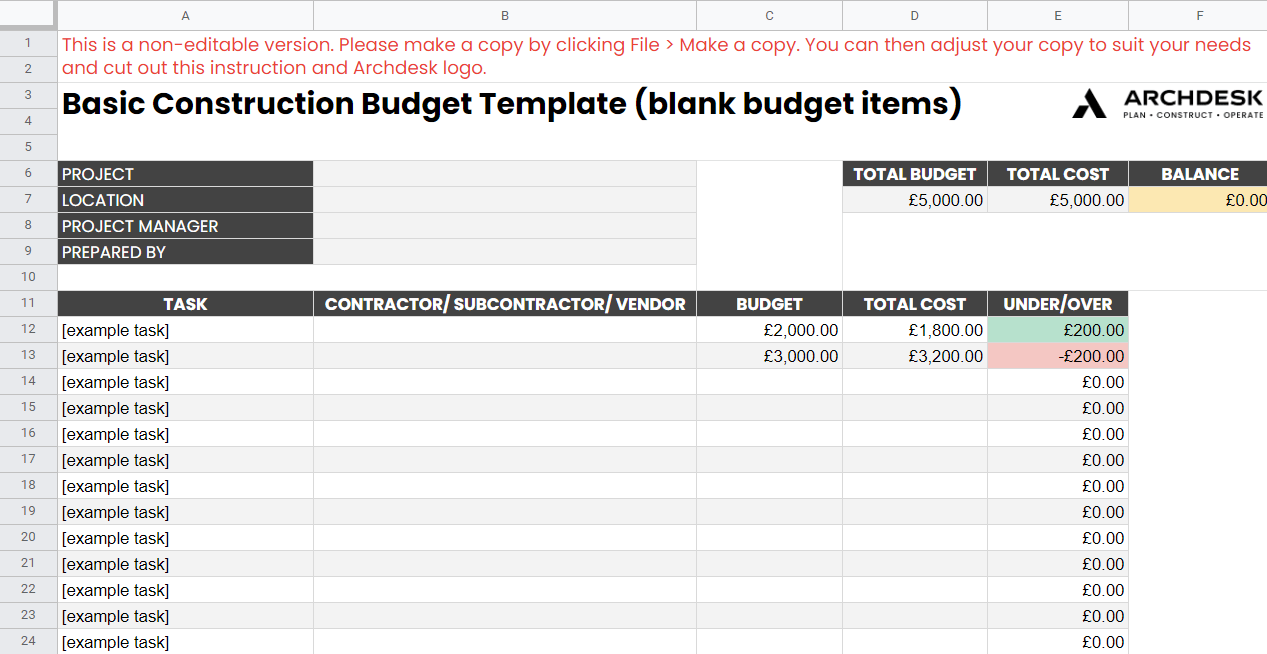 Designed by Archdesk
A construction business is large, multilevel, complex, making it vital to have a comprehensive budget plan.
This concise and actionable template by Archdesk breaks down the operation by projects and tasks.
Here's how you can approach this template:
Step 1) Assign the project, location, project manager, and deadline on the left side of the spreadsheet.
Step 2) Update the total budget allocated for the project on the right side of the spreadsheet.
Step 3) Fill in the tasks and the third party (contractor/subcontractor/vendor).
Step 4) Lastly, enter the estimated costs for each task.
The final under/over column will automatically fill in the difference between your estimates and real spending – so that's another thing off your plate.
13. Business Budget vs. Actual Template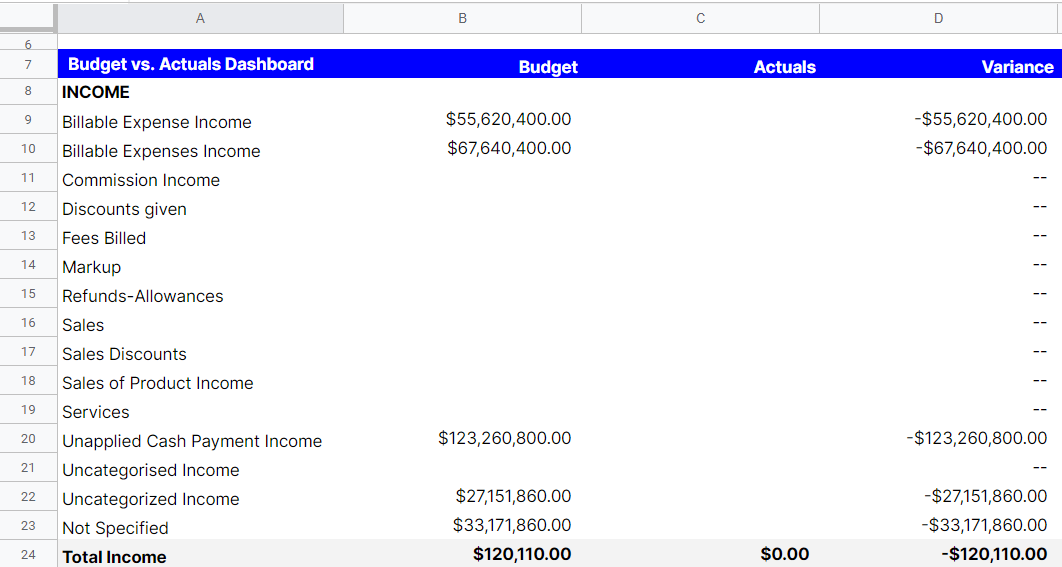 Designed by Liveflow
In case you want to get a hold of your over/under income from different areas of your business, then this budget vs. actual dashboard is a great choice for you.
Listed in the template are the multiple income streams that a business has. You can track down each source, enter your best estimates, and then fill in the actual figures.
The variance column will take care of itself, and by the end of the month, you get to introspect where you steamed ahead and where you lacked.
14. Operating Budget Template for Small Business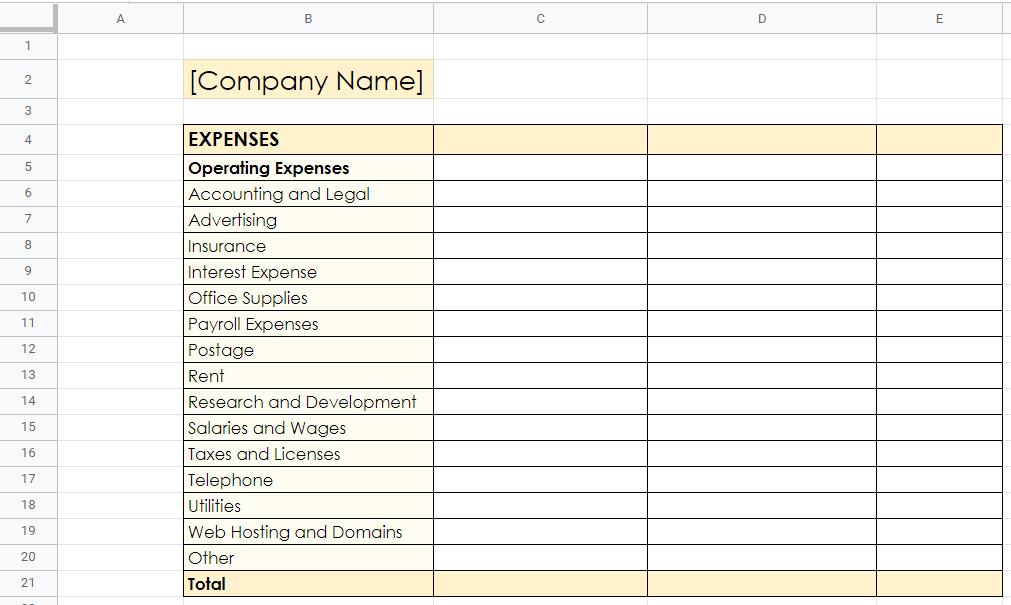 Designed by Spreadsheet Daddy
Preparing an operating budget is an essential business practice, and this template makes the job easy for your small enterprise.
From recurring payments and investments to miscellaneous expenses, the template helps you keep track of every penny.
Put this template to use, and get a clear perspective on the cost of running your business.
15. Landscape Business Budget Template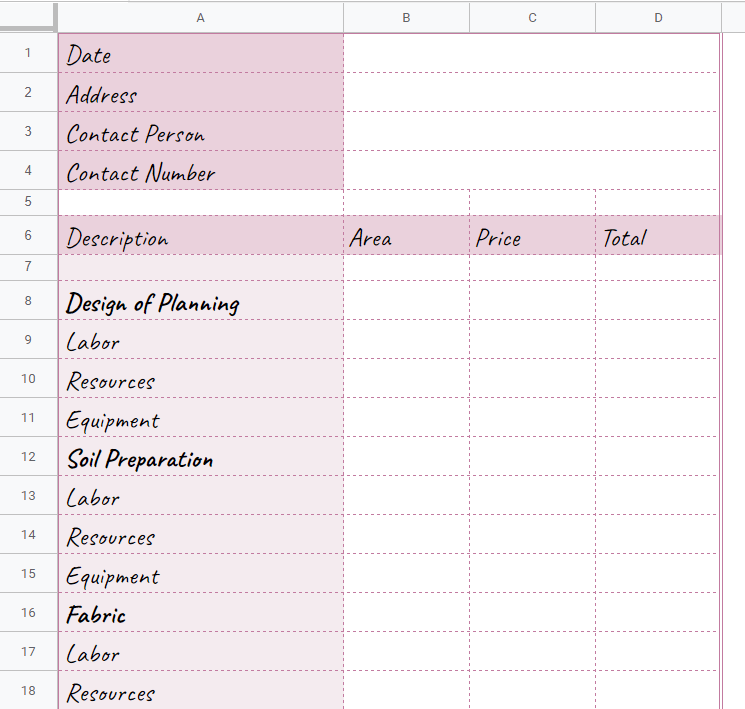 Designed by Spreadsheet Daddy
This fully customizable Google Sheet template by Spreadsheet Daddy is all you need to get started with your landscaping business.
Fill out the date and other details in the first section of the sheet.
The next step is to tackle the major expense categories of your business, along with their individual labor, resources, and equipment cost per area.
You can then use Google Sheets formulas to automatically multiply the area by the price to get an accurate total!
16. Retail Business Budget Template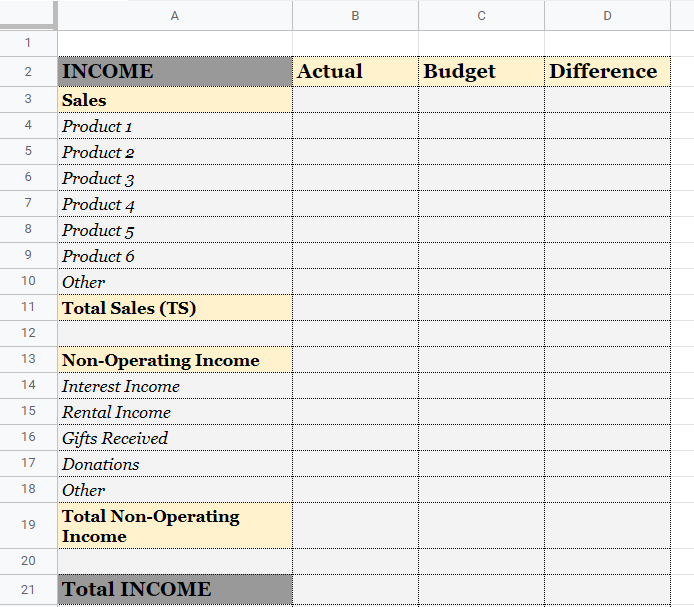 Designed by Spreadsheet Daddy
Don't know how to go about with your retail business income assessment? Start here.
This specially designed template includes two main sections.
Fill out the first section with your product-wise sales to get to the second column with recurring and non-operating income.
17. Online Business Budget Template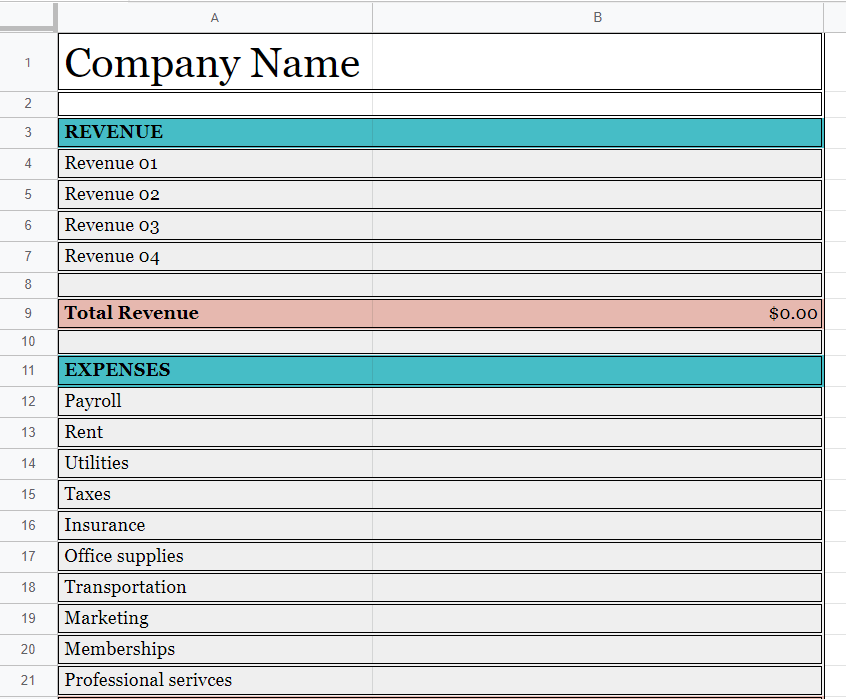 Designed by Spreadsheet Daddy
Spreadsheet Daddy's handy and customizable Online Business Budget Template lays out every notable expense that comes with running an online business.
You can enter all the major subheads such as payroll, utilities, rent, salaries, insurance, transportation, professional services, and more.
18. Fashion Business Budget Template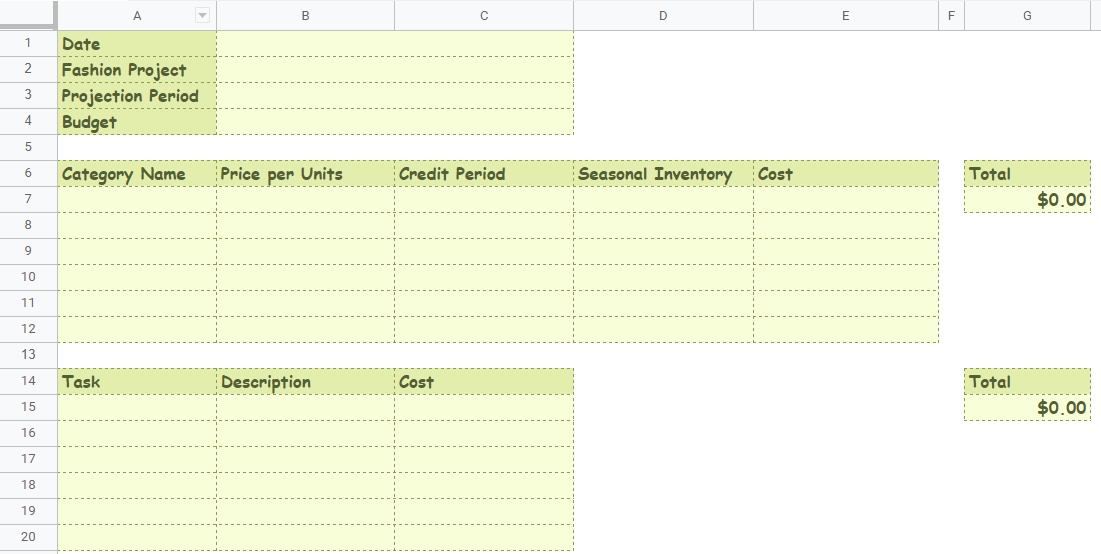 Designed by Spreadsheet Daddy
Fashion budgeting comes with its own stressors and complexities. This template takes care of them all.
The project-based budget template is split into two sections.
The first section has columns for categories, price, inventory, and item-wise cost.
The second one is dedicated to the labor cost per task.
19. Fix and Flip Business Budget Template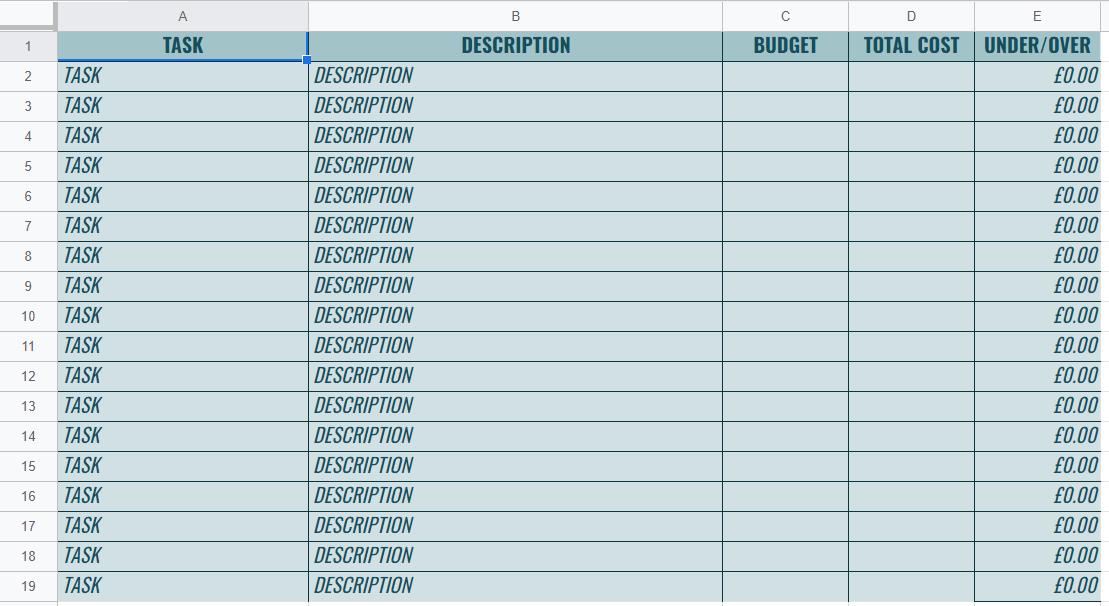 Designed by Spreadsheet Daddy
We have the fix-and-flip business template for out-of-the-box businesses with unique working processes. Instead of tweaking the spreadsheets to make room for relevant subheads, you can download this template and start budgeting.
The five compact columns cover:
The task

A brief description

Allocated cost

Incurred cost

The over/under difference
20. Cleaning Business Budget Template

Designed by Spreadsheet Daddy
This cleaning business budget template contains essential expenses you'll incur while running a cleaning business.
It's best to stay on top of them with this template by Spreadsheet Daddy.
This exhaustive cleaning business budget template includes expenses like staff, cleaning equipment, materials, training, and more.
How to Create a Business Budget Template in Google Sheets
If you would like to learn about how you can create your own business template, with all the details and the subheads, then follow the step-by-step guide.
Step 1. Open a new Google Sheet, click on blank cells, and enter the data you need.
Step 2. Change the font size, color, alignment, and other aspects of your text with the help of the toolbar menu.

Step 3. If you wish to apply specific colors to your template, select the cell, click on Fill color, and then you will see a palette of colors you can choose from.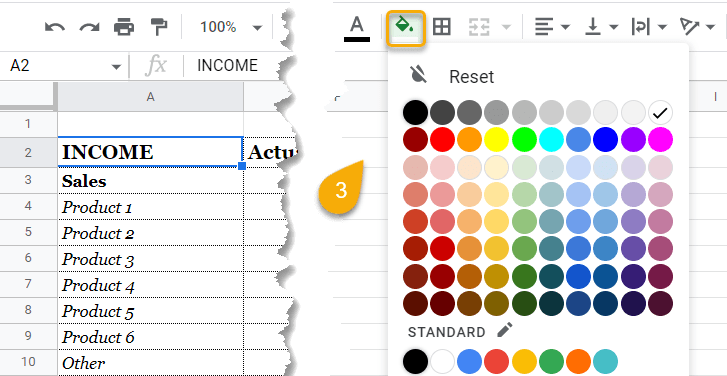 Step 4. Add borders by selecting cells, going to the toolbar menu, selecting the Border icon, and choosing the color, style, and type of border you wish to apply.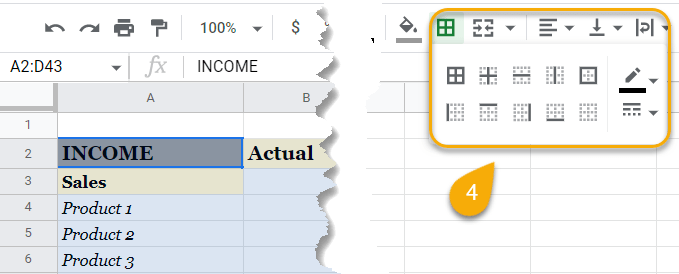 Step 5. To add formulas that will automatically calculate your indicators, click on the cell where you want to get the result, then enter the formula you need.
As you can see, we've used the =SUM(B4:B10) formula that will calculate the sum of data. Apply formulas to other data sets as well.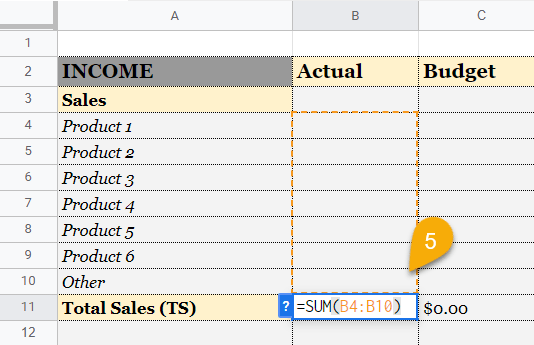 That's all. Here are the results!
Don't let any expense sneak by you!
Google Sheets make budgeting an enjoyable experience by simplifying the process.
Budgeting is an integral part of running a business, but it should not cost you tons of hours and resources.
Get an elaborate view of your business' monthly financials through these budget templates and take your business to the next level in 2023.