If moving is on your agenda this year, you must start preparing immediately.
There's a lot you need to pay attention to, such as:
Budgeting

Updating legal records

Packing
…and more.
You can complete it with foresight, planning, and handy Google Sheets budget templates. 
Google Sheets has thousands of templates for you to work with. We've narrowed them down to the six best and most efficient templates. 
Let's dive right in.
1. Free Downloadable Moving Budget Template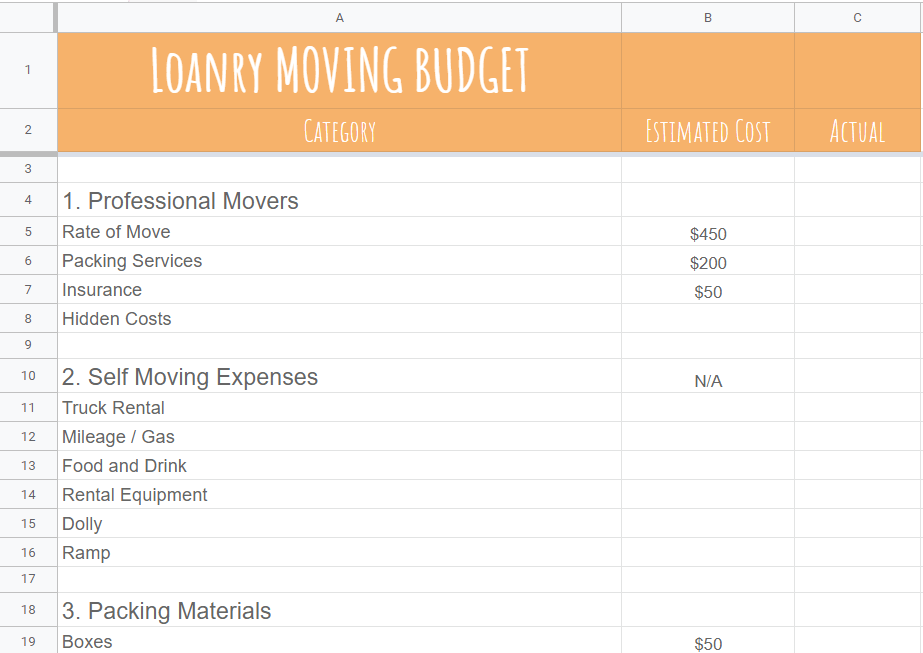 First on our list is the Loanry Moving Budget spreadsheet, which covers all crucial sections of a moving budget. It's best suited for nuclear families/single-person households.
It breaks down the main expenses into six subheads: professional movers, self-moving expenses, packing materials, transportation, real estate, and storage fees.
It's especially useful as nearly 80% of Americans hire a professional moving service to take over the process of loading, unloading, and transporting moveable items. A professional moving service isn't exactly cheap, and allocating funds for it beforehand can help you keep the entire cost under your budget.
It also comes with two columns: estimated cost and the actual cost to help you stay on track. With the pre-filled data covering every possible expense, you will have difficulty messing up your moving budget.
2. Office Moving Budget Template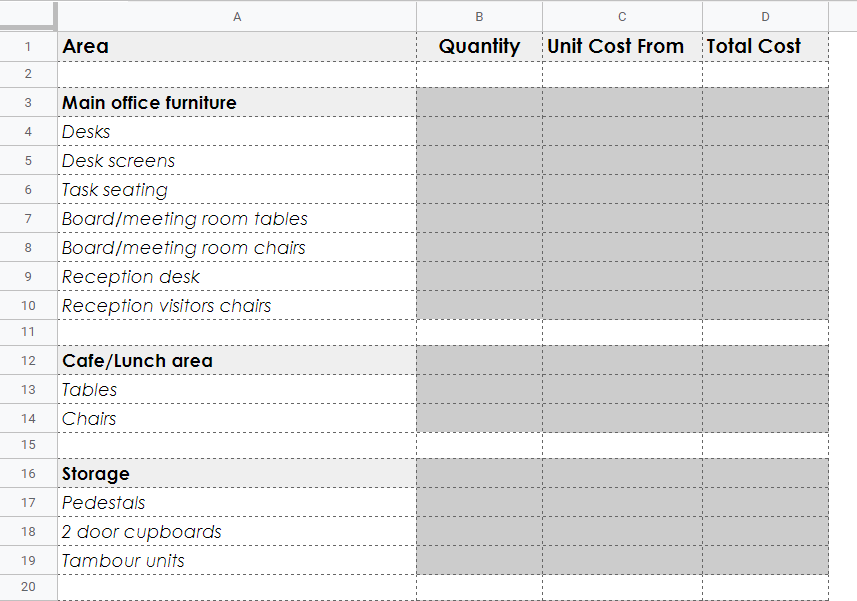 Moving is stressful as it is, let alone moving an office with hundreds of fragile items that require protective packaging. From computer monitors to chairs and desks and plenty of stationery, it's a lot.
The Office Moving Budget Template is best suited for building managers overseeing an office space move. The customizable headers account for inventory, assets, and miscellaneous items during the move.
Although this template only contains headings for office furniture, you can customize it very easily to add other items as well!
You can start by making a record of every single item that you will be moving and log it in the spreadsheet. The second step is to enter the total estimated cost/item of moving. Lastly, you can multiply the figures using Google Sheets formulas and get the budget right out front.
3. Moving House Budget Template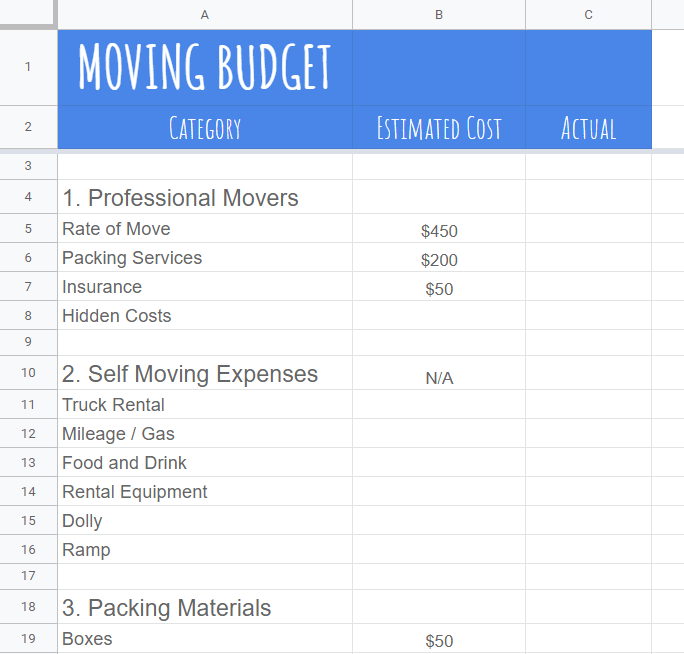 Designed by Life Storage Blog
Life Storage Blog's precise and to-the-point spreadsheet pleases habitual planners and occasional listmakers all the same. You can figure out your budget for the move by tackling these rows in order.
It's pretty much like the Loanry Moving Budget Template, except for the ads.
We appreciate how the spreadsheet breaks down the confusing junctures of the moving process into approachable subheadings that anyone can fill out.
The spreadsheet covers the following:
Major expenses of professional movers, including insurance and sneaky costs

Personal moving expenses including truck rentals, gas, packing materials, loading and unloading equipment, and legal expenses.

Other little details like packing materials and self-moving expenses that you generally wouldn't remember yourself.
4. Moving Off-Campus Budget Template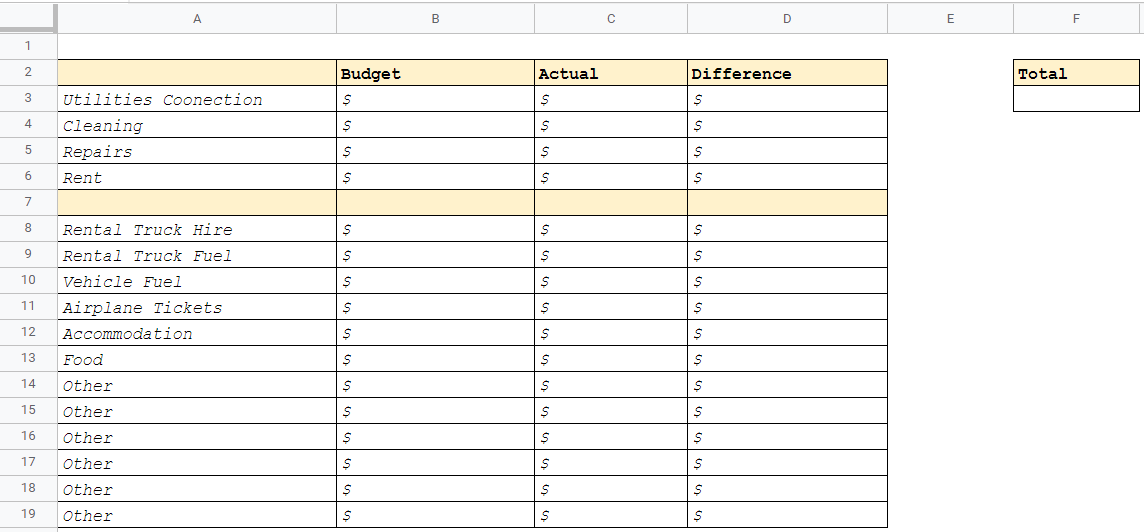 Designed by Spreadsheet Daddy
If you're a fresh graduate with a shoestring budget, you need to grab this Moving off Campus Budget Template by Spreadsheet Daddy. This handy spreadsheet includes every possible expense that you incur in the process of packing up your campus dorm room.
Mundane tasks such as cleaning the room, taking care of the repairs, and paying off the final utility bill can raise a hefty bill. However, this template covers it all!
You should start working on your estimates at least six months before you move out. You can start saving up your paycheck by estimating the final cost beforehand. The list of expenses brings it all into perspective.
The "Difference" column is very useful as it points out the disparity between your estimated and actual expenses. Since this will be one of the many moving experiences of your life, you can use how off or on the mark you were as a teaching moment to prepare yourself for the "real world."
5. Moving to New Country Budget Template

Designed by Spreadsheet Daddy
Planning an international move is exciting and daunting in equal measure. There's no room for error when you're uprooting your life and moving thousands of miles away.
Spreadsheet Daddy's Moving to New Country Budget Template covers all the regular and specific international moving expenses you would face, like lodging, storage, repairs, parking permits, and more!
It's very clean and easy to use as well, making budgeting a joy! The customizable template brings all possible tasks and expenses into perspective, leaving you with one less thing to worry about.
6. Moving Budget Checklist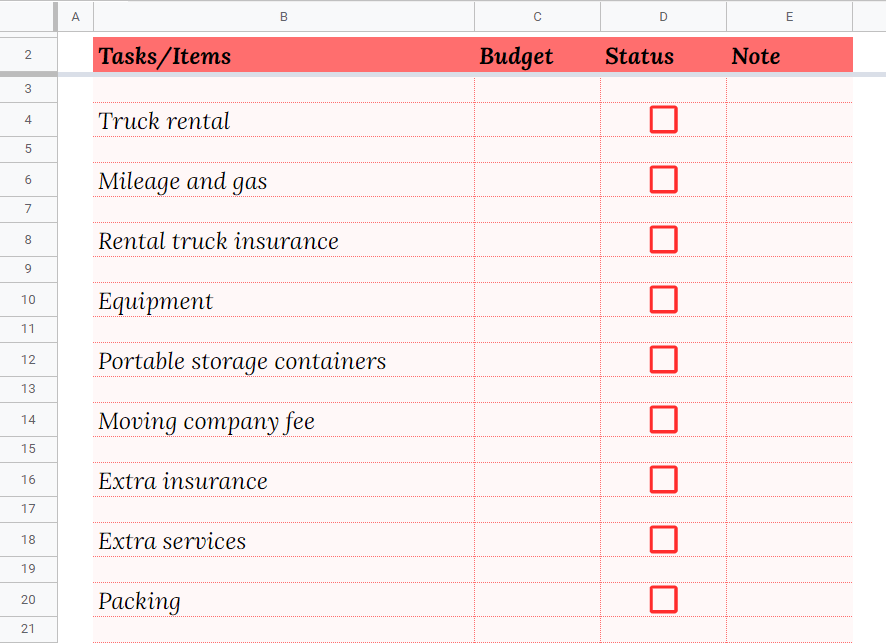 Designed by Spreadsheet Daddy
If you don't want to get into the nitty gritty of budgeting, then this brief Moving Budget Checklist by Spreadsheet Daddy is perfect for you. Just make a copy of this template in your Google Sheets and take account of all major tasks ahead of you.
Every task you check off is going to give you some much-needed dopamine rush 😉
Moving is expensive, and tons of small costs can add up to a huge bill. This checklist covers all the little things like portable storage containers, truck rentals, gas, etc., so that nothing will escape your sight. It contains placeholders as well for easy customizability.
FAQs
What is a moving budget?
A moving budget is a spending plan dedicated to moving expenditures. It is largely dependent on the items you will be taking with you and the distance between your current and future accommodation. You can get started with your moving budget through a simple Google spreadsheet and allocate expenses towards every minor and significant spending.
How do I budget for moving out of state?
You can plan your interstate move by budgeting the costs in a Google Sheet template. Start by assessing all your belongings, making a list of things you will take with you, picking out the right moving company, and setting money aside for additional/incidental costs.