If you've ever organized a virtual or face-to-face event, you probably know how stressful it can be to pull everything together. Even the slightest delay can cause the entire program to fall apart, or worse, lose its impact. That's why having a run-of-show flow sheet is so important to make sure everything is happening at exactly the right time.
Don't worry if you've never heard of this before. There are so many templates available online, particularly for Google Sheets—including ones that allow you to create the perfect run-of-show schedule.
In this article, we will provide five different template options for various occasions, so executing your program will go as seamlessly as possible.
What Is a Google Sheets Run-of-Show Template?
To kick things off, let's first define what a run-of-show template is in Google Sheets.
This type of template is basically a one-page guide of all the important details for your event. On it, you'll find different sections with corresponding point persons, how long each part should last, and the ending time. Sometimes, there's even a portion allotted for contingency plans should delays occur at any point.
Normally, the entire production team uses one comprehensive version of this schedule. From there, details are either omitted or added, depending on the contribution of each sub-committee. But for today, let's just focus on the first aspect.
Why Use a Run-of-Show Template in Google Sheets?
The Google Sheets platform is such a convenient tool for groups who need to work on documents simultaneously. All you need is to give specific users access, and they'll be able to edit the shared file.
Run-of-show templates aren't any different.
Here are a few reasons why we think using a run-of-show template in Google Sheets will make your life a whole lot easier:
Stay on Track

– As mentioned earlier, a run-of-show template summarizes all pertinent information into one page. Rather than using a to-do list or a schedule sheet, this template helps identify key tasks and the exact timeframe in which these should be done.

Keep Things Simple

– If data isn't presented neatly, users may have a difficult time understanding it. Through this template, everything is put forward clearly and concisely. You'll only really need to fill in the blanks without worrying about the format.

Access It Anytime, Anywhere

– Since Google Sheets is an online tool, anyone can access it as long as they have an Internet connection. At times, some members of the team may be working remotely or running errands away from the venue. This will give them enough flexibility to access the file whenever they need it.
What Should a Google Sheets Run-of-Show Template Include?
A truly concise run-of-show template must have the following details. These will make sure everyone on the production team has the necessary information to guarantee that things are going according to plan.
Of course, feel free to add other headers you think will be helpful. Just be sure to fill in these ones first.
Start Time

– When each section should begin, ideally

End Time

– The exact time a particular segment should end

Duration

– Length of each part (displayed in minutes)

Element

– A short description of each part

Point Person

– The person, people, or team accountable for each task
5 of the Best Google Sheets Run-of-Show Templates
There are countless templates available online. Among them, we found some of the best options to provide for you here. We'll run through each one and share a brief description why it is effective for the vast majority of people.
Standard Run-of-Show Template for Events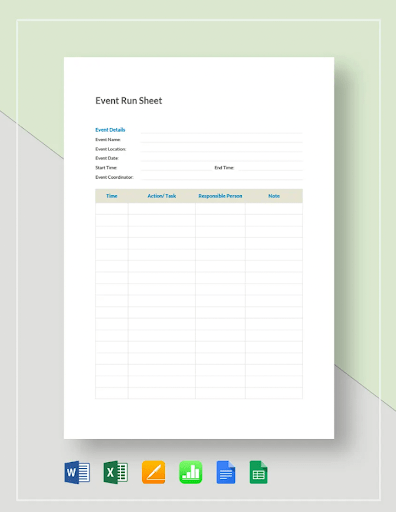 This is perhaps one of the simplest examples you'll find, yet it remains effective because you'll find all the important headers needed to make an event run smoothly.

The estimated start and end times can be found on the topmost portion. Users can likewise track each section's length by filling in the time column. From there, the specific tasks, point persons, and other important notes can be added, too.
Even though some may argue this format is too basic, we actually like its simplicity. It's so easy to understand that complete beginners won't have much trouble using it. Having only the most crucial details is beneficial so the entire team can focus just on what is essential.
Run-of-Show Template for Weddings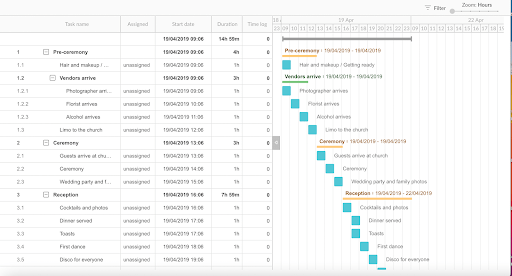 Weddings are probably one of the most pressure-packed events. Besides juggling multiple vendors at one, it's also an incredibly momentous occasion for the groom, the bride, and both their families. There really is no room for slip-ups.
Which is why we really like this particular run-of-show template.

It basically doubles as a run sheet and master schedule, instructing where everyone should be at any given time. You'll find the approximate starting and ending time of each supplier and how long their participation should be. But here's where things get interesting.

On the right-most side, you will see where exactly in the program each one comes in. Since multiple activities can happen simultaneously, this will surely help the coordination team keep track of everyone's whereabouts and determine whether the flow is still being followed.
We really like this run-of-show template because even though there is so much information presented, it's still done in an organized manner. The color-coded scheme differentiates each sub-segment, too, into the pre-ceremony, actual ceremony, and reception. This way, it's easier to oversee everything at a glance.
Run-of-Show Template for Conferences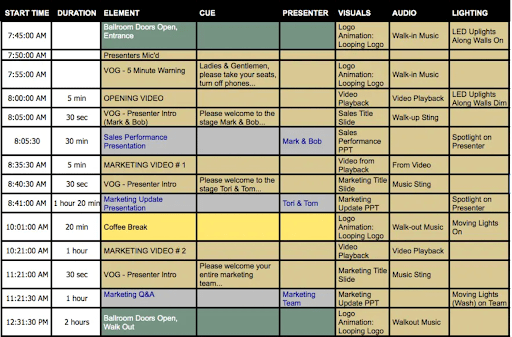 Conferences are another example of wide-scale events that require proper coordination. Besides your on-the-ground staff, lights, sounds, and tech people need to be in the loop as well, since a big part of the success relies on the overall mood.
This run-of-show template includes all the essential details, but they've also added columns for specific lighting, music, and videos to be used. There's even a section to identify the exact cue that transitions from one segment to another.
The look of this template is very clean, and that's a big reason why we like it so much. Its creator also did a phenomenal job of summarizing all the details into a single page. We feel that different committees can easily get on the same page with this template. And with a conference often being so complicated, this will be a big help to ensuring that everything runs smoothly.
Run-of-Show Template for Virtual Events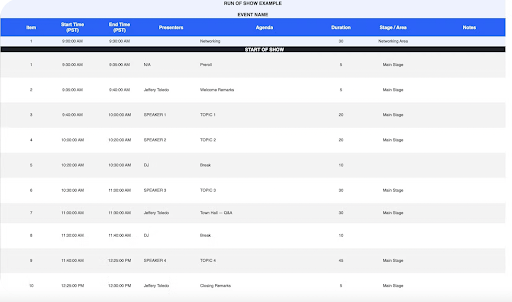 Planning an exceptional virtual event is tricky. On one hand, since organizers don't move around as much, it's easier to communicate. However, it can also be a double-edged sword. Not physically being in the same vicinity means relying more on scheduling charts and, yes, run-of-show documents, to make sure everyone functions in unison.
This next template we are recommending is another example that relies on simplicity.
Besides the typical details, you'll also find columns for speakers and staging areas. In most cases, organizers use a separate platform to brief participants and other key personalities before appearing on the main stage's platform.
Having this explicitly cited on your run-of-show file is good so you will know where to direct them upon logging in.
Run-of-Show Template for Live Events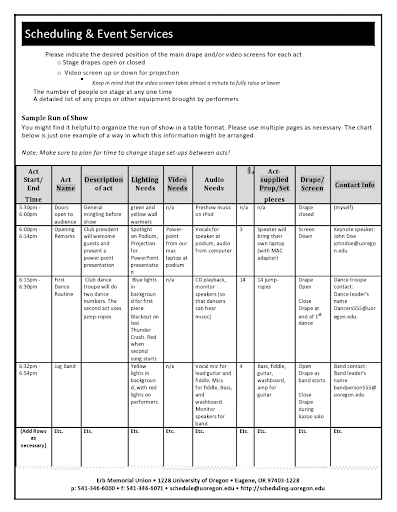 The main difference between a conference and a single-day live event is its duration. Therefore, you could argue that much more preparation is required with such a short timeframe. Organizers won't have the luxury to huddle after each day, so when the production begins, there's very little room for error.
This template we found provides a nice overview of everything that will happen on said day. All the details from the assigned speaker, the description of the act, duration, and technical requirements have been carefully mapped out.
There's even a section for the point person's contact information in case of emergencies.
You're probably already noticing a trend by now, but we gravitate toward templates that are clear and concise. And this isn't any different. Your production staff will know exactly what's happening at any given time, while directors or upper-level management can easily make adjustments when delays are encountered.
Run of Show Templates in Google Sheets: Frequently Asked Questions
Now that we've gone through what we think are the five best run-of-show templates available for different events, we'll be ending today's article by answering some of the most frequently asked questions.
What should you not include in a Google Sheets run-of-show template?
In our opinion, the worst thing you can do is add too many unnecessary details. Remember, a run-of-show file must look organized and be straight to the point. Otherwise, instead of getting everyone on the same page, your team's focus might end up on different things.
As such, we would discourage adding specific details of tasks that don't have anything to do with the program flow. Information like what materials are needed, who handles tasks behind the scenes, or other such footnotes should be kept on a different document.
The same principle applies for responsibilities pertaining to a specific committee. If it doesn't concern the entire team, it's probably better kept off of the run-of-show sheet.
What is the difference between a run-of-show and production schedule?
Both documents are similar in that they map out the responsibilities of each person or group. The main difference, though, is that a production schedule serves as a checklist of what everyone must be doing on an hourly basis.

On the other hand, a run-of-show template focuses primarily on the event itself, divides each part into minute-by-minute increments, and outlines the entire flow.
Big events like concerts, plays, or product launches will need both these tools to manage the entire operation effectively.