As a student, keeping track of your academic progress can be daunting. It's easy to get overwhelmed by assignments, deadlines, and grades, leading to stress and frustration. If you're struggling to stay organized and need a solution to help you stay on top of your studies, look no further than Google Sheets student tracker templates.
With these templates, you can easily input and track your assignments, deadlines, and grades in one convenient location. No more juggling multiple spreadsheets or struggling to manage important dates. Student tracker templates help you stay organized and reduce stress so you can achieve your academic goals.
Whether you're a high school student, a college student, or working on an online course, student tracker templates are the perfect solution to help you stay on top of your studies.
Read on to discover some of the student tracker templates that are available in Google Sheets so you can choose the template you like most today—and start tracking your academic progress with ease.
1. Free Student Data Tracker

Designed by David Jopson
The Student Data Tracker in Google Sheets is an essential tool for educators who want to keep track of their students' academic progress.
It allows you to identify patterns and trends in your students' performance, making it easier to spot areas where they may be struggling so you can provide targeted support. You can also use the tracker to communicate with parents about student progress, setting goals and tracking progress toward those goals.
2. Student Loan Tracker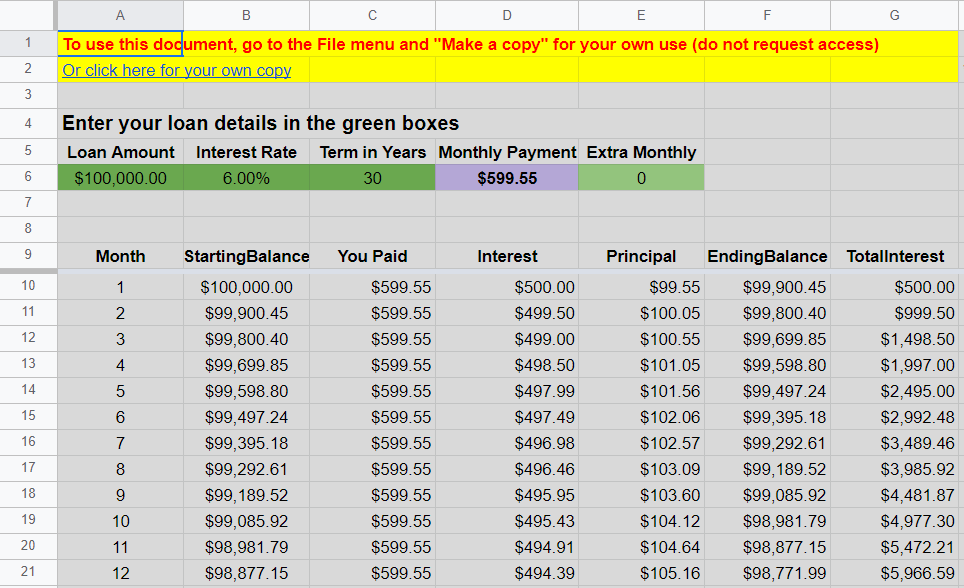 Designed by Justin Pritchard
For anyone who has had to take out a loan for their education, the Google Sheets Student Loan Tracker can keep track of vital loan details such as loan balance, interest rates, and more.
The uses of a Student Loan Tracker are numerous and varied. Students and recent graduates can use the tracker to manage their loans and keep on top of their progress toward paying them off. Parents and other family members can also use it to help their loved ones manage their loans and provide support as needed.
3. Student Attendance Tracker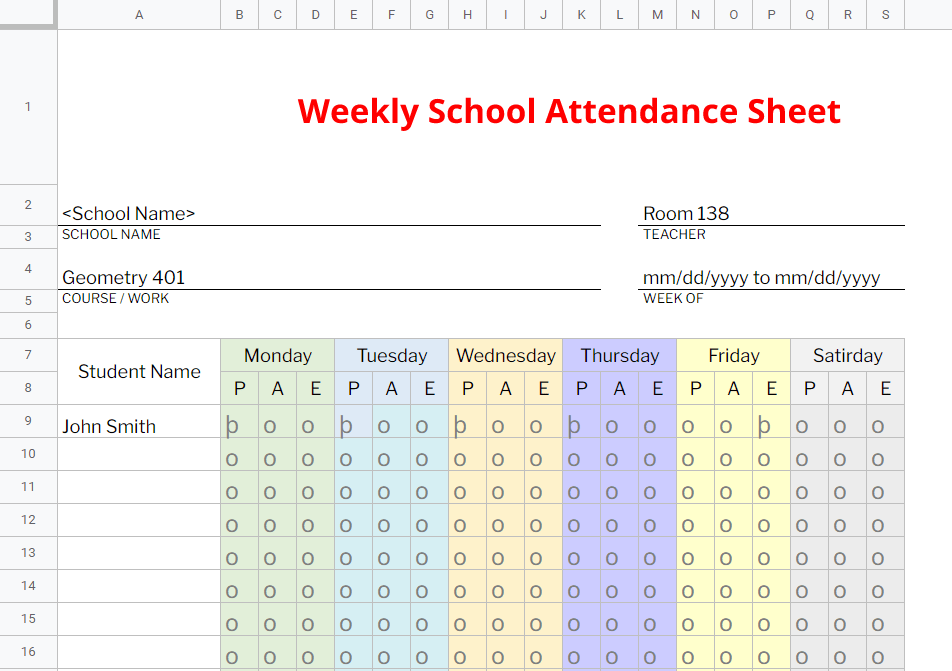 Designed by Amna Aslam
The Student Attendance Tracker by Amna Aslam allows teachers to enter all their students' names and customize the list as per their preferences.
This tracker is hosted on Google Sheets, which means teachers can collaborate with other teachers in real time and share attendance data with them.
4. Student Progress Tracker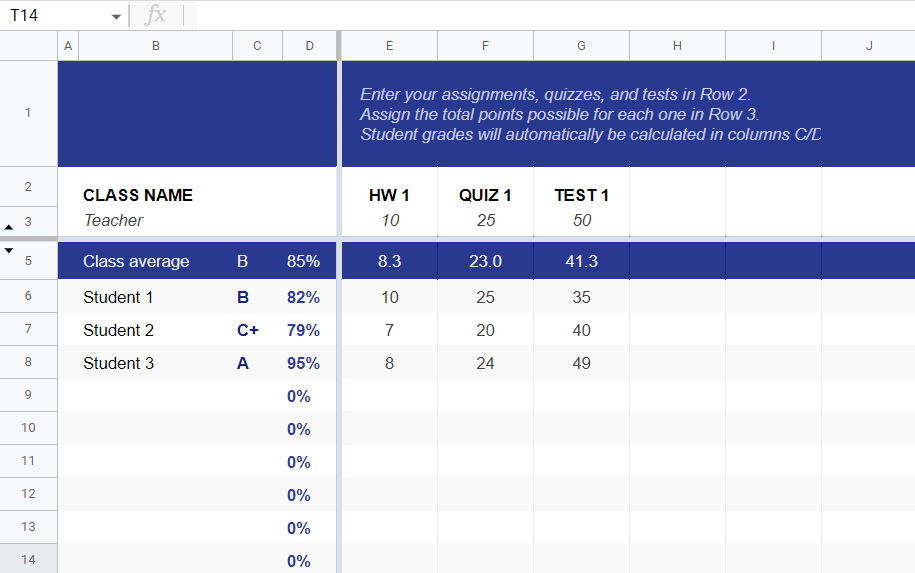 Designed by Using Technology Better
The Student Progress Tracker in Google Sheets aids teachers in monitoring students' development. Teachers can easily create a custom tracking system that suits their needs and preferences.
This template includes columns for class names, grades, and other relevant information. You can also fill cells with color to make the tracker more visually appealing and functional.
5. Student Behavior Tracker

Designed by Geana Germana
Teachers can use the Google Sheets Student Behavior Tracker to observe the behavior trends of their students and their advancement and improvement over time.
This template includes the ability to quickly and easily record data so you can identify areas where additional support or intervention may be needed.
6. Student Assignment Tracker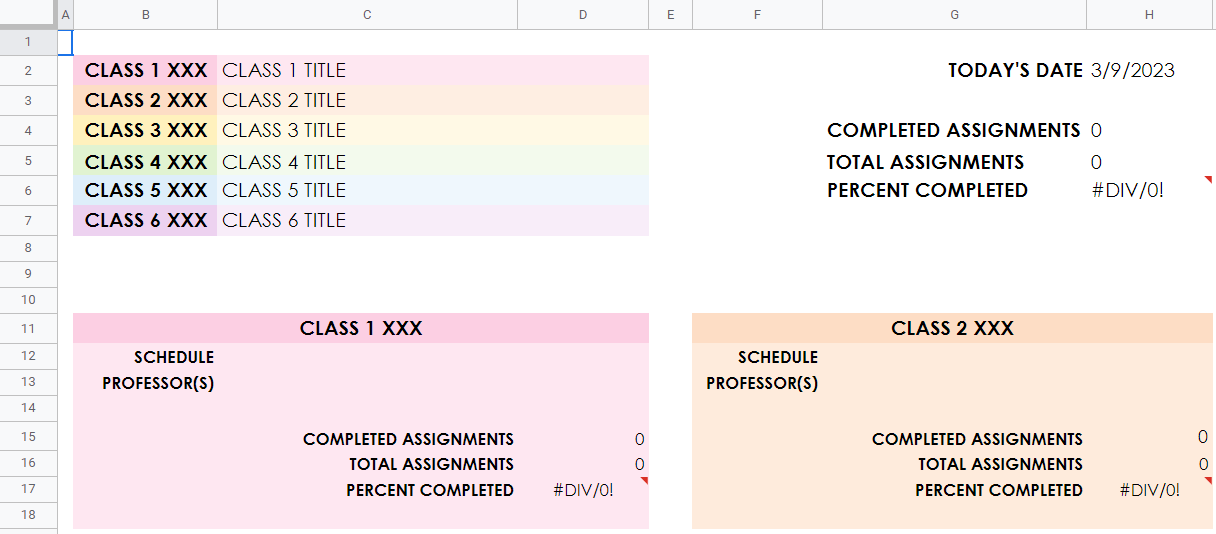 Designed by Reddit
Students can use the Google Sheets Student Assignment Tracker to plan their time more effectively, allocating time for each task and making sure they have enough time to complete their assignments by the due date.
The template has multiple colored sections for various elements to help identify crucial information at a glance.
7. Student Homework Tracker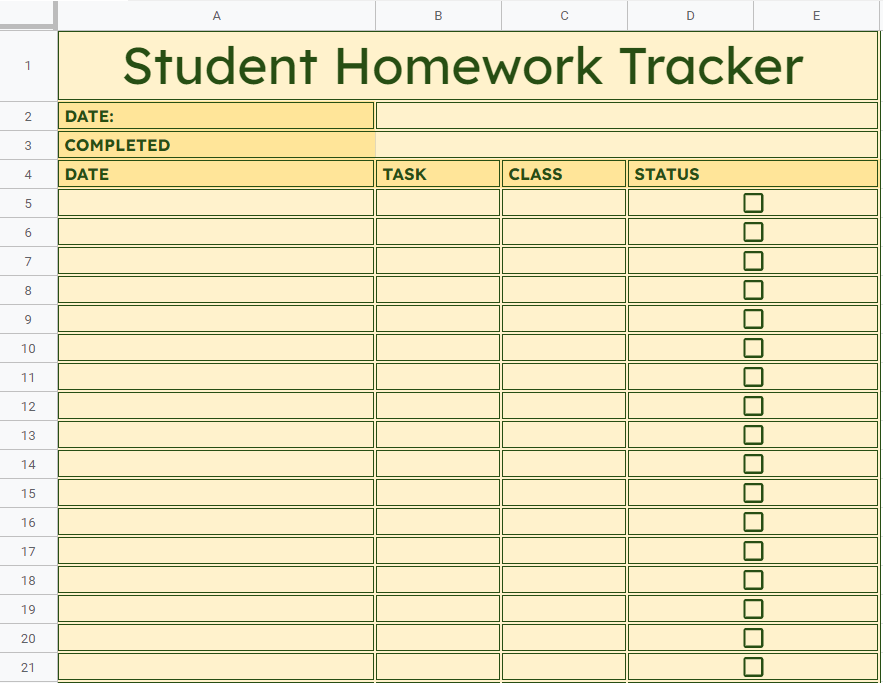 Designed by Spreadsheet Daddy
This Student Homework Tracker in Google Sheets is a straightforward yet useful solution that can assist students in maintaining the organization of their schoolwork. It is easy to use, accessible, and shareable, making it a useful resource for students of all ages and skill levels.
The tracker includes columns for the completion status of the assignment and any additional notes.
How to Create a Student Tracker Template in Google Sheets
In this section, we'll take a look at how to quickly build a Google Sheets template for homework that will make it simple for you to keep track of your assignments.
Step 1. Start by entering the text you need in your template: the header/title at the top, a place for the document date, and the assignment details (due date, task, class, status). Then use the toolbar options to customize your text, such as alignment, color, size, and font.


Step 2. Next, if you have cells you need to merge (such as for the title), highlight the cells, click the Merge icon, and select Merge all from the menu.

Step 3. To add a border around the data section of your template, highlight all the cells that make up that section, click the Border icon in the taskbar menu, and select the border's color, style, and type.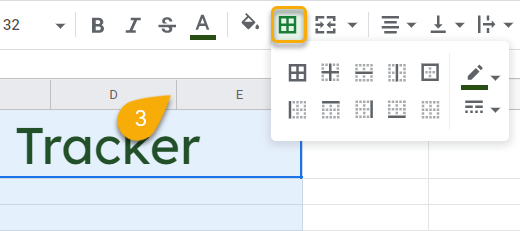 Step 4. To change the color of any of the cells in your document, highlight the cells and choose the Fill color option. Pick a color to alter the coloring scheme of your template.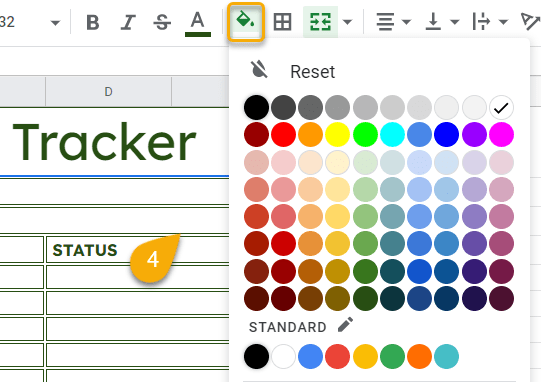 Step 5. In the Status column, select the cells where you want checkboxes to appear. Go to the Insert tab and click on the Checkbox option.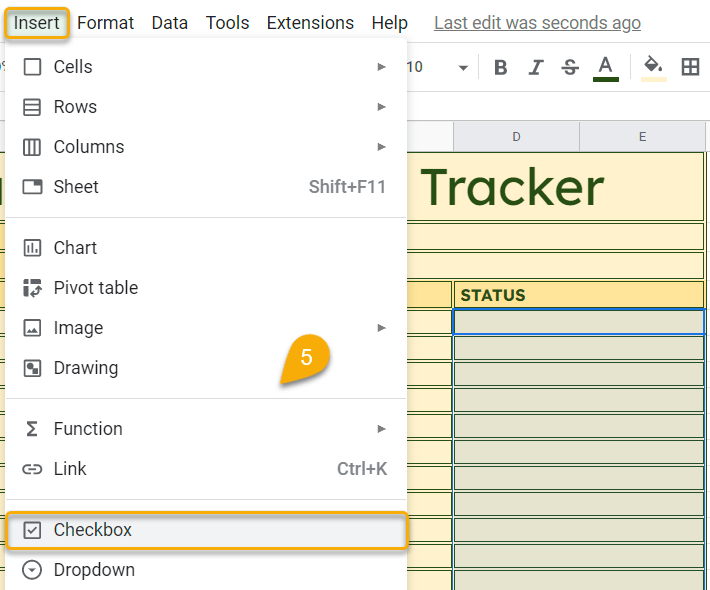 Voila! The result is shown below!