Planning for a vacation is undoubtedly one of the more exciting budgeting exercises you can do. Even a business trip can be an occasion to look forward to.
However, a lack of proper planning can result in a flop of a holiday or a business trip rather than a fabulous or productive one.
But that doesn't have to be you. In this article, we review some of the best Google Sheets travel budget templates to help you prepare for your long-awaited break or business trip!
1. Free Downloadable Travel Budget Template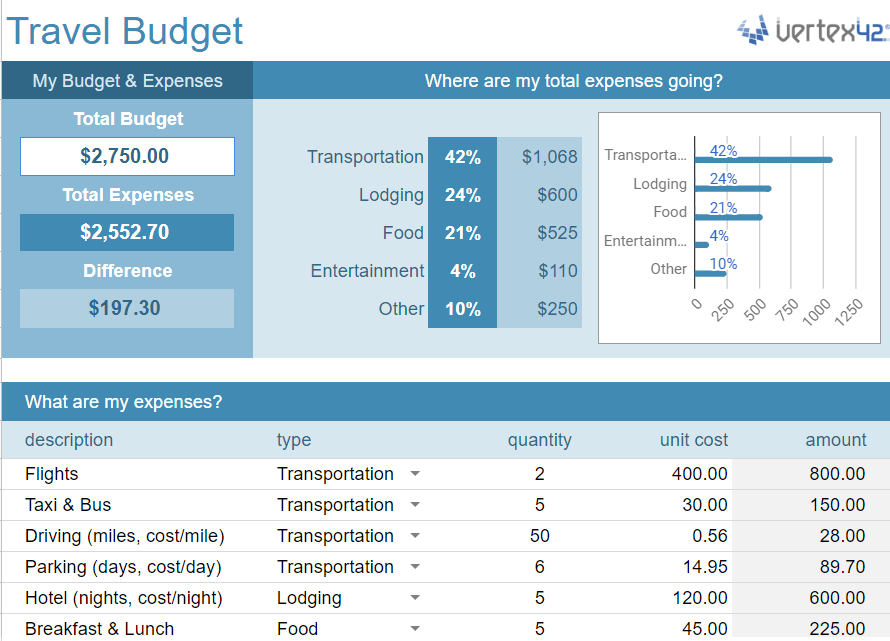 Designed by Vertex42
If your itinerary is going to be jam-packed with lots of stopovers and plenty of travel activities to see and do, the Free Downloadable Travel Budget Template by Vertex42 is an excellent option.
It is so user-friendly and ideally suited to travel planning, with a graph that depicts the sum totals of your budget categories so that you can view how these costs are going without necessarily having to go back to the drawing board to establish where you overspend.
2.Daily Travel Budget Template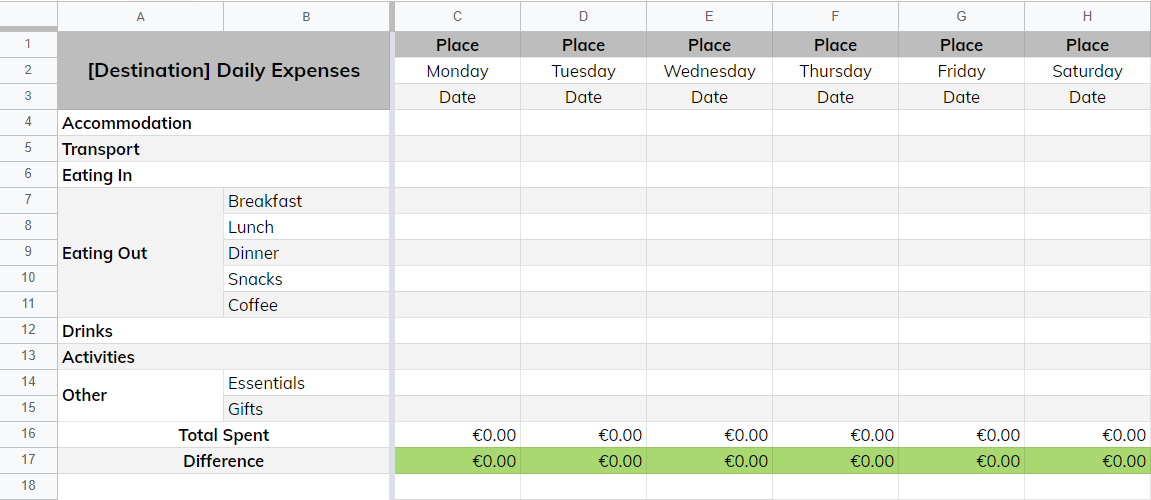 Designed by Charlie Marchant
The Daily Travel Budget Template by Charlie Marchant is an excellent step-by-step guide to use if you have a jam-packed travel trip coming up that requires you to track daily expenses more carefully.
What's unique about this travel budget template is that you have a local currency column and a home currency column you can use for comparison purposes.
And then there's also a total budget row that you can compare to the sum of your daily totals to see if you are edging towards going over budget or keeping to the plan.
3. Artist Tour Budget Template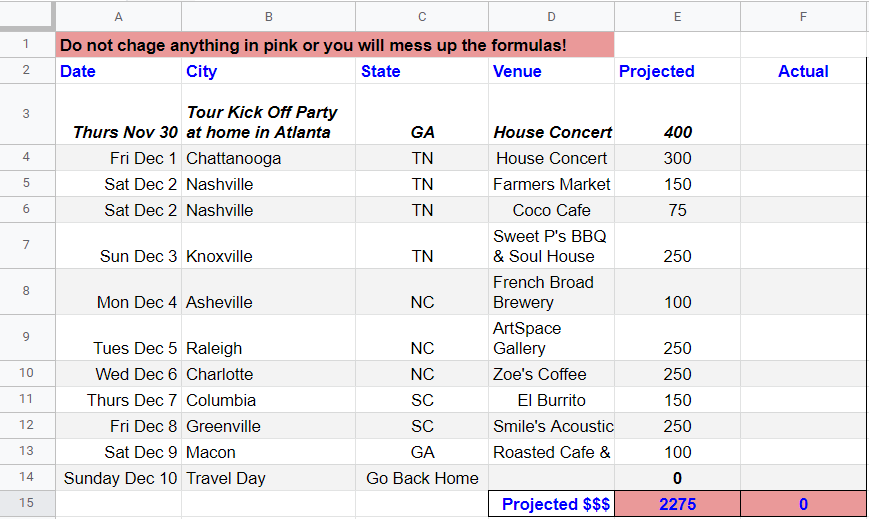 Designed by The Crafty Musician
The Artist Tour Budget Template by The Crafty Musician is a great touring budget if you plan on going from place to place and want to enjoy yourself in the process while not being too preoccupied by expenses that go with the territory.
This budget template also has a special column for venue prices depending on the town you're in, so you can pick the most profitable venue for you depending on your tour goals and the spend you have available – which, of course, relies on how your trip pans out while you're visiting each destination.
4. Business Travel Budget Template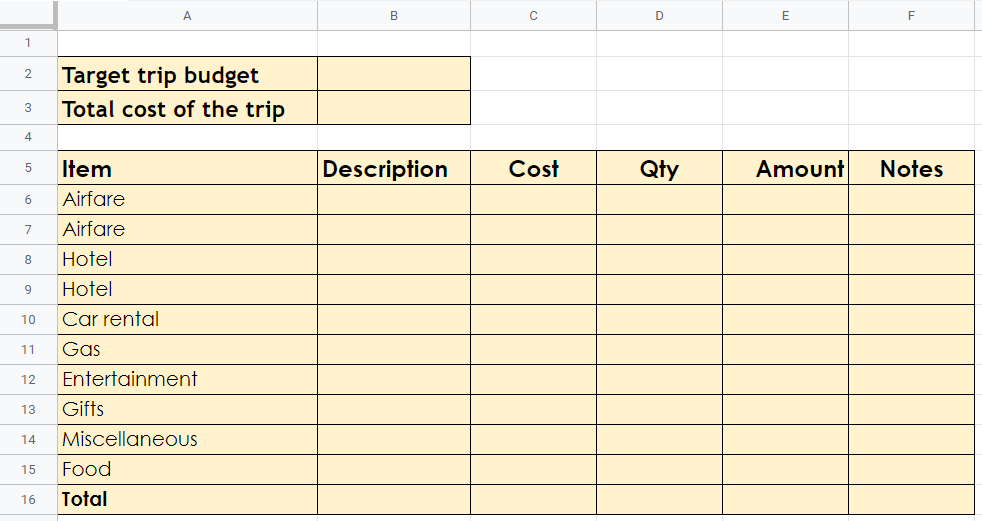 Designed by Spreadsheet Daddy
The Business Travel Budget by Spreadsheet Daddy is designed nicely for business trip expenses. This spreadsheet should help you monitor and account for expenses on a business trip for record-keeping purposes.
Category expenses that this budget template include are airfare, hotel, car rental, gas, entertainment, food, and other miscellaneous costs.
5. Corporate Travel Budget Template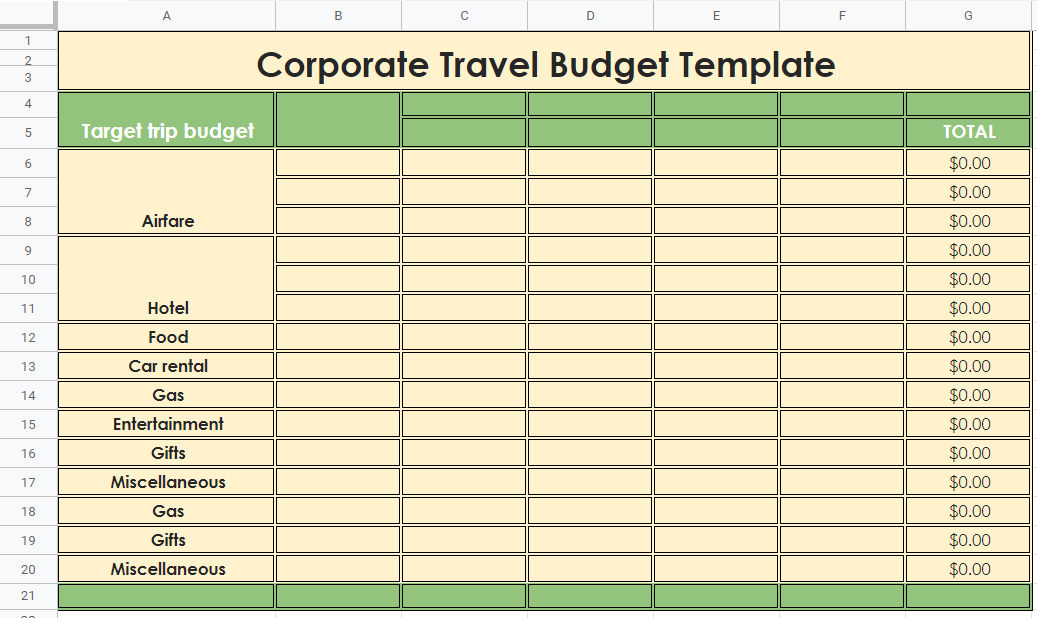 Designed by Spreadsheet Daddy
Since a corporate travel budget needs to be a little more finessed than the norm, this spreadsheet template by Spreadsheet Daddy is the one to use to accurately record typical corporate travel costs in a neat and corporate-looking document for future company reference.
6. Family Travel Template

Designed by Spreadsheet Daddy
The Family Travel Template by Spreadsheet is perfect for your next family vacation. It has a place for listing itineraries and transportation details.
If you need a helpful reminder on what to pack, this template has a section for that, too, so you won't forget the essentials when you and your family depart on a long journey.
7. Study Abroad Travel Budget Template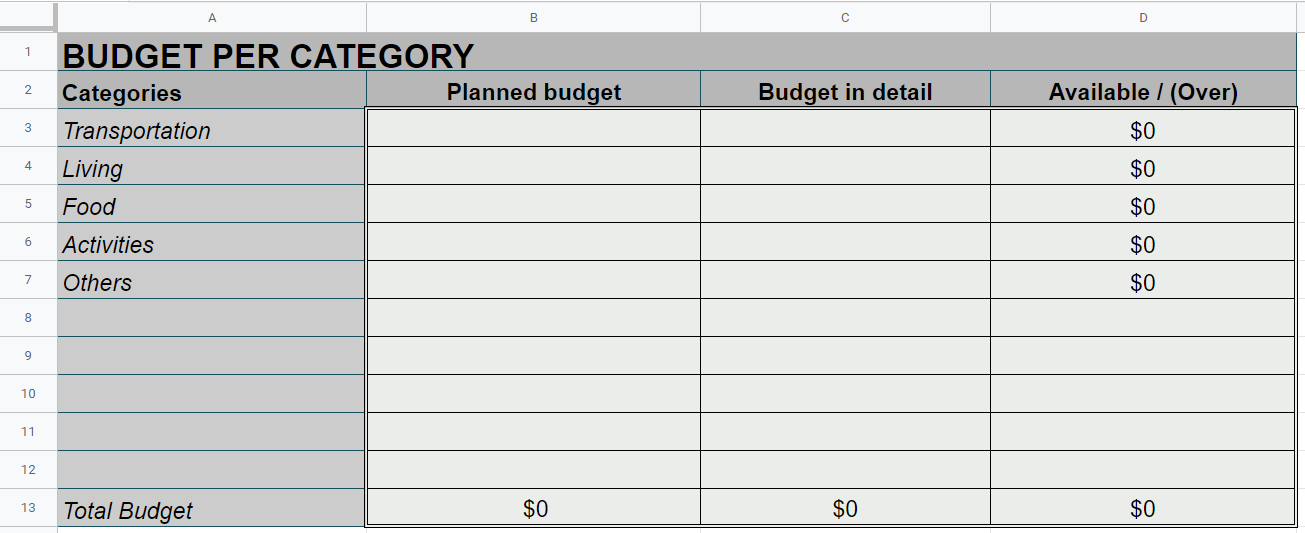 Designed by Spreadsheet Daddy
Studying and living abroad can be costly. Take control over your new lifestyle expenses with The Study Abroad Travel Budget Template by Spreadsheet Daddy and jot down the main category expenses to avoid being caught unawares regarding unanticipated expenses in a new country.
8. Sales Travel Budget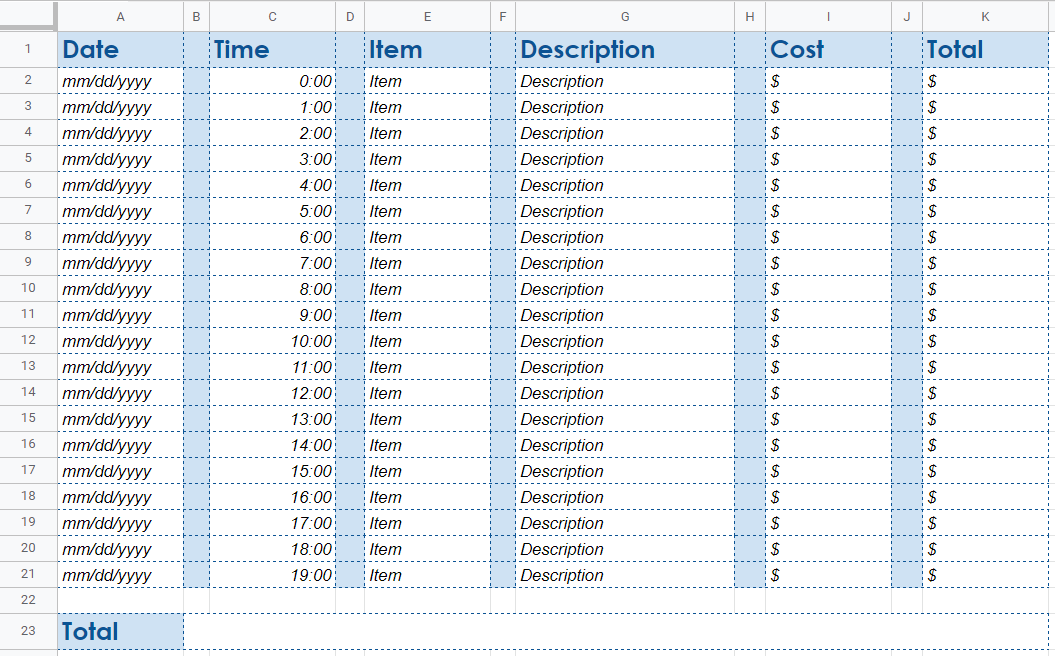 Designed by Spreadsheet Daddy
The Sales Travel Budget Template is ideal for recording all the sales you make while on your travels. You can even use filters to establish what you sold more of and when this occurred to validate your trip.
9. Year-Long Travel Budget Template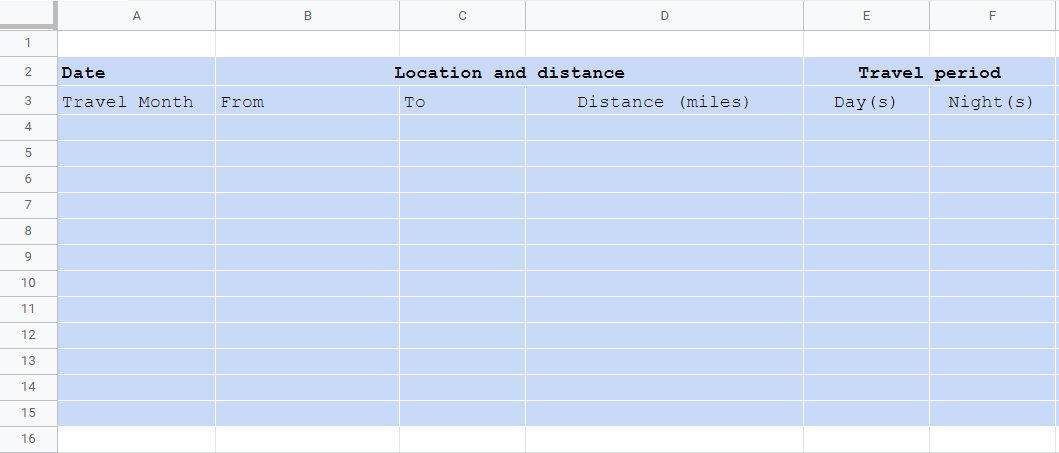 Designed by Spreadsheet Daddy
The Year-Long Travel Budget Template by Spreadsheet Daddy is a good example to use if you are a perpetual traveler and require a suitable budget for year-round travel.
You can even record miles traveled, how much time you spent traveling during daylight hours and during the night, and additional expenses incurred. You can gain insights and reflect on how your travels were spent and if the trip was optimized as much as possible.
FAQs
Does Google Sheets have a travel budget template?
Google Sheets does not have a travel budget template that you can download within its standard templates. However, there are plenty of free travel budget templates available for download that you can access simply by clicking on the links shown above. Perhaps best of all is the fact you can customize these spreadsheet templates to personify your travel trip best.
How do I create a travel budget in Google Sheets?
Travel budgets are one of these things where you might not think it necessary to list certain expenses. Or you may think it's necessary to list everything – but this can get a little messy and difficult to track if you don't have the main travel categories to follow.
Hence, the importance of budgeting for the following category of expenses: transport costs, lodging costs, food and drink expenses, activities, and souvenirs to ensure you at least have the basics to work with. But that's only the start of creating a detailed spreadsheet that will function like the travel budget template it's supposed to. A ready-made template is by far the easier option to resort to if you want a template you can begin working with right away. If you're short on time, browse our massive collections of free budgeting spreadsheet templates for Google Sheets.