To make a schedule in Google Sheets, start by opening up Google Sheets. In the Template gallery menu, pick the Schedule template. Next, change the color of your schedule and pick a font you like to modify the style. Finally, add the content to finalize your schedule.
The steps below will guide you through the process of setting up your own schedule in Google Sheet. This can be created in a few seconds once you know how it works.
In this article, you will learn how to create and format a schedule, adding content to it quickly and easily!
Step 1: Insert the Schedule Template 
The very first step involves inserting a schedule template by choosing it from the gallery built into Google Sheets.
1. Open Google Sheets.
2. Before you create a new spreadsheet, click on the Template gallery menu.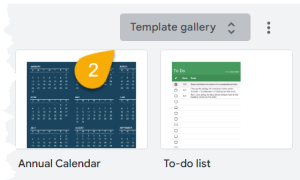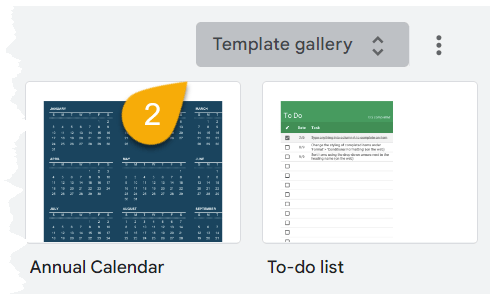 3. Choose the Schedule template.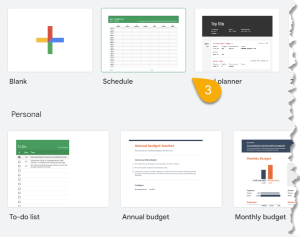 Just like that, your schedule template is ready to use.
Step 2: Format the Schedule
Once you have added the schedule template, you will need to modify it to make it your own.
1. Select the upper two rows to change the color of your header.
2. Click on the Fill color option.
3. Pick the color you like.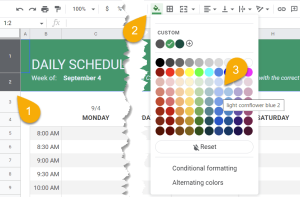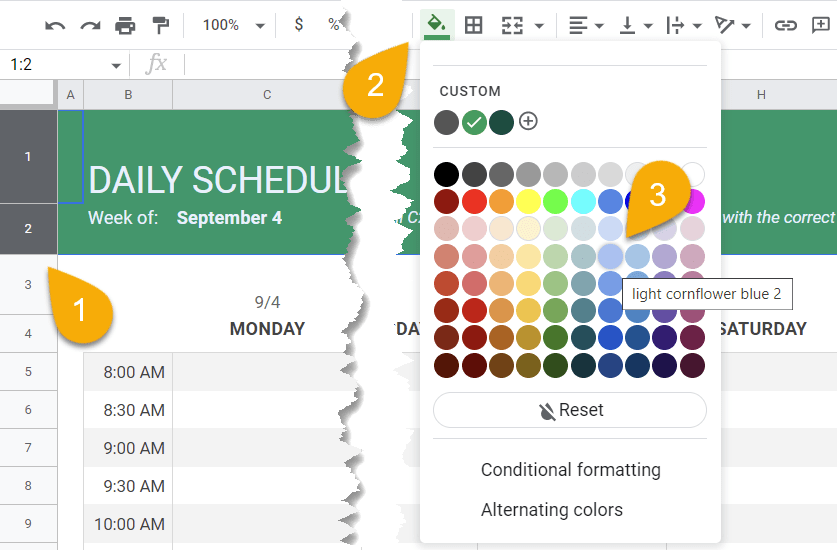 4. Double-click on the date to change it.
5. Enter the date you need.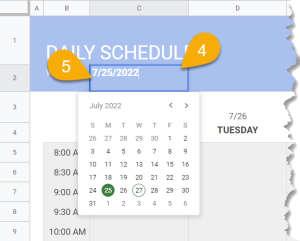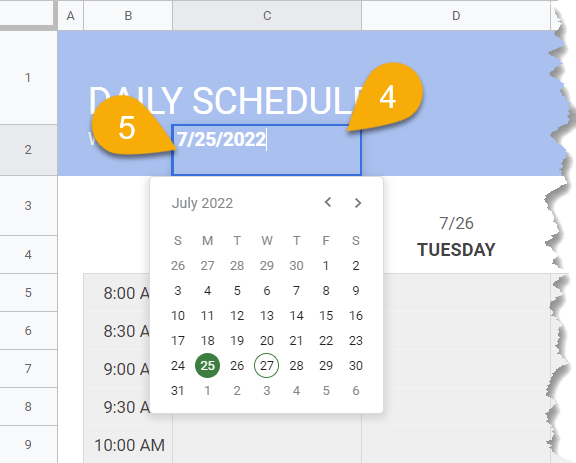 6. Highlight the table cells.
7. Go to the Fill color option.
8. Choose the color you would like for this part of your schedule. Make sure your font and background color do not clash with each other.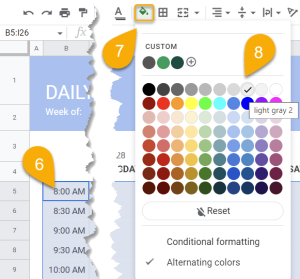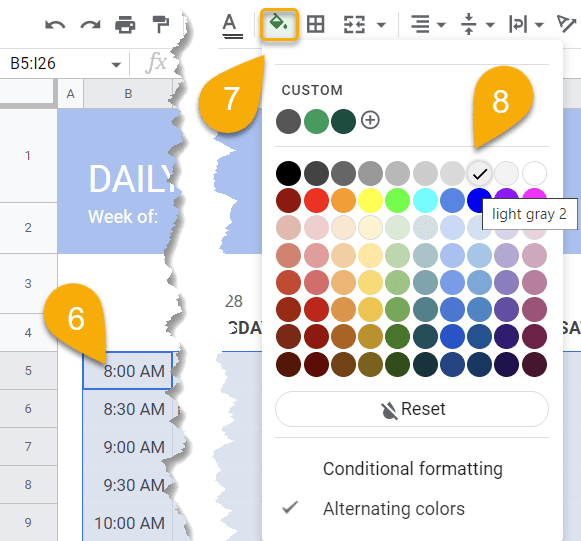 Easy-peasy! See the example below.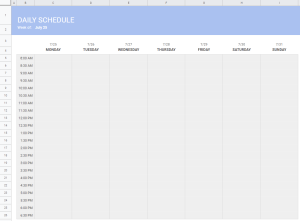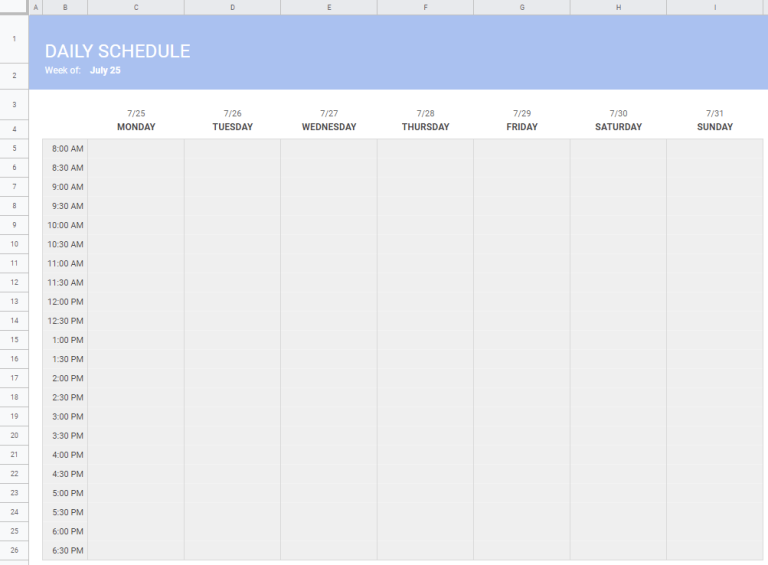 Step 3: Add Content to Your Schedule
One of the most important tasks is to add content to your schedule, so you can use it to keep track of your daily events.
1. Click on a cell and insert the content you need.
2. Optional: Fill the cells with color if desired to help certain items stand out at a glance.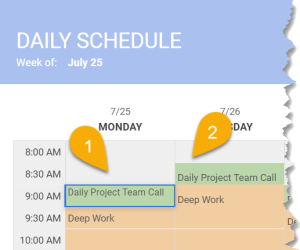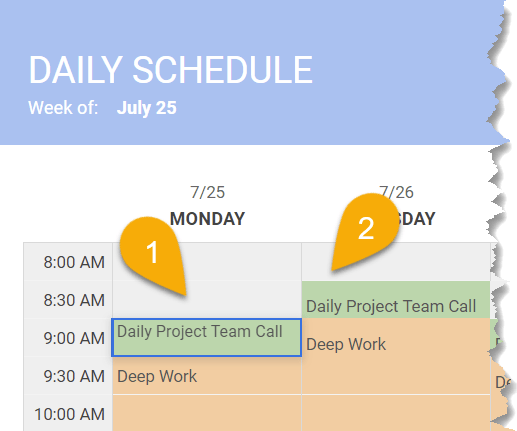 Repeat this process for every item on your schedule.
Google Sheets Schedule – Free Template
A Schedule template can be found below. View and use it as you wish.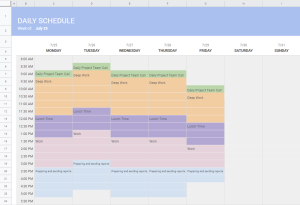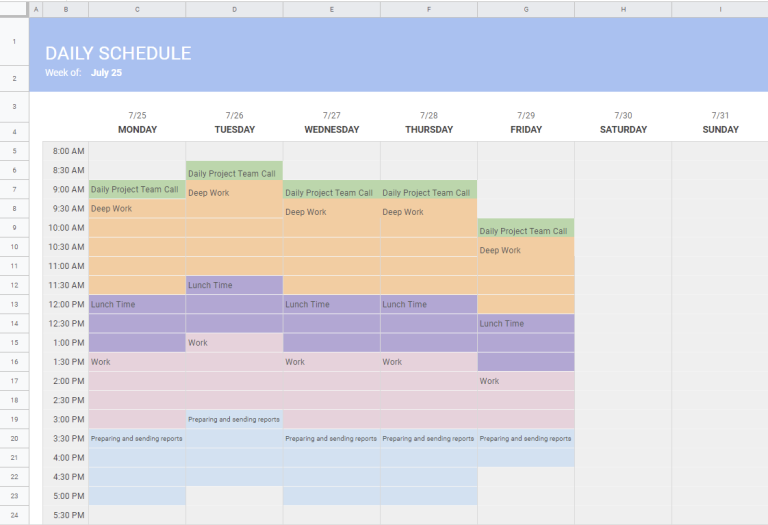 Google Sheets Schedule FAQs
If you would like to learn more about this topic, we recommend viewing our FAQ below.
Does Google Sheets have a planner template?
Yes, Google Sheets has a planner template just as it has a schedule template. You can find it by searching for Planner in the Templates gallery.


What are the advantages of using Google Sheets schedules?
The following are some of the benefits of using Google Sheets schedules:
They are easy to create and edit.
Schedules can be shared with others easily.
They can be accessed from anywhere.
How do I manage a schedule?
You may modify your daily activities simply by changing them in the schedule. Simply open the schedule, click on the cell where you want to add or change an event, and type it in. The schedule will be automatically updated and saved with the new data.