Let's be honest—we often forget things when we travel or go grocery shopping or even feel confused when considering who to invite to a party. An awkward situation, isn't it?
Even worse, this tends to happen at the most inconvenient time. How can we address this problem? It's a valid question.
Thankfully, we have a solution that will help you organize all your data properly, mark all the necessary events and tasks, and assemble them into an easily readable format.
In this article, you will learn about 20 Google Sheets checklist templates you can use to organize and manage your data properly. So, let's dive into this post!
What Is a Google Sheets Checklist Template?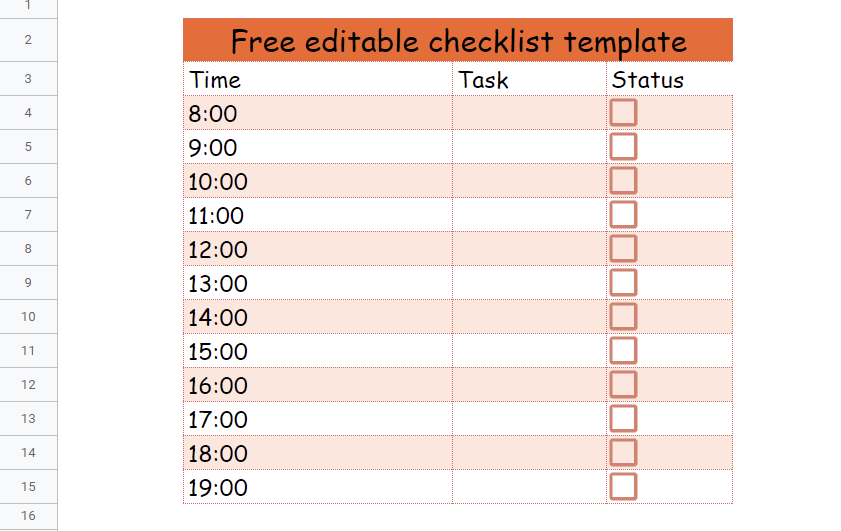 The checklist template in Google Sheets can be defined as a spreadsheet that contains sections or a list of tasks that need to be completed in a particular order. Such templates often have checkboxes that users can tick when the task is completed. In some cases, instead of checkboxes, other indicators of task status may be used.
This template will help you keep on top of your tasks and make sure you don't forget anything—all in one place!
Why Use a Checklist Template for Google Sheets?
It is important to note that templates like these do not always need to contain tasks. Checkbox templates can come in many different types, and each has its own features. Let's take a look at which ones will work best for your needs:
Daily checklist

: Create and use this list for everyday household chores.

Weekly checklist

: Design a schedule for your upcoming week with this template.

Business trip checklist

: Make sure you have everything you need during your business trip.

Engagement party checklist

: Mark down all the necessary tasks you need to do before your special day.

To-do checklist

: Create your own to-do list with this easy-to-use checklist template.

Travel checklist

: Don't forget to bring important things for your vacation.

House cleaning checklist

: Organize your house cleaning by preparing in advance with this template.

Camping checklist

: Plan your camping day and make sure everything is with you.

Project quality checklist

: Manage your project effortlessly using the spreadsheet template.

Inventory checklist

: Conveniently keep track of the required items.

Moving checklist

:

Don't forget anything when moving to a new location.

Party checklist

: Take care of all the details related to your party.

Medicine checklist

:

Consider what medicines you may need to have on hand at all times in case of an emergency.

Backpacking checklist

:

Pack everything you need for a backpacking trip.

Wedding invitation checklist

: List all the guests who should attend the wedding and make a note of important details related to the wedding.

Teacher checklist

: Monitor the learning process of each student systematically.

Grocery checklist

: Create a list of the products you need before you head off to the store.

Project task checklist

: Organize a list of tasks that need to be accomplished in order to complete the project.

Child's household jobs checklist

: Encourage your children to contribute to the household and teach them important skills.

Event checklist

: Remain informed about all the important aspects before and during an event by using this checklist template.

Child development checklist

: Keep a record of your child's developmental milestones and mark them when they are achieved.
What Are the Benefits of Using a Google Sheets Checklist Template?
Check out some of the advantages of using a Google Sheets checklist template:
Save time

: By using Google Sheets checklist templates, you can save time by being able to view the entire list of your to-do items in one glance.

Improve tracking

: Make your day and your tasks run as smoothly as possible, marking those already completed and keeping track of the ones still in process.

Manage personal items

: Make sure to have everything you need with you when you leave your house.

Secure personal data

: Organize important personal information in a password-protected checklist so you can be sure that only you have access to it.
What Should a Google Sheets Checklist Template Include?
Let's take a closer look at what can be included in a checklist template to give you some ideas for how you might be able to use one:
To-do tasks

: List the tasks that need to be completed.

Status

: Tick the box if the task has been completed.

Names of items

: Enter the names of the items that you need to purchase or bring with you.

Category

:

Sort items according to their category in a checklist template.

Quantity

: Determine the number of units you may need.

Description

:

Add a description to items or tasks.

Date/Time

:

Determine when the task should be completed.

Comments and notes

:

If necessary, provide additional information or details.
20 of the Best
Google Sheets Checklist Templates
Let's take a look at 20 of the best Google Sheets checklist templates that we have prepared for you. We hope you find them helpful! Pick out the template that works for you.
Daily Checklist Template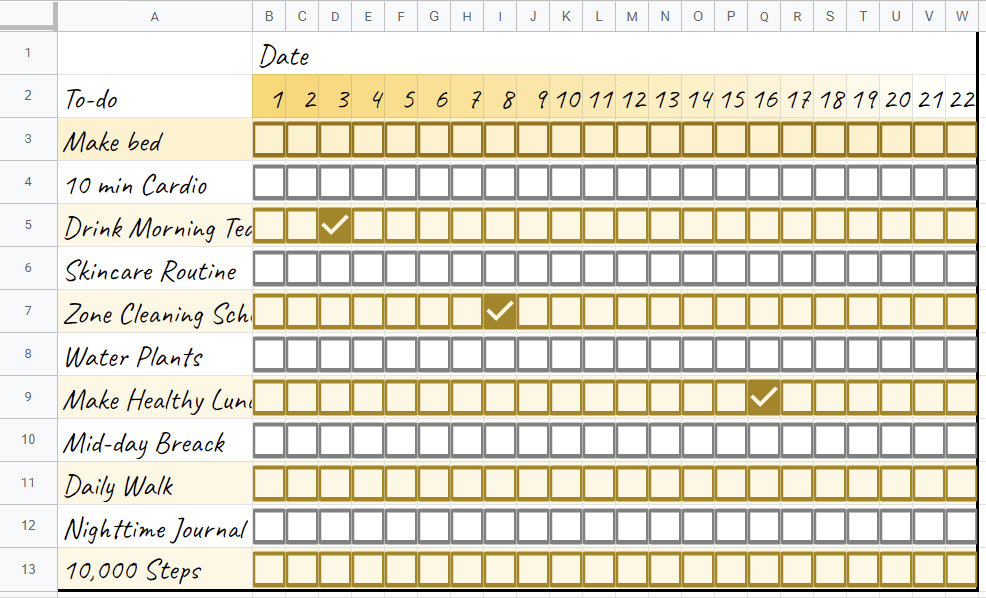 The Daily Checklist Template is created to easily manage and organize your day in a simple and effective manner.
As you can see in the template, there is a list of tasks to be completed on certain days. It is very easy to use and can help you if you have a lot of plans to complete in one day, making this the perfect solution for people who always have a busy schedule.
This template allows you to make adjustments as needed so you can customize the list. Simply create the tasks, set the desired dates, and then tick off the tasks that have been completed.
Weekly Checklist Template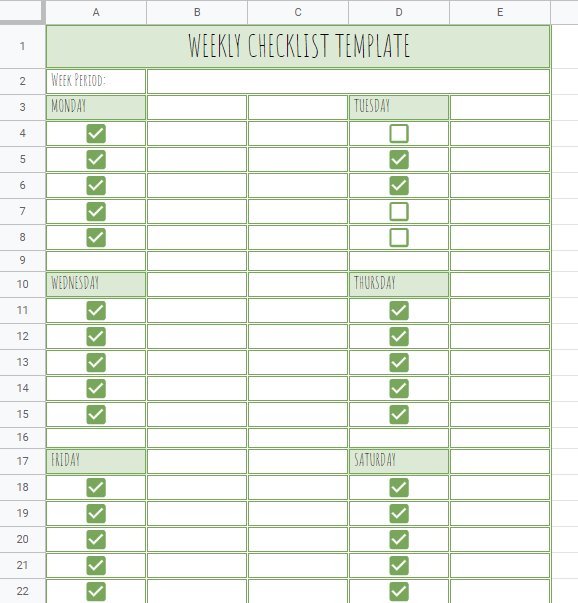 The Weekly Checklist Template is specifically designed for those who need to organize their plans a week in advance.
Do you have a lot to do? This template could be a great tool for you, as it will help you put your to-do list in the right order so you will always be sure to not miss anything important.
The template consists of eight sections, one for each day of the week and an additional one for notes. Due to its simplicity, the template is suitable for both experienced users of Google Sheets and newbies alike.
Simply enter your tasks in the appropriate column, and once the task has been completed, mark it as complete.
Office Move Checklist Template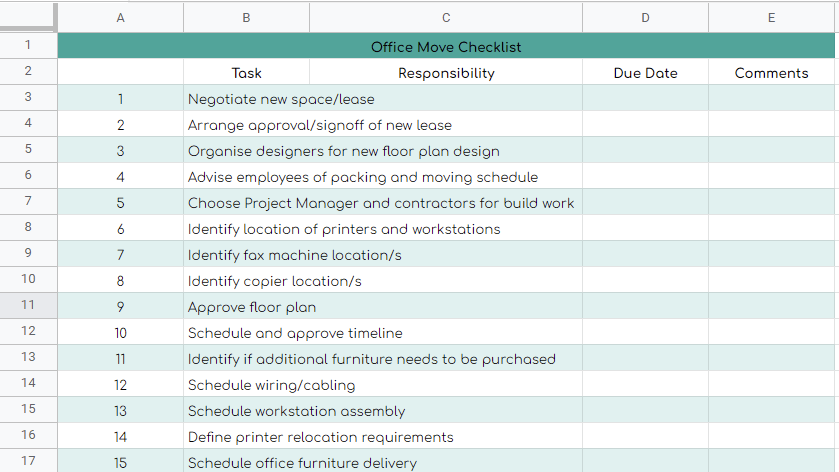 The Office Move Checklist Template helps those who are planning to relocate their place of work.
There are five columns in this table: one to number each item, one for tasks, one for responsibilities, one for the date, and one for comments.
The data in the spreadsheet can be modified to suit your requirements by adding or removing tasks to be completed. Moreover, you can easily modify the template by changing the color, font, and style as you wish.
Engagement Party Checklist Template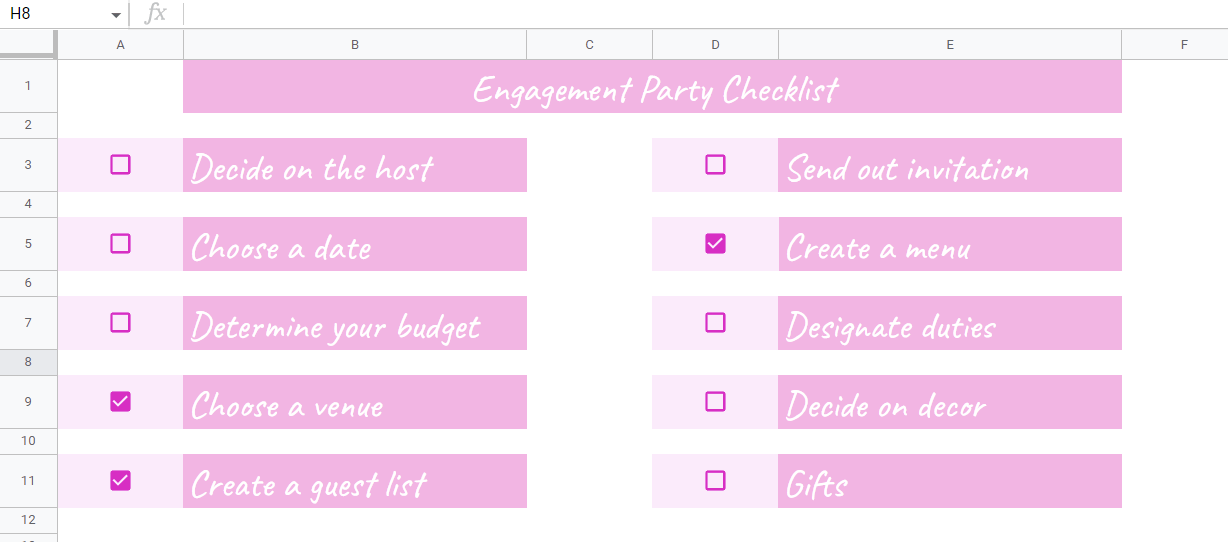 The Engagement Party Checklist Template is a great tool for those who wish to make the best and most memorable party of their lives.
This template can help you make the most of your important day by keeping things easy and cheerful.
The template provides ten essential tasks that you can accomplish as you prepare for your engagement so you don't miss out on anything important. A checkbox next to each task will allow you to mark the status of each action.
Change the fields in the spreadsheet to correspond with your own tasks, check off the ones you've completed, and alter the template to suit your taste.
Travel Checklist Template

The Travel Checklist Template is designed to provide a list of items that are necessary for a traveler.
If you are planning to go on a trip and are not sure whether you have everything you need with you on your trip, then you should download the template below. It will play an essential role for you when planning your vacation.
The template format is convenient and extended. Check out the list of items that you will probably need while you are away from home. It even includes a column that states the category of a particular item, making packing for the trip easier.
To use this template to your advantage, simply mark the item you put in your suitcase. You can, of course, create your own list of items if necessary. To do so, click on an empty cell and enter the name of the item in the appropriate field.
House Cleaning Checklist Template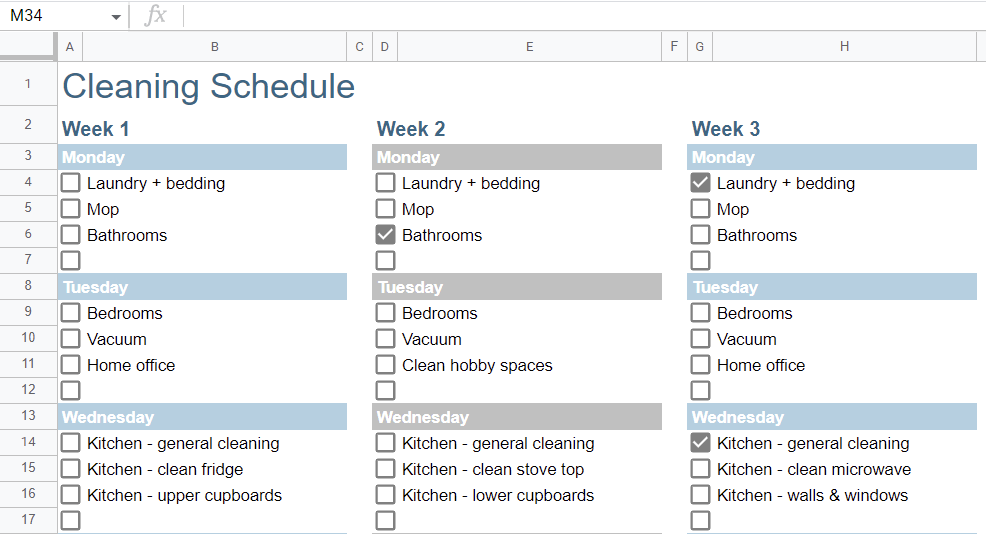 The House Cleaning Checklist Template designed by Vertex42 is perfect for those who plan to put their home in order and do everything necessary to ensure that the place is as clean as possible.
Vertex42 offers you a template where there are four columns of tasks that you need to do. You can also find here Daily Reminders and Monthly Reminders sections that can be helpful when organizing your day-to-day activities. The spreadsheet contains a large amount of data that can be easily managed by the user.
For your convenience, you are also able to change the number of tasks to be completed with ease. You can add or remove columns based on your needs. With the help of the Google Sheets menu bar, you can format the spreadsheet according to your preferences.
Camping Checklist Template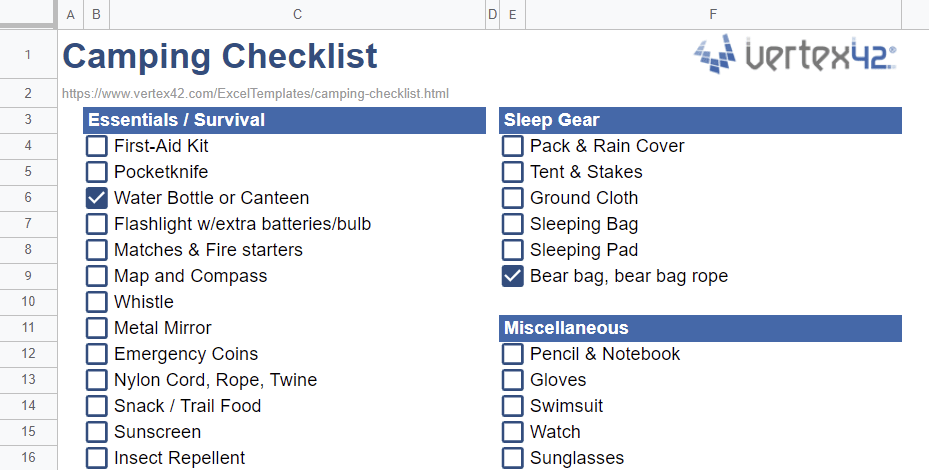 A Camping Checklist Template has been prepared by Vertex42.
Are you headed to the beach or the woods? There is a good chance that you will need this template before you go on a trip if that is the case.
Below you will find a template with a list of items you can bring along on your trip. In this spreadsheet, there are two columns which are divided into different sections according to their contents.
Add a checkmark beside each unit you need. Feel free to expand the template by adding additional sections as desired.
Project Quality Checklist Template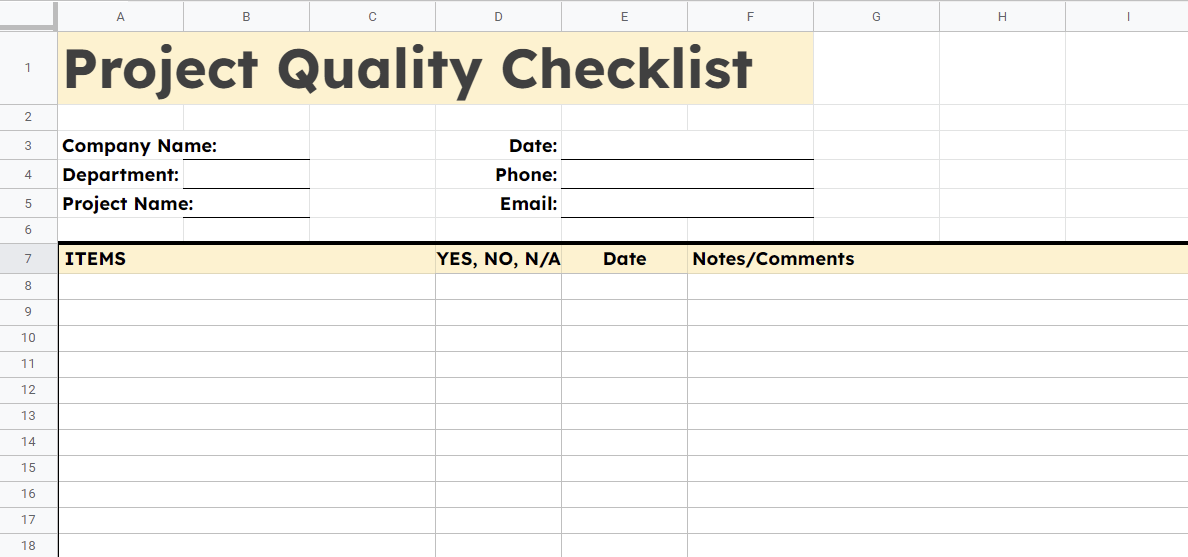 The Project Quality Checklist Template was created for those who want to assess the quality and condition of a particular project.
This template provides fields where you can enter the name of the project, dates, notes, or comments, and the status of the project. As it does not contain any extra fields, it is clear and concise, which means it is easy to use.
If you want to use the Project Quality Template, follow the link below to download it. You will need to enter the data about the project in the appropriate fields. The spreadsheet has no limits, so you can add as much information as you want. Additionally, you can change the font, style, and color of your template easily.
Inventory Checklist Template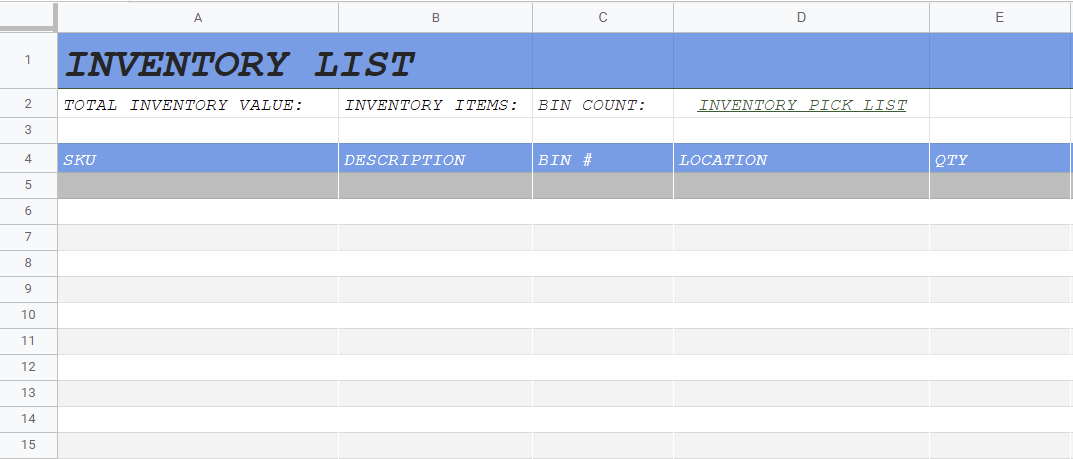 Inventory Checklist Templates are created for people who want to control the availability of specific items easily.
In this template, you will find eight different columns across which you will be able to keep track of the availability, quantity, and status of each item. This spreadsheet template is easy to use, fairly clear, and free of clutter, making it a good starting point for your work.
To use this tool, simply download the template below, click on an empty cell, and enter the characteristics of the item you want to manage. Use the formatting options to customize your spreadsheet.
Moving Checklist Template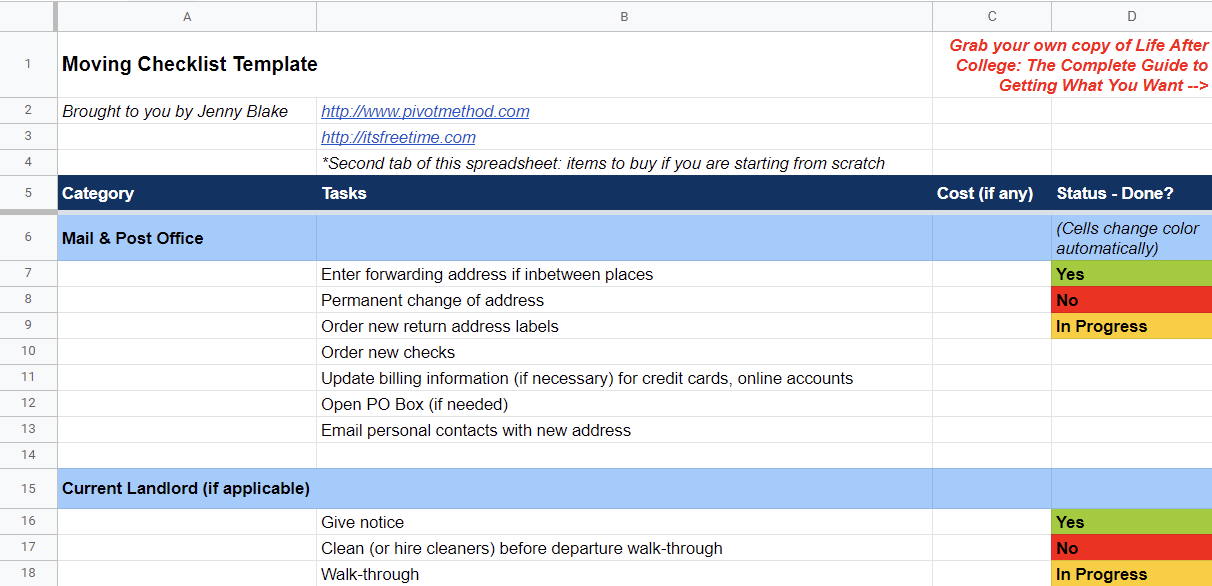 The Moving Checklist Template is made for those who are planning to move in the near future.
The template includes several columns for specifying categories, tasks, statuses, etc. The tasks are already arranged in a separate section to be completed before or after the move, depending on when you choose to do so. It is possible, however, to change them at any time as needed.
This Google Sheets template is quite easy to understand and convenient to use, even if you are not familiar with the format and have never used Google Sheets before.
To customize the template to fit your needs, just enter your data and, if necessary, change the status of the tasks that have been completed.
Party Checklist Template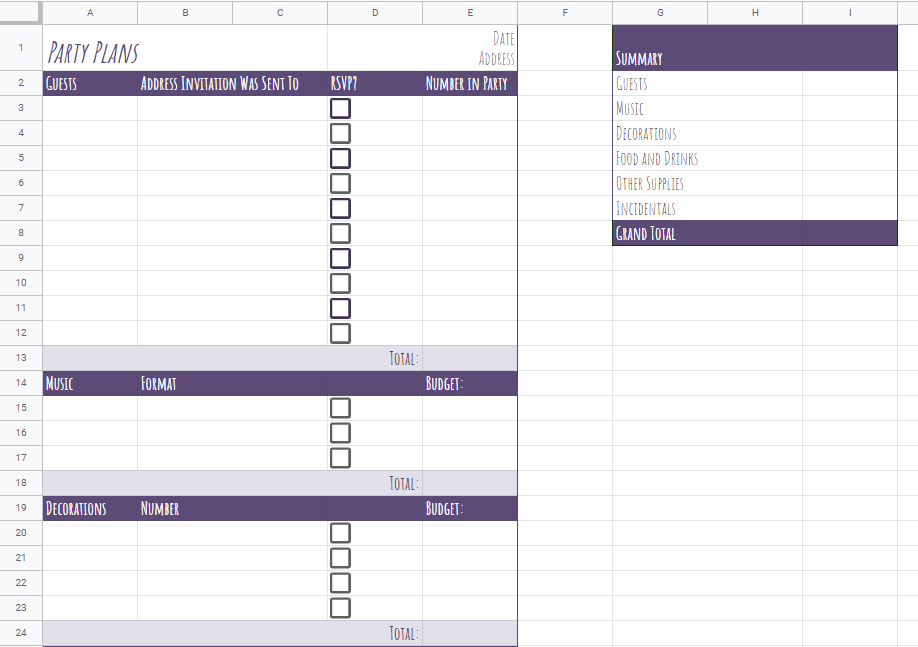 The Party Checklist Template is a great tool that can be used to help organize a party.
The template is quite comprehensive, so you can include all the details related to preparing for a party here. The spreadsheet consists of many sections, such as guests, music, decorations, food and drinks, other supplies, incidentals, schedule, and at the party. It even provides another section where you can summarize your holiday.
To complete each section, simply type in the information and mark things off as completed. You can add to the list or remove things as needed.
Medicine Checklist Template

The Medicine Checklist Template is intended for individuals who want to monitor their medication intake and not miss their use.
You can see in the screenshot that there is a very concise and clear structure to the template. With ten different columns, this template is quite extensive, covering details such as the name of the drug and the status of taking the drug.
To use this template to your advantage, type the names of the medicines and check the boxes when you have taken the medicine.
Backpacking Checklist Template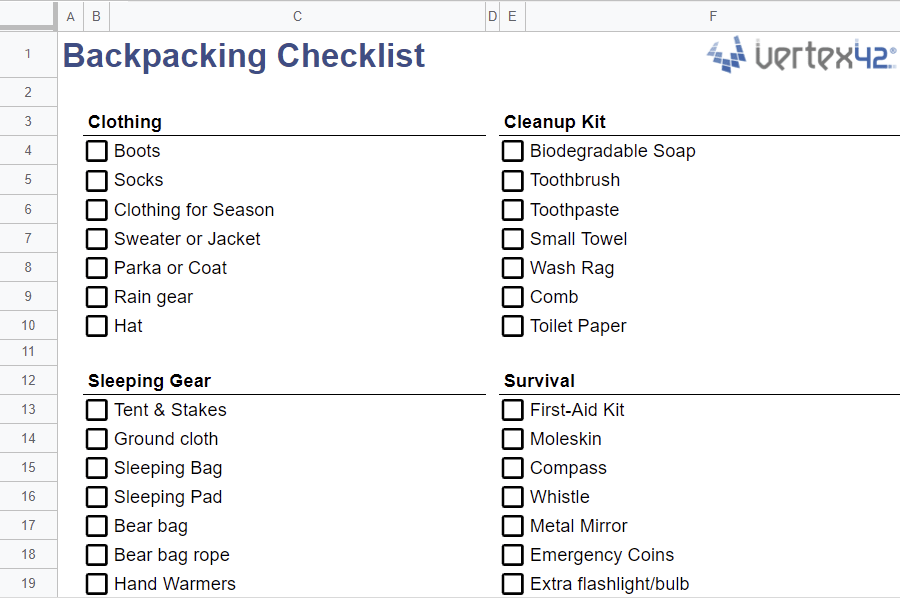 The Backpacking Checklist Template was designed by Vertex42.
Are you planning a backpacking trip but you're not sure what to pack for it? This template can help you pull together everything you need!
The Backpacking Checklist Template provides a variety of sections that have already been labeled with names of the things that you might need during your trip. The spreadsheet also offers a number of other tips that you may find useful.
When packing your backpack, simply enter the contents into the spreadsheet, customize it as needed, and check the boxes when done.
Wedding Invitation Checklist Template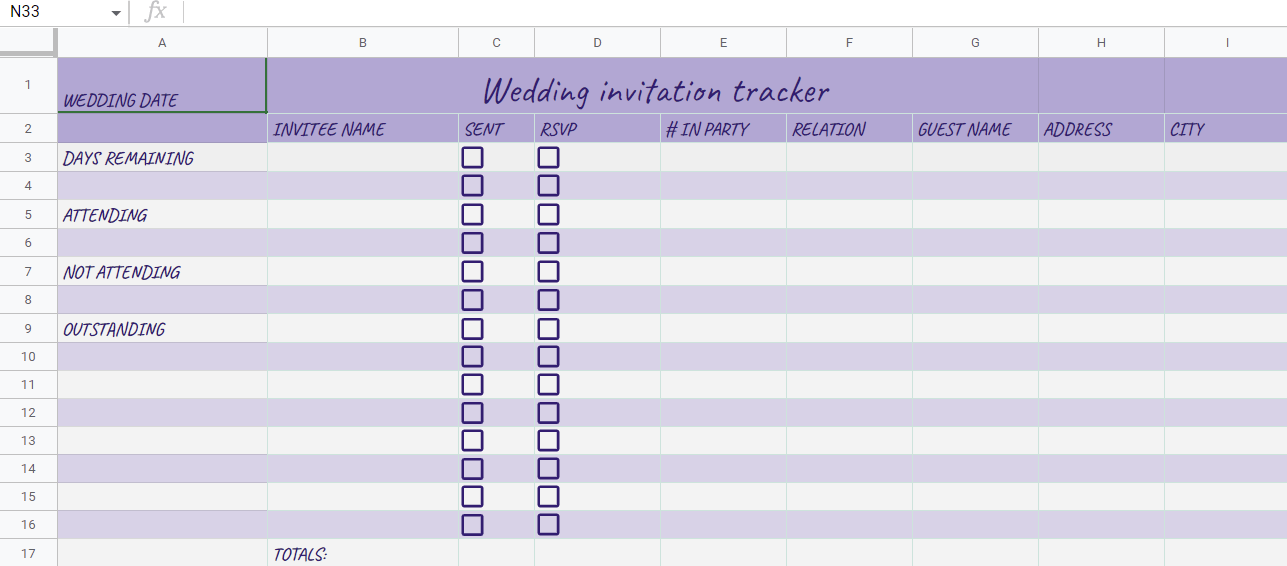 The Wedding Invitation Checklist Template is a great option for those who need to decide on the number of guests for the ceremony.
Are you worried that you forgot to invite someone? If so, we recommend you use the following template, which will help you avoid such fears.
The template itself is extensive. With the information presented in the various sections, you will be able to arrange all the important details of your special day and manage all the information about your guests as well. Make sure you fill in each column with the names of your guests, their addresses, whether they are attending your party, etc.
Download the template from the link below, fill it out with information about your guests, and make adjustments as necessary.
Teacher Checklist Template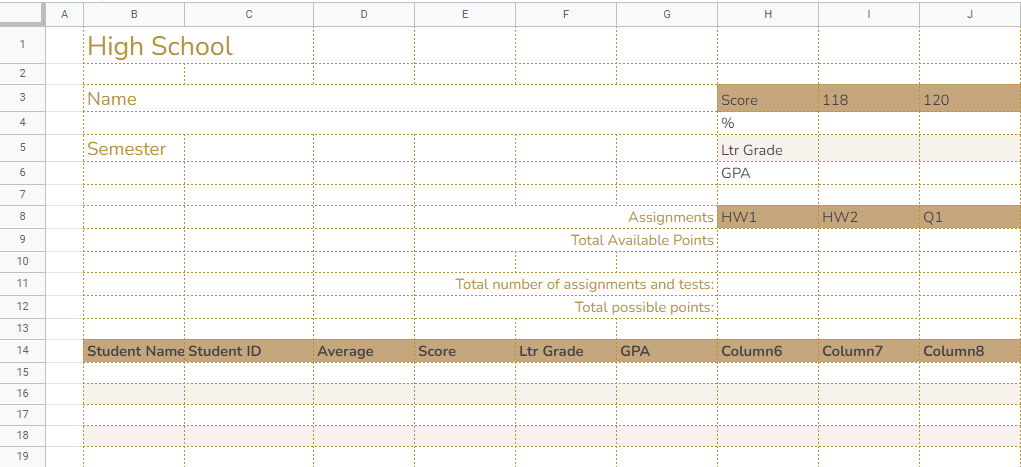 The Teacher Checklist Template works well for teachers to use in monitoring student progress and learning.
Visually, the format of this template is different from the previous ones. There are a number of sections where you can mark the performance and grades of each student, as well as the total number of assignments each student has completed.
In order to use this template, you need to fill in each field in the spreadsheet with data about the student. You can then make changes to the font, style, and color of the template as you see fit. Add or remove lines as needed.
Grocery Checklist Template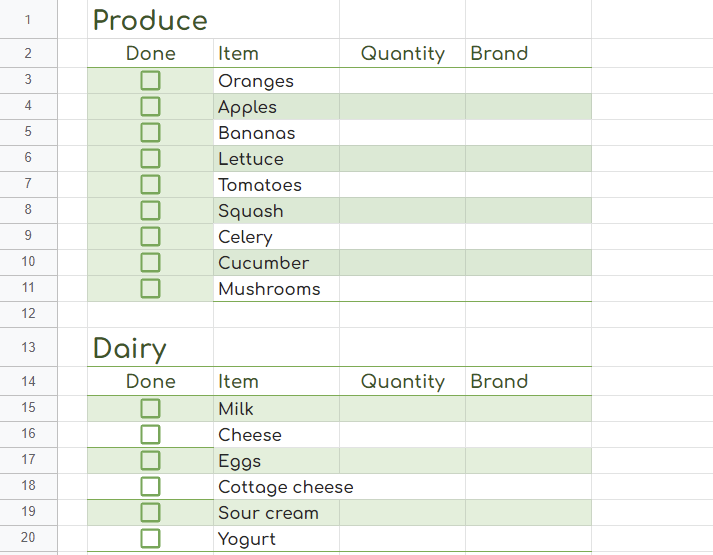 The Grocery Checklist Template is designed to make shopping easier for you.
This template features a neat and clear interface, a division into different categories of products, and columns where you can specify the quantity and brand of the product. In addition, you will find a column with checkboxes by which you can mark the products that are available for purchase in the supermarket.
Adjust the spreadsheet to your product list or use the proposed one, filling in additional columns with your own text and setting the status of the products.
Project Task Checklist Template

The Project Task Checklist Template was created by Vertex42.
This spreadsheet has a clear and concise structure, including eleven different columns to record task, owner, priority, start, end, status, done, budget, estimated hours, actual hours, and notes that might be helpful. It also contains sections for multiple projects.
Using this template, you can make sure managing the tasks on a project is easy and convenient. Modify it in any way you like by entering your text and customizing the appearance of the spreadsheet.
Child's Household Jobs Checklist Template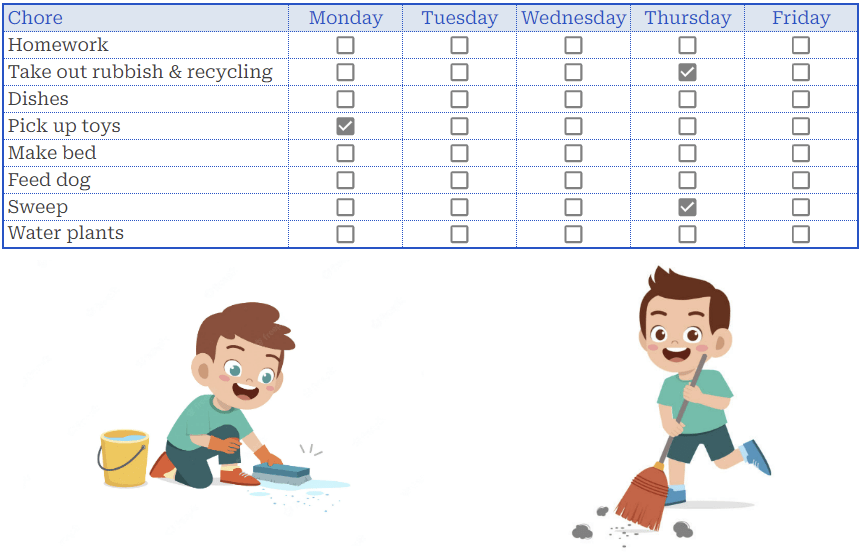 The Child's Household Jobs Checklist Template assists children in learning important skills and feeling good about contributing to the household.
As you can see, the table is divided into six columns, the first of which contains a list of tasks, while the other five columns represent the completion of the tasks during the week. A checkbox has been placed in every cell for the child to determine the status of a completed task on his or her own.
To use the template, enter your own list of tasks for your child and edit the features to match your child's needs. Finally, tick the tasks that your children have completed, or share the document access with them so they can keep their own table.
Event Checklist Template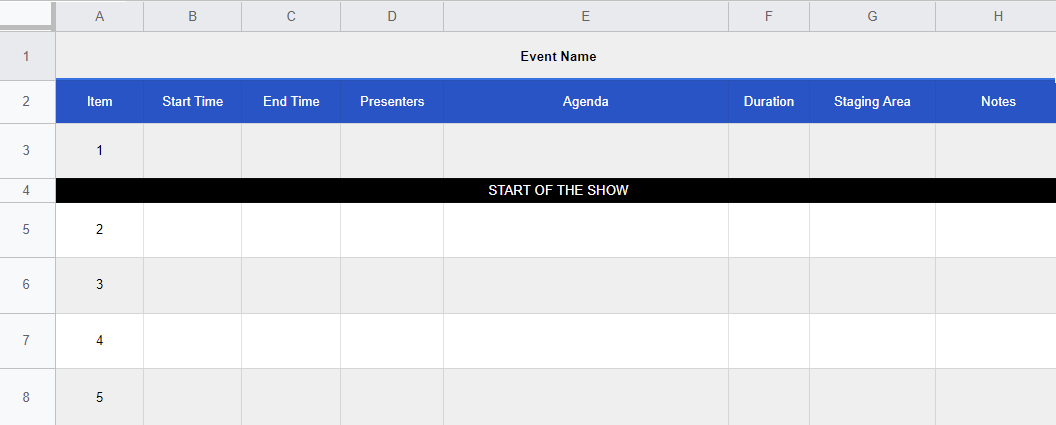 An Event Checklist Template is designed for individuals who are taking care of the whole process of planning an event from start to finish.
The following eight sections should be filled out when planning the day: item, start time, end time, presenters, agenda, duration, staging area, and notes.
The template can be downloaded here, and you can enter the text that corresponds to each section of the template. Add additional fields as necessary that will help you manage the event more effectively.
If you want to choose other event checklist templates for yourself, take a look at the article
5 Free Google Sheets Run-Of-Show Templates For Online And Offline Events.
Free Editable Checklist Template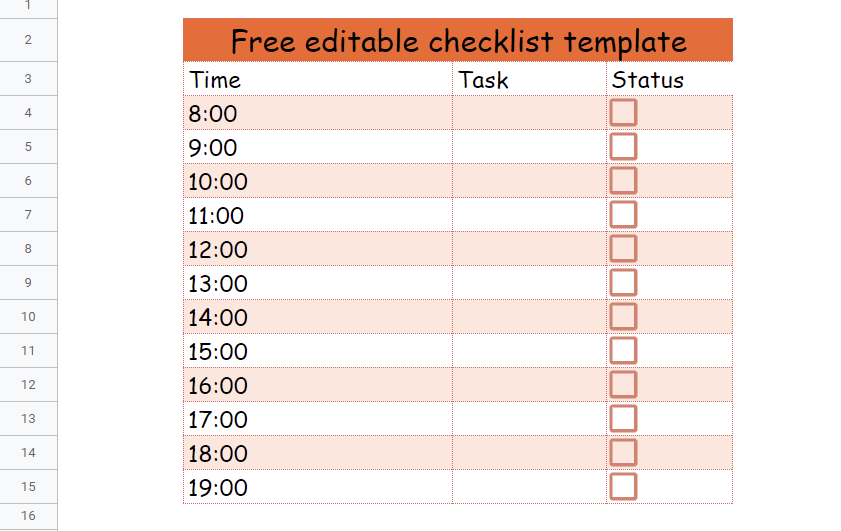 A Free Editable Checklist Template is a great find for those who want to use it for a variety of tasks.
This template has a clearly defined structure that makes it easy to understand. There are three sections in which you are able to enter information about time, tasks, and statuses.
One primary advantage of this template is that it can be transformed in any way you desire. Add new fields and columns and create new sections as needed. All of these things will assist you in setting up your work in the correct manner.
To use this template, go to the link below and download the template, then edit it according to your needs.
How to Make a Google Sheets Checklist Template
In this section, you will find a step-by-step guide that will assist you in the process of creating your own checklist template. So let's get started!
Step 1. Firstly, enter the header of the checklist template. To do so, simply click on a blank cell at the top and type the title text.
Step 2. Secondly, to merge the cells containing the title into one cell, highlight the cells, select the Merge icon in the toolbar, and pick the Merge all option.

Step 3. Thirdly, add fields and content by typing text into the cells on your spreadsheet, with a column for time, for the task, and for the status of the task.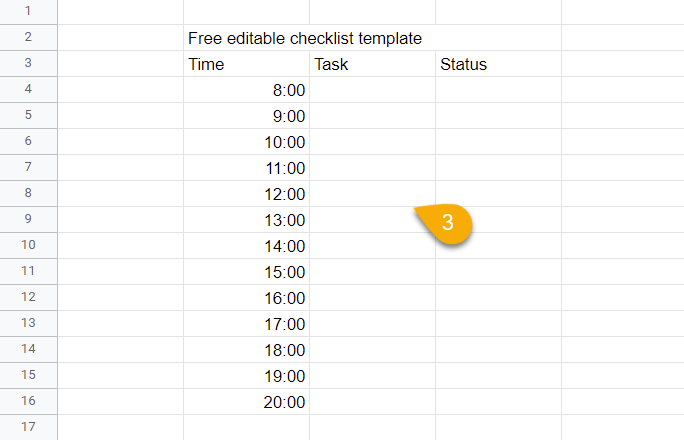 Step 4. Next, let's format the text. Use the toolbar menus to choose the font type, size, color, alignment, etc., that you want.

Step 5. Once that is done, it is time to insert checkboxes. Select the cell where you want the first checkbox inserted. Then click on the Insert menu and choose Checkbox.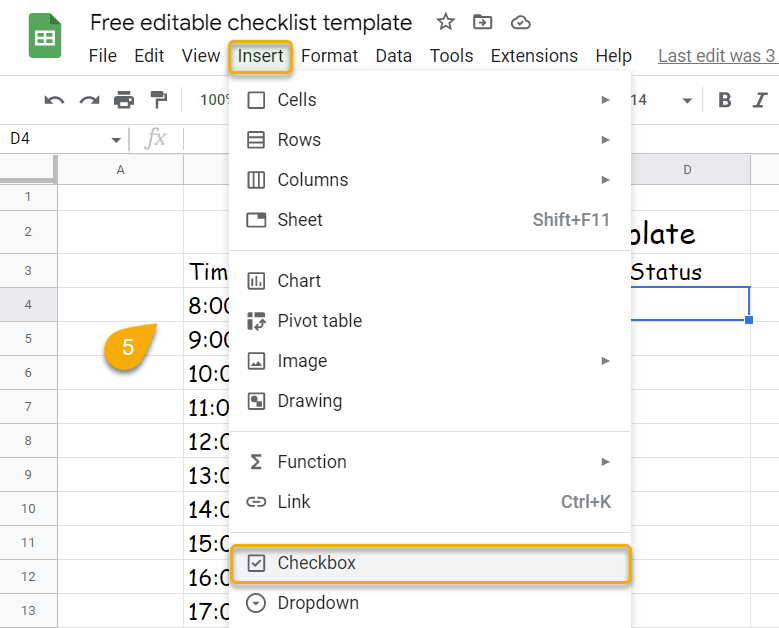 Note. To learn more about this topic, you can discover how to create a checklist in Google Sheets in a few minutes.
Step 6. Now let's set the template's color scheme. To do this, select your content, go to the Format tab, pick the Alternating colors option, and choose the style you like.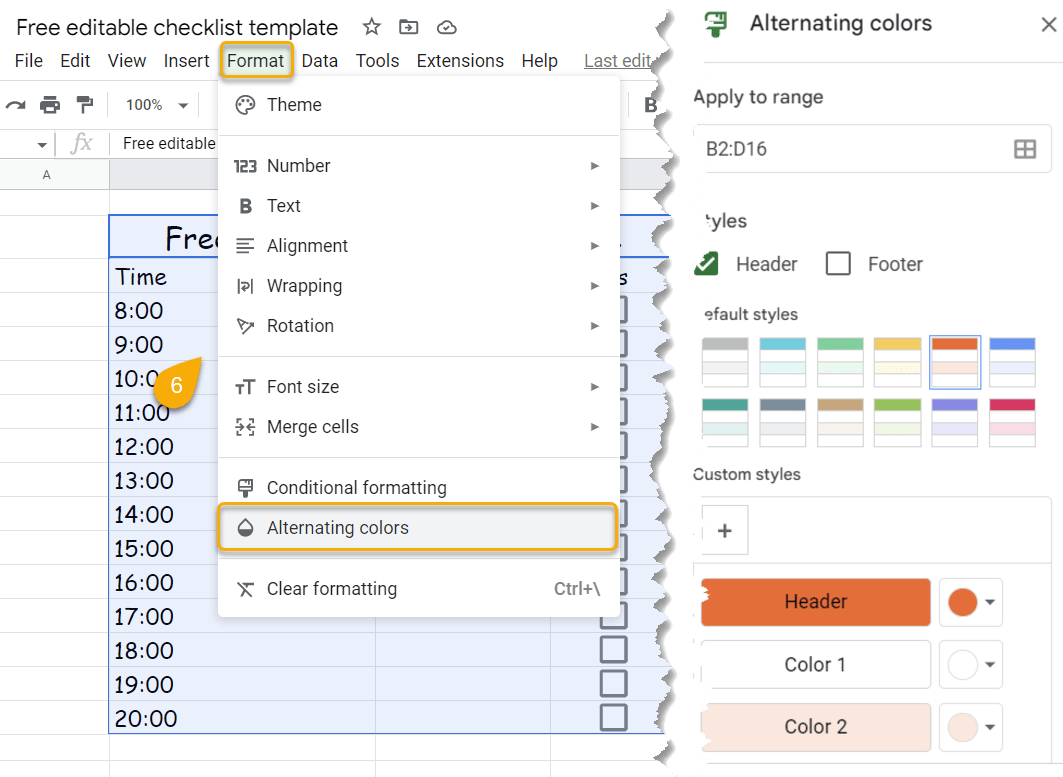 Step 7. Click on the View menu, select Show, and then choose the Gridlines option.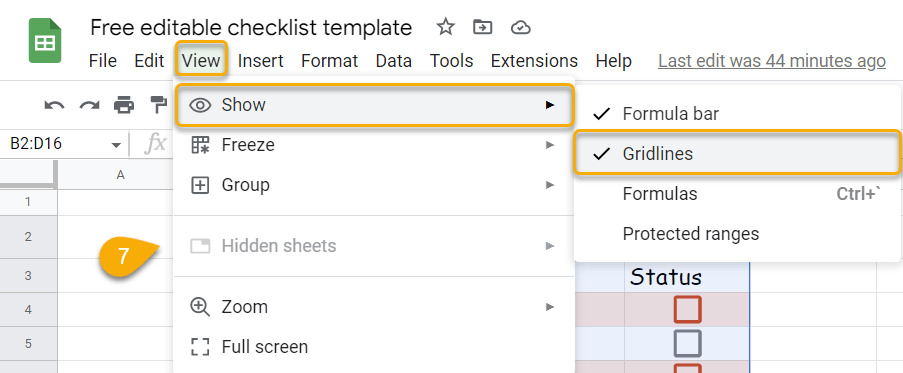 This will remove the gridlines, and the template now looks neat and tidy. Check out our result below: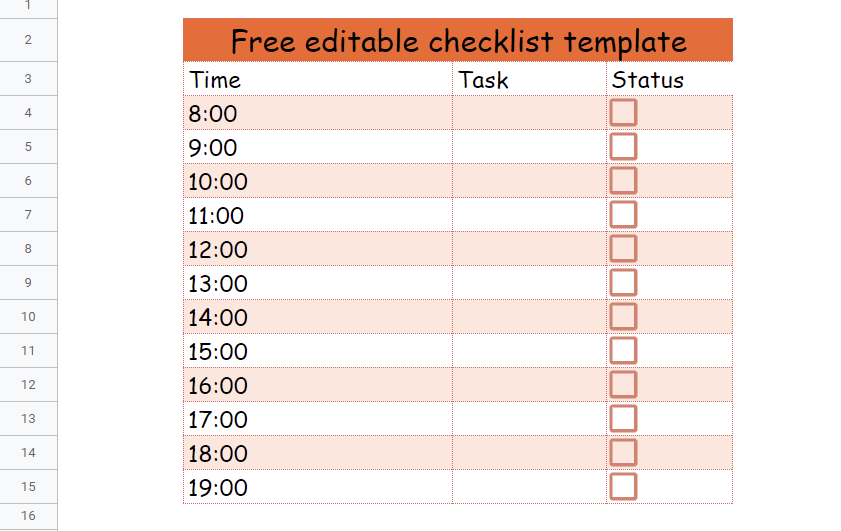 Frequently Asked Questions
This section of the article offers you the chance to review a few frequently asked questions that might be helpful for this topic. Check them out below!
How do I create a checklist in Google Sheets?
To create Google Sheets checklist, start by typing the header and then add the content beneath it. Use the toolbar menus to modify the font type, size, color, alignment, etc. Insert checkboxes from the Insert menu under the Checkbox option. Change the color of the template to customize it, and finally, remove the gridlines.
How do I convert a Google Sheets checklist template to PDF?
To convert a Google Sheets checklist template to PDF, go to the File menu, select the Download option, click on PDF (.pdf), and hit the Export button.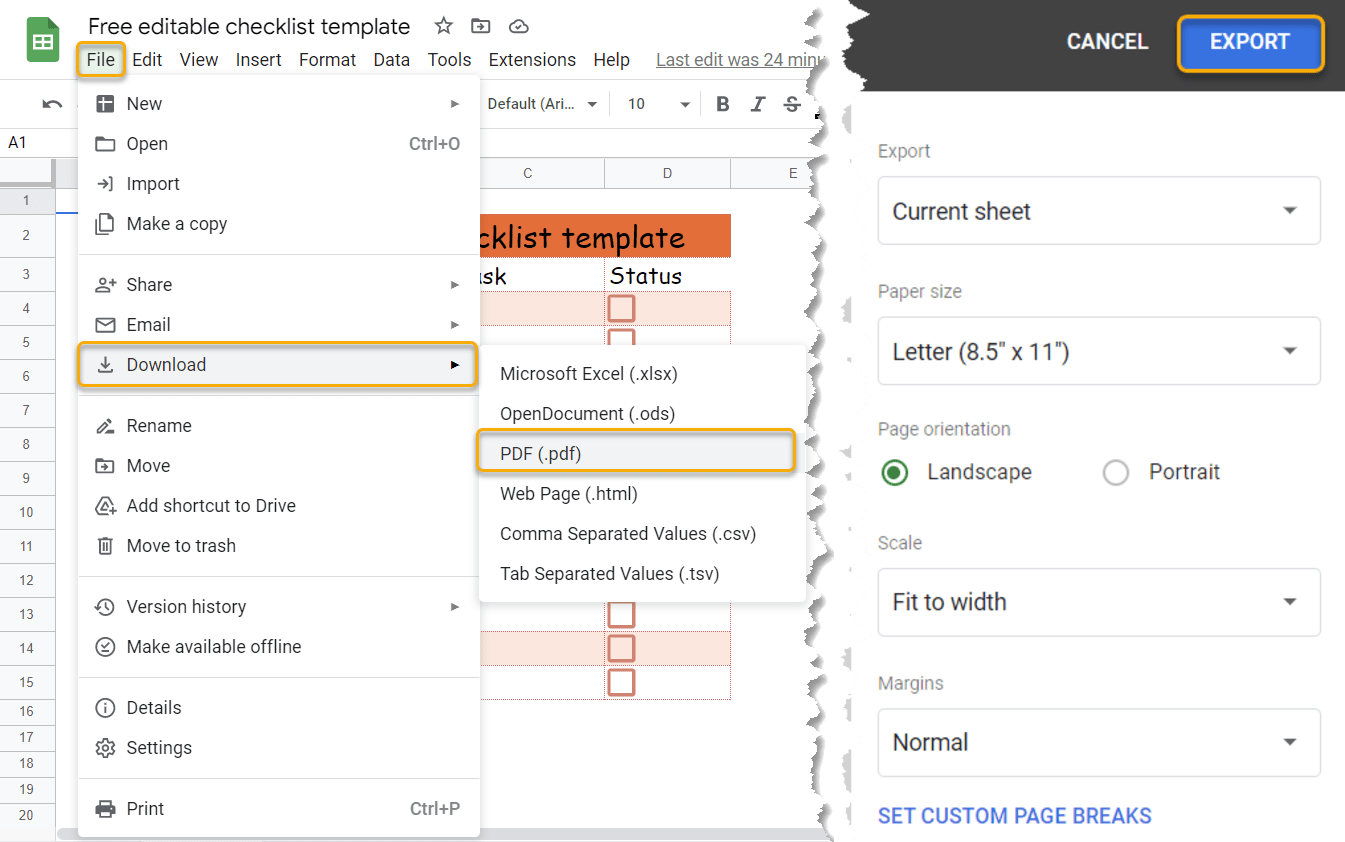 Once the file has been converted, you can find it in the Download folder on your computer.