If you've been tasked with planning an event, then one of the most vital pieces of planning for a big occasion has to be preparing a budget for it.
However, it's not usually the case that any old budget will do. If you want your event to be the one event that's been talked about for ages, you'll need a well-planned, carefully detailed spreadsheet that lists every category expense down to a tee to ensure that no detail is glossed over.
In this article, we review some of the best Google Sheets event budget templates, all of which are completely free to use.
1. Free Downloadable Event Budget Template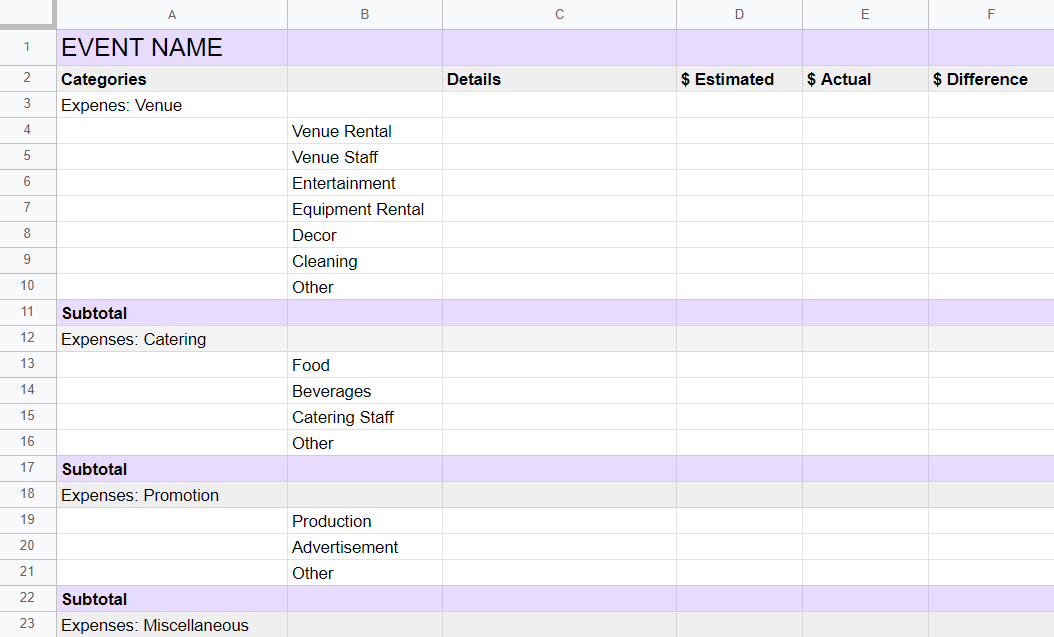 Designed by Stylist Mindset
The Free Downloadable Event Budget Template by Stylist Mindset lists the main category expenses of a typical event budget for you. You can, of course, add other expense categories that are unique to your event to the spreadsheet, too, if you wish.
This budget spreadsheet is a great example of a simple, clear-cut budget template that anyone can use, whether you're new to event planning or you've been doing it for years.
2. Virtual Event budget template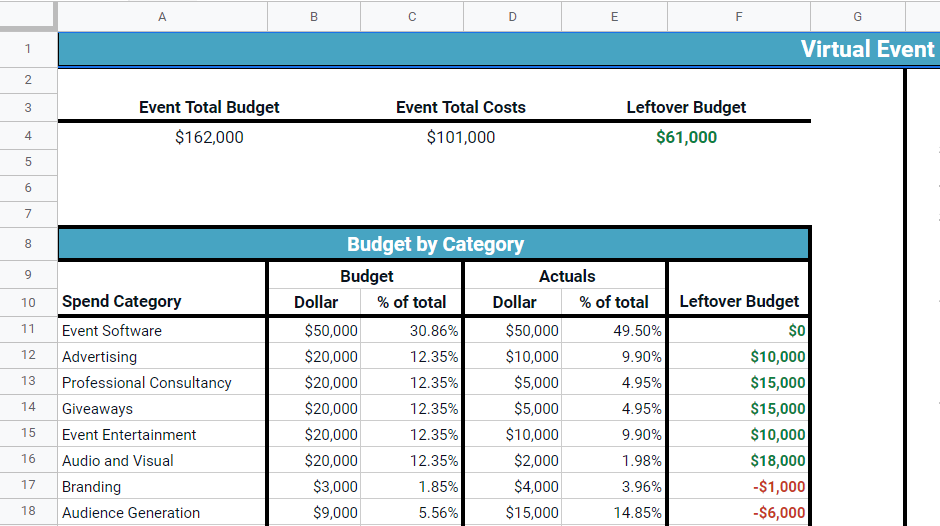 Designed by Markletic
The Virtual Event Budget Template by Markletic is perfect for budgeting for virtual events. Use this spreadsheet if you have a large virtual event to plan for, and you want a practical document to make use of to plan every possible scenario into dollars and cents.
The spreadsheet itself is easily adjustable and can be changed to include your special spend categories. Also, this template provides pie charts and a bar chart for actual versus budget comparisons.
3. Birthday Party Planning Google Sheet Template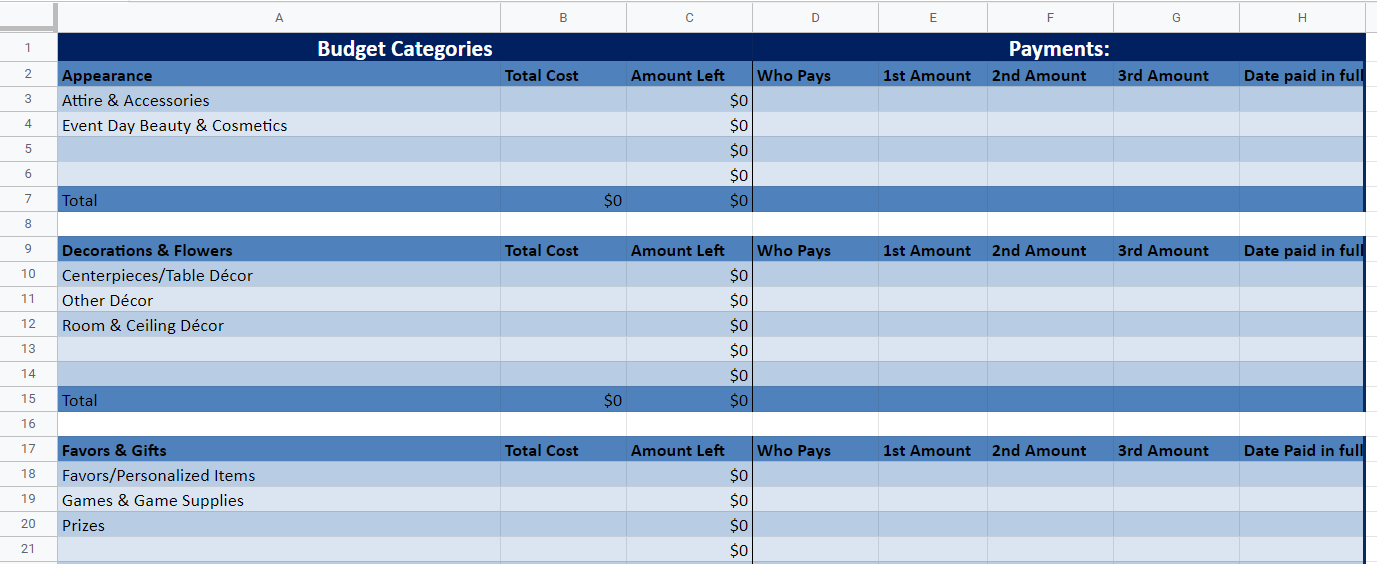 Designed by Easy Event Planning
Birthday Planning can be another one of those anxiety-inducing situations if you don't have a clear understanding of what exactly to plan for. The Birthday Party Planning Google Sheet Template by Easy Event Planning is just the template to use for planning a kid's birthday party.
In fact, this template is so specially designed it has the potential to make party planning a breeze. And with places for projected cost, actual cost, and a who pays column, you won't be left wondering how you ran out of funds in the middle of planning for an epic birthday bash.
4. Detailed Event Budget Template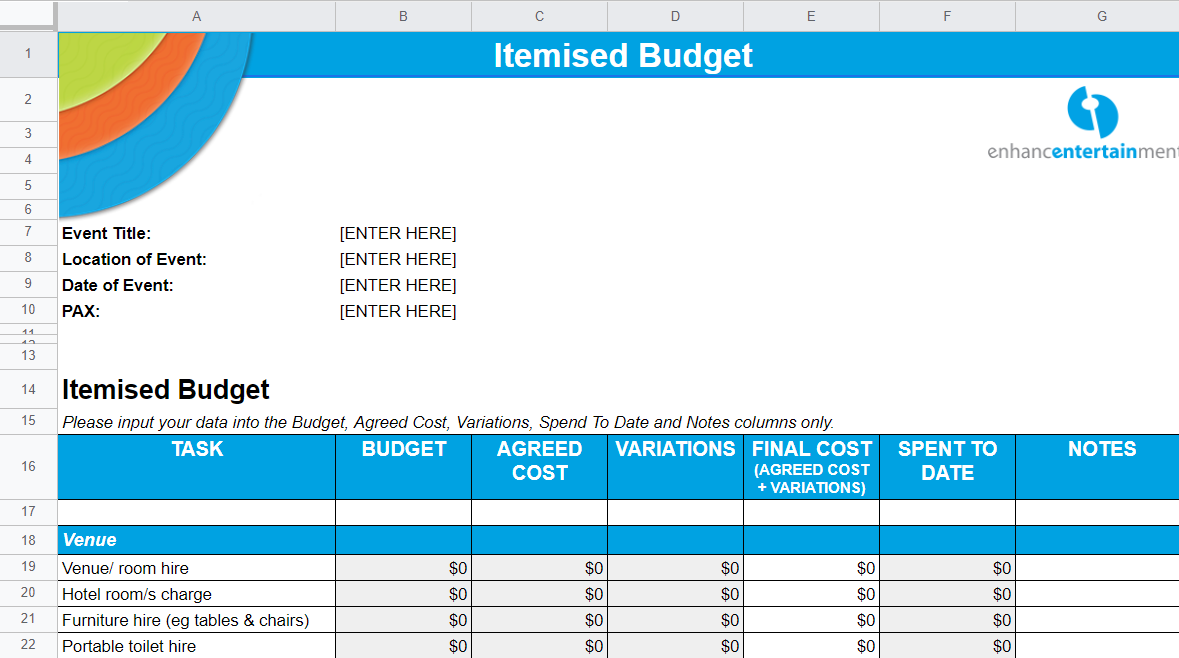 Designed by Enhance Entertainment
The Detailed Event Budget Template by Enhance Entertainment is ideal for budgeting for events of epic proportions, where every detail matters in the grander scheme of things.
With budget categories that go on to include itemized venture costs, AV/ Lighting/ Staging, Catering, MC costs, Entertainment, Marketing, and Registration Management costs, you'll understand why this budget template gives new meaning to thinking of everything when it comes to event budget management.
5. Special Event Budget Template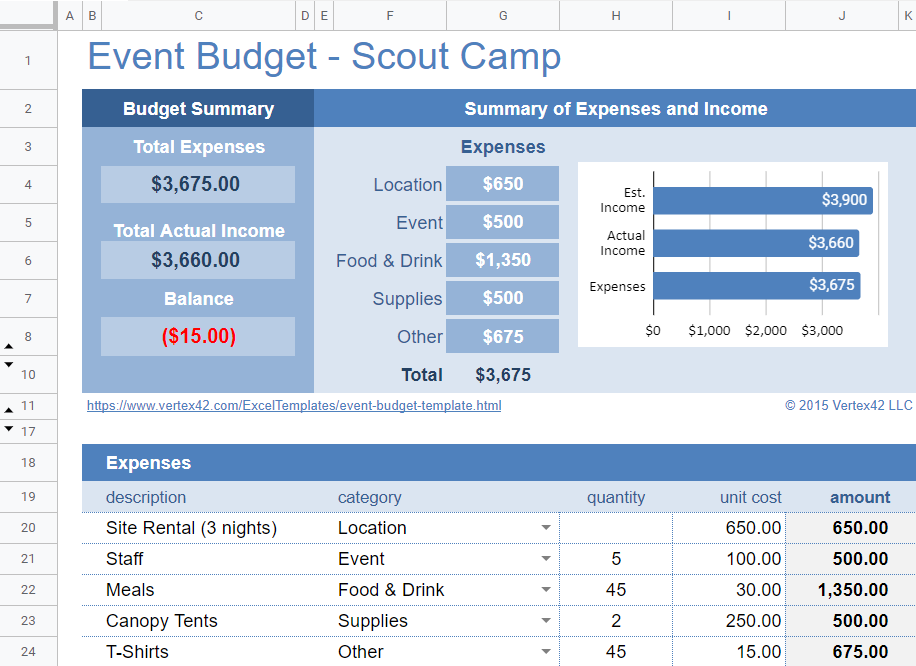 Designed by Vertex42
Budgeting for a scouts' event? Then use this one-of-a-kind Special Event Budget Template by Vertex42.
Since this type of event can rely on sponsorship and donations, there is space in this template to list income sources in addition to common scout event expenses, helping you allocate monetary resources carefully to ensure the event is a triumph for all its participants.
6. Marketing Event Budget Template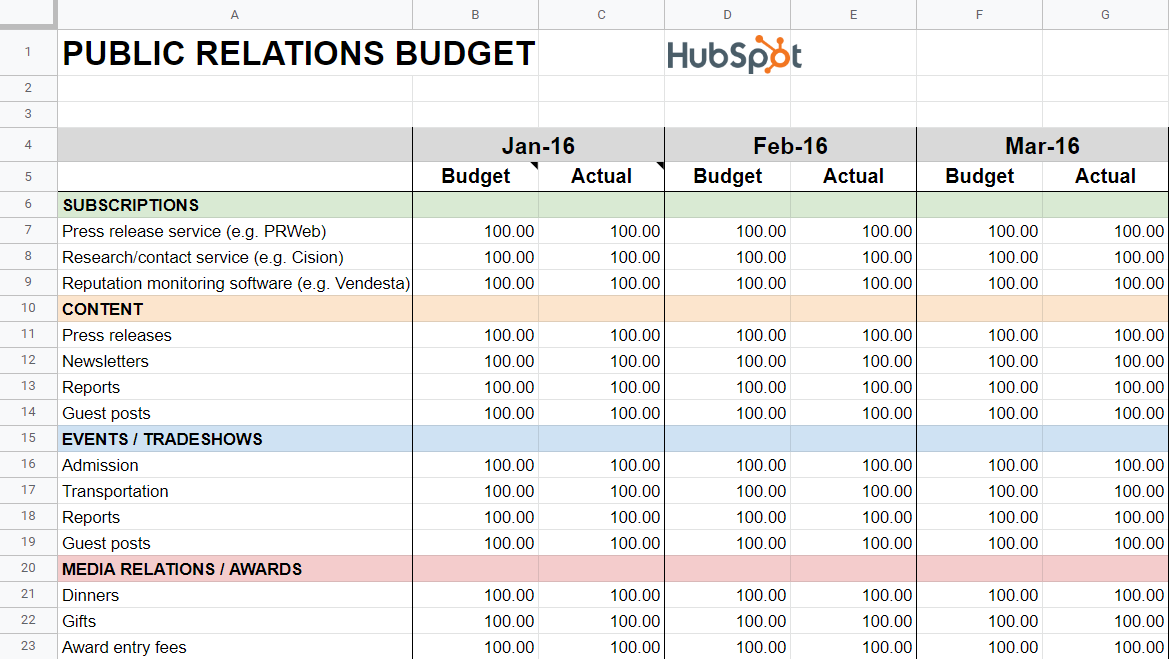 Designed by HubSpot
Budgeting for the public relations side of marketing will sometimes need to be budgeted for separately, due to its monumentally important role in ensuring the event is viewed positively as a whole.
This is where the Marketing Event Budget Template by HubSpot can help you plan more precisely for each individual yet vital component of a public relations marketing strategy, taking into account categories such as subscription fees, trade show expenses, and awards costs that you can monitor every quarter.
7. Fundraising Event Budget Template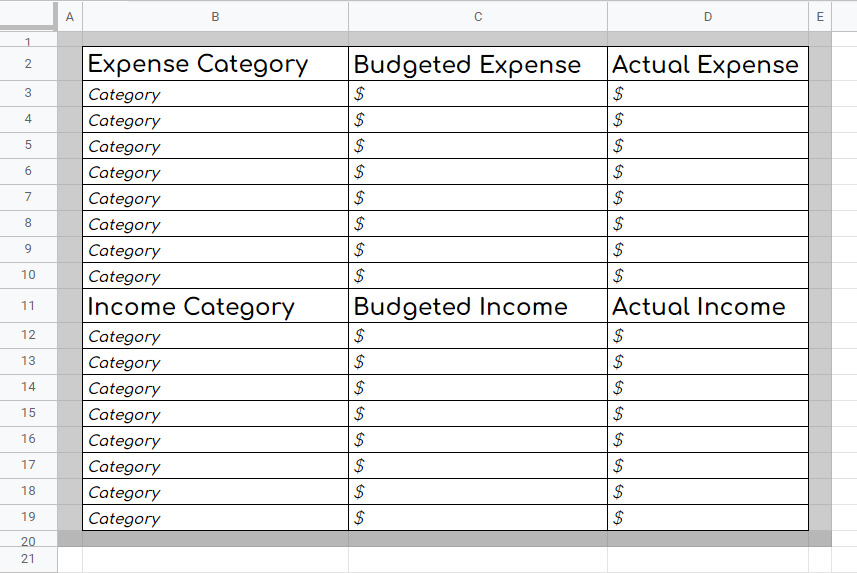 Designed by Spreadsheet Daddy
Fundraising can be tricky to keep track of, especially when there are new income and expense categories cropping up all over the place. You can keep an eye on each of these actual expenses with the Fundraising Event Budget Template by Spreadsheet Daddy and compare these to your budgeted amounts.
8. Festival Event Budget Template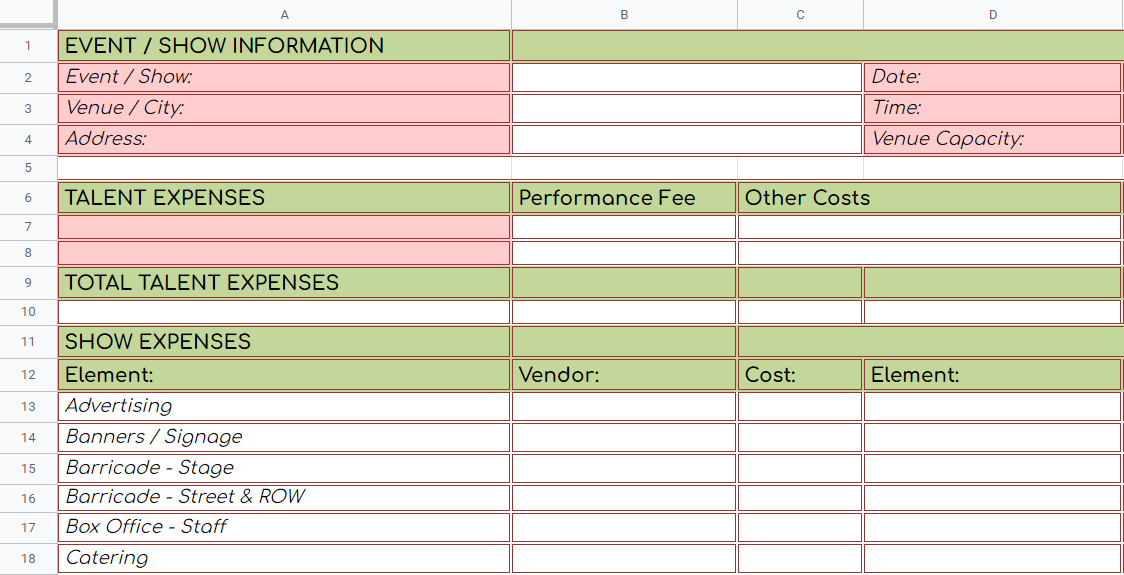 Designed by Spreadsheet Daddy
Budgeting for a festival can be an enormous undertaking. If done incorrectly, it can result in costly expenses that could ruin your best intentions. That's why we recommend the Festival Event Budget Template by Spreadsheet Daddy for such occasions.
This budget includes festival expenses that cannot be forgotten about, such as General Liability costs, labor costs, medical considerations, costs to barricade the area, and plenty of other valuable information that should be taken stock of when budgeting for a big to-do.
9. Nonprofit Event Budget Template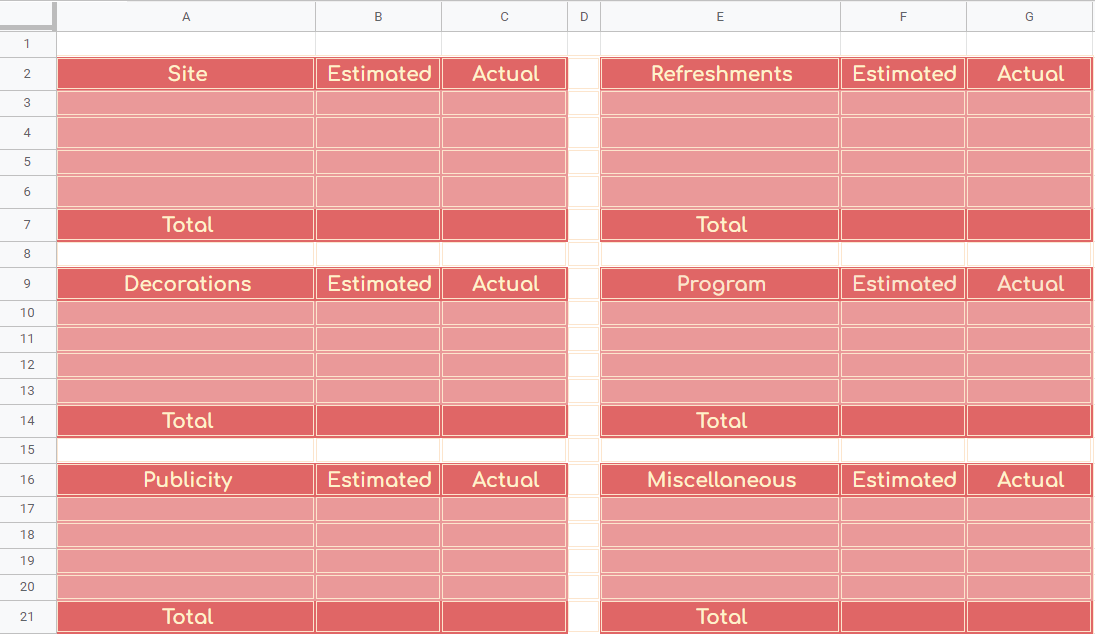 Designed by Spreadsheet Daddy
The Nonprofit Event Budget Template by Spreadsheet Daddy keeps information clear and simple with this concise spreadsheet. This budgeting template should also help bring clarity regarding the efforts put into pulling off a nonprofit event successfully, especially if you have to work with a lean budget from the get-go.
10. Corporate Event Budget Template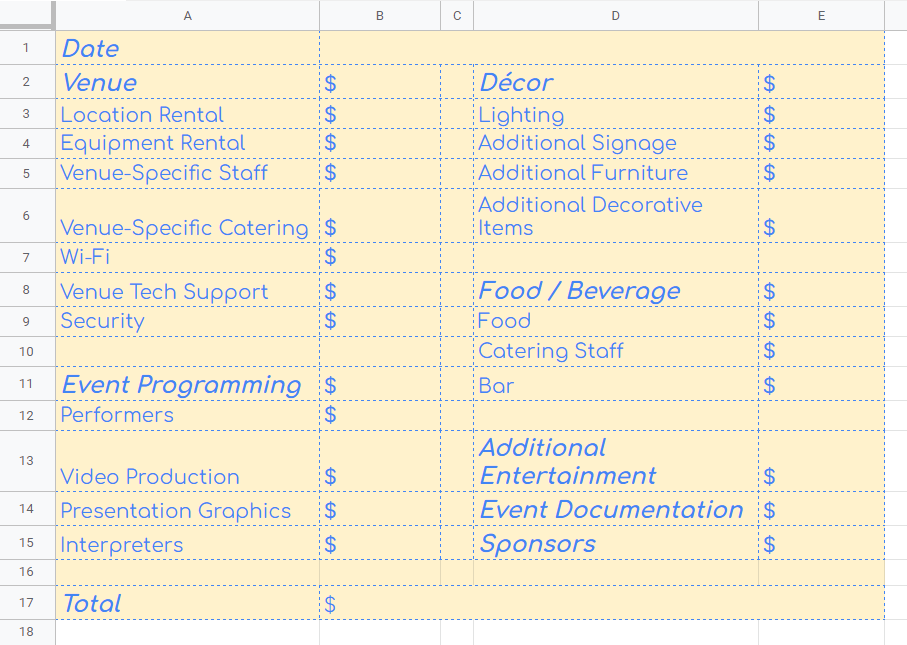 Designed by Spreadsheet Daddy
Budgeting for a corporate event can feel like an enormous responsibility, especially if you want it to leave a good impression on your colleagues. You can help plan for its success with the Corporate Event Budget by Spreadsheet Daddy.
Budget for venue specifics, specific program details, decor, food/beverages, and event documentation expenses while not forgetting to include other important details such as security costs, performer and presentation costs, etc.
11. Gala Event Budget Template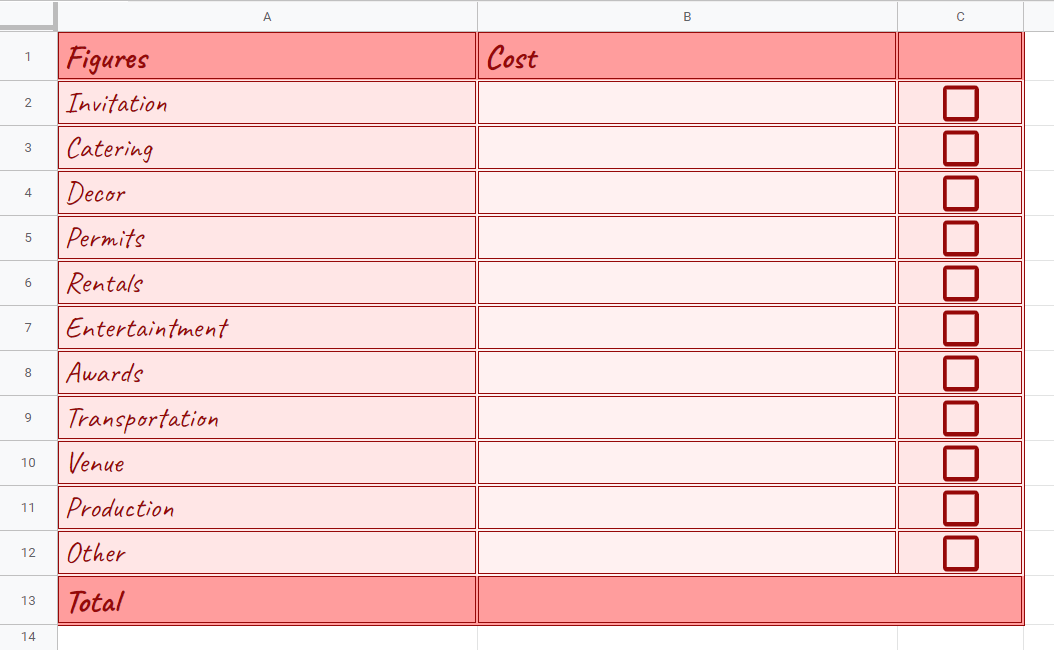 Designed by Spreadsheet Daddy
Planning for a Gala Event should have a snazzy budget to go with it. Make a splash with this elegant template catered specifically for gala events to ensure it runs smoothly and affordably.
12. PR Event Budget Template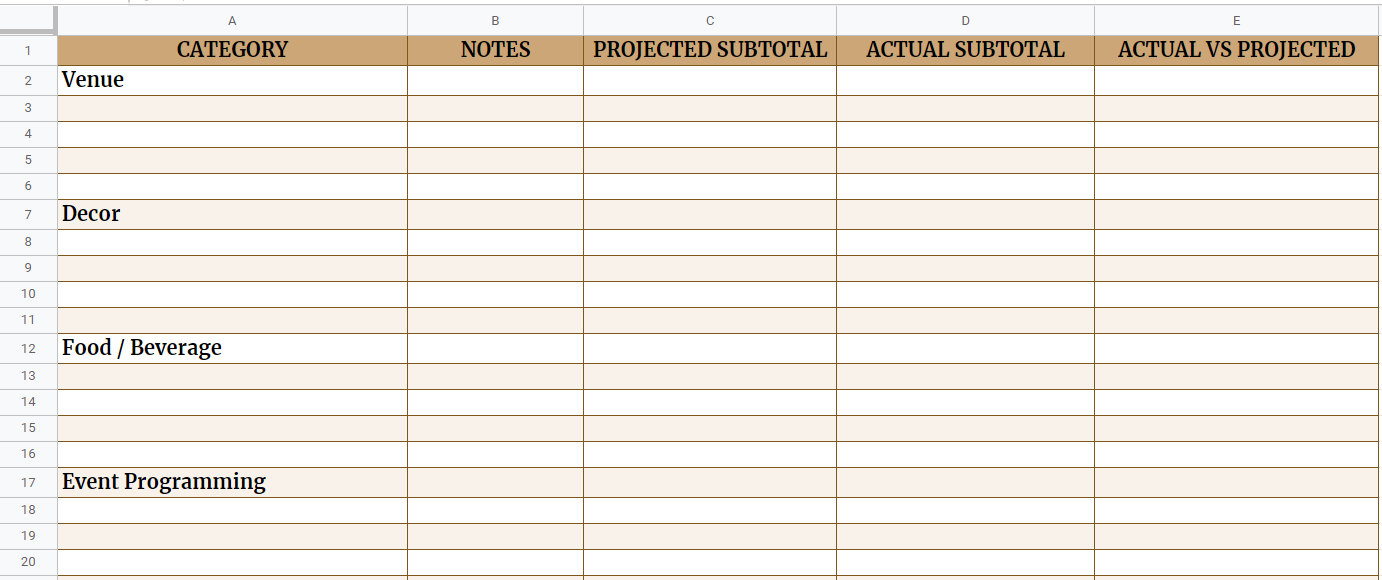 Designed by Spreadsheet Daddy
With the PR Event Budget by Spreadsheet Daddy, you can prepare well for a Public Relations event, as it lists many of the PR-related expenses expected at a PR event. Keep as close to your projected budget as possible by jotting down actual expenses as accurately as possible.
13. Catering Event Budget Template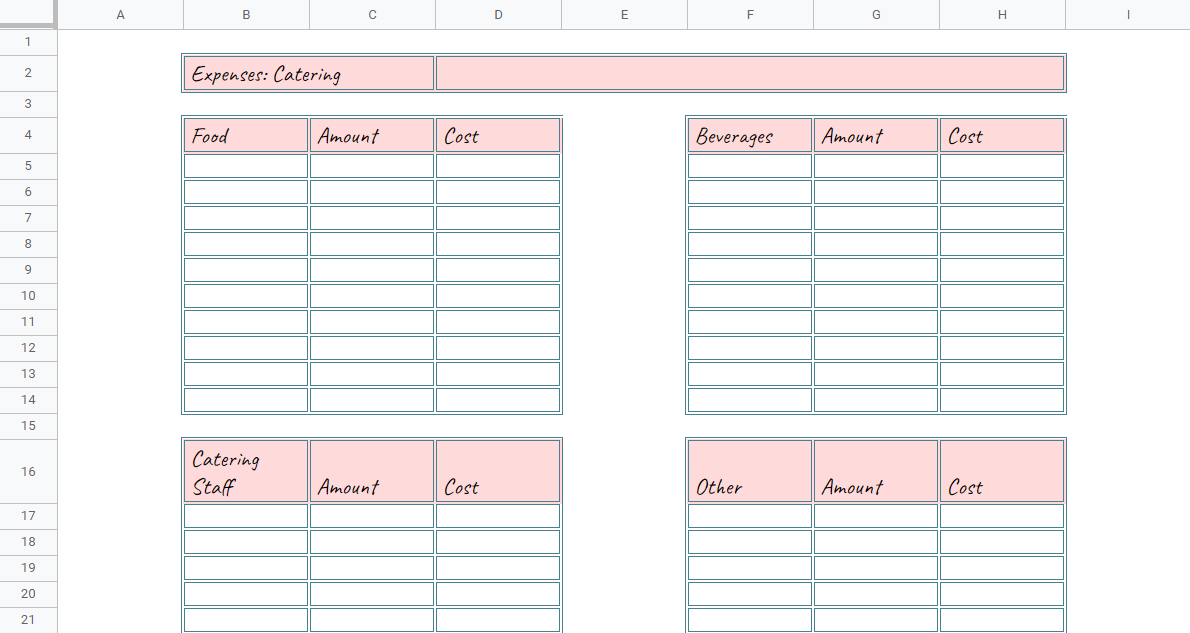 Designed by Spreadsheet Daddy
The Catering Event Budget Template by Spreadsheet Daddy is easy to use. This customizable template can be added to to reflect catering expenses that are specific to your event.
14. Party Budget Template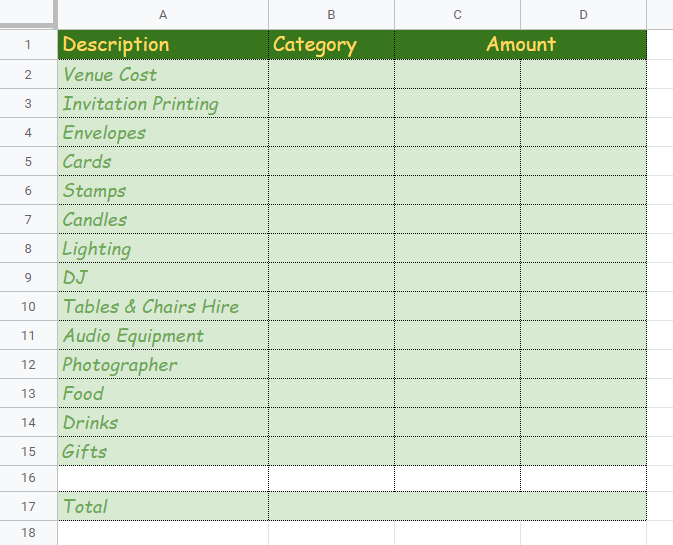 Designed by Spreadsheet Daddy
The Party Budget Template by Spreadsheet Daddy is an aptly descriptive budget that should keep your party in full swing because it takes care of the finer details. This template contains basic party planning descriptions that are already listed on the spreadsheet for you to gloss over, so you can focus on getting the numbers just right.
15. Concert Budget Template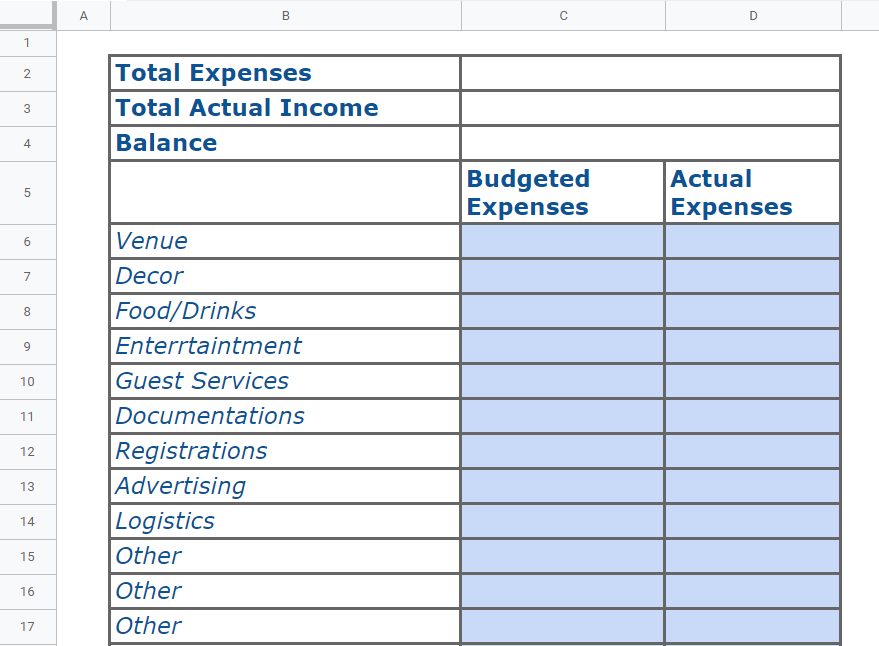 Designed by Spreadsheet Daddy
Concerts are usually a big deal and can come at a hefty price if not planned adequately. The Concert Budget Template by Spreadsheet Daddy is a handy tool to make use of for highlighting certain expenses to plan for in accordance with your original budget plan.
16. Church Event Budget Template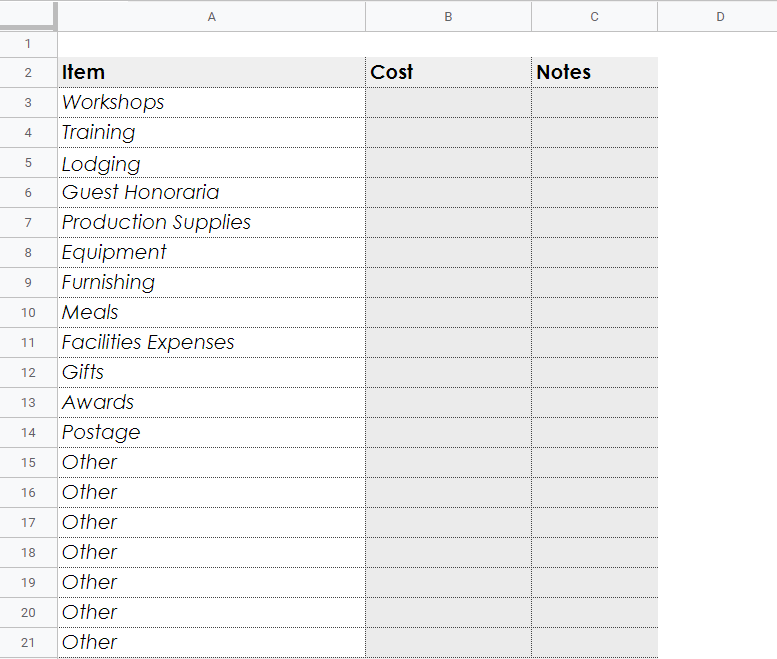 Designed by Spreadsheet Daddy
The Church Event Budget Template by Spreadsheet Daddy is perfect for planning church-related events. This no-fuss budgeting spreadsheet is engaging enough to help you keep costs to a minimum while keeping the main focus on the church festivities itself.
How to Create Event Budget Template in Google Sheets
Throughout the following sections, we will show you how you can create a Google Sheets event budget template in just a few minutes to help plan your event in the most effective manner. So, let's start!
Step 1. Click on a blank cell and enter the data you need to be in your template.
Step 2. If you want to change your text, simply move to the toolbar menu and select the settings you desire.

Having added the main content to our template, now we need to move on to the next step in the process. So let's change the appearance of our event budget template in order to fully personalize it.

Step 3. Select cells that you need to fill in with color, click on the Fill color icon and choose a color from the palette.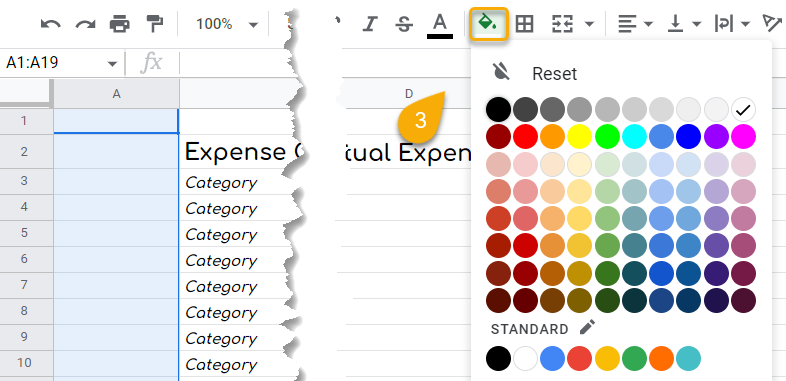 Step 4: Resize columns or rows by right-clicking on the column or row, select Resize column or Resize row from the menu, and enter the new column width or row height.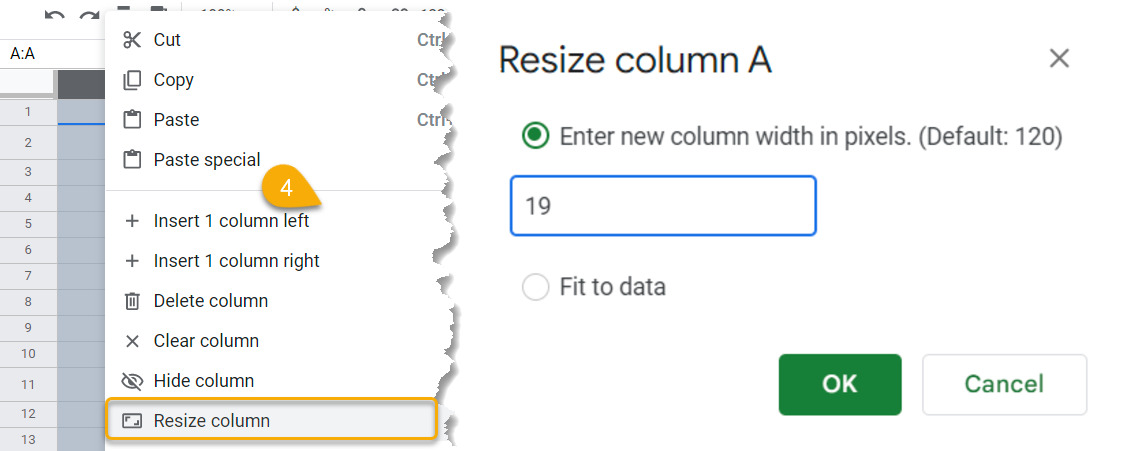 Step 5. Select the cells, go to the toolbar menu, click on the Border icon, and choose the color, style, and type of border you would like to apply.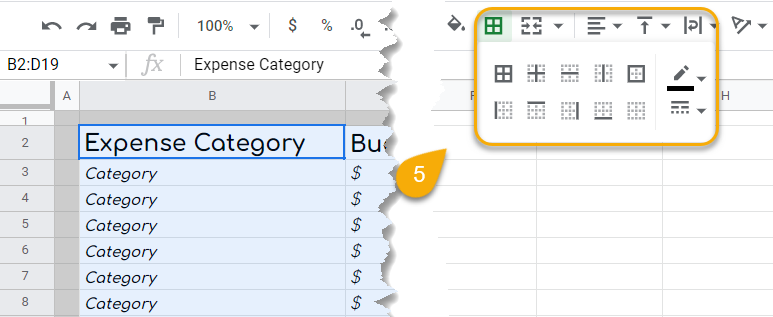 Step 6. It is important to add formulas that will automatically calculate your indicators so that the template can be used effectively. So, select the cell where you want to get the result, then enter the formula. We are using the =SUM(C3:C10) formula to calculate the sum of our data. Apply formulas to other data as well.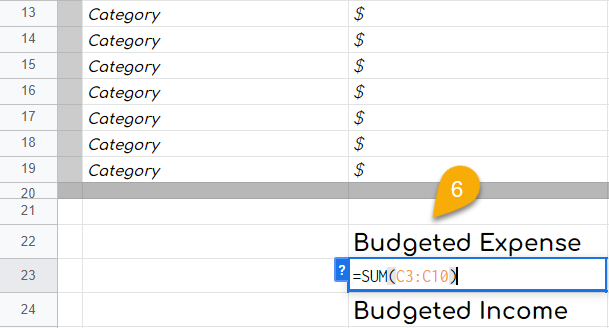 Wow! Here is the result!
FAQs
How do you create a budget sheet for an event?
Usually, the easiest way to create a budget sheet for an event is by way of a spreadsheet, where you would jot down every conceivable expense to compare to an original budget. But this is not always a simple task, especially if you have a large event to plan for with a large number of tasks to keep track of.
This is where a Google Sheets budget spreadsheet template that is already set out for you can be a lifesaver if you are elbows deep in other tasks competing for your attention.
Does Google have a budget app?
If you're looking for a budget app, then Google is most definitely a good place to start. In fact, there are plenty of capable budget app options that are available to users completely free. Browse out collection of easy budget templates for Google Sheets to find the right spreadsheet for your unique needs. 
However, it can be difficult to sift through all of these to find the right option for you. Sometimes, it may be easier to go with the more accessible option like the Google Sheets options above, especially if you already have a solid review to go with.