If you're a project manager who manages ongoing projects, you probably make use of project budgets to ensure your project goes off without a hitch.
When it comes to choosing a toolset for managing projects, budgeting spreadsheets for Google Sheets naturally come up top of mind as the go-to option thanks to their ease-of-use. But not all budgets are as effective as one would like them to be.
If you have encountered problems where there should be none, perhaps you've been using the wrong budget or the right budget for the wrong purposes. 
Here is our review of some of the best free project Google Sheets budget templates you should check out to ensure your project is completed on time and on budget.
1. Free Downloadable Project Budget Template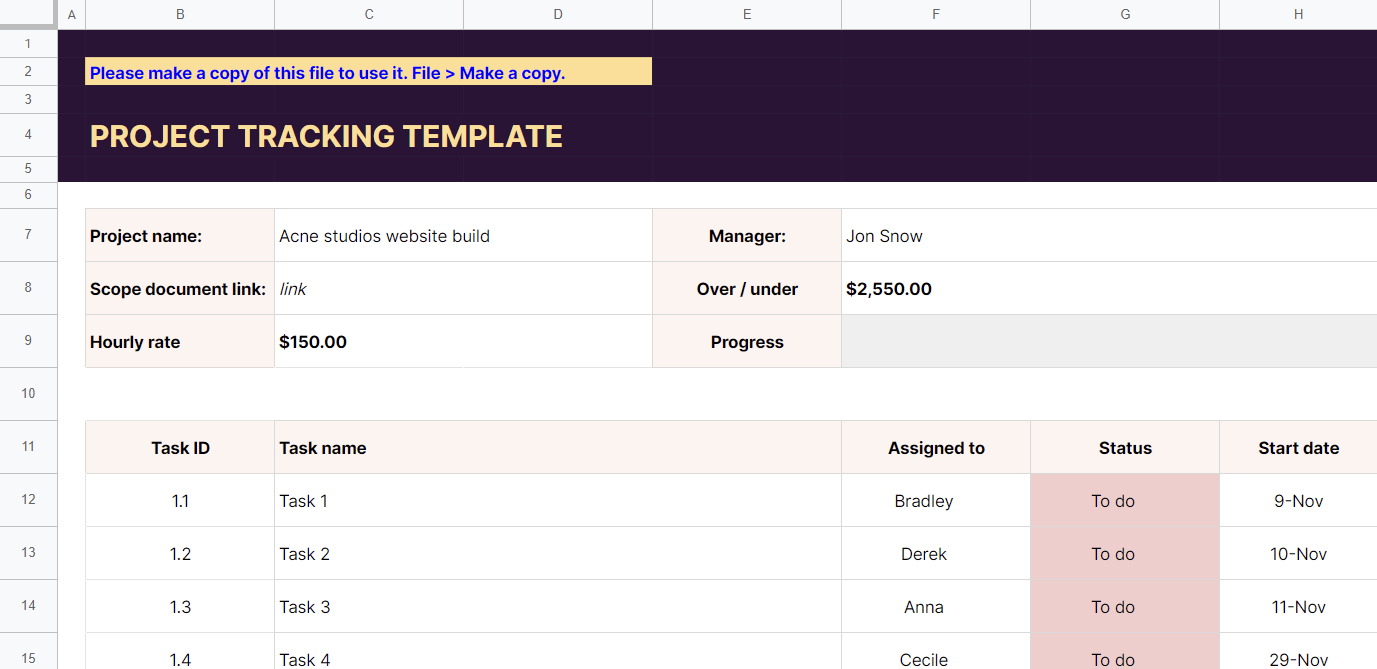 Design by Toggl
You might know Toggl for its time-tracking features. But did you know that there is also a Free Downloadable Project Template that functions the same as an expense report template for budgeting purposes?
This is one of the many free project budget templates available online and is excellent at tracking hourly progress and performance to determine if deliverables are over or under budget.
You can also keep an eye on task types and areas of responsibility at every stage of your project for accountability purposes.
2. Simple Project Budget Template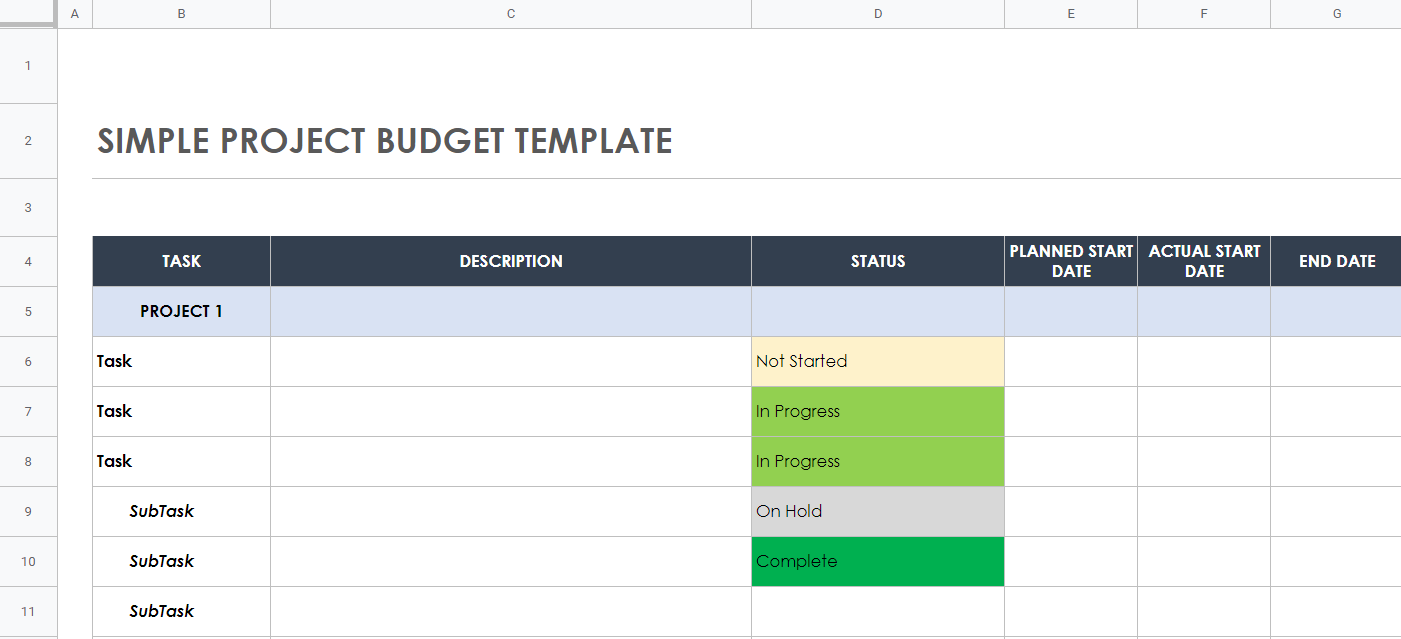 Design by Smartsheet
The Simple Project Budget Template by Smartsheet is a great example of a customizable spreadsheet created specifically for project management that can be adapted as per your project's requirements and the available budget on hand.
Prioritize tasks and keep an eye on labor costs, material, and fixed costs with this spreadsheet that keeps things decidedly simple yet precise.
3. Detailed Project Budget Template

Design by Go Skills
The Detailed Project Budget Template by Go Skills is an excellent project-tracking tool if you have many projects on the go and want to keep a sharp eye on them.
Once again, this budgeting template also allows you to track projects in order of importance.
You can identify which components of the projects are on hold, in progress, are not yet started, and which are complete to see how these could affect your overall budget if any area were to stall in its progress.
4. Budget Proposal Template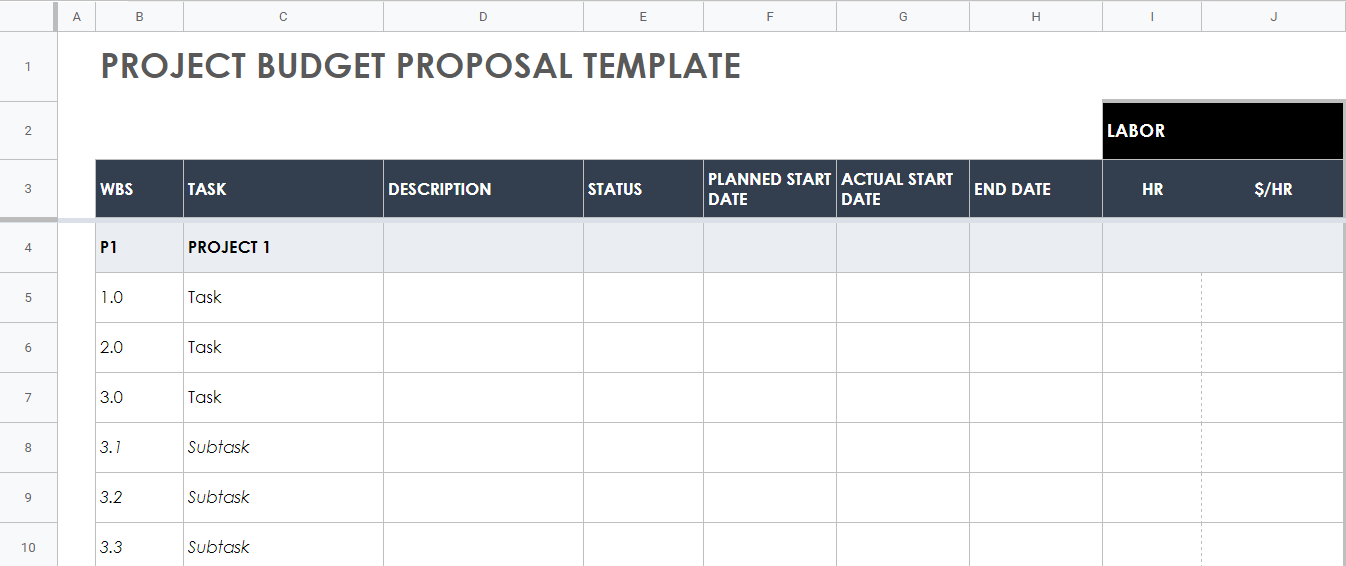 Design by Smartsheet
Use The Budget Proposal Template by Smartsheet as a starting point in your budget planning process to help predict the costs of each task within your project/s.
You can even set up subtasks within tasks for complex jobs and then proceed to enter in vital details such as the planned project date, its actual start date, its anticipated end date, the status of the task, what the various costs are, and what the budget is to determine whether it's on the path to being under or over your budget goals.
5. Interior Design Project Budget Template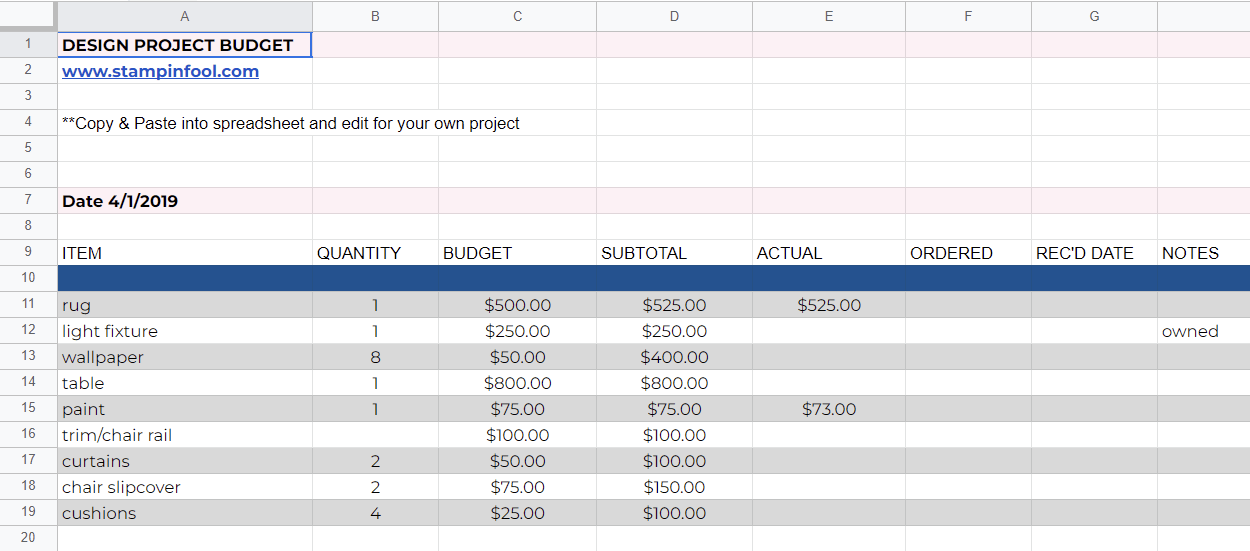 Design by Stampinfool
The Interior Design Project Budget Template by Stampinfool is for interior designers who want to be confident that they've planned adequately for an interior design project so that it is completed timeously and in good taste.
Such perfection is possible if a strict budget is adhered to and every expense is accounted for to ensure the deliverable is executed according to your standards.
This budget template is fairly easy to work with regarding calculating the total of your unit costs and comparing these to what you budgeted for at the start.
6. Project Cost Template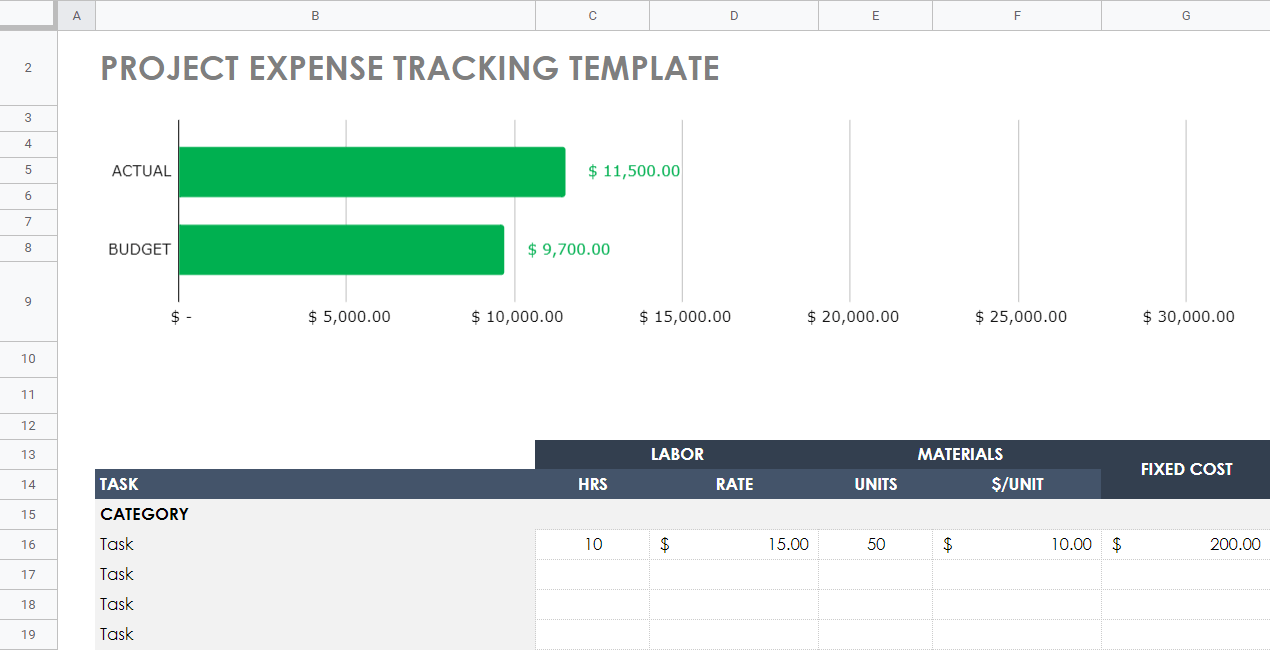 Design by Smartsheet
The Project Cost Template by Smartsheet is a free project budgeting template and is great to use if you value the use of graphs that work in conjunction with data to give you an accurate depiction of how close (or far) you are to your budgeted amounts.
You should use this graph if you want to segment your labor, material, and fixed costs to see how much the total of these would be in the end versus how you planned for it originally.
7. Nonprofit Project Budget Template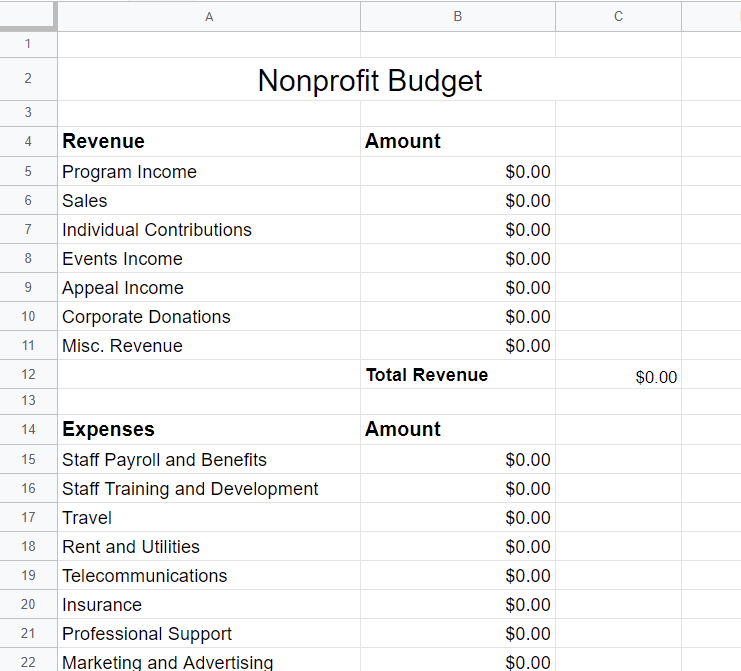 Design by Thank View
Thank View has designed a Nonprofit Project Budget Template for nonprofits to focus on the allocations of expenses and revenue so that the difference between these two doesn't result in a deficit.
This budget spreadsheet is one to use if you want to have a concrete budgeting document to work from for the success of your company mission.
8. Capital Project Budget Template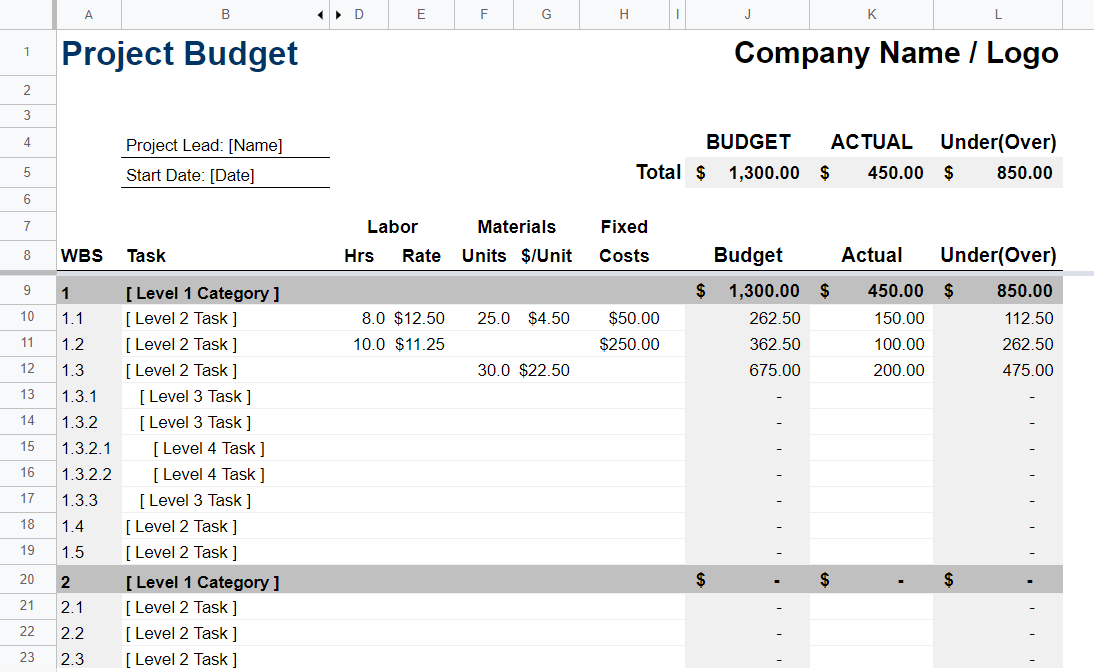 Design by Vertex42
The Capital Project Budget Template by Vertex42 should come in handy if you want to use your available capital as effectively as possible.
One way to achieve this is by becoming more task-oriented and detailing every procedure as per the time, labor, and materials it would take to complete the task in question.
If every detail matters to you (as it should), then this free budget should do the trick in keeping to your budgetary goals.
9. IT Project Budget Template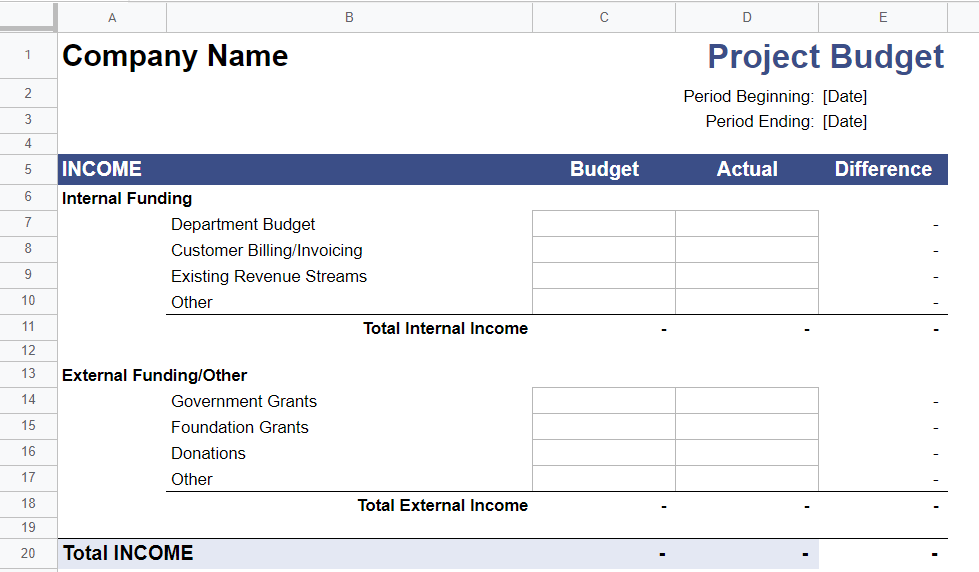 Designed by Vertex42
The IT Project Budget Template by Vertex42 is beneficial to use for substantial IT-related projects where you're also going to need investment from outside sources to help your project succeed.
This budget is the one to use if you have lots of itemized expenses to keep track of under each category of expense (i.e., operating, capital, and project expenses) to avoid falling way short of the budgeted amounts for each category.
10. Engineering Project Budget Template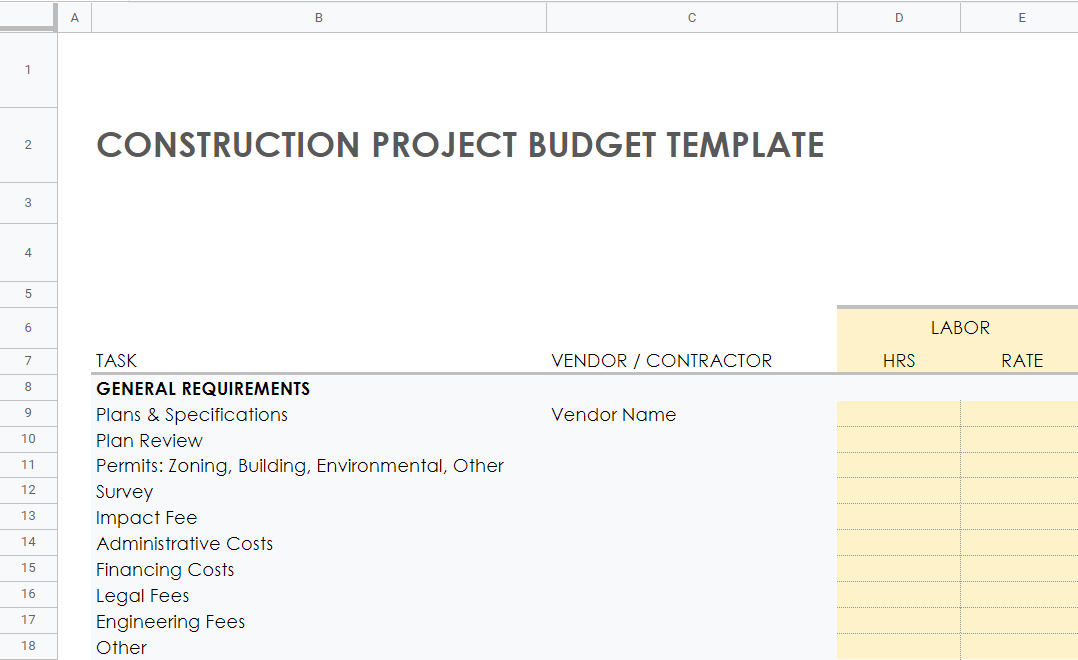 Designed by Smartsheet
The Engineering Project Budget Template by Smartsheet is designed specifically for construction planning purposes.
This free budget is extremely detailed and lists pretty much every possible expense associated with the construction and erection of a property.
Know what came from where with the Vendor/Contractor column and match the cost of each and every task to your proposed budget as closely as possible.
11. House Project Budget Template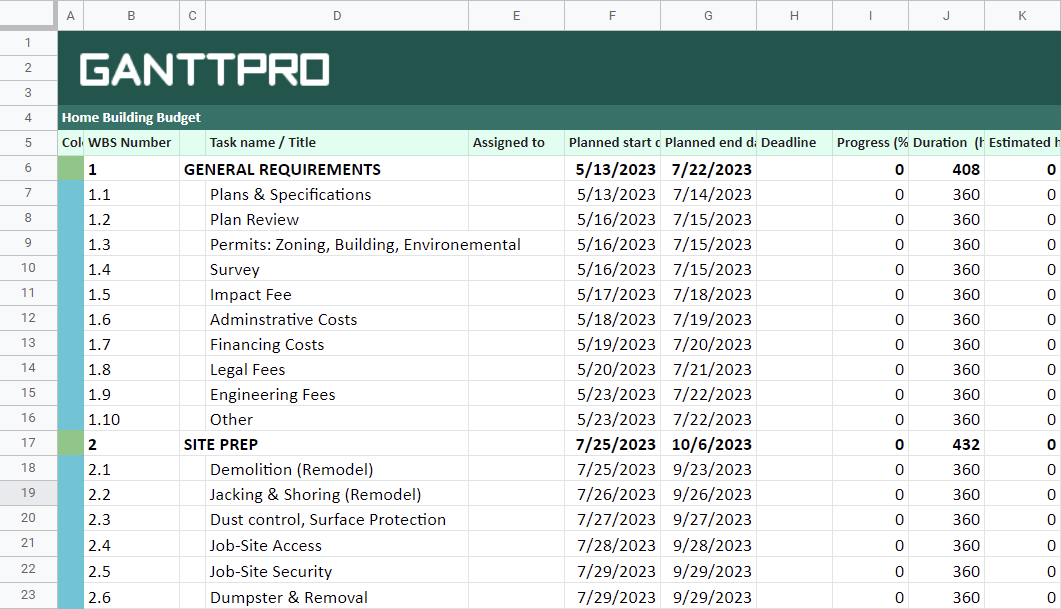 Designed by Ganttpro
The House Project Budget Template by Ganttpro is very detailed regarding the costs associated with building a home.
What this budget also includes are the additional columns that account for the time and money taken to complete each task, to help ensure that your project progresses as desired.
11. Grant Project Budget Template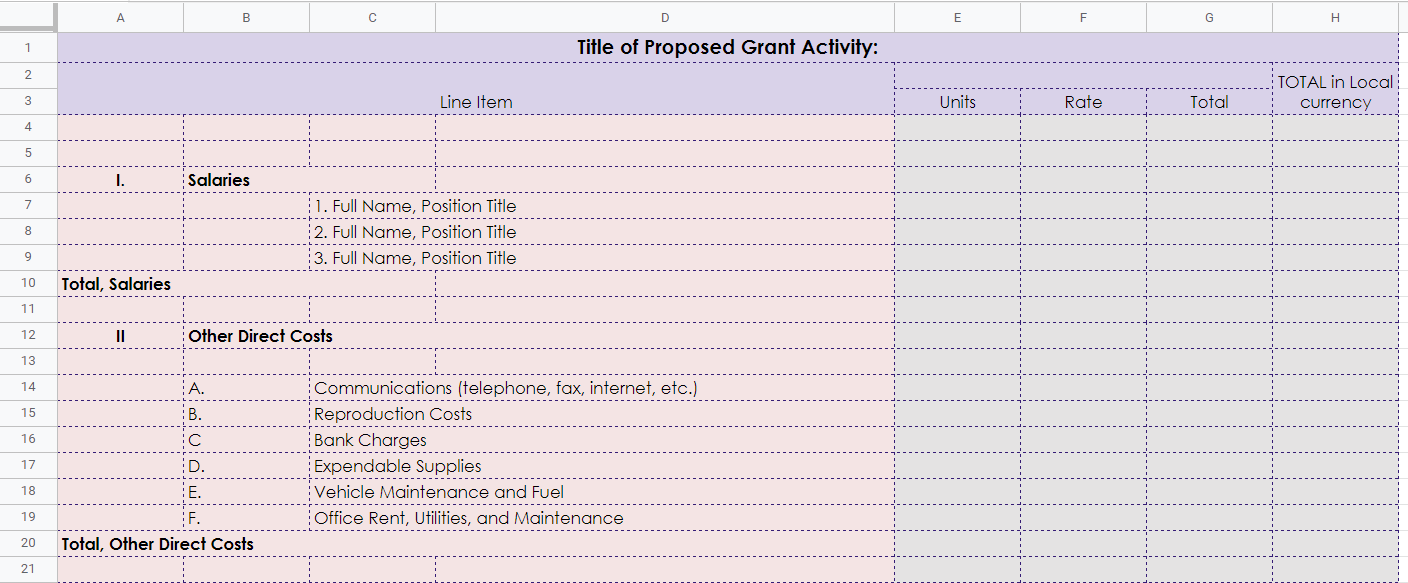 Designed by Spreadsheet Daddy
If you rely heavily on grants to make a project happen, the Grant Project Budget Template by Spreadsheet Daddy should be most helpful concerning tracking the activities carried out with grant funds.
Accurate plotting of this information will help ensure each and every cent is spent diligently.
13. Community Project Budget Template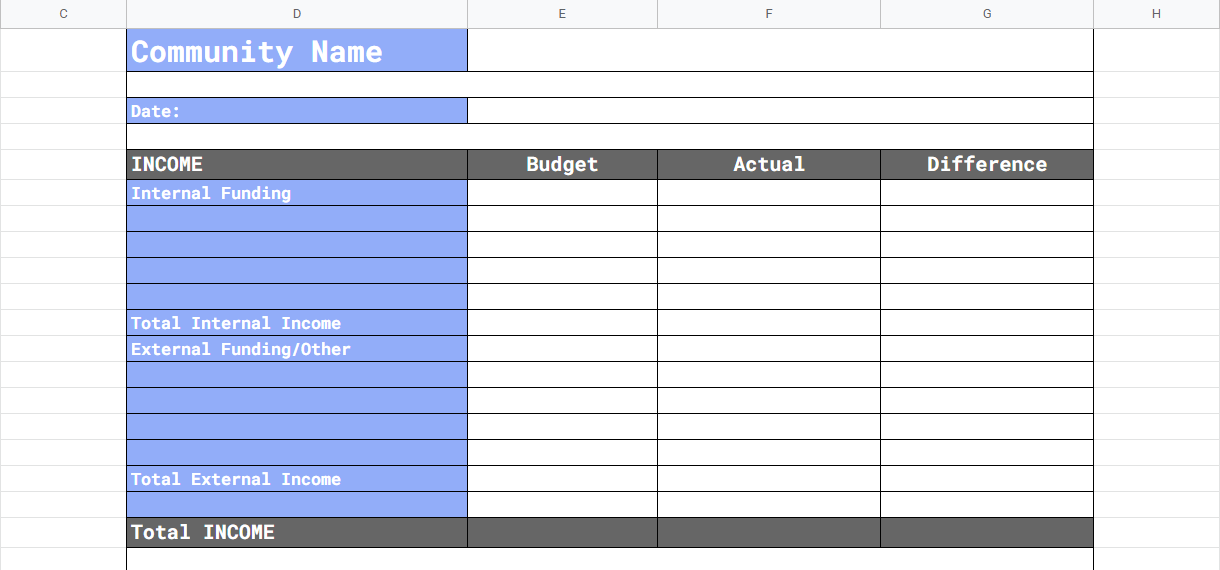 Designed by Spreadsheet Daddy
The Community Project Budget by Spreadsheet Daddy is for budgeting for community-related project expenses.
With this budget, you can take note of anticipated and actual funding and expense activities to help execute a community project undertaking successfully.
14. Art Project Budget Template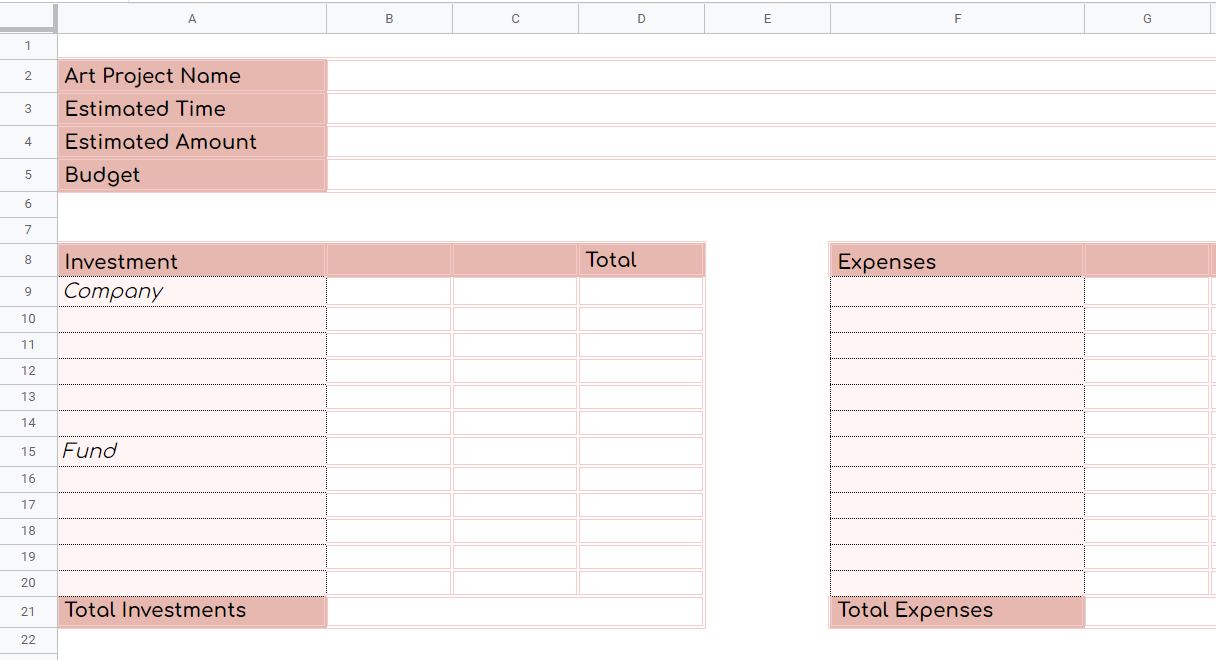 Designed by Spreadsheet Daddy
If art is your forte, and you're looking for a budget that will help support your budgeting efforts, then the Art Project Budget Template by Spreadsheet Daddy should serve you well.
This budget takes into regard investment and funding opportunities in addition to the expected costs involved in your art project.
Again, this is a completely customizable worksheet that you can use to insert information that is relevant to your project.
15. Construction Project Budget Template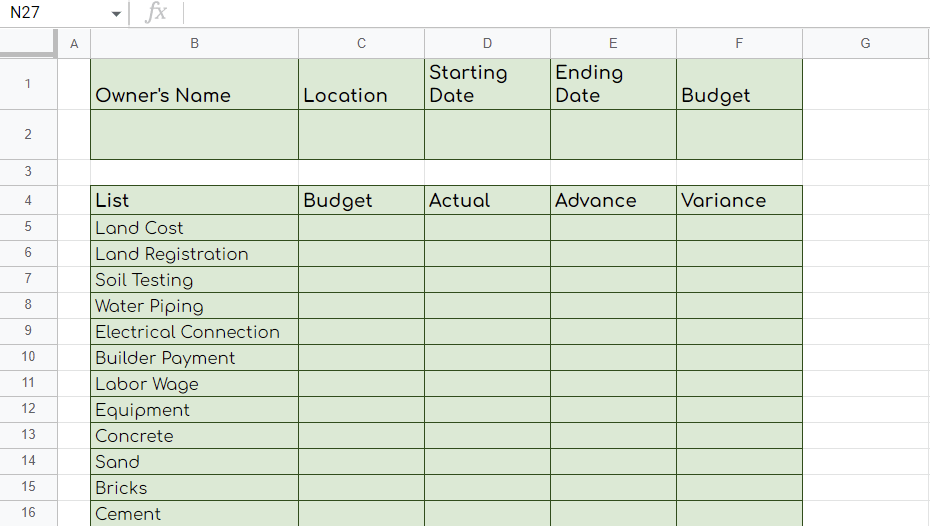 Design by Spreadsheet Daddy
The Construction Project Budget Template by Spreadsheet Daddy is a simple budget to use if you want to concentrate on nailing down the costs involved in the primary phase of your construction project.
This budget spreadsheet is excellent at tracking expenses and should set you up to complete the rest of the building and renovation phases of your construction project successfully.
How to Make a Project Budget Template in Google Sheets
The following sections will teach you how to create a Google Sheets budget template (with step-by-step instructions) that you can use for any project. So, let's get started!
Step 1. Start by entering the information you want to be included in your template. Type the text in the desired cells once you have selected them.
Step 2. After that, choose the font size, color, alignment, and any other settings from the toolbar menu.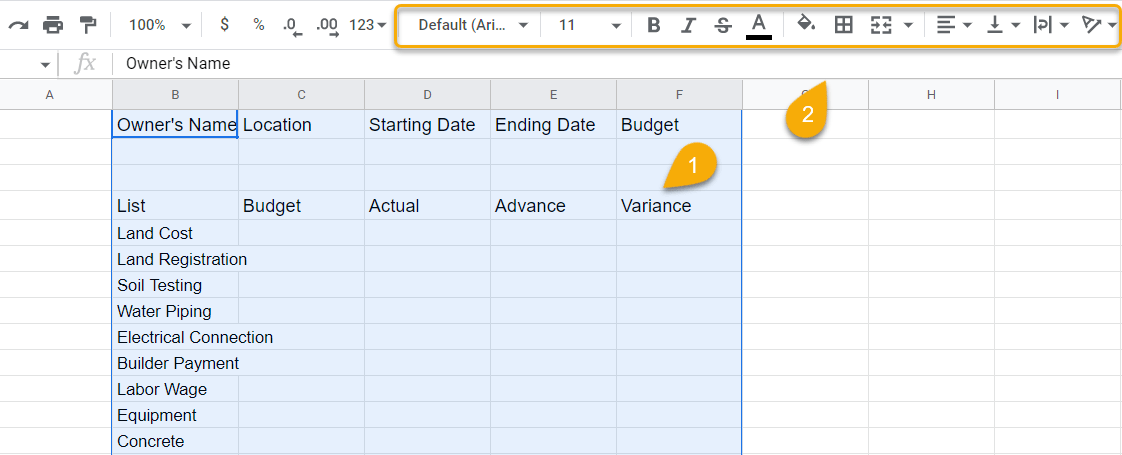 Step 3. If you want to change the color of the cells, you just need to highlight cells, click the Fill color option and choose a color from the palette.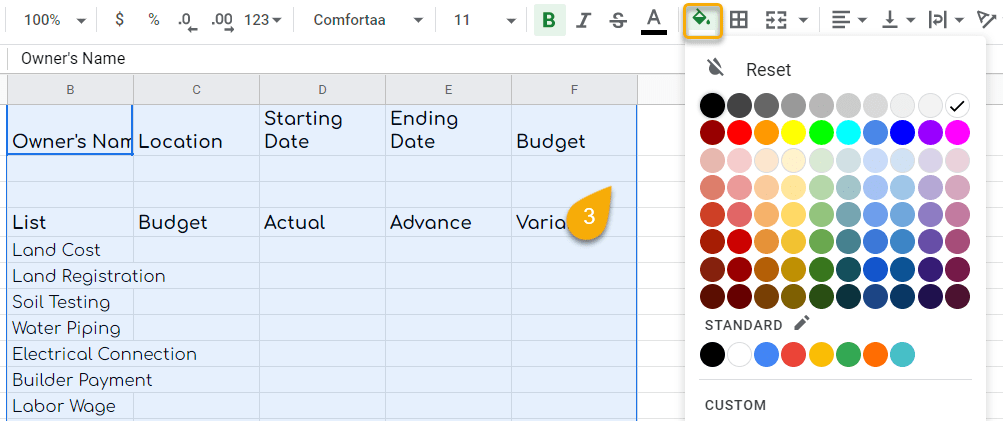 Step 4. Lastly, select the cells that you want to border, and then click on the Border icon in the toolbar menu, choose the color, style, and type of border you would like to apply.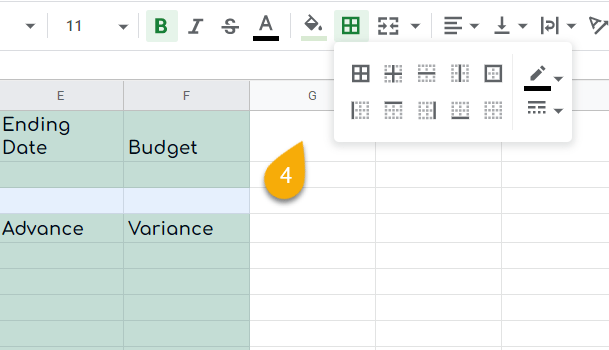 Step 5. To use the template effectively, you need to add formulas. To do so, click on the cell where you want to get the result, add the formula you need, and press Enter. In our case, this is =SUM(C5:C24). You can also apply formulas to other data.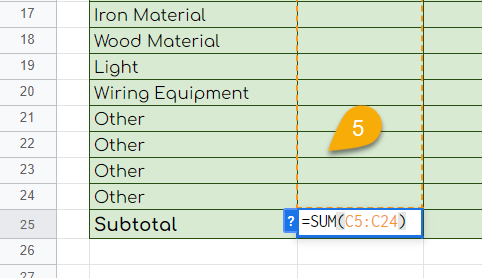 Wow! Here is the result!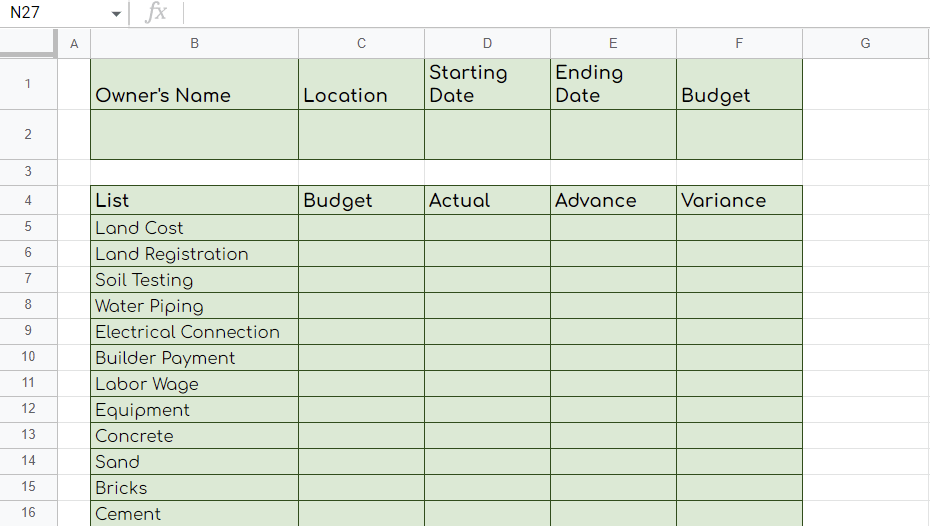 FAQs
What is a project budget template?
Projects can tend to be quite extensive not only in terms of time and resources but also regarding the costs associated with executing every task to the level required.
A project budget template is essentially a budget planner and should, therefore, be fairly detailed and pretty much on the money concerning all the anticipated expenses involved in the successful execution of a project.
How do you budget a project in Google Sheets?
Budgeting for a project in Google Sheets should be an easier task if you use an already prepared template as opposed to thinking up one yourself.
You can utilize a well-thought-out Google Sheets budget to help you document every expense to avoid running short of money and not completing a project your client depends on you for.