Feeling motivated to make better choices financially when it comes to household expenses? There's no better place to start than with a properly prepared household budget to know where your money is going on a daily basis.
Check out some of these free Google Sheets budget spreadsheets to help kick-start your household budget template for Google Sheets journey to avoid running into arrears every month.
1. Free Household Budget Template

Designed by Smartsheet
The categories of household expenses are so nicely spread out in the Household Budget Template from Smartsheet that'll it be hard NOT to list every income and expense that affects your total budget.
This monthly budget template is not only excellent at tracking your monthly spending and income-earning activities, but it's great to keep and refer back to year-on-year to see how much your budgeting skills improve over time.
Take advantage of the Percentage column to see how much you're left over with to invest or save.
2. Dave Ramsey Household Budget Template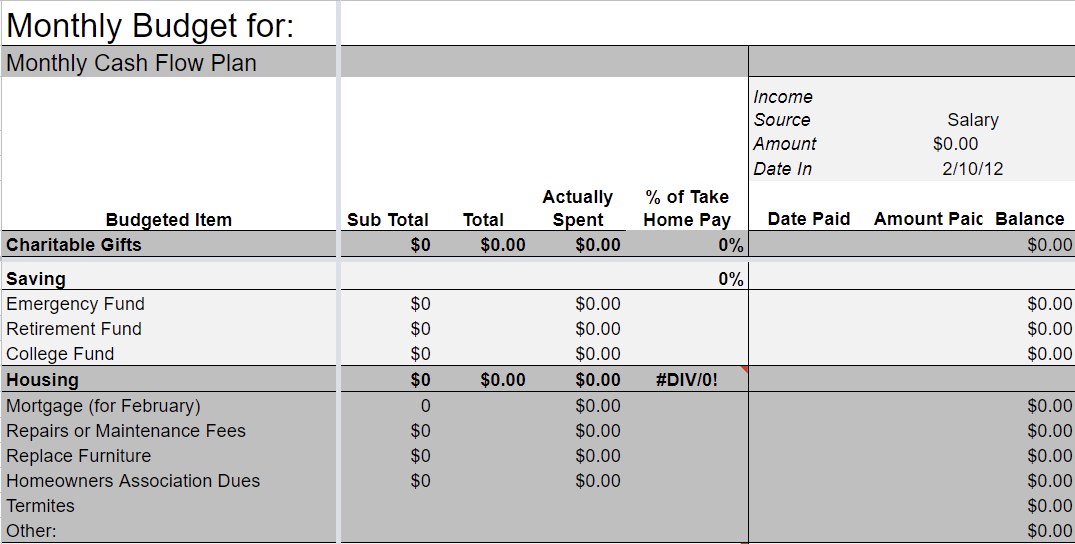 Designed by Sheryl Killoran
If you admire Dave Ramsey and his money management principles, then you'll love the Dave Ramsey Household Budget Template.
This family budget template is straight to the point. It includes pretty much every household expense under the sun, including college expenses, your mortgage, repair, and insurance expenses, transportation, and utility expenses.
There is even a separate column for emergency, retirement, and college fund savings to avoid neglecting these all-important financial considerations.
3. Monthly Household Budget Template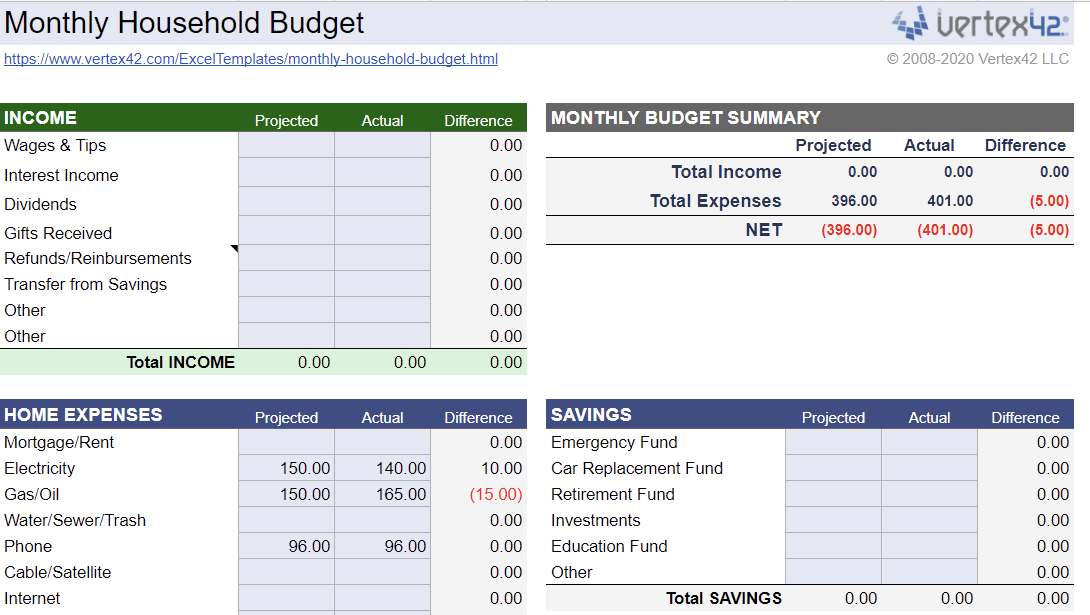 Designed by Vertex42
The Monthly Household Budget Template by Vertex42 is also very detailed and leaves no room for error when creating a budget that is as exact as can be.
You might find the monthly budget summary very useful if you want a snapshot of your total income and expenses at any point on your budgeting journey.
4. Family Budget Template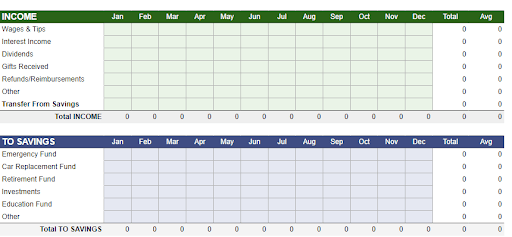 Designed by Vertex42
The Family Budget Planner is a unique template by Vertex42 that you're unlikely to encounter anywhere else. What makes this budget so valuable is that it anticipates your next set of expenses as you grow from one phase of life into the next.
If you don't have a house or children, or business, this budget is one to bookmark for future use. It includes sections for categories such as business-related expenses, clothing and toys, pet expenses, charitable gifts, education, and student debt to help you cover typical expenses one might be confronted with both now and in the future.
5. Weekly Household Budget Template

Designed by Spreadsheet Daddy
It is quite rare to find a weekly budget template that is set out quite as neatly as The Weekly Budget Template by Spreadsheet Daddy. This budget is specifically designed for household and living expenses for every day of the week.
5. Annual Household Budget Template

Designed by Spreadsheet Daddy
As we all know, some months can be better financially than others. But unless we focus on what actually occurred during a specific period, it can be challenging to analyze whether we met our spending objectives or not.
The Annual Household Budget Template by Spreadsheet Daddy is an annual budget template that covers an entire year and is beneficial for jotting down your basic household expenses, utilities, food, transportation expenses, and others on a month-by-month basis so that you can rectify your spending habits in time for the upcoming months.
7. Simple Household Budget Template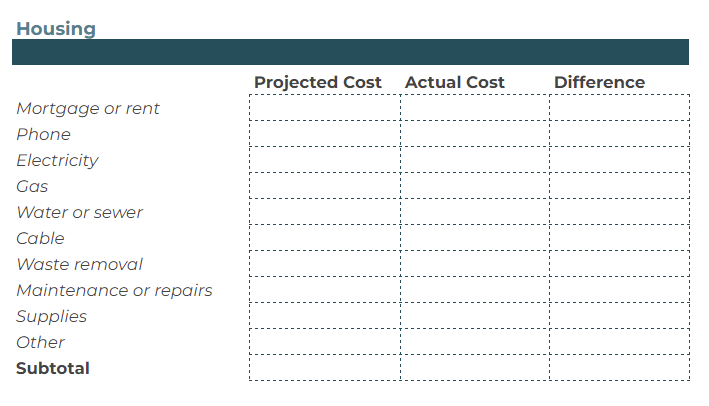 Designed by Spreadsheet Daddy
The Simple Household Budget Template by Spreadsheet Daddy considers your most basic expenses that keep your household up and running.
You could even use this budget template in conjunction with other, more detailed budgets if you want to keep tabs on those budget categories your home couldn't possibly do without.
Such expenses could include things like water or sewer expenses, cable, waste removal, gas, electricity, phone, and mortgage expenses. With this budget, you can note the difference between actual and projected spend to ensure any discrepancies between the two remain minimal.
How to Create a Google Sheets Household Budget Template
This guide will provide you with a step-by-step process to help you easily create the template you need. So let's get down to business!
Step 1. Create a spreadsheet and add the text there.
Step 2. To merge cells, simply select these cells, then click on the Merge icon, and pick the Merge all option.

Step 3. As a next step, you can change the font size, color, alignment, and many other aspects of your text using the toolbar menu.

Step 4. Change the color of cells using the Fill color option, and selecting the color from the palette you like.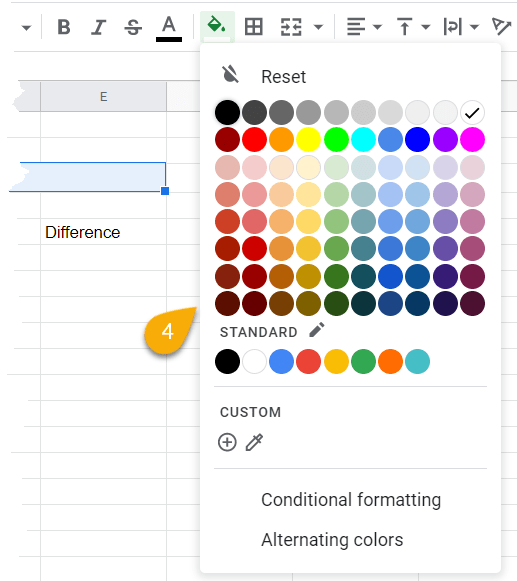 Step 5. After that, select cells, go to the toolbar menu, click on the Border icon, and choose the color, style, and type of border you wish to apply.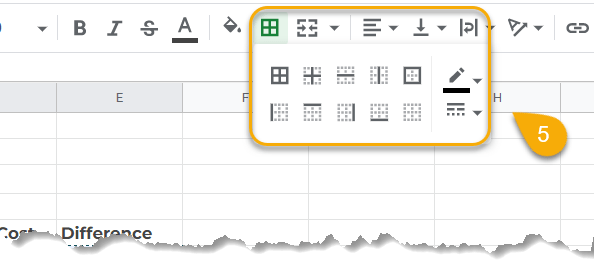 Step 6. To remove gridlines from the spreadsheet, go to the View tab, pick Show, and choose Gridlines.

Step 7. Finally, click on a blank cell where you want to get the calculation, then add the formula you need. In our case, it is the =SUM(C6:C15) formula. You can apply similar formulas to other data as well.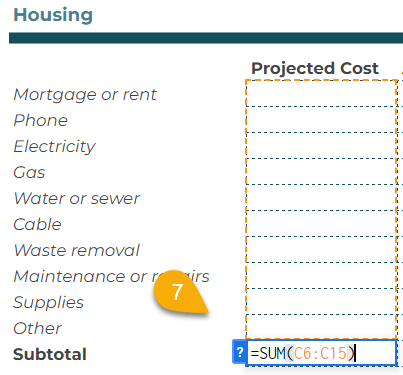 Easy as ABC! Here is the result!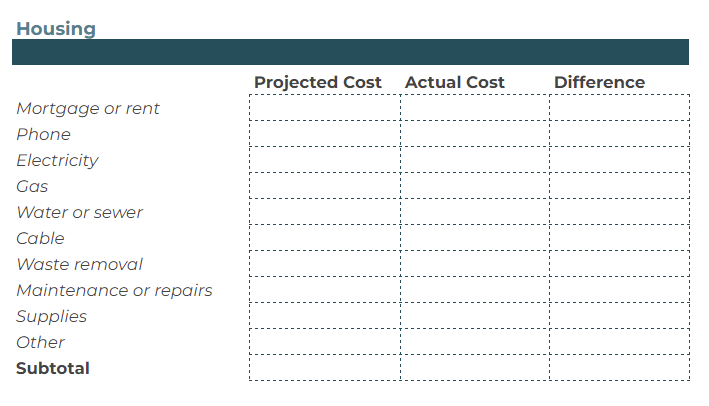 How do I create a household budget in Google Sheets?
It is fairly simple to begin creating a household budget in Google Sheets. You only need a Google Drive account, and you can get started immediately! Simply sign in to your Google Drive, click on the + button on the below right-hand side, and select Google Sheets.
List all your necessary and discretionary expenses in one column so that you can track expenses more clearly. Below this, you can jot down streams of income.
You should have another three columns – one for budgeted amounts for each category, another for what you actually spend, and another for the difference between the two (you can insert a formula to automatically calculate the differences for you). Also, it is advisable to have a row for savings to encourage you to build up your bank account for a rainy day.
Does Google Sheets have a household budget template?
Unfortunately, Google Sheets doesn't have a specific budget template for household expenses under its basic templates. This is where you may wish to take advantage of a household budget spreadsheet that's already designed for you, like the ones mentioned above.