In today's fast-paced, digitalized world, managing personal and professional finances can be overwhelming. The sheer volume of transactions, payments, and expenses can make it challenging to keep track of everything, often resulting in a disorganized financial life.
If left unchecked, this chaos can lead to financial mismanagement and stress, leaving individuals and businesses struggling to make informed decisions about their money.
In this article, we'll introduce you to our favorite Google Sheets ledger templates, which can transform your financial management by providing a structured and easily accessible platform for tracking your financial activities.
Say goodbye to those chaotic spreadsheets and disorganized records; with ledger templates in Google Sheets, you'll gain control and confidence in managing your finances like never before.
What Is a Google Sheets Ledger Template?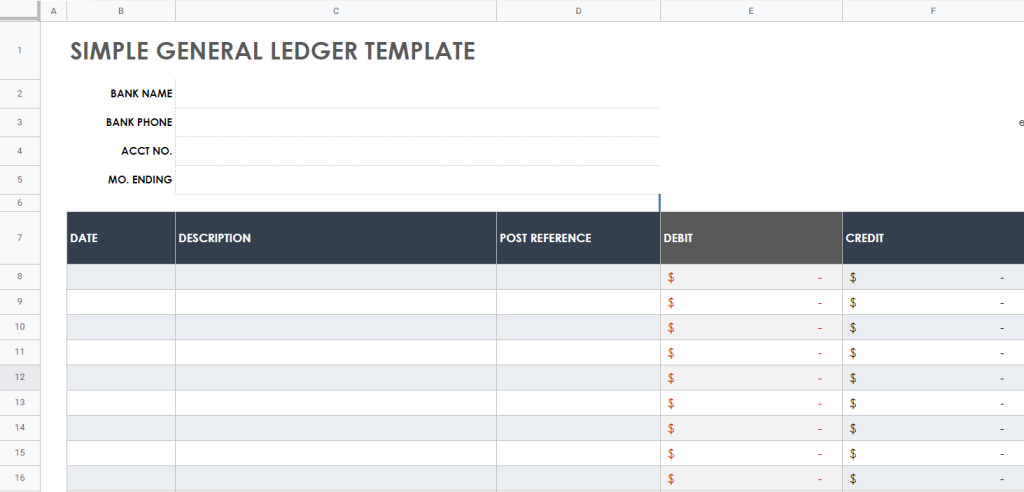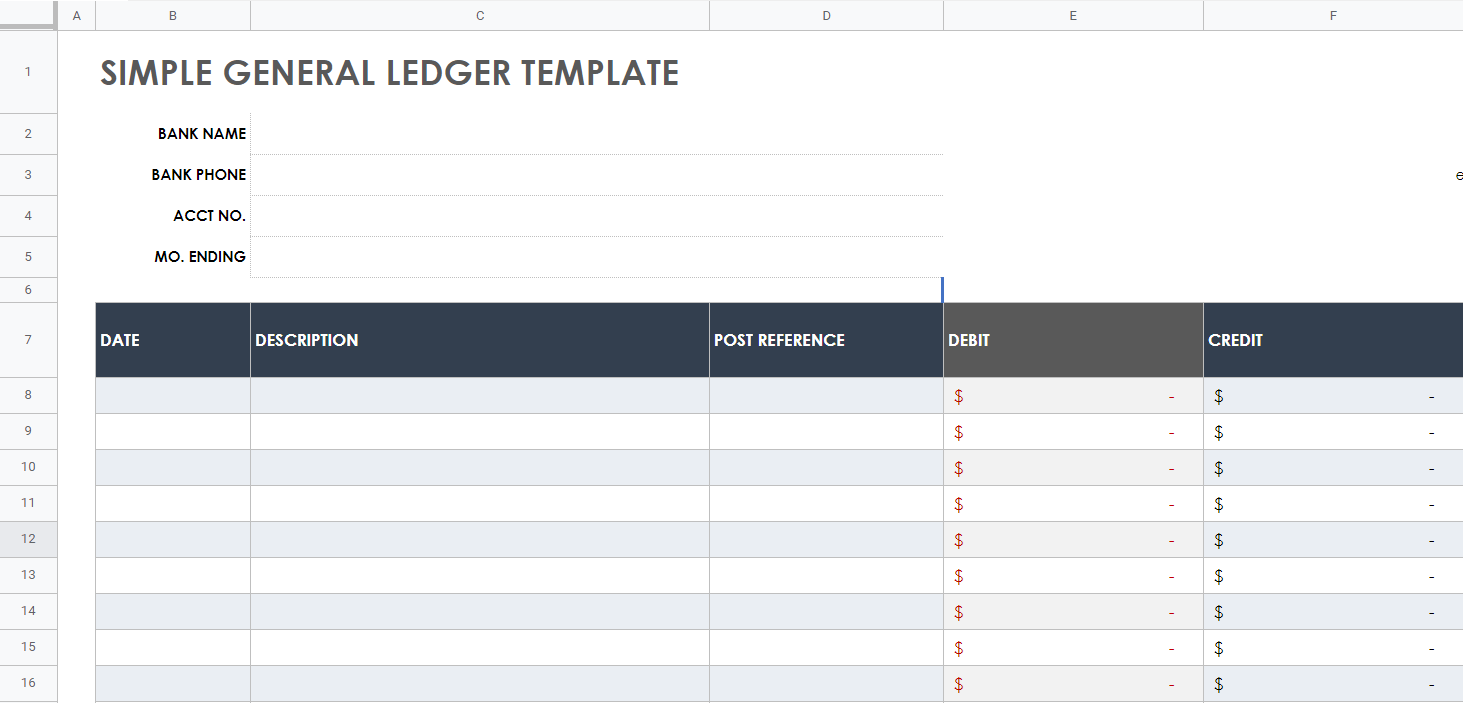 A Google Sheets Ledger Template is like a digital notebook that helps you manage your finances in a trouble-free, organized way. Think of it as a ready-to-use financial tracking tool you can access right from your computer or phone. With this template, you can quickly input your income and expenses, track your budget, and even analyze your financial habits.
The best part? It's fully customizable! You can personalize it to fit your needs, and it's all powered by the user-friendly interface of Google Sheets. So, if you're looking for a handy way to keep an eye on your money, this template might be the perfect solution for you!
Best Google Sheets Ledger Templates
Let's look at the ways Google Sheets can help you keep on top of your financial records with some of the best free ledger templates available.
1. Simple General Ledger Template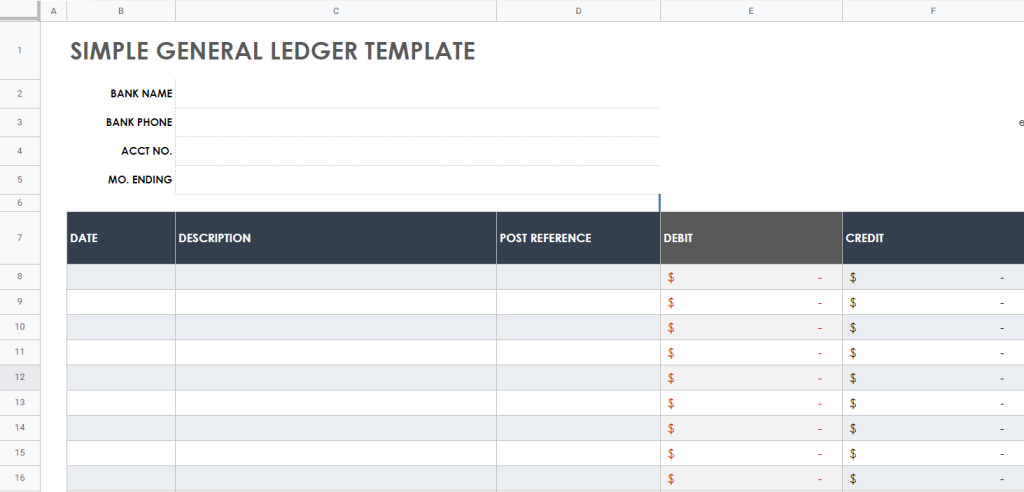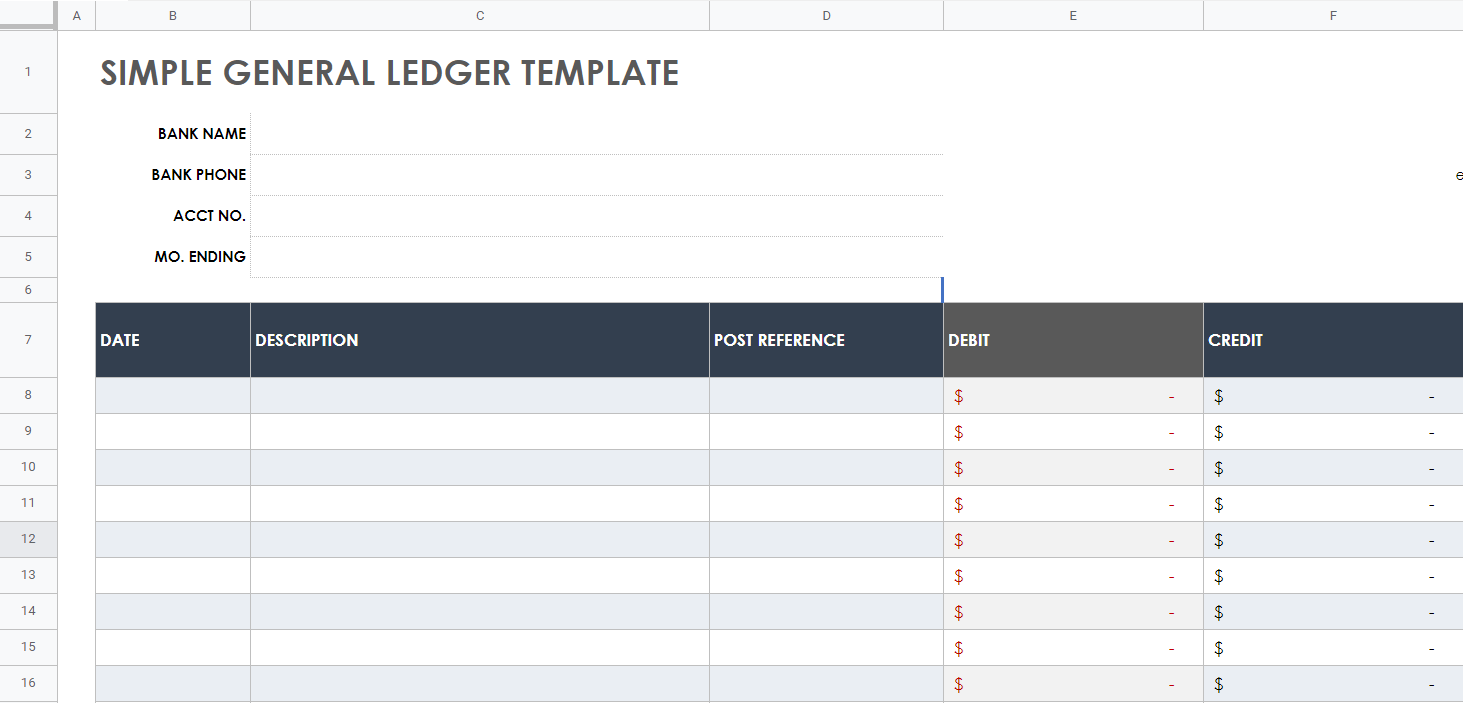 Designed by Smartsheet
This simple general ledger template is an excellent tool to help you maintain a clear and organized record of your financial transactions. It includes fields for bank information, account number, and ending balance.
The template also provides space to record the date, description, post reference, debit, credit, total debit, and total credit for each transaction. With its straightforward layout and convenient format, this template is perfect for individuals and small businesses looking to track their financial activities efficiently.
2. Self-employment Ledger Template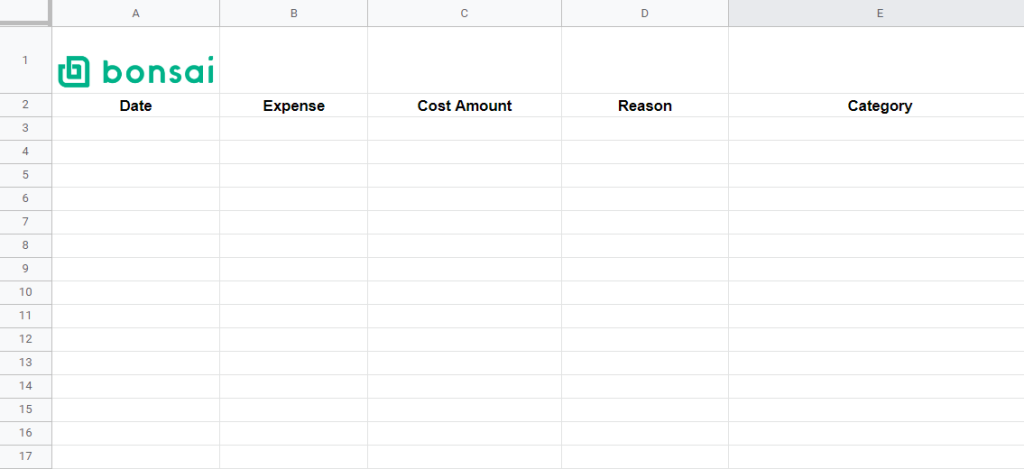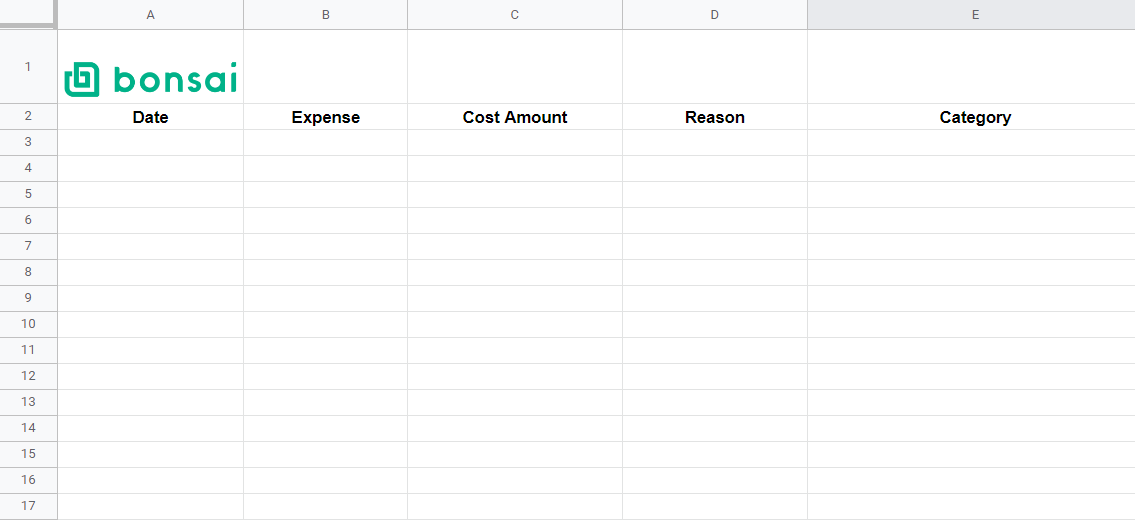 Designed by Bonsai
This self-employment ledger template for Google Sheets is a quick and easy tool specifically designed for freelancers, independent contractors, and small business owners. With it, you can track your income and expenses in a single, organized document.
The Income Tab features fields for recording the date, client, payment received, and services or goods provided, while the Expenses Tab captures the date, expense, cost amount, reason, and category. This user-friendly template simplifies financial management for self-employed individuals, enabling you to gain better insights into your business performance and make informed decisions for future growth.
3. Balance Sheet Ledger Template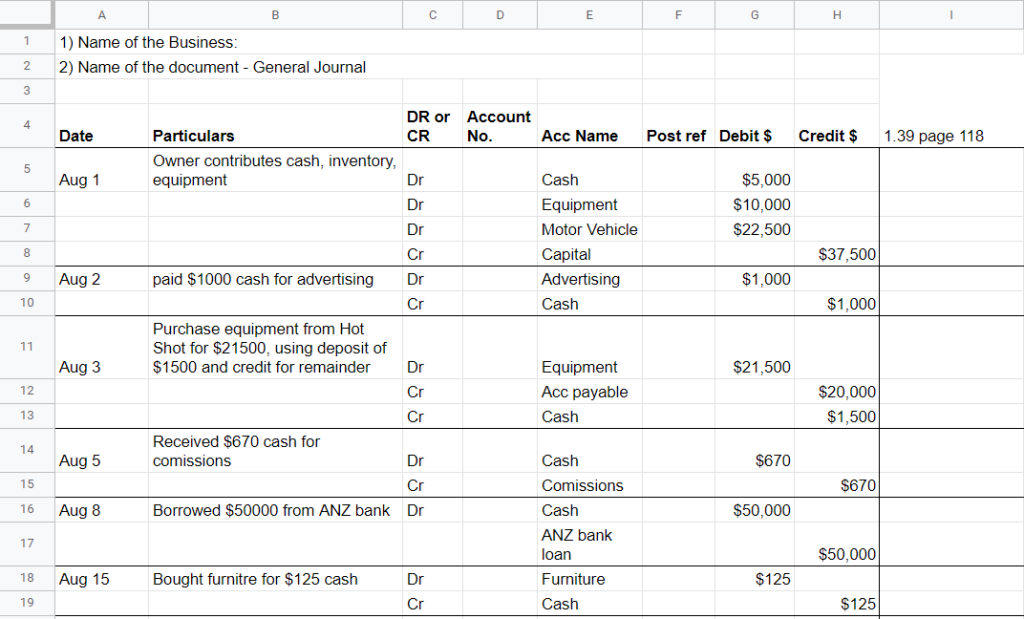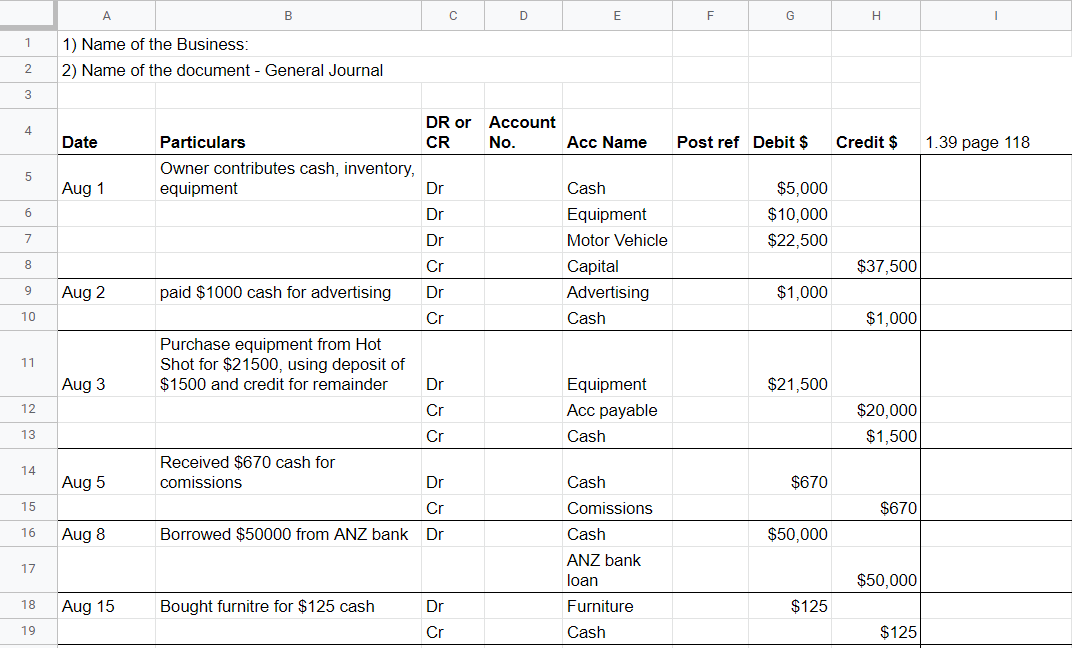 Designed by Shane Pisani
The Google Sheets balance sheet ledger template is a customizable document designed to help you maintain accurate records of your transactions, personal or business.
It simplifies tracking and categorizing financial transactions, allowing you to easily monitor your account balances, streamline financial reporting, and ensure accuracy in your bookkeeping processes.
4. General Ledger Template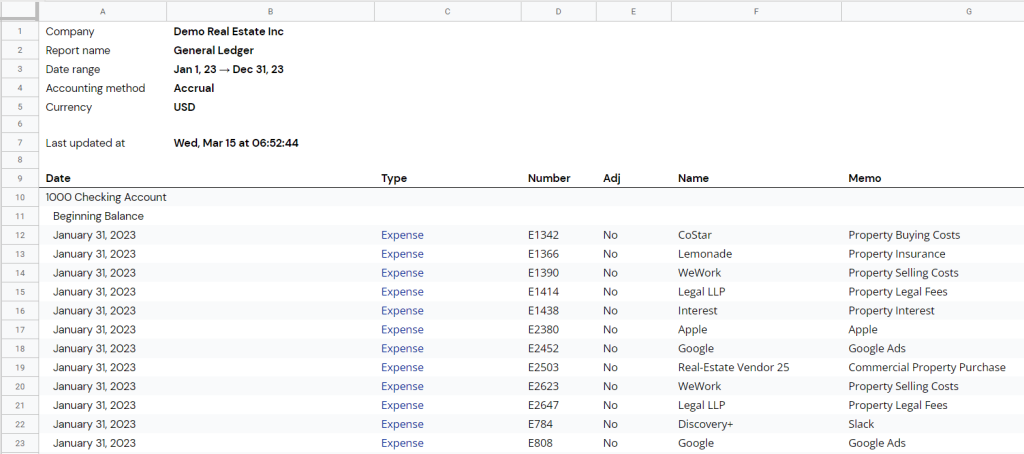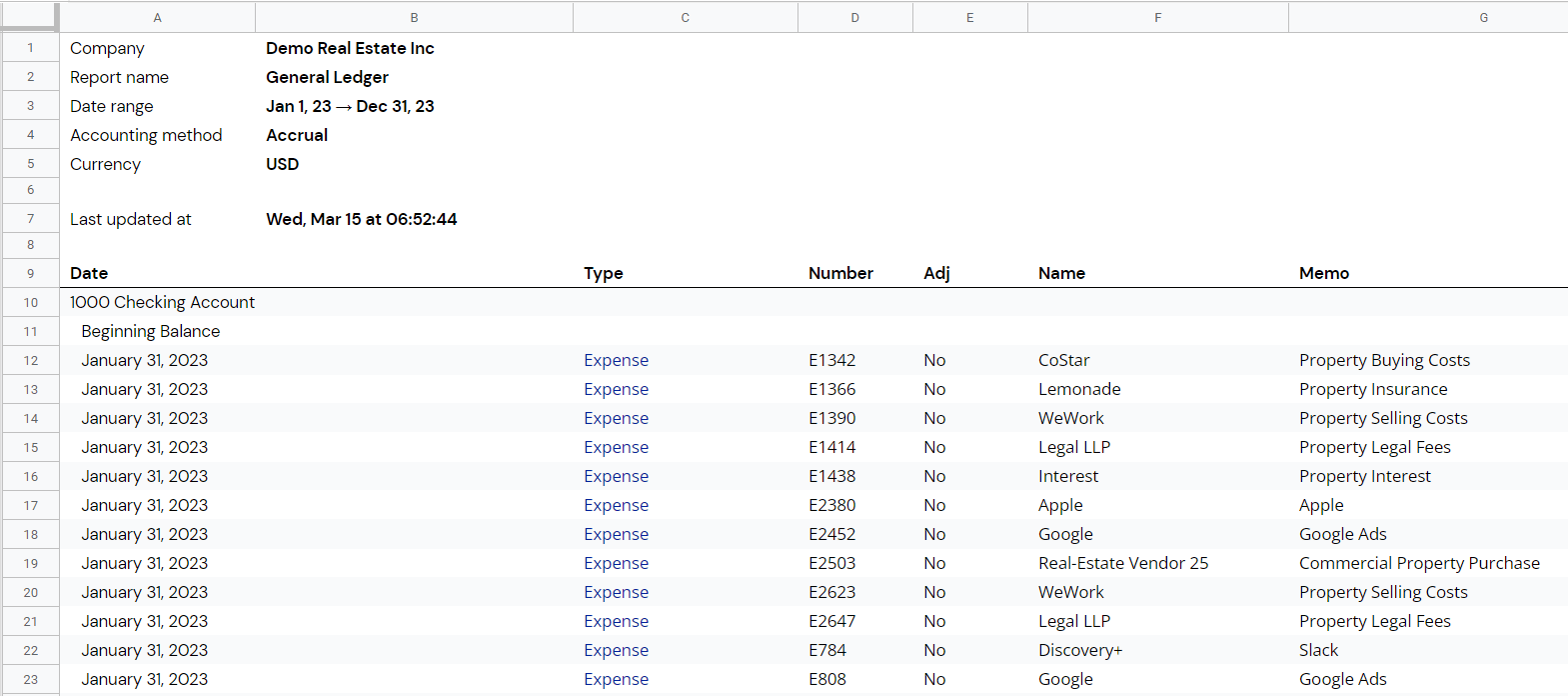 Designed by LiveFlow
This general ledger template for Google Sheets is a versatile financial tool designed for individuals and businesses to track and manage finances effectively.
With this template, you can effortlessly record and categorize your transactions, monitor account activity, and maintain an up-to-date account balance.
5. Bank Ledger Template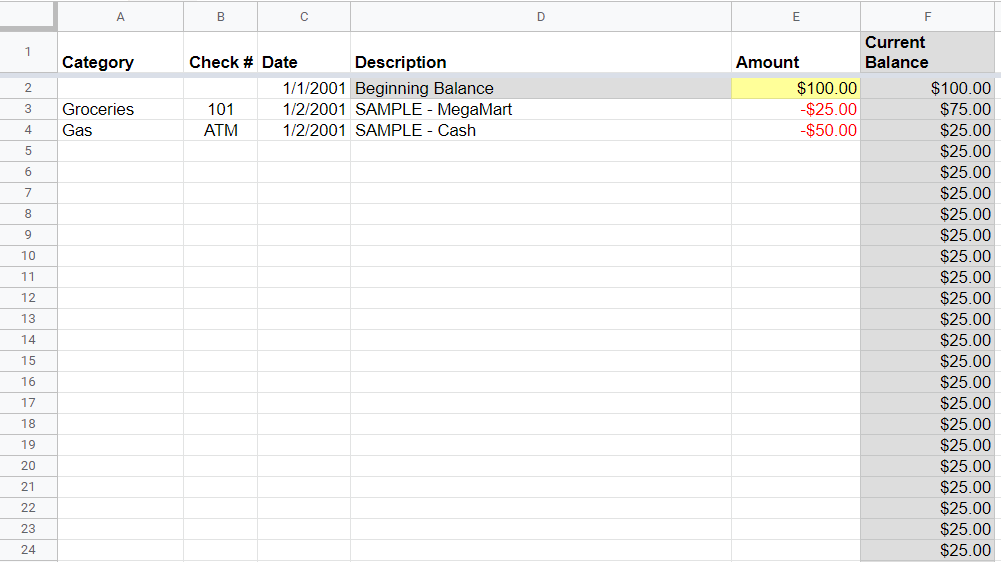 Designed by Docs Templates
The bank ledger template provides a simple method to keep track of your banking transactions. It includes the basics such as category, check number, date, transaction description, amount, and current balance. With this template, you can easily record deposits, withdrawals, and other expenses, as well as calculate your current balance in real time.
Using Google Sheets also allows you to access and update your ledger from anywhere, as long as you have an internet connection. It is a helpful tool for managing your finances and staying on top of your banking activities wherever you go.
6. Rental Ledger Template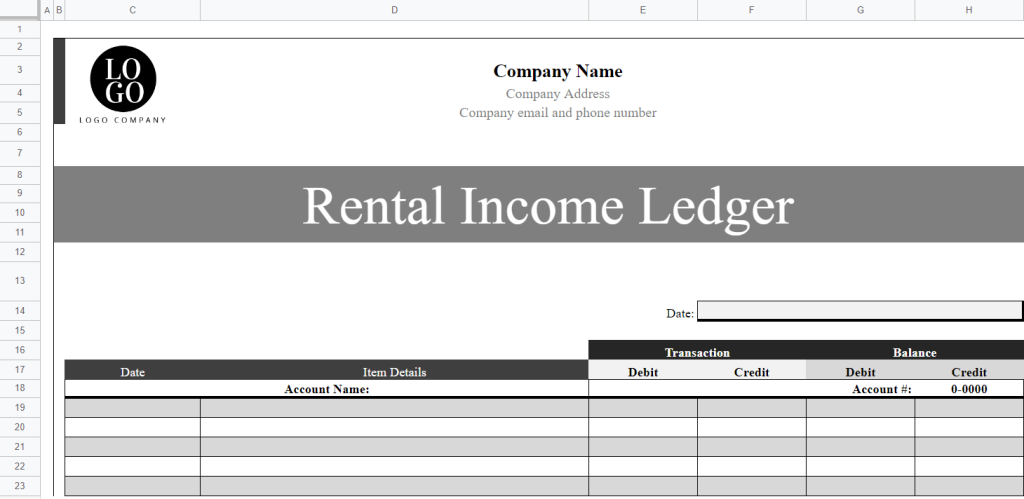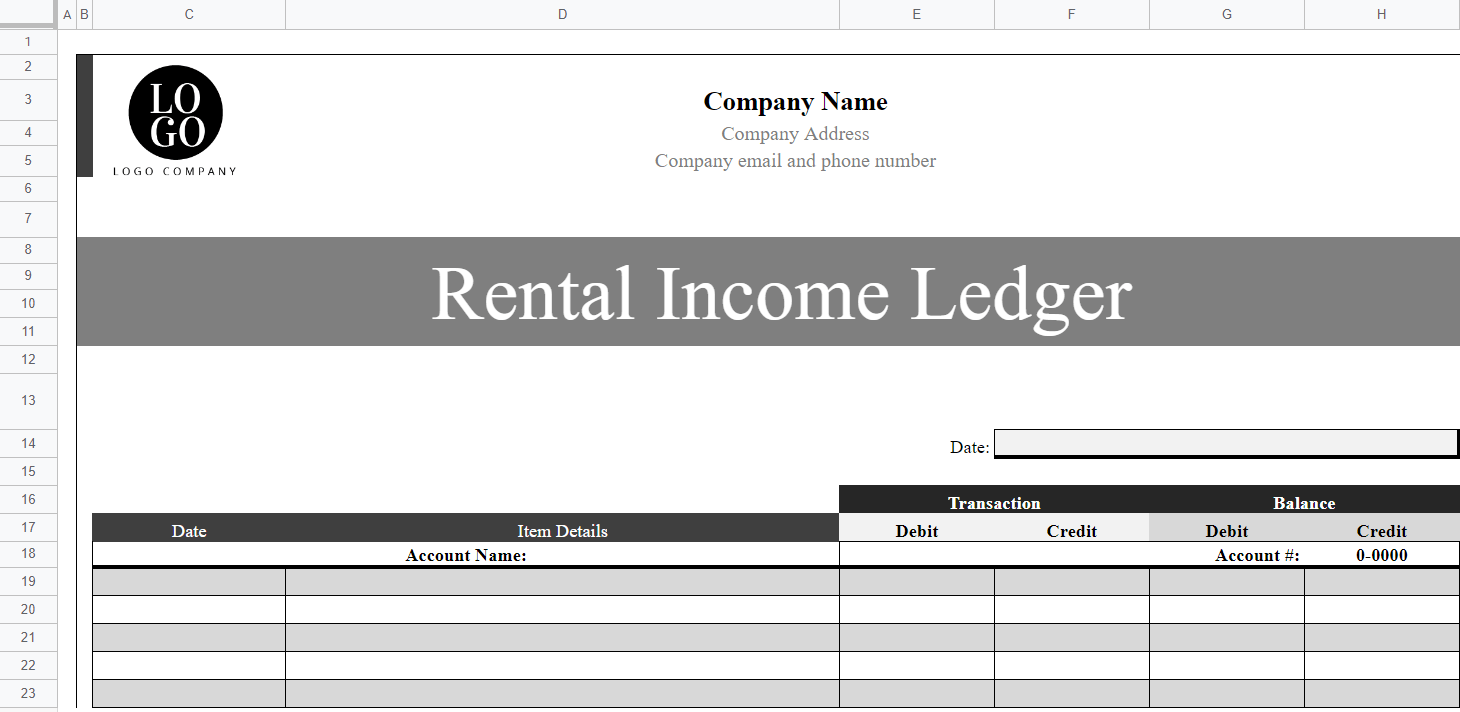 Designed by Template.net
This rental income ledger template can help landlords and property managers track and maintain a record of rental transactions for their properties.
The template includes columns for date, item details, transaction (debit/credit), and balance (debit/credit). The account name field allows you to input a specific property or account for easy identification.
Use this template to monitor incoming rent payments, expenses, and the overall financial performance of your rental properties in a systematic manner.
7. Business Ledger Template


Designed by Bkper Support
This business ledger template can help business owners efficiently monitor and manage their financial position over the course of the year by arranging assets and liabilities into easily identifiable categories.
The template simplifies the process of tracking current assets, such as cash and receivables, as well as current and non-current liabilities, ultimately providing a clear overview of the company's total equity.
8. Accounting General Ledger Template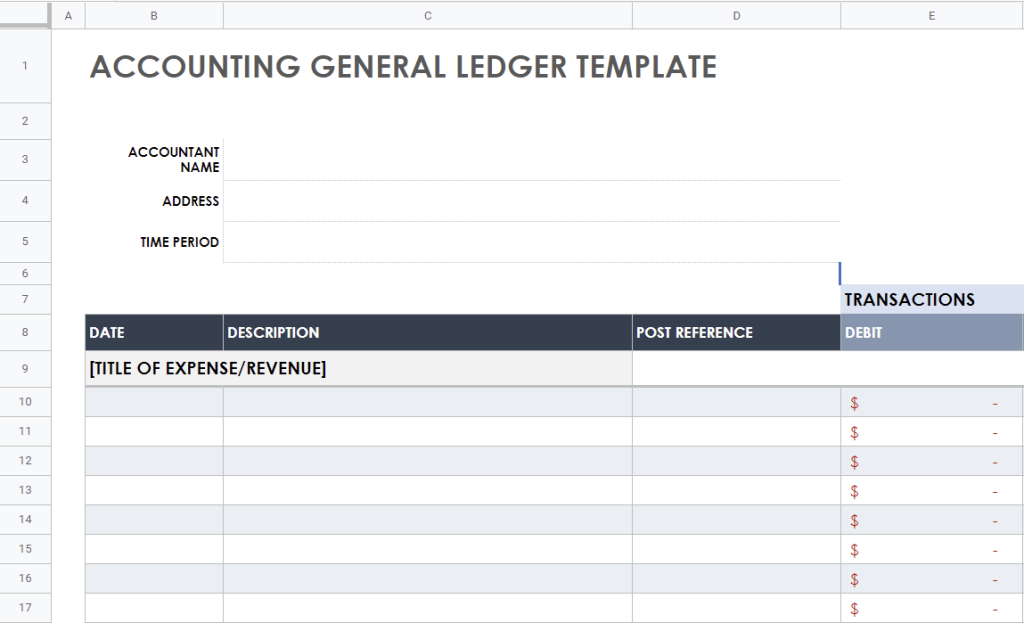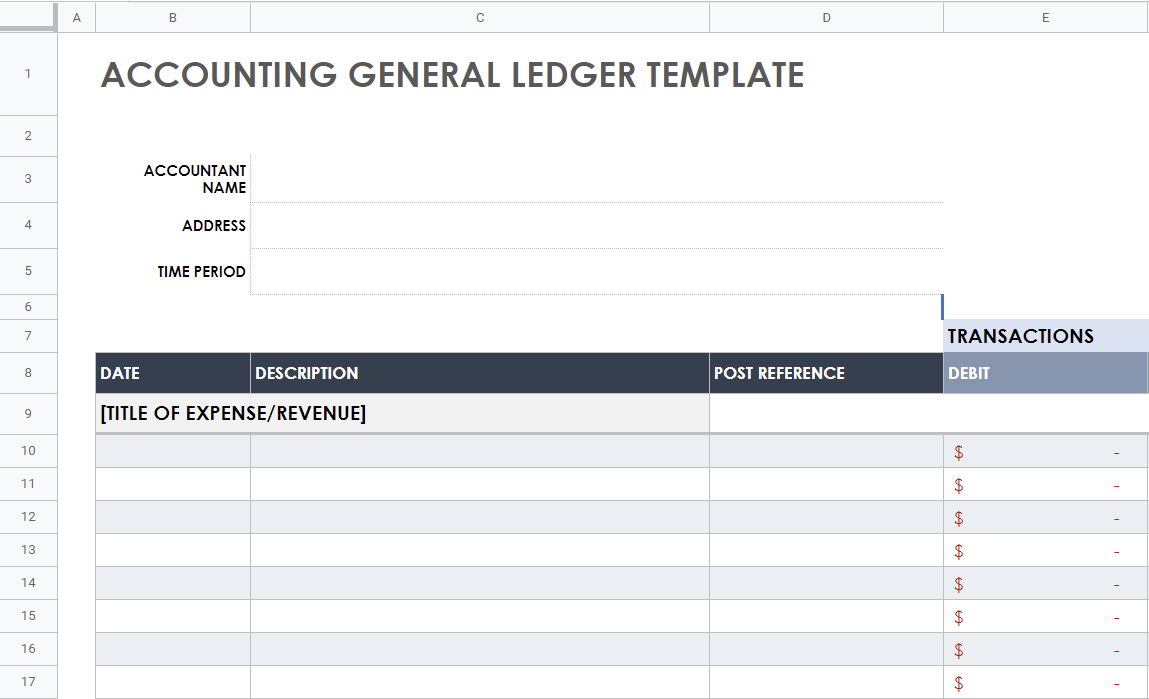 Designed by Smartsheet
This accounting general ledger template is a comprehensive and practical tool to help you record and track your business's balances. The template includes multiple account sections, each with a unique account number and designated space for expense or revenue titles.
Each account section provides ten rows to enter the date, description, post reference, debit, and credit amounts, along with columns to calculate and display each transaction's total debits and credits. This organized format makes it simple to maintain accurate financial records and facilitates creating financial statements, budgeting, and analyzing your company's performance.
9. Stock Transfer Ledger Template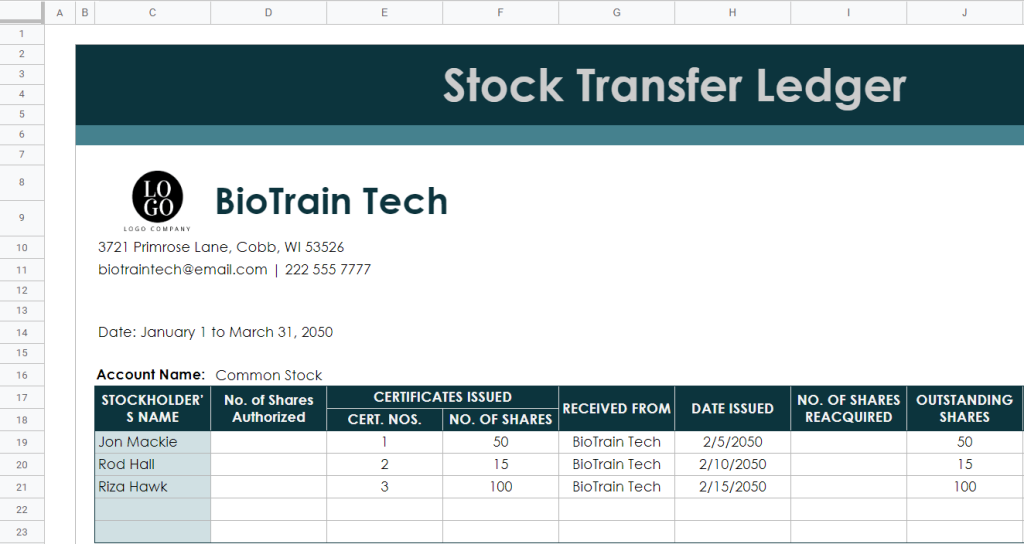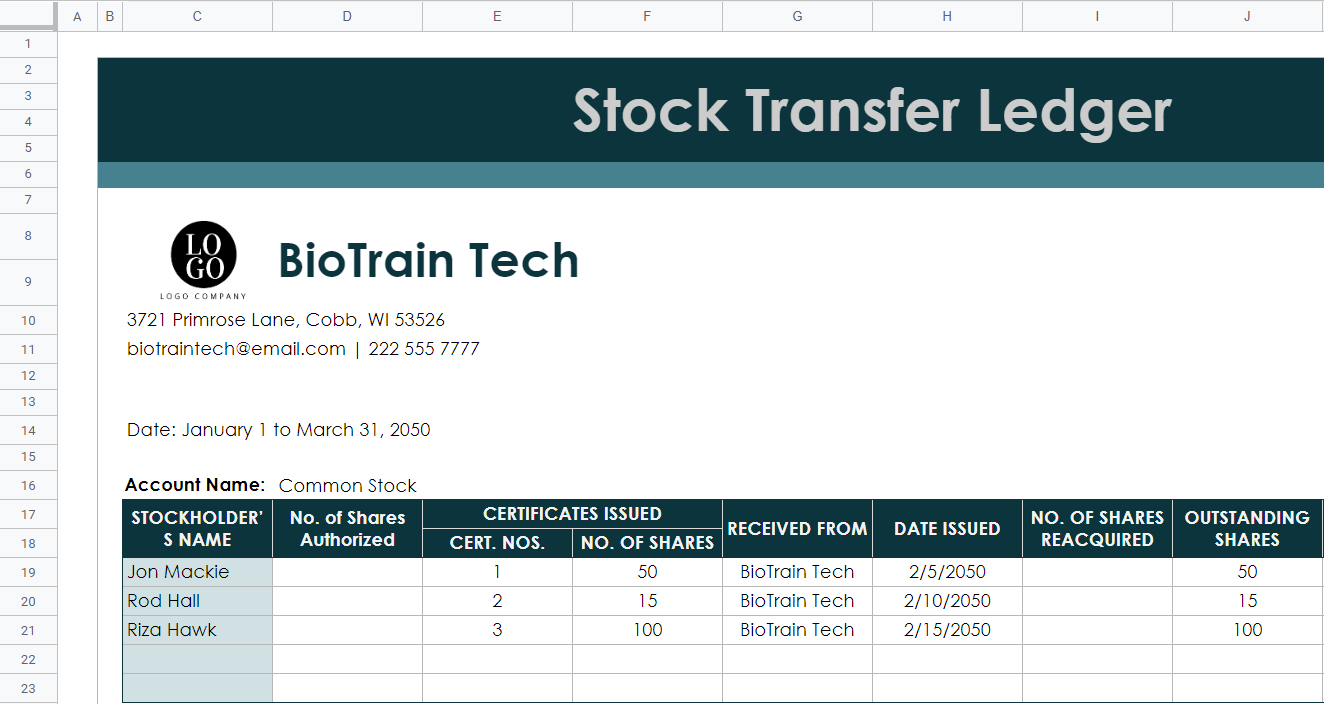 Designed by Template.net
This stock transfer ledger template is a comprehensive record of your company's stock transactions, classified into three separate account categories: Common Stock, Preferred Stock, and Treasury Stock.
The template displays essential information for each stockholder, including their name, the number of authorized shares, certificate numbers, the number of shares issued, the source from which the shares were received, the date issued, the number of shares reacquired, outstanding shares, share price, and the total amount for each transaction. The template provides an organized and easily accessible overview of your company's stock activity, helping track and manage the ownership and movement of shares.
10. Rent Ledger Template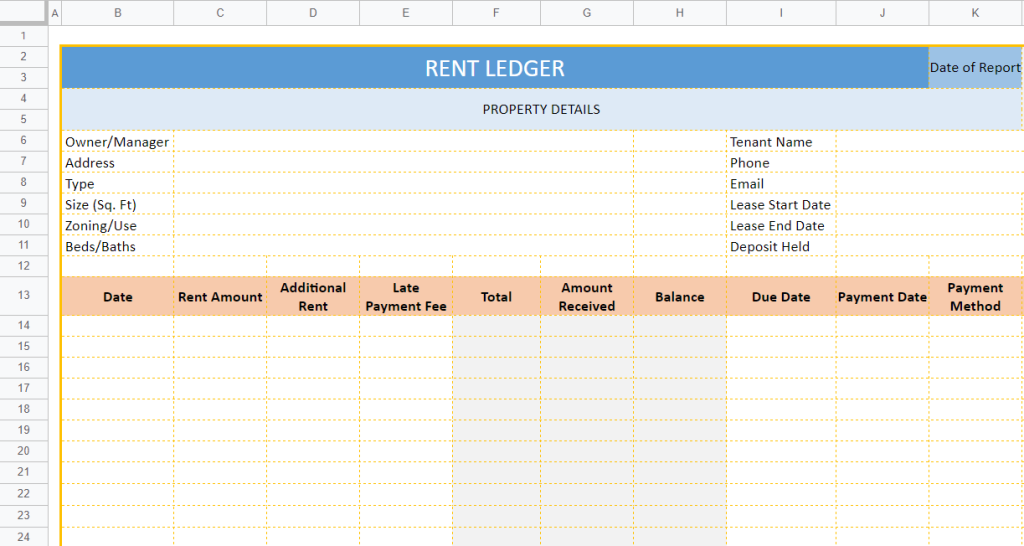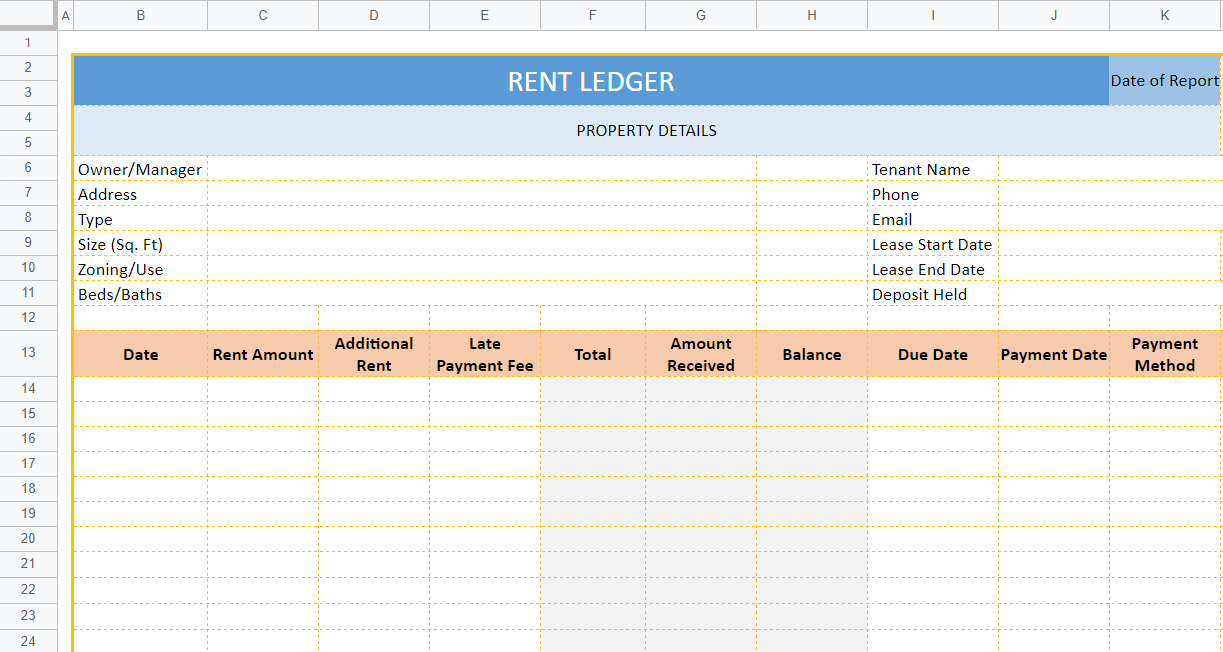 Designed by Obie
The rent ledger template is a tool used to keep track of rent payments and other financial details related to leasing a property. This template includes property details, tenant information, and lease start and end dates. It also allows for the recording of rent payments, late fees, and other charges, as well as the tracking of amounts received and outstanding balances.
This template is helpful for landlords, property managers, and anyone else involved in managing rental properties.
11. Checkbook Register Template

Designed by Vertex42
This checkbook register template is a comprehensive and straightforward financial tool. The template includes sections for recording the account name, current balance, cleared balance, and a warning threshold for when the account balance falls below a certain amount. Transactions are recorded chronologically with relevant details such as date, transaction number, payee, category, and whether the transaction has been reconciled or not.
You can also input withdrawal or deposit amounts; the template will automatically calculate the running balance for each entry. This template is ideal for maintaining a tabulated and up-to-date record of one's financial transactions, facilitating budgeting and ensuring responsible money management.
12. Expense Ledger Template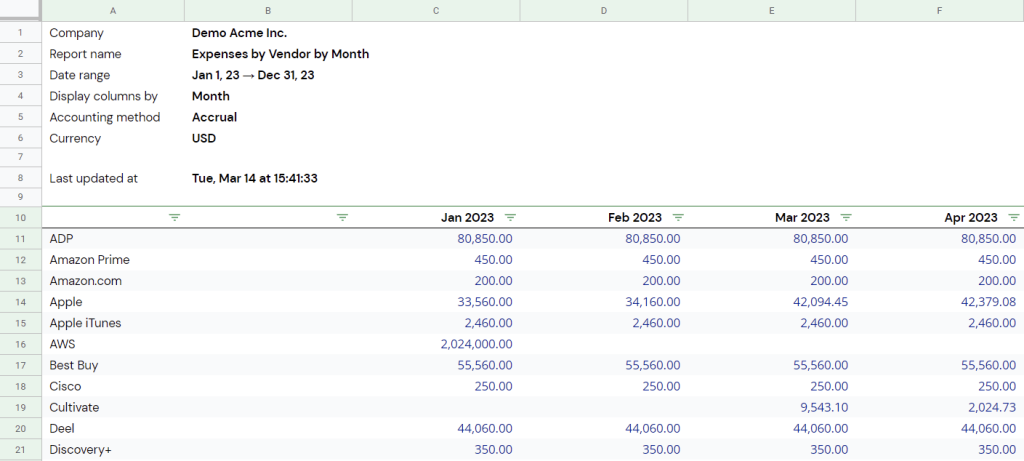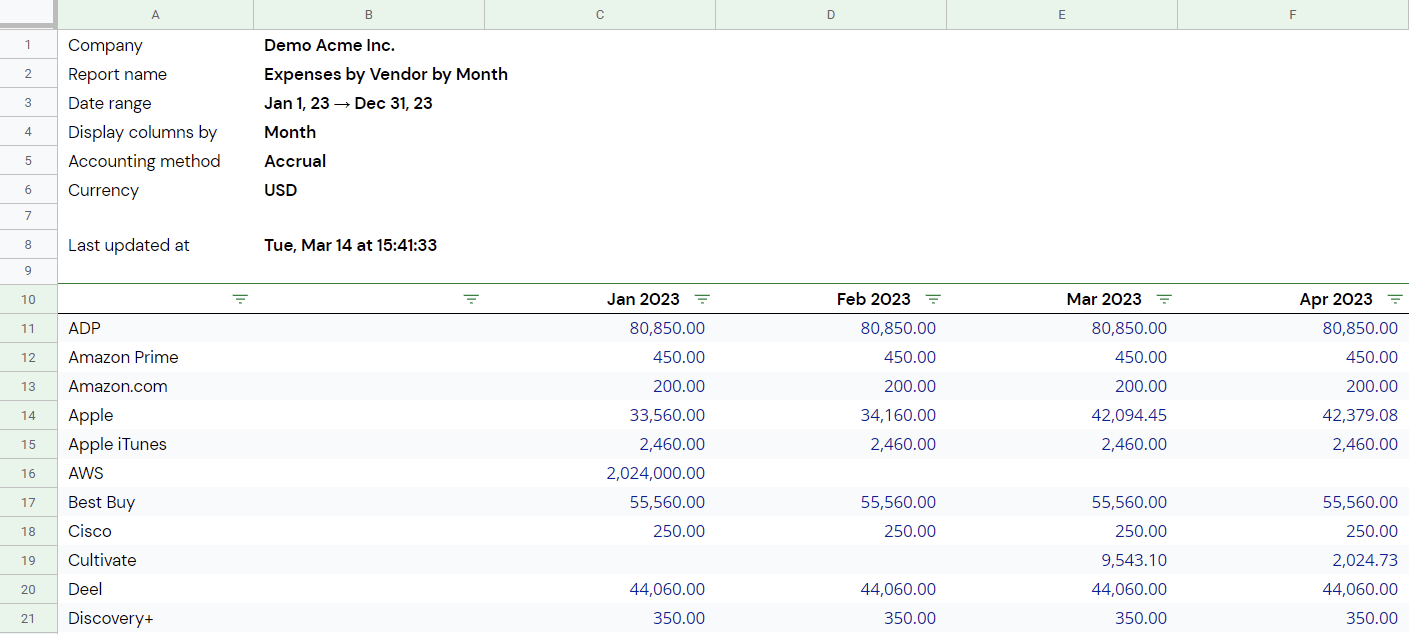 Designed by Live Flow
This expense ledger template can help companies efficiently track and manage their monthly expenses throughout the year. It includes fields for company name, report name, date range, display columns by, accounting method, and currency. It also features a "Last updated at" field to ensure the data is current. The template has columns for each month from January to December and a "Total" column for calculating the cumulative expenses.
This versatile and easy-to-use ledger template allows businesses to monitor costs effectively, promoting better financial management and decision-making.
13. Cash Ledger Template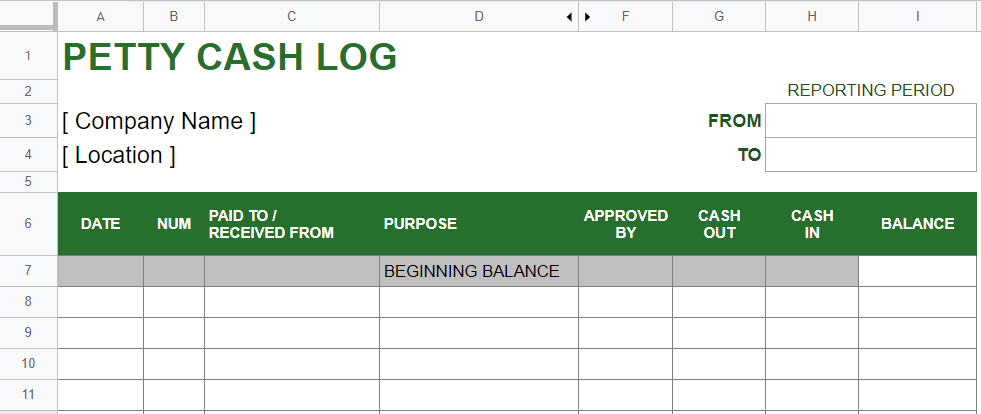 Designed by Vertex42
This cash ledger template is a user-friendly organizational tool designed to help businesses track and manage their cash transactions during a specific reporting period. The template includes essential information such as the company name, location, and the time frame reported. It consists of columns to record the date, transaction number, payee or payer, purpose of the transaction, approval status, approver's name, cash outflows, cash inflows, and the resulting balance.
The template also provides a section to calculate the total cash outflows, inflows, and ending balance for the reporting period. At the bottom is a petty cash reconciliation section to ensure accurate record-keeping, account for the cash on hand, and identify any differences or discrepancies. This section also indicates any required petty cash reimbursements and the balance to be carried forward to the next reporting period.
14. Accounts Receivable Ledger Template


Designed by Excel Data Pro
This accounts receivable ledger template helps businesses manage and track their customer invoices and payments effectively.
The template provides a comprehensive overview of outstanding balances, payment history, and due dates, enabling companies to maintain accurate records of their receivables. It features fields for invoice date and number, customer name, total amount, due date, and balance.
15. Sales Ledger Template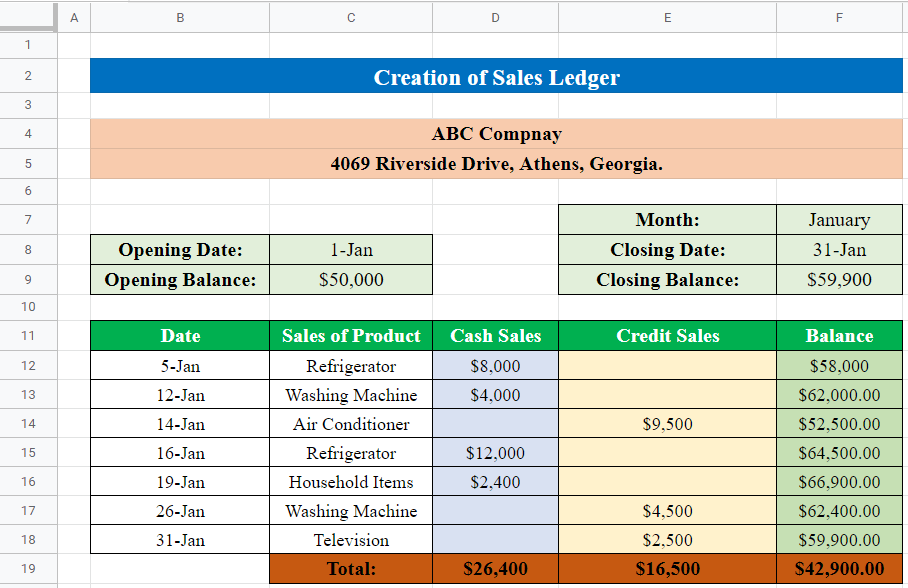 Adapted from an Excel Template by Excel Demy
With this sales ledger template, businesses can track and manage their monthly sales transactions both in cash and on credit. The template uses columns for the date, product sales, cash sales, credit sales, and balance. It also includes spaces for the opening and closing dates of the month, as well as the opening and closing balances.
Input data for each day of the month so you can easily monitor daily sales activities and maintain accurate financial records. The template also calculates the total sales for the month, providing a clear overview of the company's sales performance.
16. Tenant Ledger Template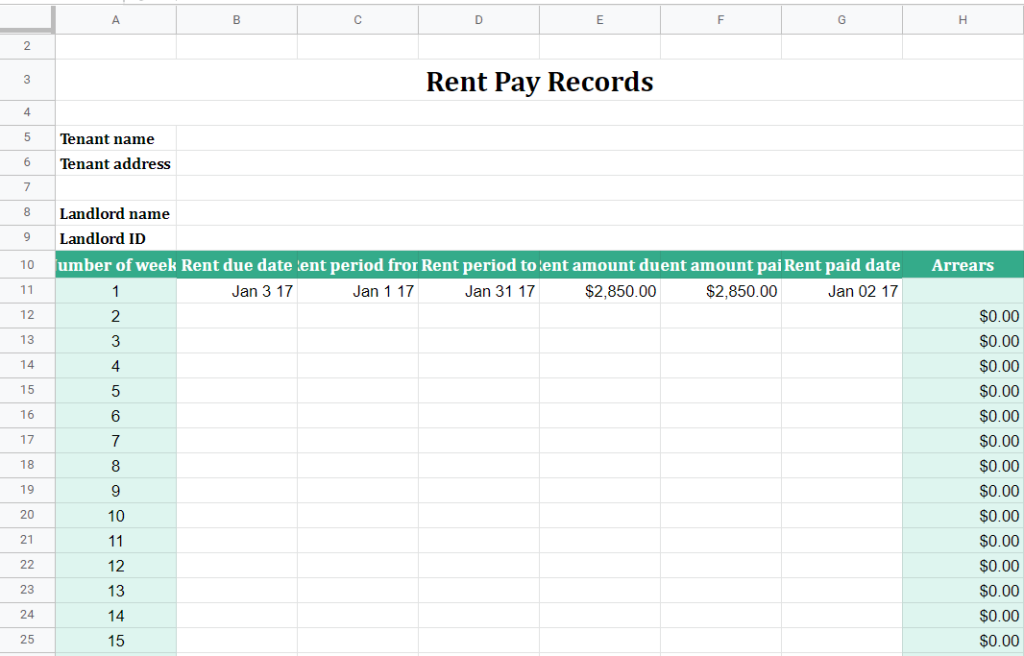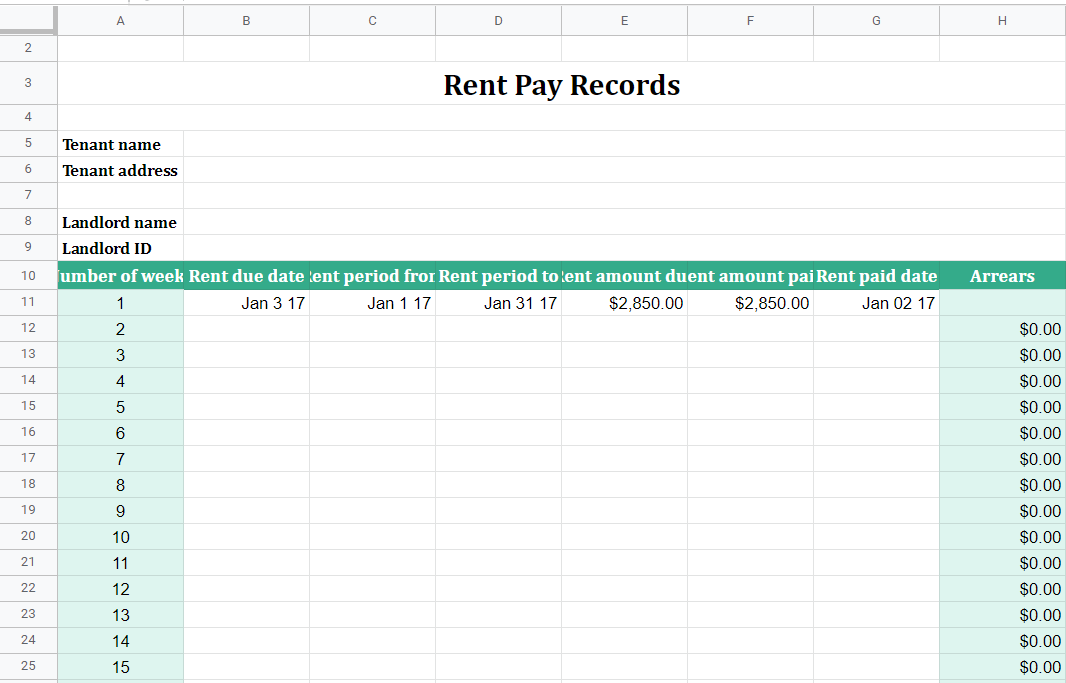 Adapted from an Excel Template by Best Collection
This tenant ledger template is a comprehensive record-keeping tool designed for landlords and property managers to track rent payments, arrears, and other relevant details for their tenants.
The template includes fields for tenant and landlord information, along with a 52-week rent tracking grid that outlines the rent due date, rent period, rent amount due, rent amount paid, rent paid date, and any outstanding arrears. The template automatically calculates totals for rent amounts due and paid, providing an organized and easy-to-read overview of a tenant's payment history throughout the year.
17. Income Ledger Template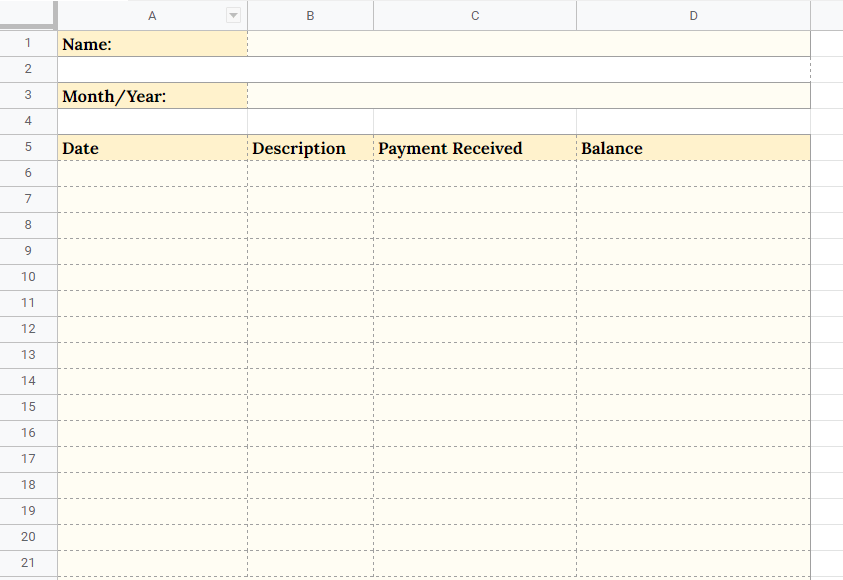 Designed by Spreadsheet Daddy
This income ledger template is a simple yet effective tool for tracking and recording individual or business income over a specific period of time. It includes essential fields such as Name, Month/Year, Date, Description, Payment Received, and Balance.
By keeping track of the dates and descriptions of incoming payments, you can maintain an accurate and up-to-date record of your earnings. This ledger helps to monitor the overall financial health and cash flow, making it easier to identify trends and make informed decisions.
How to Make a Ledger Template in Google Sheets
Ready to make your ledger template more captivating and visually appealing? Follow this detailed guide to create a stunning ledger template in Google Sheets!
Step 1. Determine what type of ledger you need and enter the applicable data into the spreadsheet, customizing the text as needed. Adjust the font size, color, alignment, and other elements using the toolbar menu for a polished look.



Step 2. Next, choose the cells you need to combine (such as headers), click the Merge icon, and select the Merge all option.


Step 3. Enhance your template by applying background colors to specific cells. Highlight the cells you want to color, select Fill color from the toolbar, and pick your preferred shade.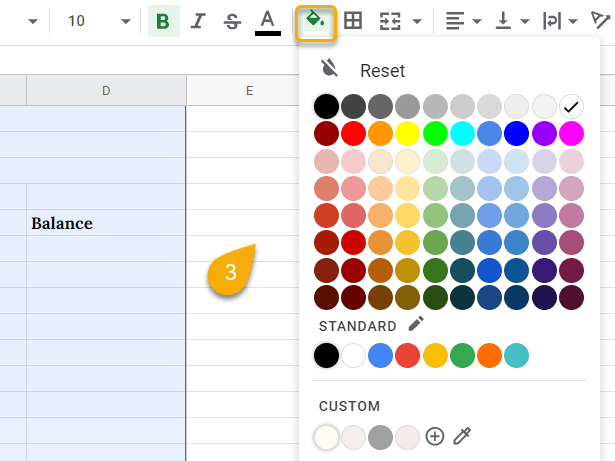 Step 4. Add a finishing touch by applying custom borders. Select the desired cells, navigate to the toolbar menu, click the Border icon, and choose your preferred color, style, and type for the border.

That's it! Admire the fantastic results and enjoy your visually engaging ledger template in Google Sheets.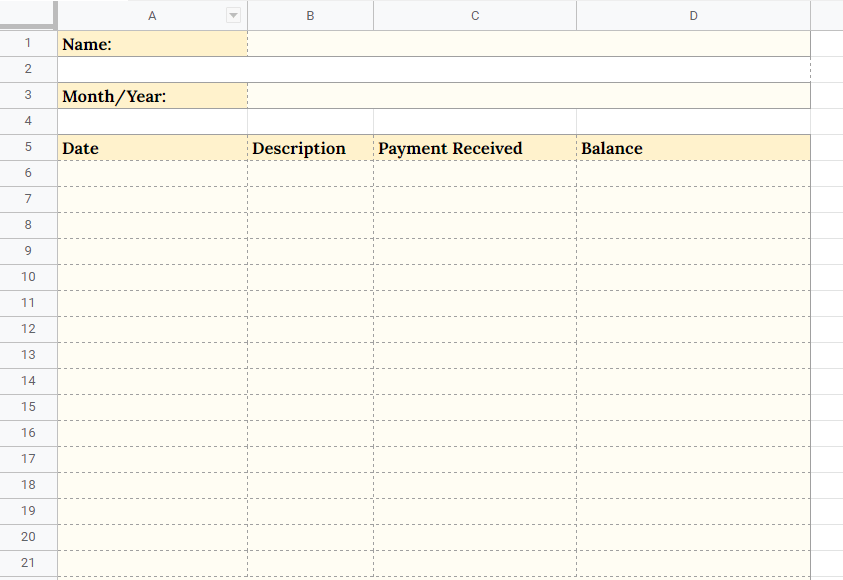 FAQs
What is a general ledger template?
A general ledger template is a pre-designed, customizable document that helps individuals and businesses efficiently record and organize their financial transactions. It typically includes fields for recording important information, such as date, description, debit, credit, and account balances. The template serves as a central place to track all financial activities, allowing you to maintain an accurate and up-to-date record of your financial position.
Does Google Sheets have a ledger template?
While Google Sheets does not have a default ledger template, it does provide access to many customizable ledger templates created by others—or you can make your own.