Budgeting for your production is an exhausting process that involves a ton of planning.
But trust us; it's not something you want to skip out on. Unexpected expenses and overspending can put your entire production in jeopardy.
That's why we compiled this list of the 13 best free Google Sheets production budget templates for your next project. Let's get straight into it!
1. Free Downloadable Production Budget Template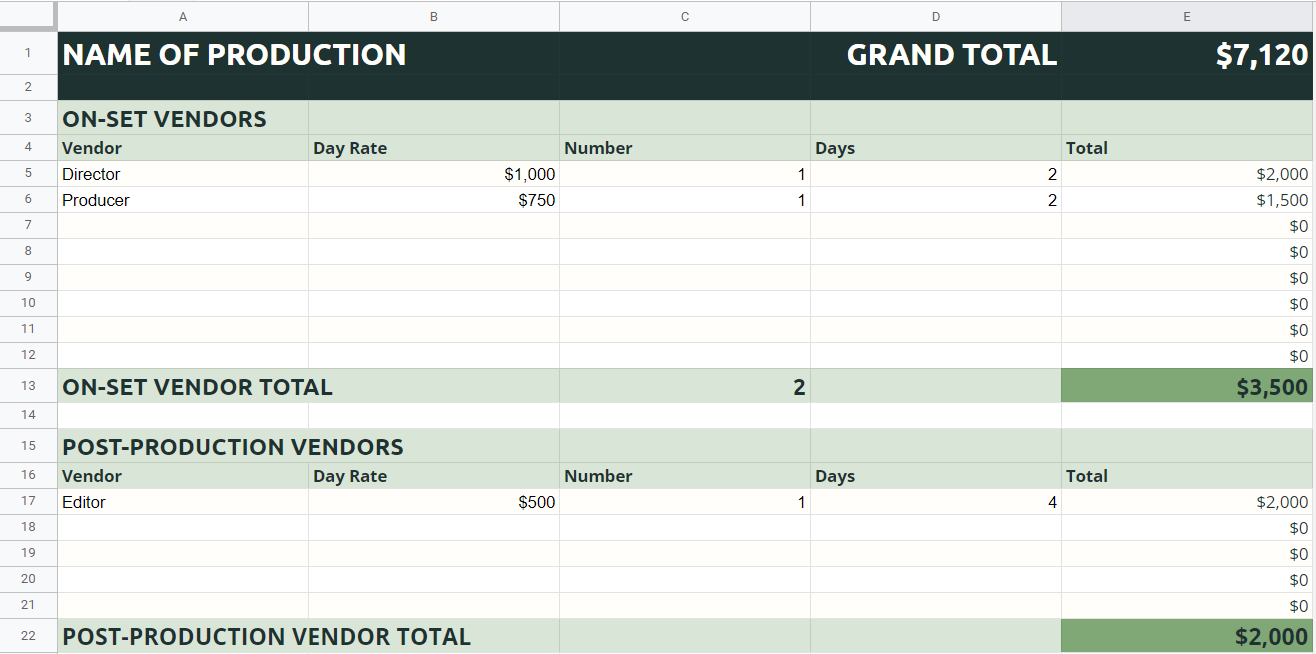 Designed by Reese Hopper
Creative production is a long and laborious process that can span months or years. This comprehensive and automated template will track your budget for everything from writers and directors to post-production editors.
In this monthly budget template, you will find sections based on their weightage and order of occurrence, beginning with the more substantial expenses such as director, producer, and talent.
Allocate the fixed budget in the first row and then fill out the individual tables. The final sum from every table will be reflected at the bottom.
2. Film Production Budget Template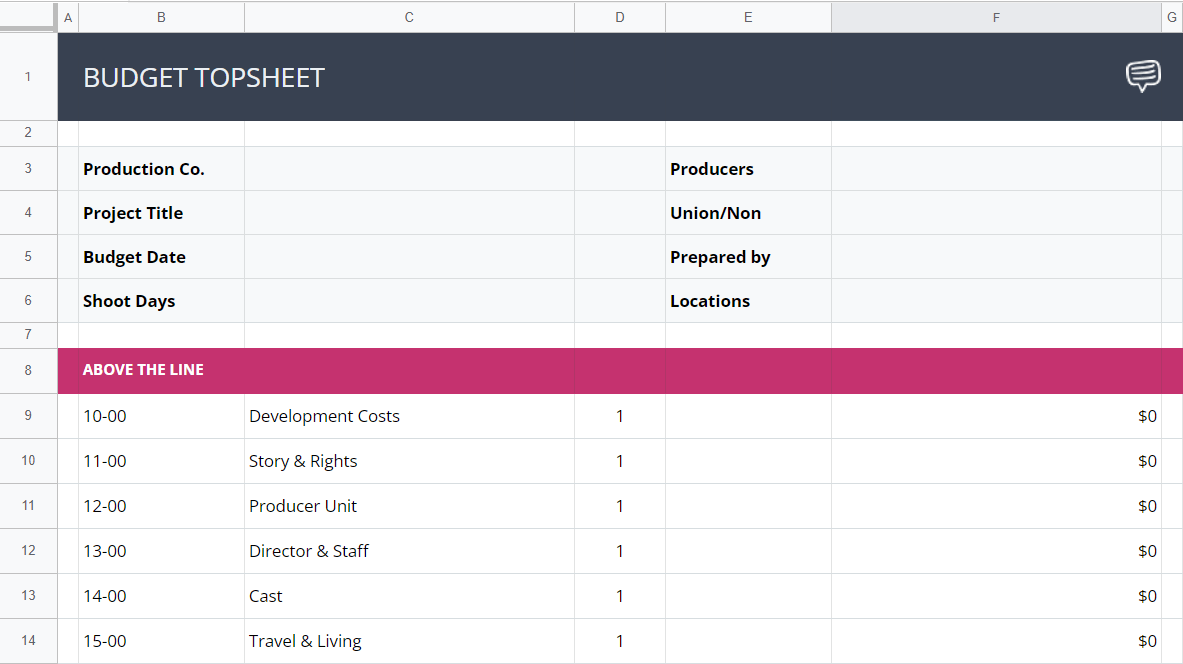 Designed by Studio Binder
Studio Binder's comprehensive film budget template gives you an eagle's eye view of every dollar spent. Just track expenses in these pre-built expense categories and customize the subheadings according to your needs.
The template covers above-the-line expenses and even includes post-production expenses such as press tours. You can get a detailed monthly accounting, along with the auto-calculated running totals in the final row.
3. TV Production Budget Template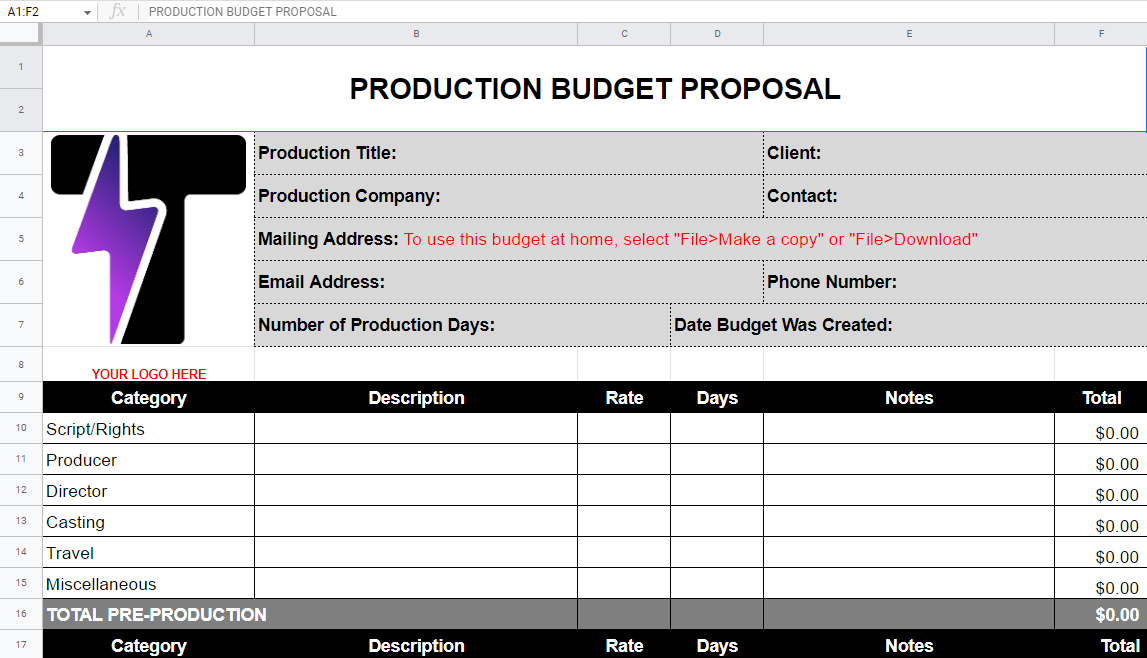 Designed by Tongal
TV budgeting is a unique ball game with different invoicing models and multiple recurring expenses.
This template has categories for pre-production, total production, and total post-production expenses in neatly arranged tables.
There's also room for notes and descriptions. This helps keep every production member on the same page regarding spending.
4. Reality Show Production Budget Template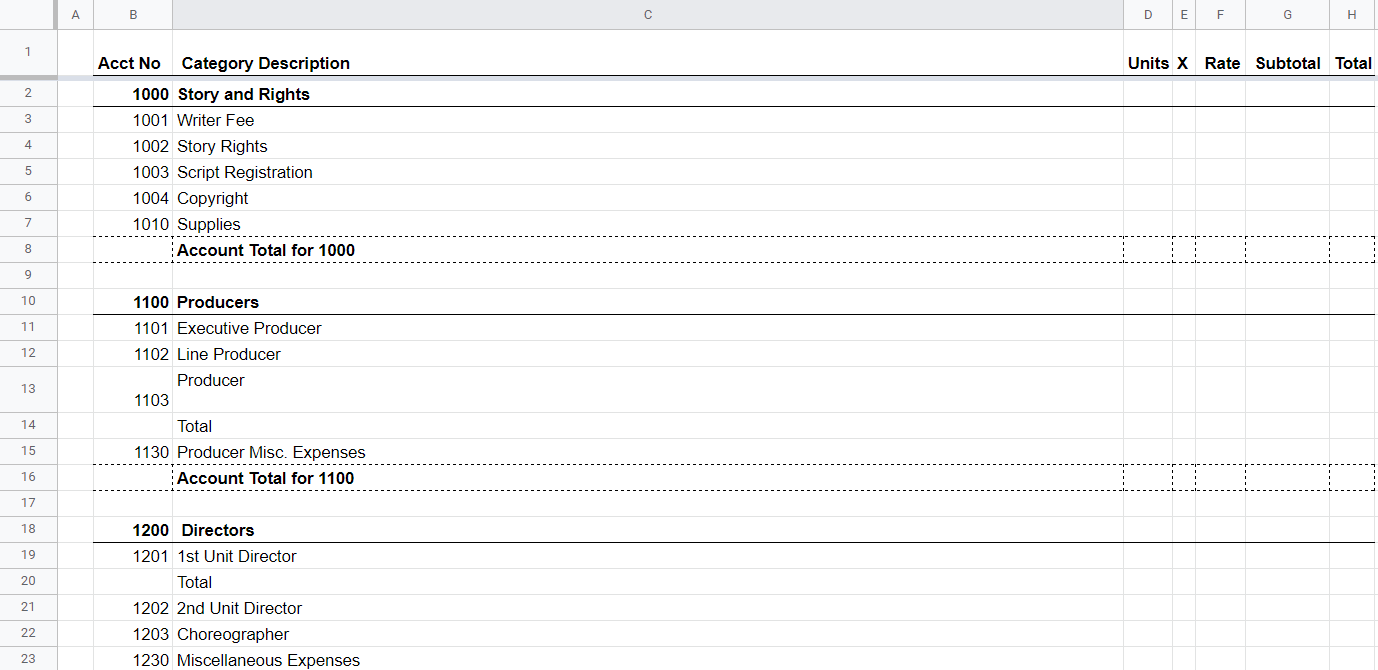 Designed by Anita Olanick
Running a reality show production can be challenging, and budgeting for it is uniquely complex. This massive 10-sheet template makes that job much easier for you.
The template includes an exhaustive list of expected production expenses in a reality show.
Flip through the sheets, customize them, and plan your production budget for the entire season.
5. Marketing Production Budget Template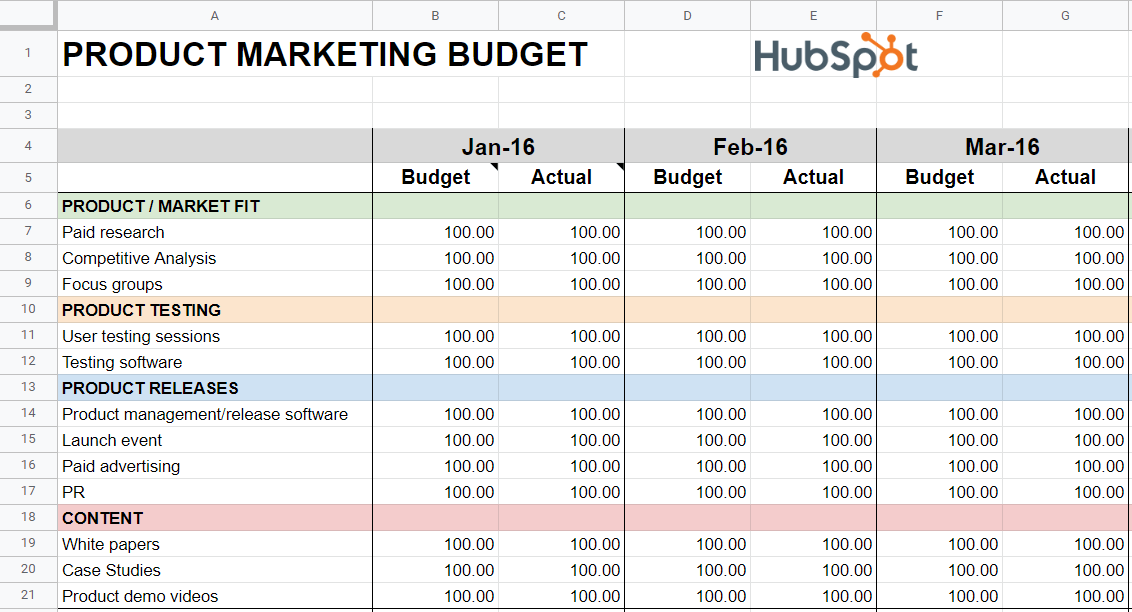 Designed by HubSpot
Marketing is an essential part of filmmaking. Zippia recently reported that marketing and distribution costs in Hollywood could go as high as $35 million per movie.
If building a marketing budget from scratch is intimidating, try Hubspot's Marketing Production Budget Template.
The template comes with eight individual templates to choose from. Fill in the estimates and actual figures for the categories, and compare your forecasted budgeted numbers with the exact spending for the period to get a clear picture of where your money is flowing!
6. Video Game Production Budget Template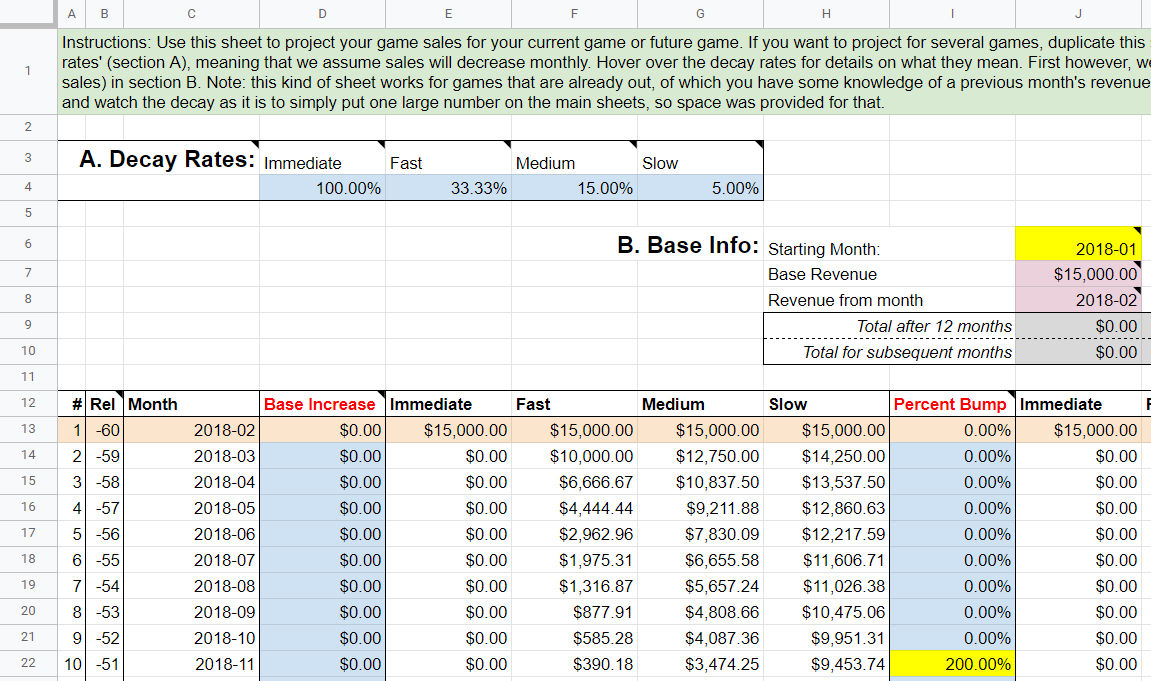 Designed by Clever Endeavour
Untangle the messy and confusing process of video game production budgeting with this thorough budget, cash flow, and projections template.
This template comes with an instruction guide to make the process easy for you. Once you've read the instructions, approach the template one sheet at a time, and plug in the estimates for salaries, outsourcing, rent, SaaS, events, marketing, and taxes.
7. Video Production Budget Template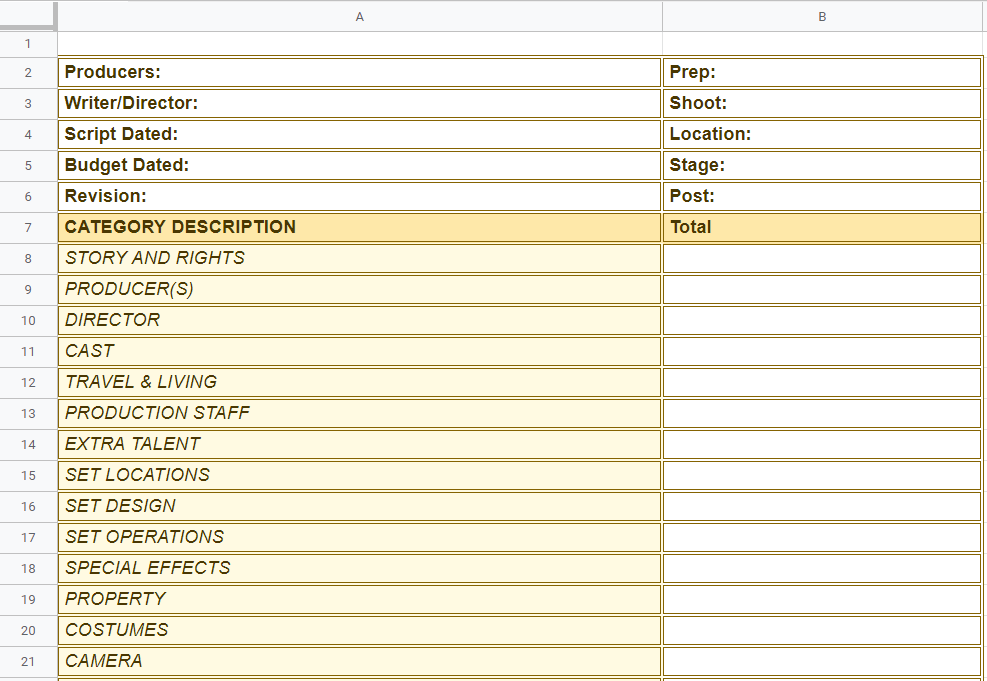 Designed by Spreadsheet Daddy
This simple and well-organized Video Production Budget Template by Spreadsheet Daddy lets you keep an accurate budgeting record of your video production.
With this template, you can easily input your expenses line by line, and the template will automatically calculate the total, which is reflected in the final row for easy tracking.
8. Theater Production Budget Template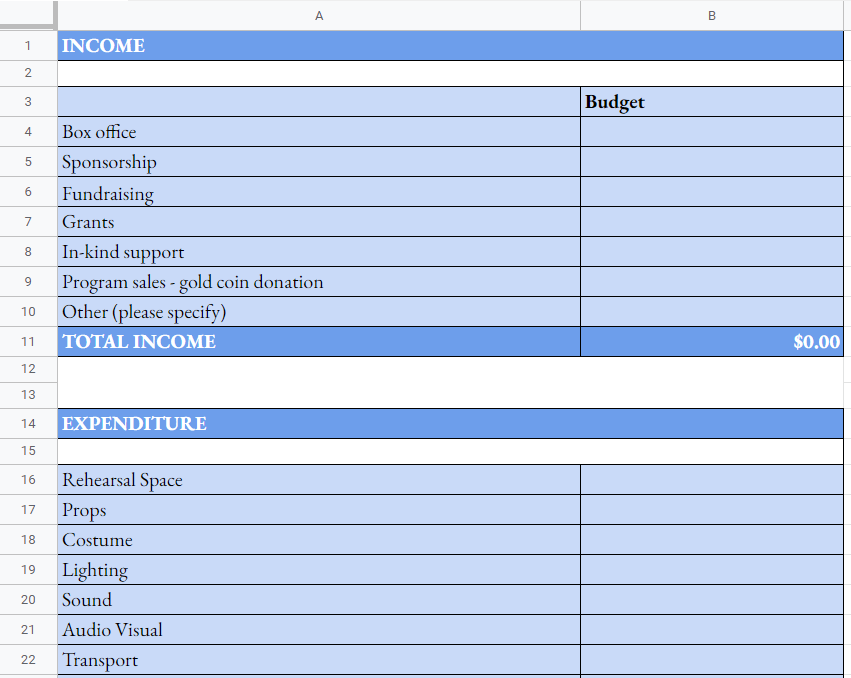 Designed by Spreadsheet Daddy
Plan your theater production's budget with this customizable template and track its monthly cash flow.
The two tables include itemized categories for income and expenses, and the template automatically adds the total amount to reflect the monthly spending and earning.
Use this practical and user-friendly template to simplify your production management process, allowing you to focus on the main event: staging an incredible play every night!
9. Post Production Budget Template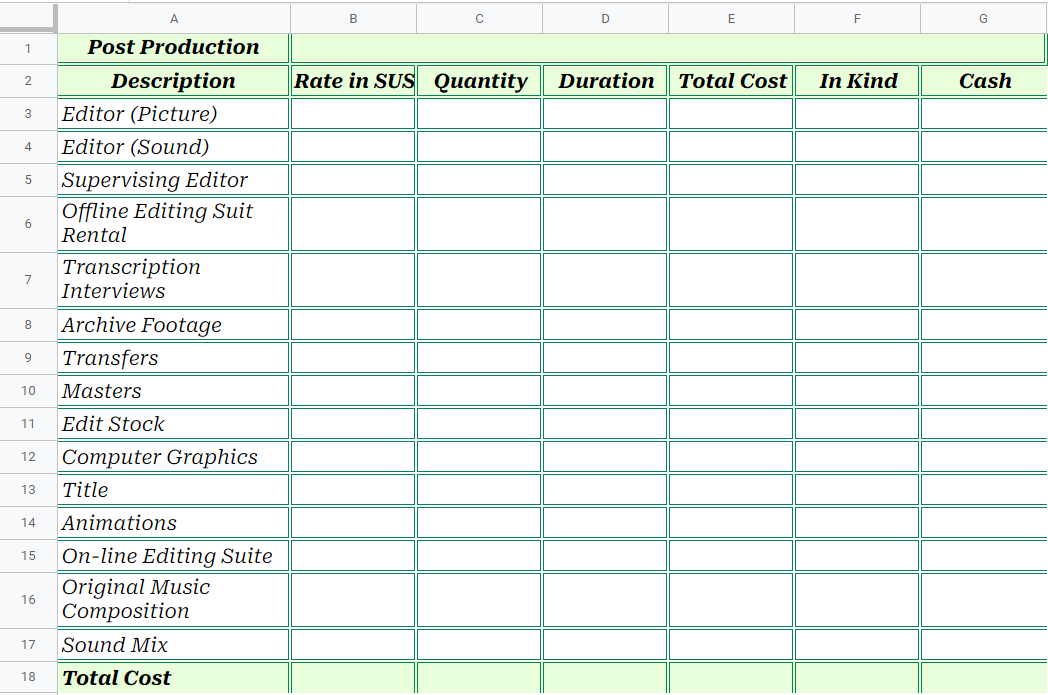 Designed by Spreadsheet Daddy
Congratulations on wrapping production! After you're done celebrating, use this post-production budget template to plan for the next step.
The template features a comprehensive table to manage the multitude of expenses coming your way. Within the table, you'll find individual columns for the various invoicing and pricing methods.
The sum of "quantity," "total cost," and "cash," is reflected in the final row.
10. Indie Movie Production Budget Template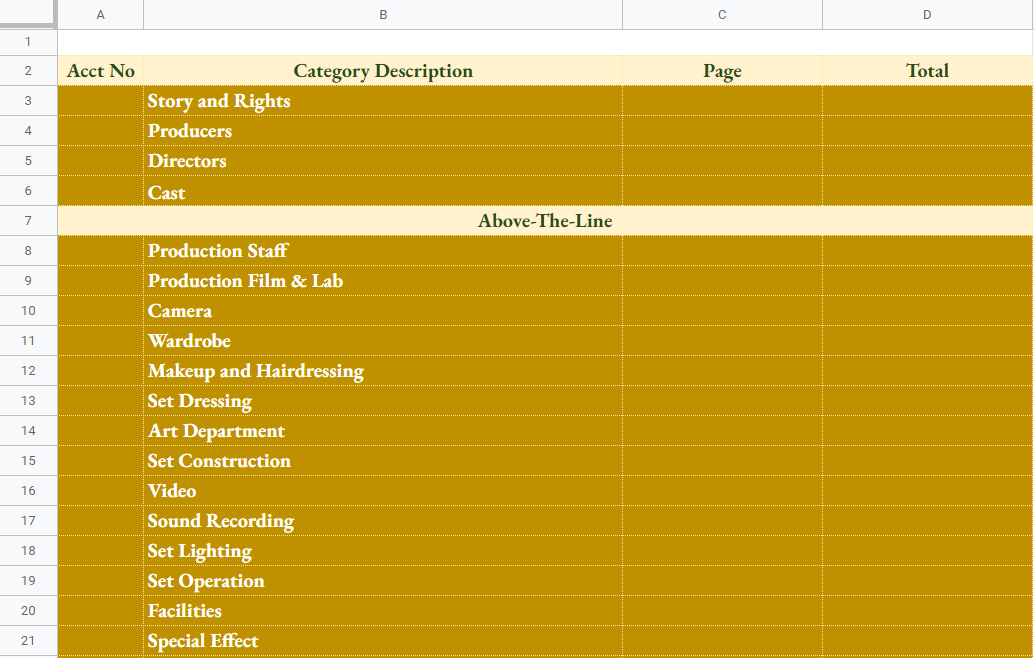 Designed by Spreadsheet Daddy
This is the perfect one-page budget template for an indie production house. The production costs are sectioned in chronological order, starting with the fixed salary for creative heads and talent.
The following sections cover the Above-The-Line, Production, and Post-Production expenses.
You can assign estimated, or "on-page," costs for each category. This makes it easy to compare on-page costs against your final spending.
11. Photoshoot Production Budget Template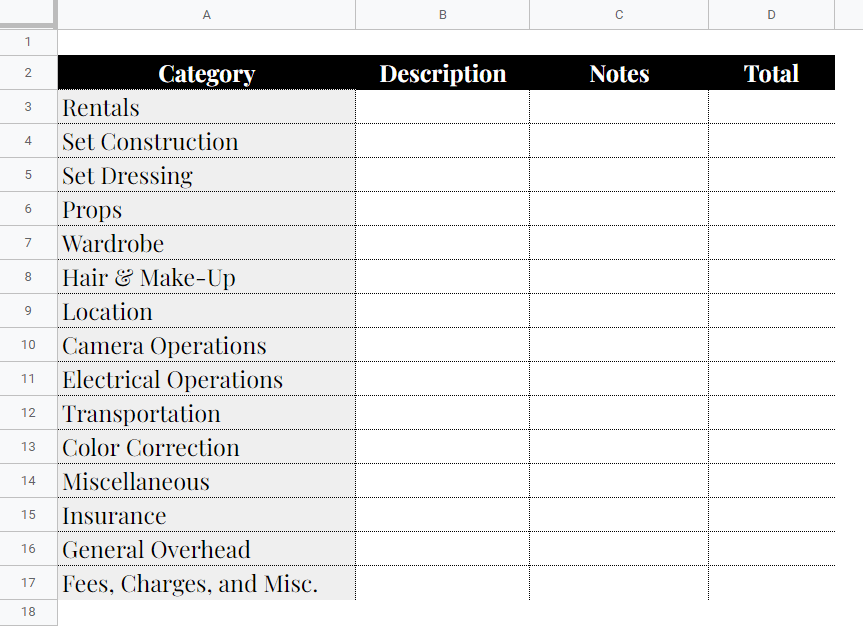 Designed by Spreadsheet Daddy
Budget for your photoshoot and ensure the availability of resources with this dedicated Google Sheets Template.
This simple and effective template comes with a single table that covers all major expenses, from sets and rentals to hair and makeup.
It also has space for additional descriptions and notes beside each category.
12. Music Production Budget Template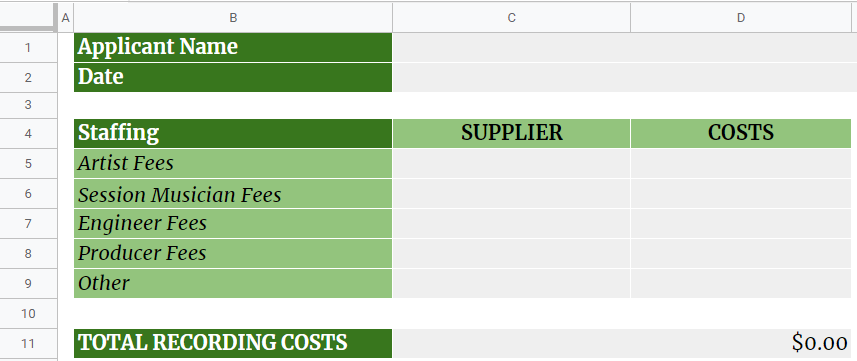 Designed by Spreadsheet Daddy
Are you embarking on a new musical journey and need to manage your production and distribution expenses? Check out this sleek and sophisticated Music Production Budget Template!
This template promotes proper planning and cost allocation, with two tables for technical and non-technical expenses. Plus, the Total Recording Costs category automatically logs the final cost for easy tracking.
13. Manufacturing Production Budget Template

Designed by Spreadsheet Daddy
Finally, you can use this simple and free Manufacturing Production Budget Template by Spreadsheet Daddy for quarter-wise budgeting of fixed and variable costs.
Customize the categories according to your preferences and the figures are totaled both quarterly and yearly.
Having trouble finding a budget template that meets your specific needs? Don't worry – we'll show you how to create your own Google Sheet budget template!
How to Create a Production Budget Template?
Here's a step-by-step process on how you can create a production template on your own.
We're using the post-production template mentioned above as our reference. Let's take a look at what you need to do!
Step 1. Open a fresh Google Sheet and fill in the first row with the content you see below.
Step 2. Next, customize your table according to your specific needs and add the expenses in the first column.

Step 3. To bring the metrics under one umbrella, merge the cells by clicking on the Merge cells icon, and choosing the Merge all option.

Step 4: To resize columns or rows, right-click the column or row, select Resize column or Resize row from the menu, and enter the new width or height that you want for the column or row.

Step 5. When you are done with that, you can choose to change the color of any of the cells in your spreadsheet by selecting them, clicking the Fill color icon, and then selecting the desired color.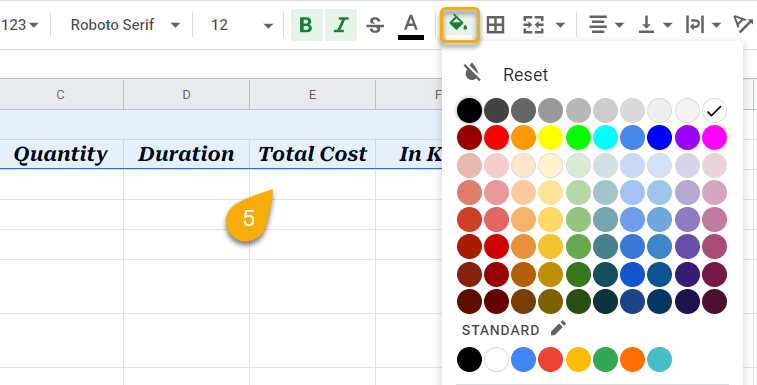 Step 6. Next, select the cells, move the toolbar menu, click the Border icon, and select the color, style, and type of border you would like to be applied to the cells.

Step 7. The last step is to click on a blank cell where you want to see the calculated sum of your expenses, and enter the formula you need. We've used this formula in our template: =SUM(C3:C17). You are free to use formulas for other data as well.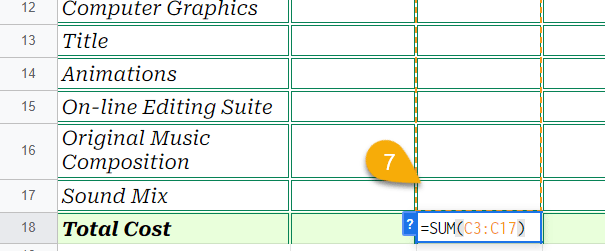 Here's what your template will look like!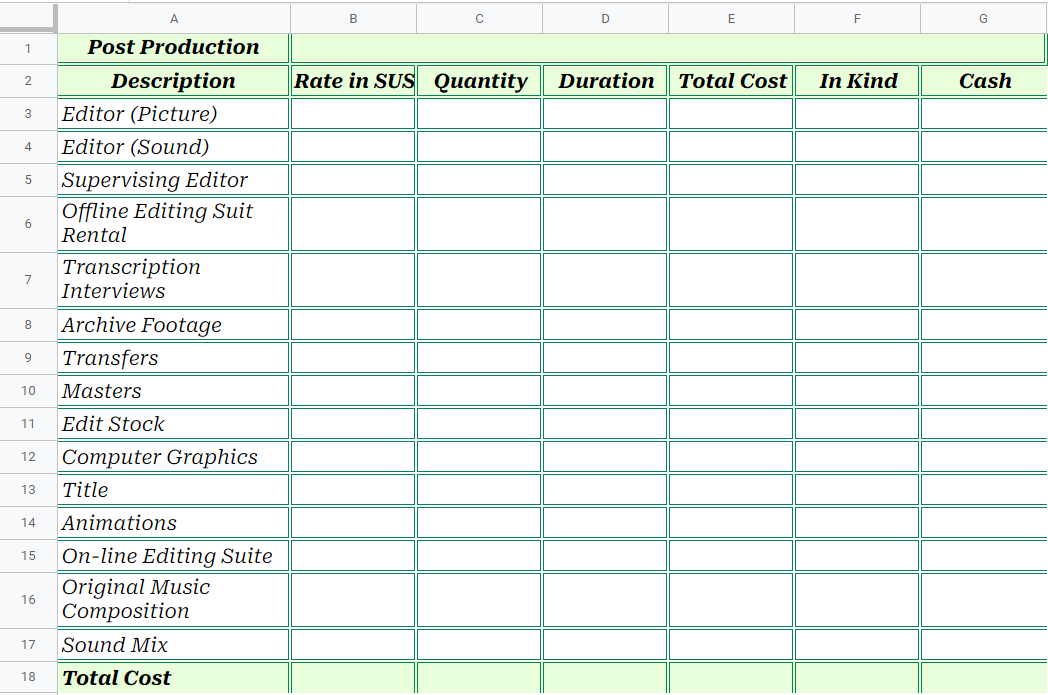 There you have it! And if you want to explore more options, check out our free collection of simple budget templates for Google Sheets.