With 97% of companies reporting a positive ROI of using intent data, more and more organizations jump on this bandwagon to keep up with the competition.
Over the past few years, intent data tools have grown in sophistication and are now used by businesses of all sizes to inform their sales, marketing, and product strategies.
But with so many intent data vendors out there, how do you pick the right B2B data partner?
To help you navigate the industry, we analyzed dozens of intent data providers based on their pricing, features, data collection methods, data management techniques, and other factors for you to make the right choice.
Without further ado, let's get started.
What Are the Best B2B Intent Data Providers in 2023?
Here are our top picks for the best B2B intent data providers to partner with in 2023:
DemandScience
Demandbase
TechTarget Priority Engine
Leadfeeder
CustomData.ai
6sense
Bombora
N.Rich
Lead Onion
Zoominfo
1. DemandScience
DemandScience is a global B2B data company that partners with customers to upgrade their sales pipelines.
Our accurate data and predictive insights enable B2B sales and marketing professionals to identify, activate, and convert the right buyers at the right time and achieve their growth goals. DemandScience is a leader in global buyer intelligence, accelerating demand generation for the world's largest software, technology and B2B companies.
Leveraging decades of experience in B2B market intelligence, analytics, content trends, and predictive intent, DemandScience delivers healthy data and prioritized buyer insights that align sales and marketing professionals with more qualified audiences.
Key Company Stats
CEO: Peter Cannone
Founded: 1999
Headcount: 1,000+
HQ: Boston, MA
Top Clients: Microsoft, Google, Adobe, AWS
2. Demandbase
Best for leveraging intent data at scale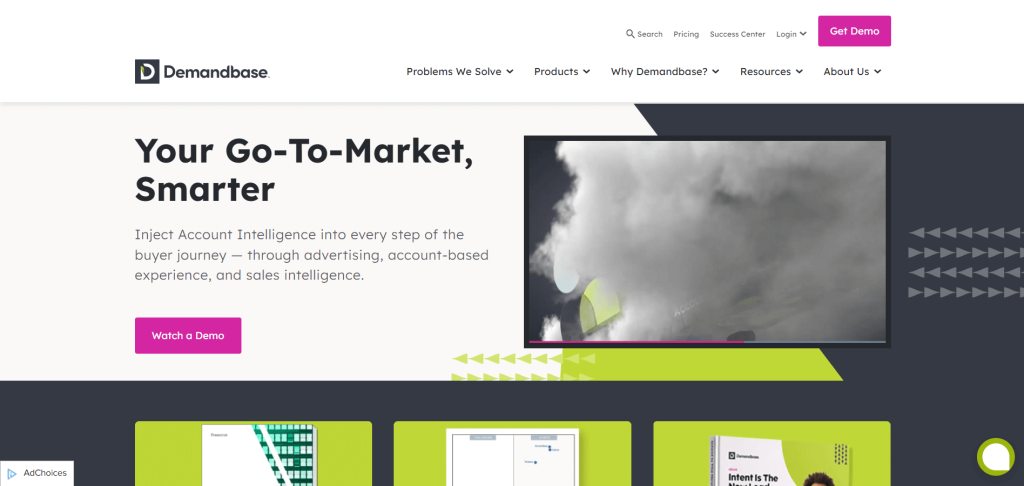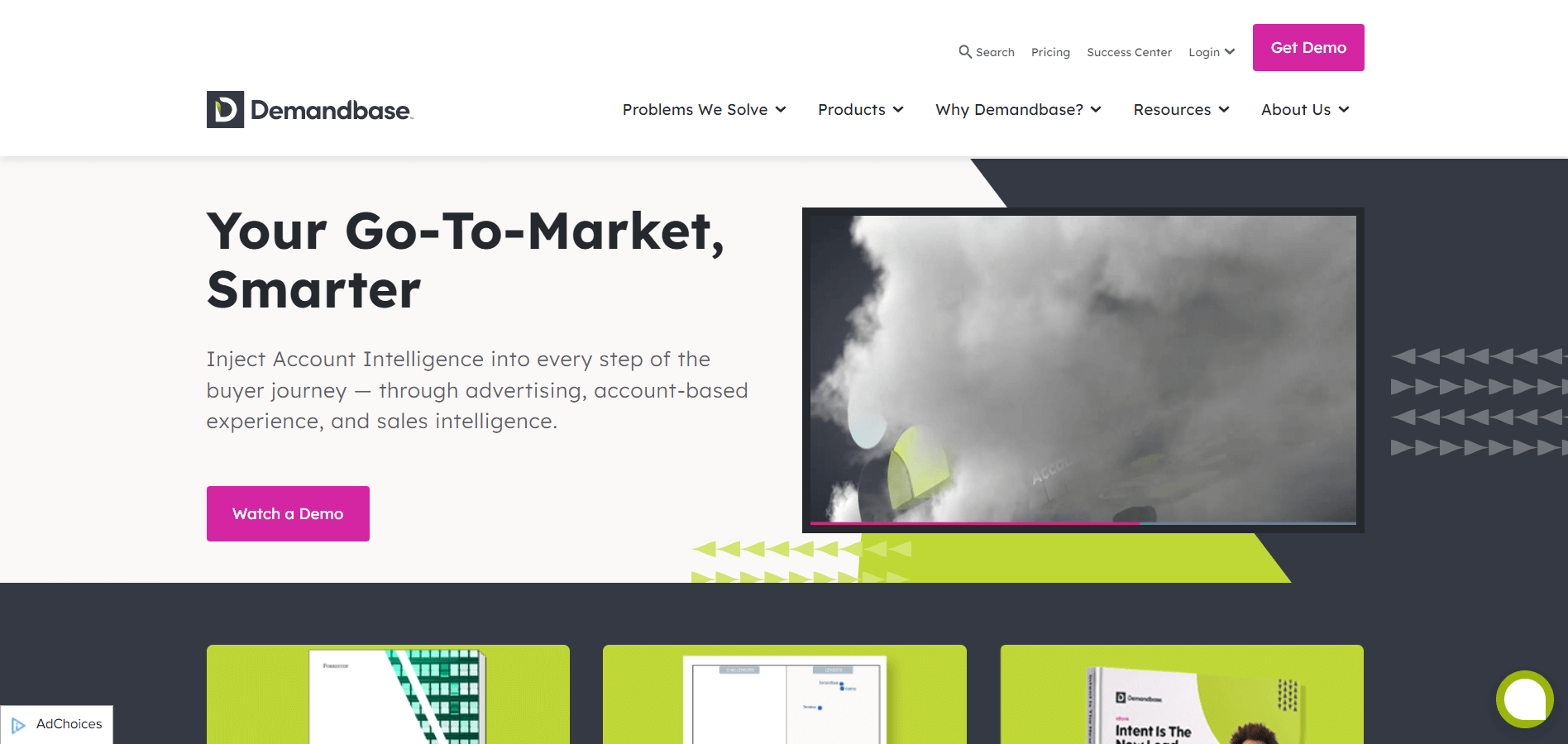 Demandbase is a leading provider of B2B data intent that helps companies dissect buyer intent to optimize their sales and marketing campaigns.
With their enterprise-grade suite of tools, Demandbase empowers some of the world's largest organizations to gain elite insights into the users interested in your company and competitors.
Demandbase has developed an AI-powered platform that automatically identifies anonymous accounts from bidstream intent data, delivering unrivaled accuracy.
Key Features
500B+ intent signals processed each month: Having partnered with almost 3 million websites, Demandbase has one of the largest pools of intent data sources on the market.
Deep data insights: Leverage AI-based tools to break down content, identify intent strength, and define keyword quality more accurately.
Historical data: Analyze historical intent and trending intent to identify additional patterns and capture more users interested in your products and services.
Integrations: Demandbase makes it easy to import third-party intent data from G2 Buyer Intent, Bambora's Company Surge® Alerts, and marketing automation platforms.
Pros
One of the most advanced intent data management features on the market.
No restrictions on the number of keyword sets you can create.
Dedicated data scientists to maximize the ROI.
A comprehensive, end-to-end solution to cover the entire buyer journey.
Key Company Stats
CEO: Gabriel Rogol
Founded: 2005
Headcount: 501-1,000 employees
HQ: San Francisco, CA
Top Clients: OneLogin, SilkRoad, Dialpad, SmartRecriuters
Our rating: 9.9/10
3. TechTarget Priority Engine
Best for integrating with Salesforce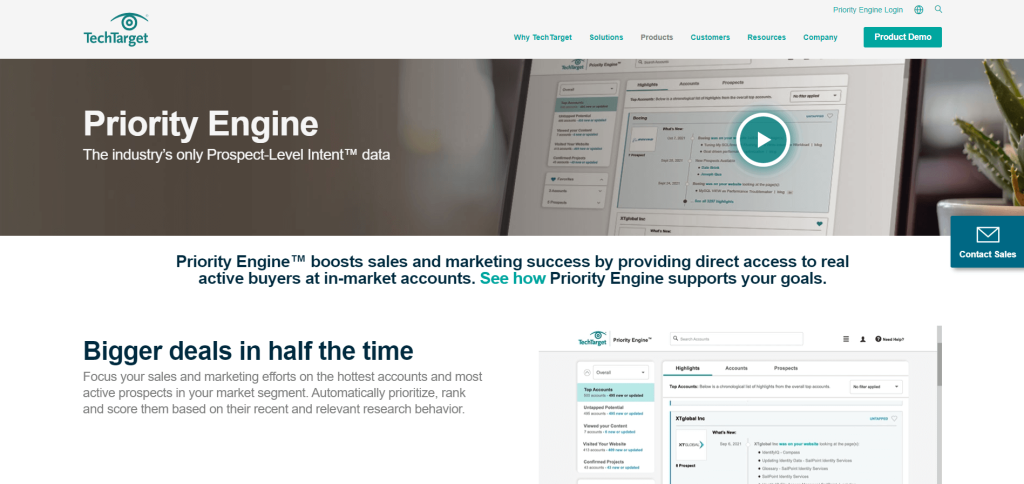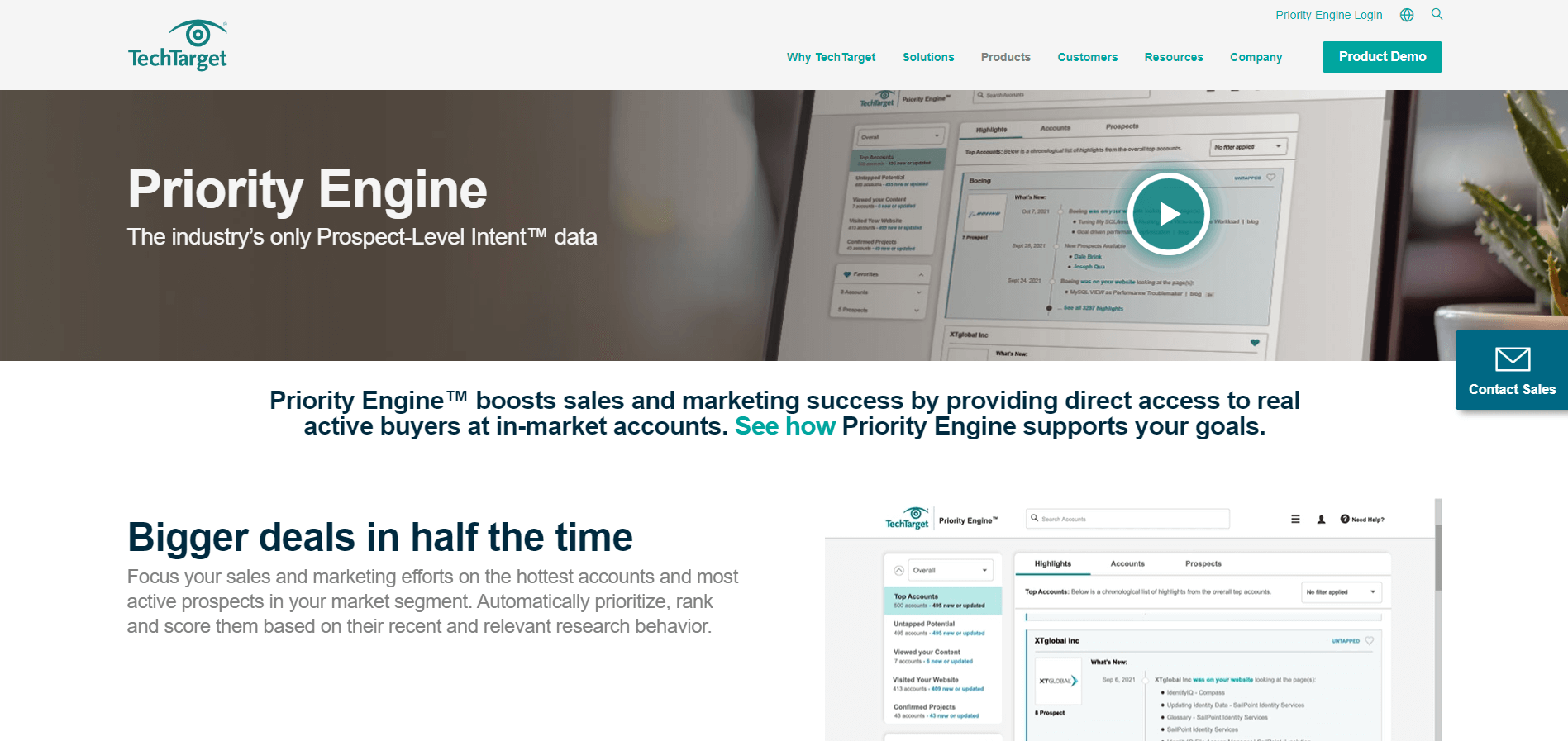 TechTarget Priority Engine is an intent data solution that offers accurate buyer signals to help you focus your sales on the hottest accounts with an immediate need for your solutions.
The technology they provide allows you to engage with buyers at the right point in their buying cycle when they are ready to buy.
Key Features
Automatic account scoring system: The platform allows you to automatically rank your target accounts based on their web activity to maximize the ROI you generate with intent data.
Advanced identity resolution: TechTarget's solution makes it possible to eliminate the guesswork and reveal the actual person displaying interest in your product or service, including their contact information.
Hands-on support: The company goes the extra mile to guide you through the onboarding process, train your staff, and provide the support needed to use Priority Engine to its fullest potential.
Pros
Automatic account scoring system allows you to leverage intent data at scale.
Priority Engine can be integrated with almost any CRM or sales intelligence tool to inform your sales and marketing teams.
Uncover tech challenges and interests as well as whether your target account has interacted with the competition to personalize your outreach.
Key Company Stats
CEO: Michael Cotoia
Founded: 1999
Headcount: 501-1,000 employees
HQ: Newton, MA
Top Clients: Dell, Oracle, Facebook, Marketo, IBM, Dropbox
Our rating: 9.7/10
4. Leadfeeder
Best for organizations targeting fully-remote companies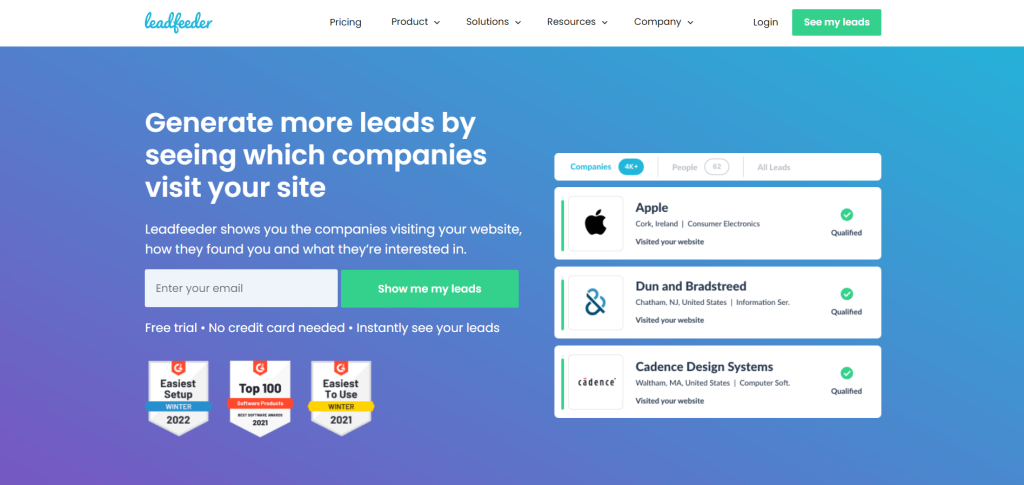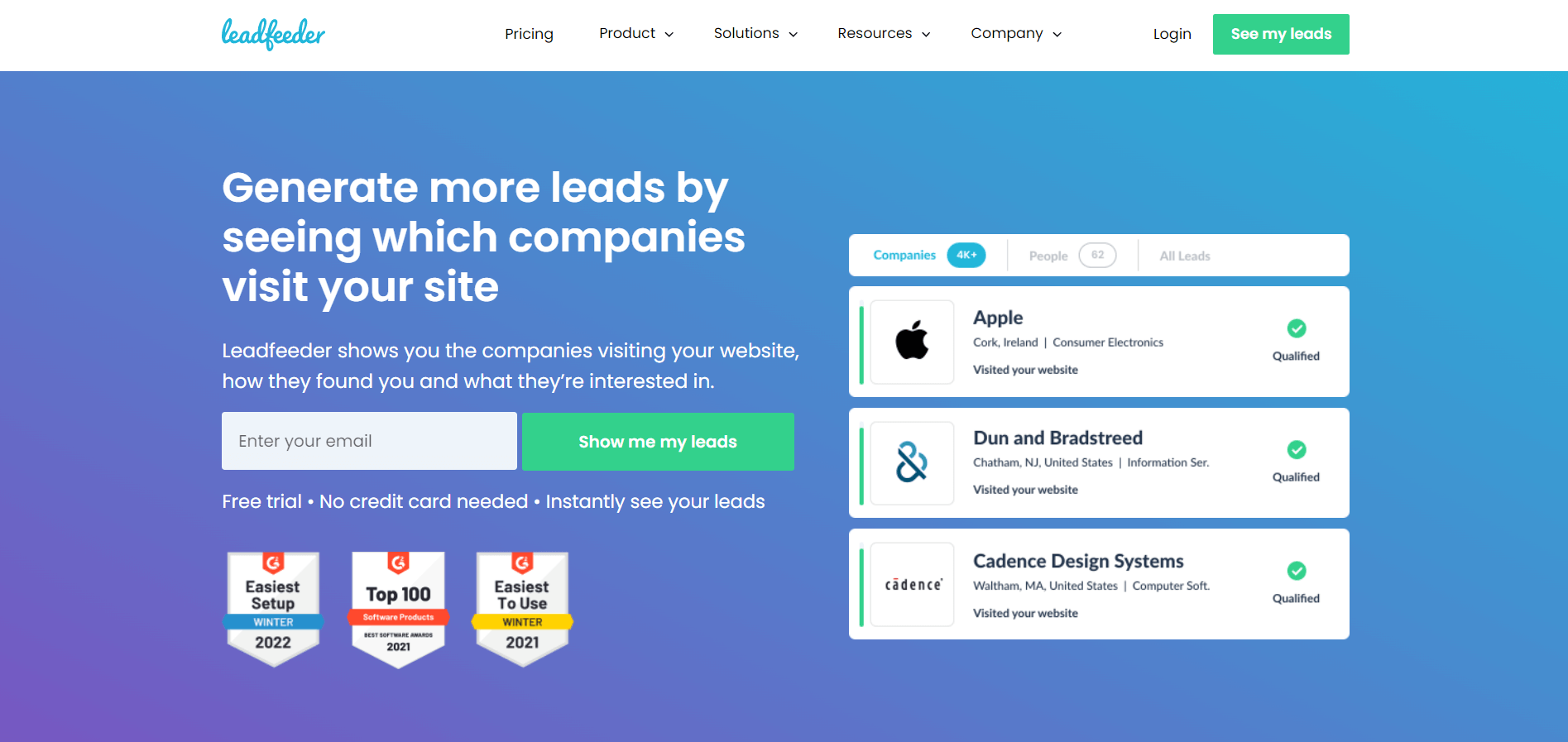 Leadfeeder is the go-to source of intent data for B2B sales reps and marketers. The company provides accurate and timely intent signals to help their organizations take their lead generation strategy to the next level.
What stands out about Leadfeeder is their advanced bot and ISP traffic detection system that prevents their intent data from getting skewed and cluttered.
They're compliant with privacy laws and regulations and trusted by 60,000+ businesses worldwide.
Key Features
De-anonymize website visitors: Leverage the platform to accurately identify the names of the companies interacting with your digital touchpoints and uncover how their actually interact with your brand online.
Remote worker detection: With remote work in full swing, the accuracy of contact-level intent data can be greatly skewed with employees frequently changing their location. Leadfeeder's state-of-the-art IP detection techniques help identify remote workers with unrivaled accuracy.
Segmentation: Bucket your target accounts into multiple categories based on their behavioral or demographic data attributes.
Leadfeeder Contacts™: This feature automatically scans visitor's entire org structure to return the names and contact information of decision-makers to reach out to.
Pros
Automatically enrich your internal CRM records with Leadfeeder's intent data.
Advanced tools that accurately identify remote employees.
IP enrichment API helps generate firmographic data tied to any IP address.
Key Company Stats
CEO: Pekka Koskinen
Founded: 2012
Headcount: 51-200 employees
HQ: Helsinki, Finland
Top Clients: Cision, Meltwater, Eventbrite, Capacent
Our rating: 9.6/10
5. CustomData.ai
Best for custom intent data needs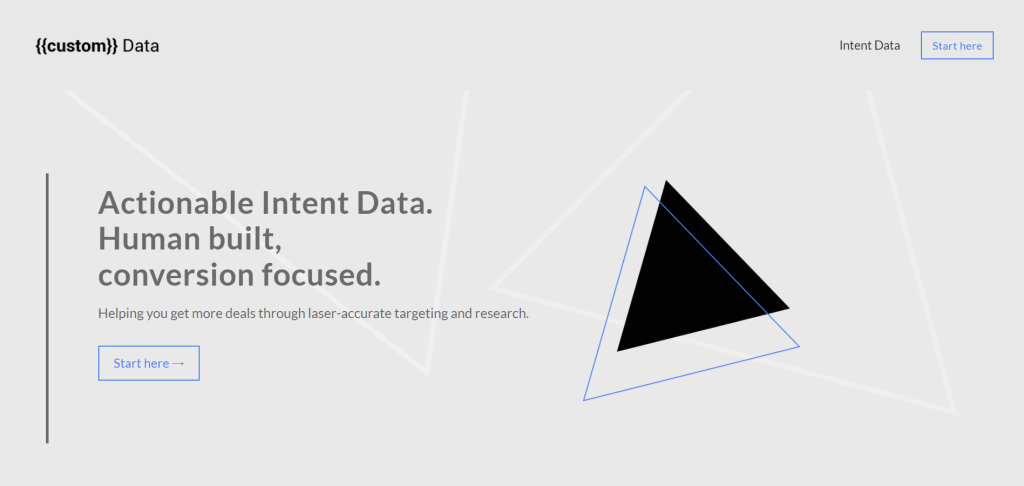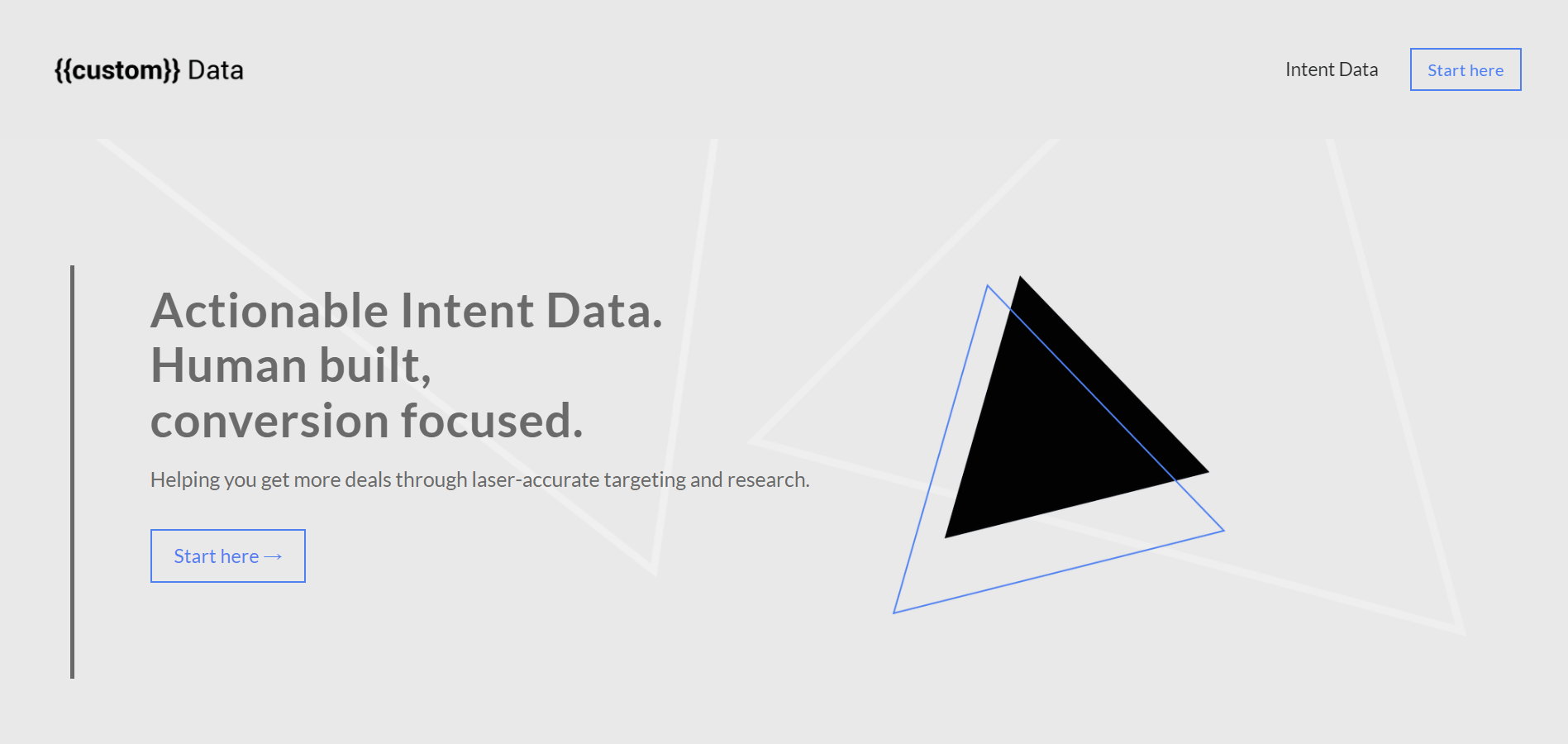 CustomData.ai is an intent data vendor with a focus on providing custom-tailored solutions to Fortune 500 companies and SMEs alike.
With their proprietary tools, CustomData.ai provides you with accurate intent data tailored to your unique needs.
Key Features
CRM development: For organizations starting from the ground up, CustomData.ai can build out a custom CRM solution to maximize the effectiveness of sales and marketing teams.
Custom Solutions: Unlike the cookie-cutter tools offered by large companies, the platform differentiates itself by doubling down on the ability to develop custom intent data solutions quickly and on budget.
Pros
More flexibility when compared to more established competitors.
Assistance in CRM deployment and optimization
Key Company Stats
CEO: Jake Jorgovan
Founded: 2021
Headcount: 1-10 employees
HQ: Colorado Springs, CO
Our rating: 9.5/10
6. 6sense
Best for large enterprises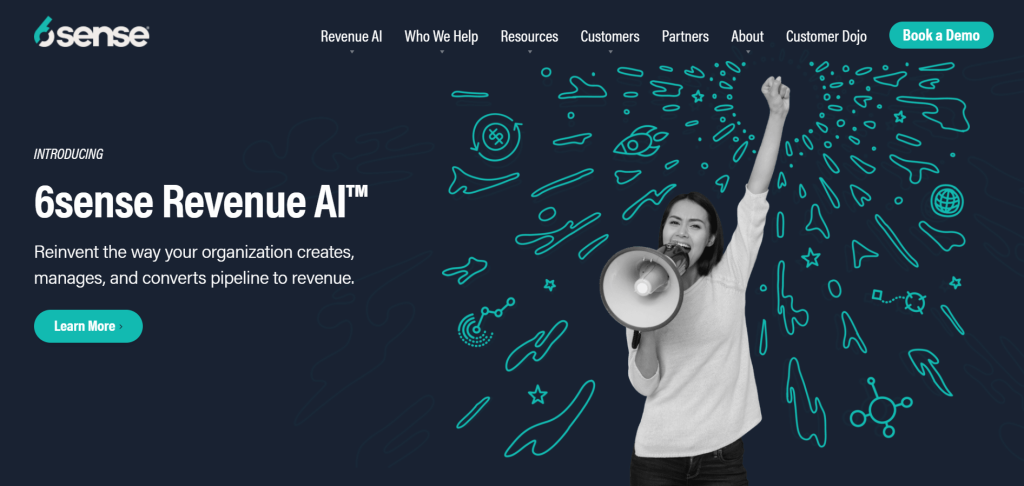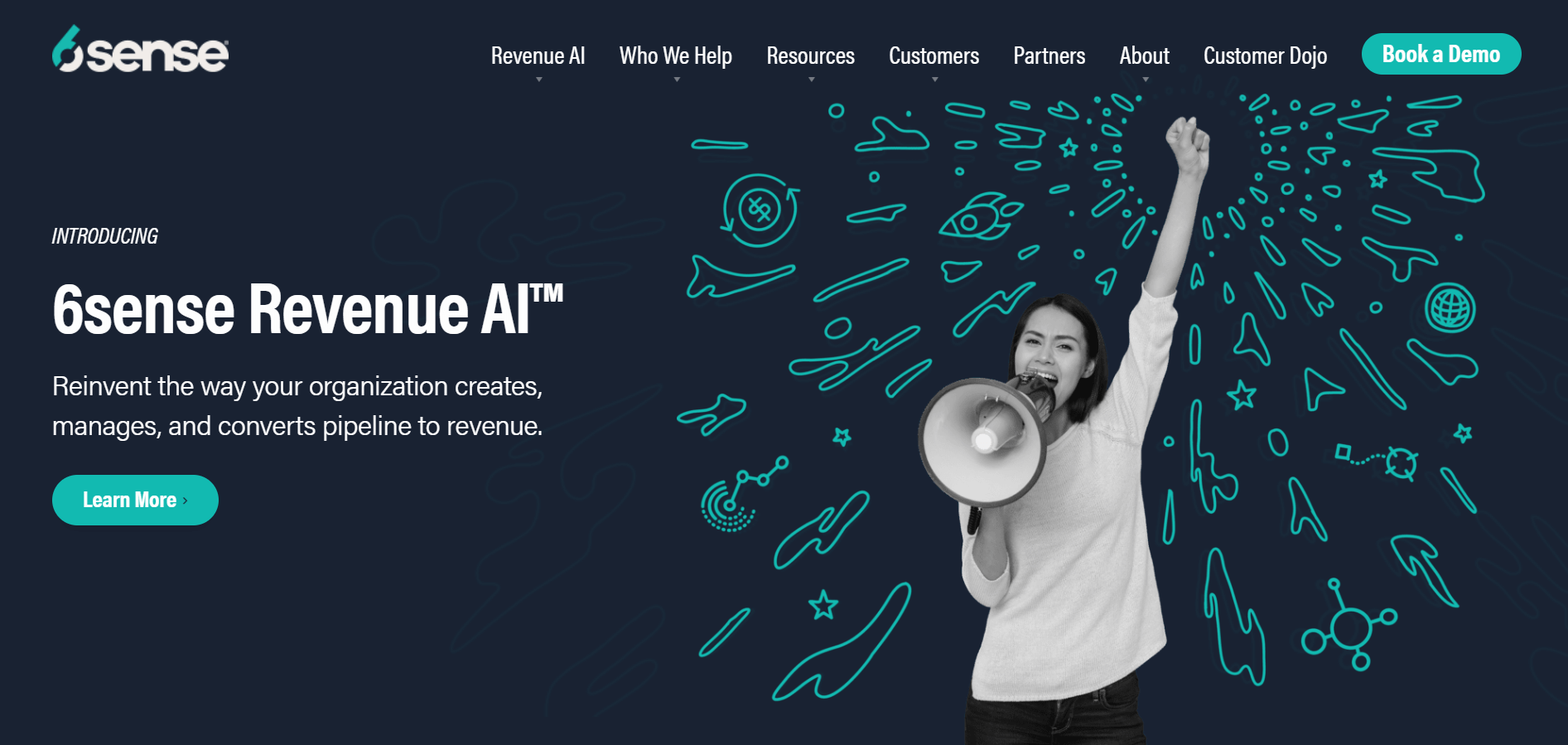 6sense is an innovative data company that harnesses the power of AI to redefine the way companies use behavioral intent data.
6sense combines the latest technological advancements in AI and data management to analyze the whole buyer journey, providing you with more actionable data than ever.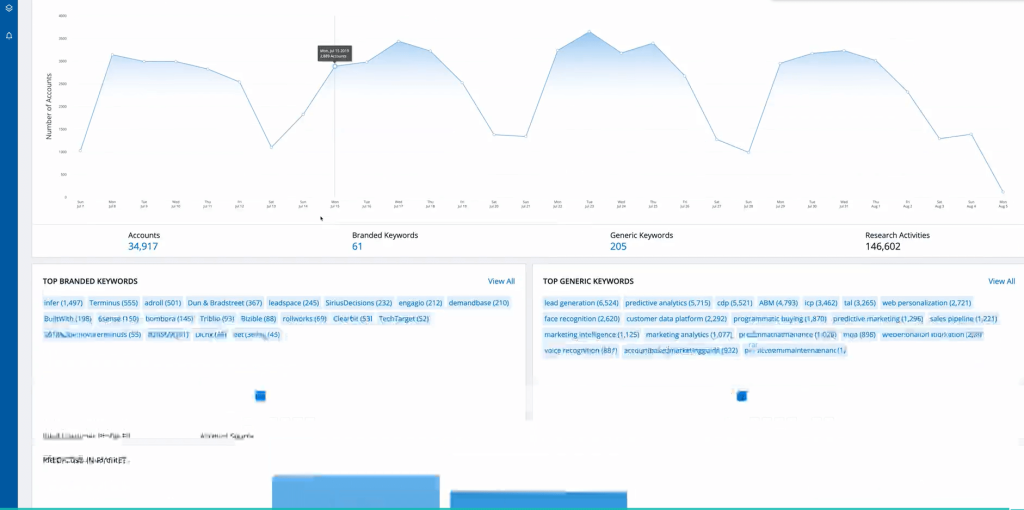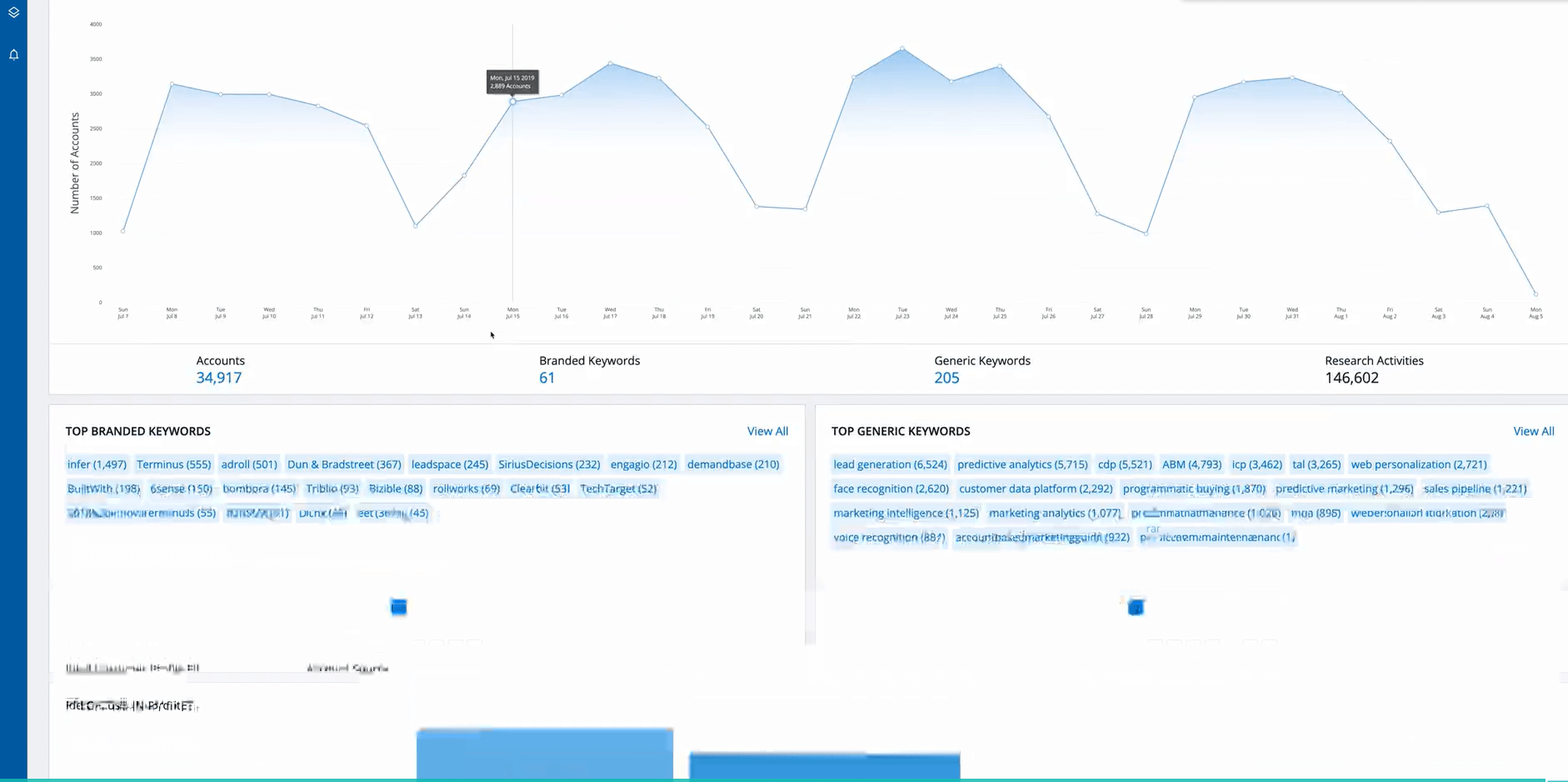 Key Features
6sense Revenue AI™: Identify anonymous buying behavior that most intent data providers fail to capture to reinforce your pipeline with accurate insights.
Data enrichment: Seamlessly enrich your CRM records using 6sense's powerful integrations.
A gigantic network of intent data sources: The platform collects data from over 3 million websites, 250+ million personal profiles, as well as 20,000+ technographic data points.
Pros
6sense boasts one of the largest collections of intent data sources on the market.
An extensive enterprise-grade toolset provides large organizations with everything they need to leverage intent monitoring to boost the bottom line.
Key Company Stats
CEO: Jason Zintak
Founded: 2013
Headcount: 1,001-5,000 employees
HQ: San Francisco, CA
Top Clients: SocialChorus, Thomson Reuters, Snowpad, Sage Intacct
Our rating: 9.4/10
7. Bombora
Best for virtual prospecting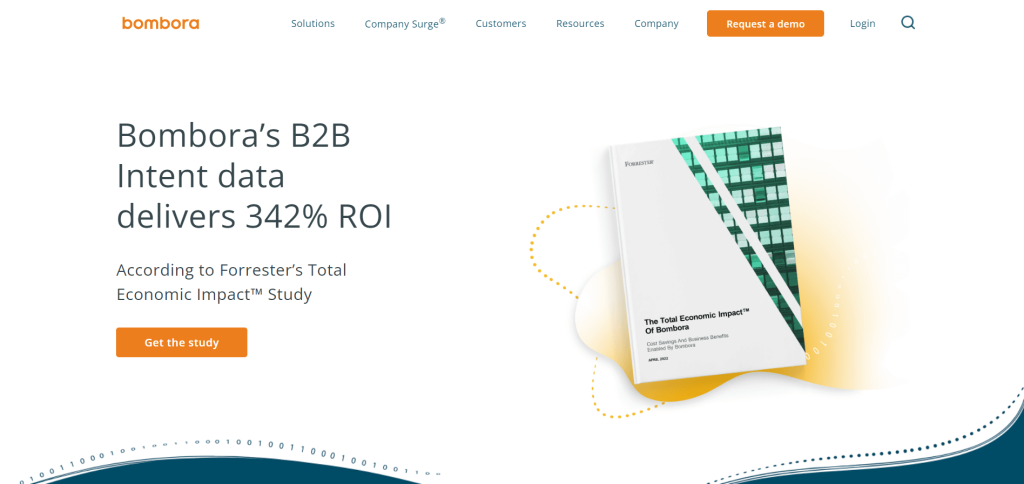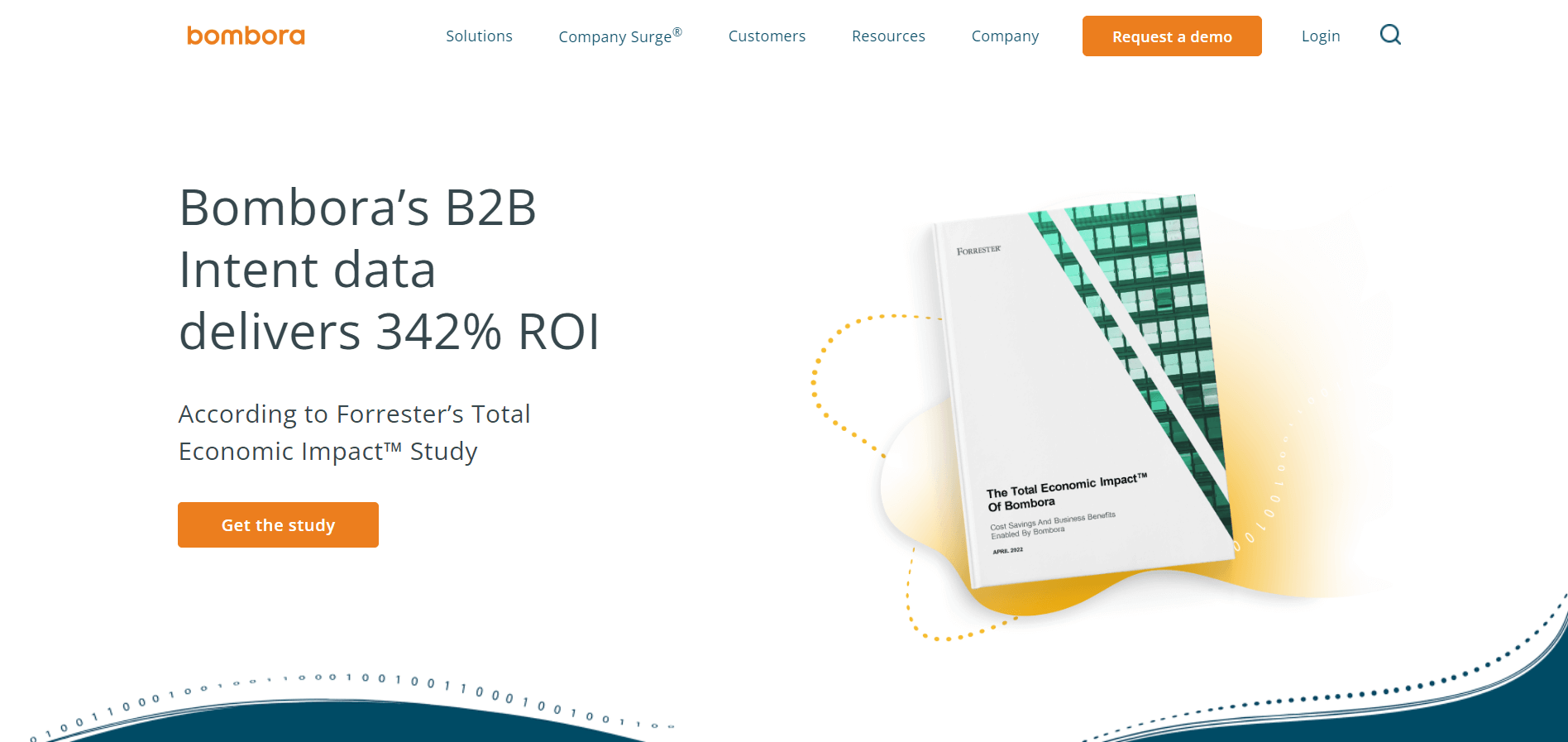 Bombora helps companies identify their best prospects, prioritize leads, and optimize digital engagement by using the power of ethically sourced intent data from all over the Web.
Key Features
Company Surge®: Bombora's core intent data solution that aggregates behavioral signals from over 5,000 B2B data sources and more than 4 million websites to reliably gauge buyer intent.
Identify at-risk customers: Bombora offers a specialized solution helping organizations catch the moment when their existing customers start shopping around for an alternative solution to drastically reduce churn and boost retention rates.
Content optimization: Analyze how your visitors interact with your content at each stage of the buyer journey to boost the effectiveness of your digital assets.
Pros
A unique toolset aimed at helping companies reduce churn, which is especially important in B2B SaaS.
Bombora goes the extra mile to ensure their intent data is collected in compliance with data privacy regulations.
Key Company Stats
CEO: Daniel Nordholm
Founded: 2015
Headcount: 501-1,000 employees
HQ: Stockholm, Sweden
Top Clients: Adobe, LinkedIn, Salesforce, Cloudera
Our rating: 9.2/10
8. N.Rich
Best for enhancing account-based marketing campaign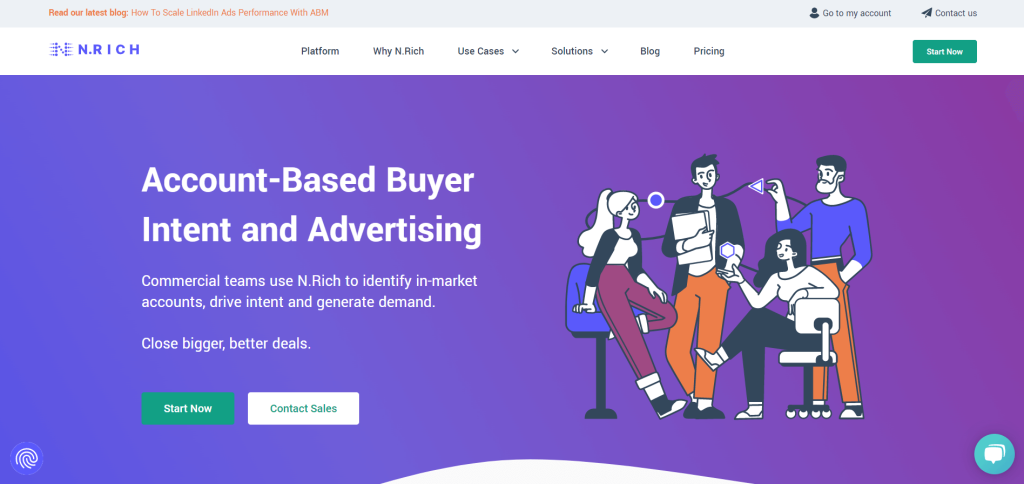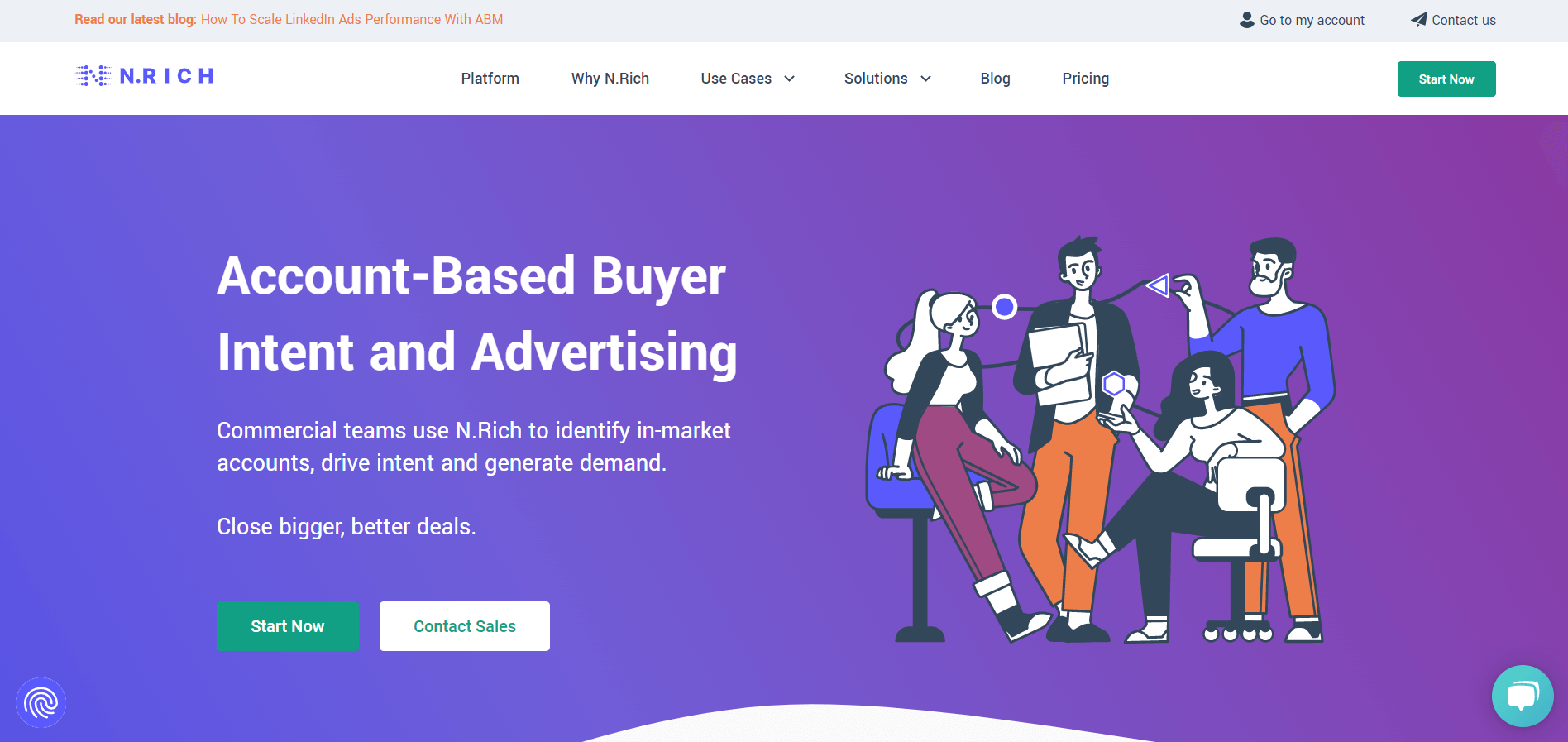 N.Rich is a B2B intent data company that specializes in helping businesses elevate their ABM campaigns to the next level.
From demand generation to product marketing, N.Rich is your go-to tool if you want to incorporate personalization across the entire buyer journey.
Key Features
Opportunity analytics: Gain a granular view of your target accounts to quickly uncover early buyer intent.
Segmentation: Create audience segments in just a few clicks to better target your potential customers.
ABM advertising: Easily set up and launch hyper-targeted ABM campaigns to skyrocket the ROI of your ad campaigns.
Pros
Cutting-edge analytics toolset to gain unique insights into your target market.
N.Rich is a specialized ABM marketing solution, providing you with unique features needed to target your accounts more effectively.
Key Company Stats
CEO: Markus Ståhlberg
Founded: 2015
Headcount: 11-50 employees
HQ: Helsinki, Finland
Top Clients: AT&T, Bank of America, Allianz, Verizon
Our rating: 9.1/10
9. Lead Onion
Best for enhancing lead generation campaigns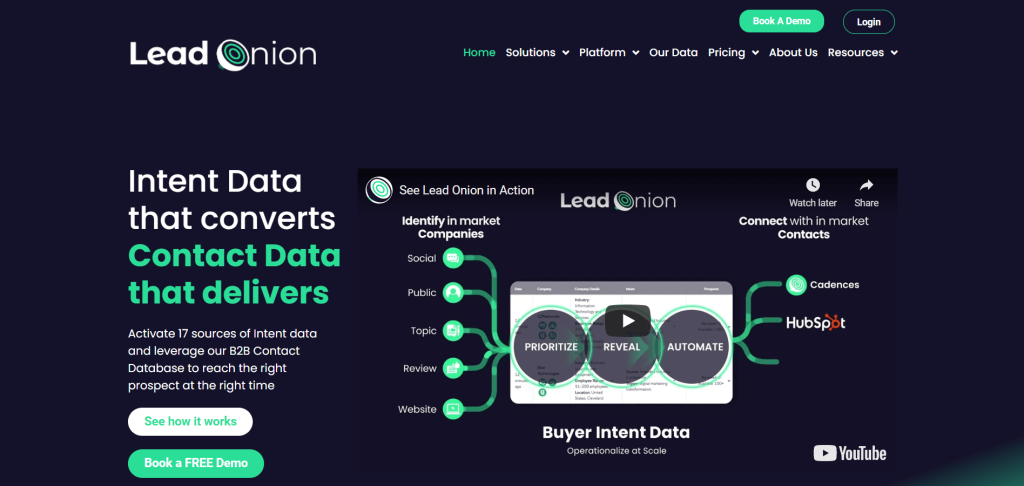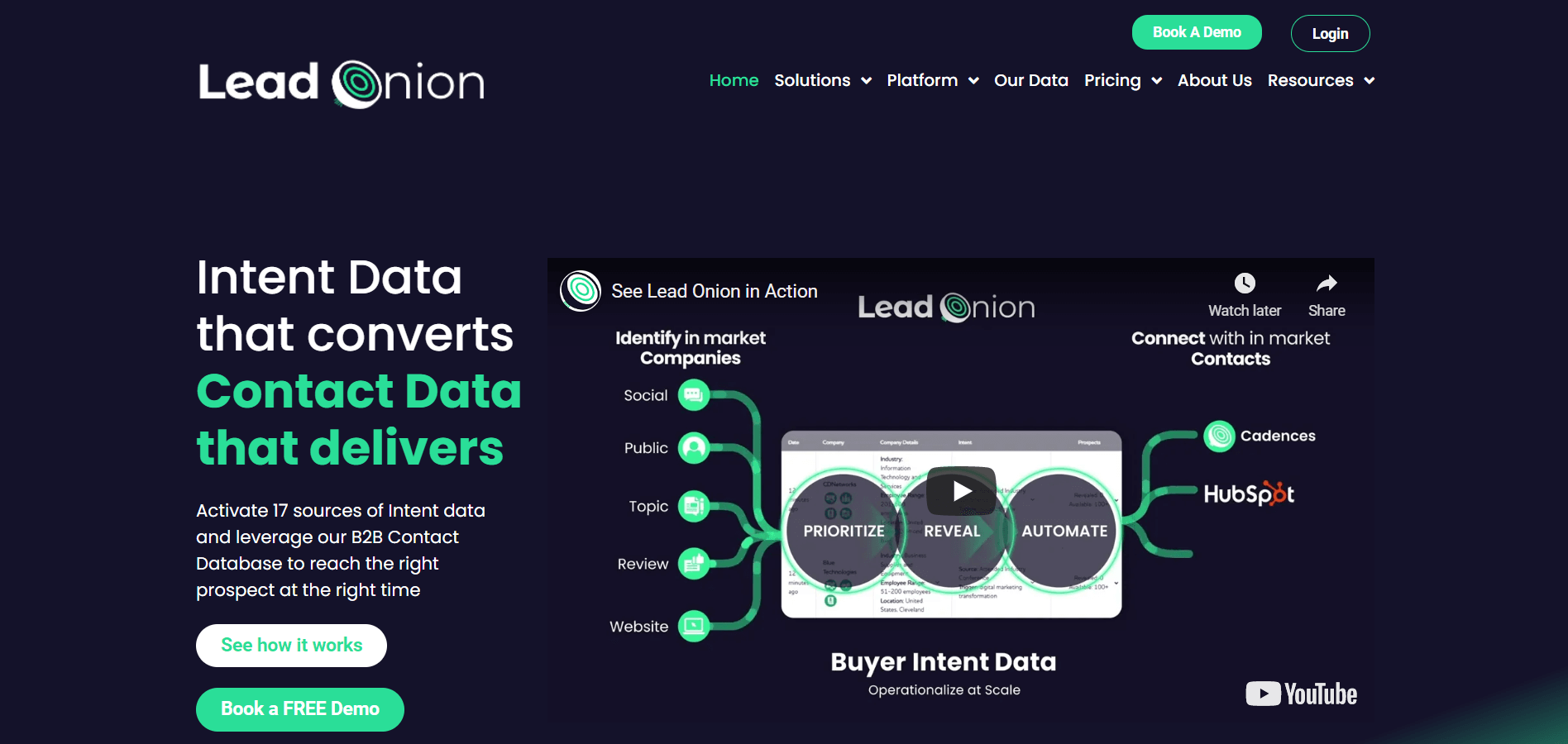 Lead Onion is a data vendor that provides specialized solutions helping companies use intent data for lead generation.
With their easy-to-use interface, you can easily turn unstructured text into structured lead lists based on demographics, company size, industry verticals, and more—all updated in real-time!
Key Features
100% globally compliant with data regulations: Lead Onion boasts their ISO 27001 accreditation, making it one of the safest intent data providers to use on the market.
Lead Onion Lookalike: The platform allows you to upload your existing customer data to help the system identify target accounts that share the same or similar data attributes to improve the overall quality of your leads.
Custom recruitment & HR solutions: Lead Onion branched out to develop a powerful solution that empowers HR professionals to use intent data to effectively connect with top talent.
Pros
The company's lookalike tools differentiate this company from the rest of the competition as they make it possible to generate a positive ROI a lot earlier.
Lead Onion is one of only a few intent data providers that are fully transparent about their pricing model.
Key Company Stats
CEO: Michael Carlin
Founded: 2020
Headcount: 1,001-5,000 employees
HQ: Portstewart, Northern Ireland
Top Clients: SecureAuth
Our rating: 9/10
10. Zoominfo
Best for unleashing the power of intent data with marketing automation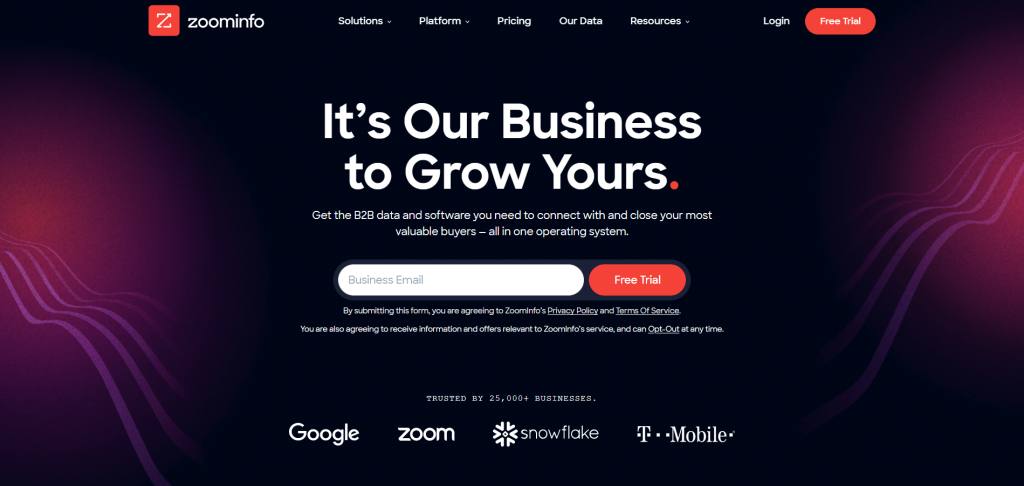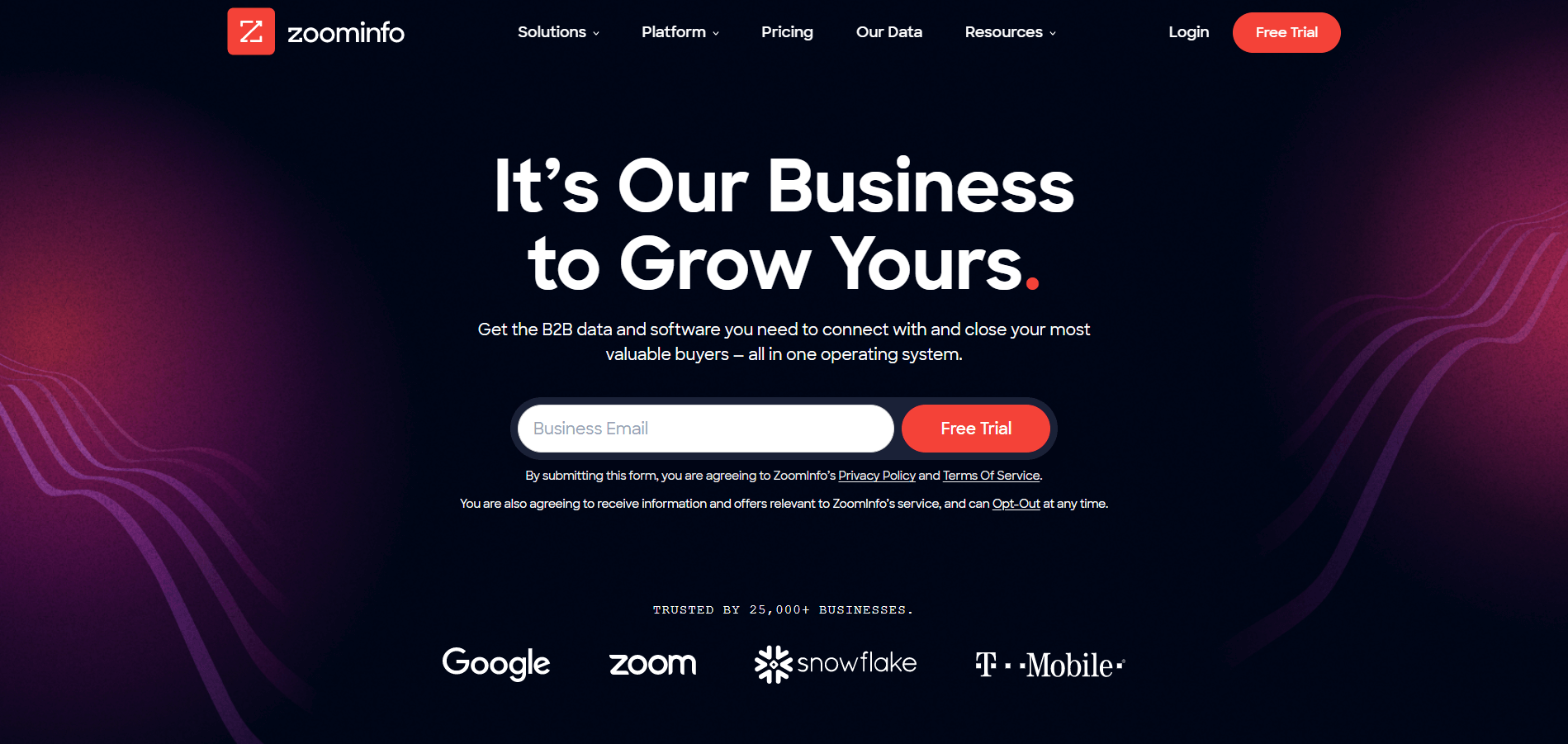 Formerly DiscoverOrg, Zoominfo is the world's leading provider of intent data. With their gigantic network of data sources, you can gain a competitive advantage by accessing some of the most accurate intent data on the market.
With ZoomInfo, you can map your ideal customer profile against their database to uncover sales-ready prospects searching for topics and keywords related to your business.
Key Features
The largest network of intent data sources in the US: Zoominfo collects data from more than 90% of devices in the United States, ensuring you gain a comprehensive view of your target accounts.
Custom workflows: Create unique automated workflows based on intent data attributes to start generating leads without having to burden your sales and marketing teams.
Lead prioritization: Rank your target accounts based on the strength of their buyer intent to save your resources on chasing after poor leads.
Pros
Zoominfo's custom workflows are incredibly helpful in automating your marketing and sales campaigns.
The company is at the forefront of the B2B data industry, meaning you take full advantage of the latest advancements in intent data management.
Key Company Stats
CEO: Henry Schuck
Founded: 2020
Employees: 1,001-5,000 employees
HQ: Vancouver, WA
Top Clients: Google, Zoom, Snowflake, T-Mobile
Our rating: 8.3/10
How Is Intent Data Typically Collected?
Intent data providers typically collect information from a variety of sources, including public records, social media, and other online databases:
Social media
Online databases
Public records
Marketing surveys
Competitor analysis
Online research
Offline research
Purchase behavior
Web browsing behavior
Search engine activity
Email behavior
CRM data
Call center data
Event data
Third-party data providers
They then organize this data into comprehensive profiles that can be used by businesses to target potential customers.
What Are the Benefits of Using B2B Intent Data Providers?
When it comes to marketing and sales, timing is everything. And in the digital age, that means having access to real-time insights into the intentions of potential customers. That's where B2B intent data providers come in.
By providing actionable, fresh behavioral intent data, these providers help businesses target their marketing efforts more effectively and boost their sales pipeline.
In addition to real-time insights, these B2B data providers offer a host of other benefits, including:
Increased efficiency: By providing information on the specific companies and individuals that are most likely to be interested in a product or service, B2B intent data providers help businesses leverage buyer intent data to focus their marketing efforts on the right target audience. This increased efficiency can lead to significant cost savings as well as a boost in sales and revenue.
Greater accuracy: Traditional marketing and sales methods rely heavily on guesswork and assumptions. B2B intent data providers remove the guesswork by providing accurate, up-to-date information on potential customers, which helps businesses better understand the customer journey to make more informed decisions about where to allocate their resources.
Improved customer relationships: By understanding the specific needs and desires of potential customers, businesses can develop more targeted marketing messages that resonate with them on a personal level. This deeper understanding can help enterprises build stronger relationships with their customers.
Increased sales: Perhaps the most important benefit of using B2B intent data providers is the boost in sales that they can provide. By targeting their marketing efforts more effectively, businesses can generate more leads and close more sales.
Overall, B2B intent data providers offer a host of benefits that can help businesses increase their sales and revenue. So if you're not already using one of these providers, now is the time to start.
What Industries Is Intent Data Most Applicable to?
Intent data can be applied in a number of industries; some of the most common are automotive, finance, retail, and travel.
The automotive industry can leverage intent data to determine which cars a customer is interested in and create targeted marketing campaigns.
In the finance industry, intent data is a sure-fire way to identify people interested in taking out loans or opening credit lines.
For retailers, intent data can be used to determine which products customers are likely to purchase and create targeted advertising campaigns.
And travel companies rely on intent data to identify users shopping around for a vacation tour and create targeted deals.
5 Tips to Choose the Right B2B Intent Data Vendor
When looking for a B2B intent data vendor, it's essential to keep in mind that not all vendors are created equal.
There are a few key factors you'll want to consider when making your decision, so here are our top tips to help make the process a little bit easier:
Make sure the vendor has a good understanding of your business and what you're looking for.
Ask about their data collection methods – how are they acquiring their data? Is it through social media, public records, or another source?
Check to see if the vendor offers a comprehensive list of contacts. You'll want as many potential leads as possible!
Ask about the quality of the data- how recent is it? Is it accurate?
Finally, make sure you're comfortable with the vendor's price. Getting a good deal is important, but you don't want to sacrifice quality for quantity.
By following these tips, you'll be well on your way to finding the perfect B2B intent data vendor for your business!
The intent data providers in this list have been selected based on their ability to provide actionable insights for B2B marketers.
While there are many other great providers out there, we believe that these ten offer the best combination of features, pricing and customer support. We hope you find this list of the best intent data providers helpful as you select a data partner for your own business needs.