Flowcharts are useful tools that can offer a visual representation of an algorithm, process, or workflow. Often, they are used in conjunction with other types of diagrams, such as data flow diagrams (DFDs) and system context diagrams.
Many different programs can be used to create flowcharts. Some of these programs are designed specifically for creating flowcharts, while others offer general-purpose diagramming tools that can be used to produce custom charts.
This article will analyze the best flowchart software in today's market, based on user features, pricing, and reviews. So stay tuned to find the best flowchart software for your business.
What Is the Best Flowchart Software to Use in 2023?
With all the different flowchart software programs available, how do you choose the best one? The answer, of course, depends on your specific needs.
Here are the top flowchart software options for 2023:
Lucidchart
SmartDraw
Gliffy
EdrawMax
Zen Flowchart
Draw.io
Visio
Lucidchart is a flowchart software designed for remote teams. It includes features such as real-time collaboration, version history, and commenting. Lucidchart also integrates with many other programs, making it easy to insert flowcharts into documents or presentations.
If you're just looking for some basic tools to create simple flowcharts, Lucidchart's free plan may be just right for you. There are also more advanced features available in the paid subscriptions.
What draws me to Lucidchart is that it has over 500 templates to choose from to create powerful visuals, and it's easy to share flowchart diagrams with your team in real-time.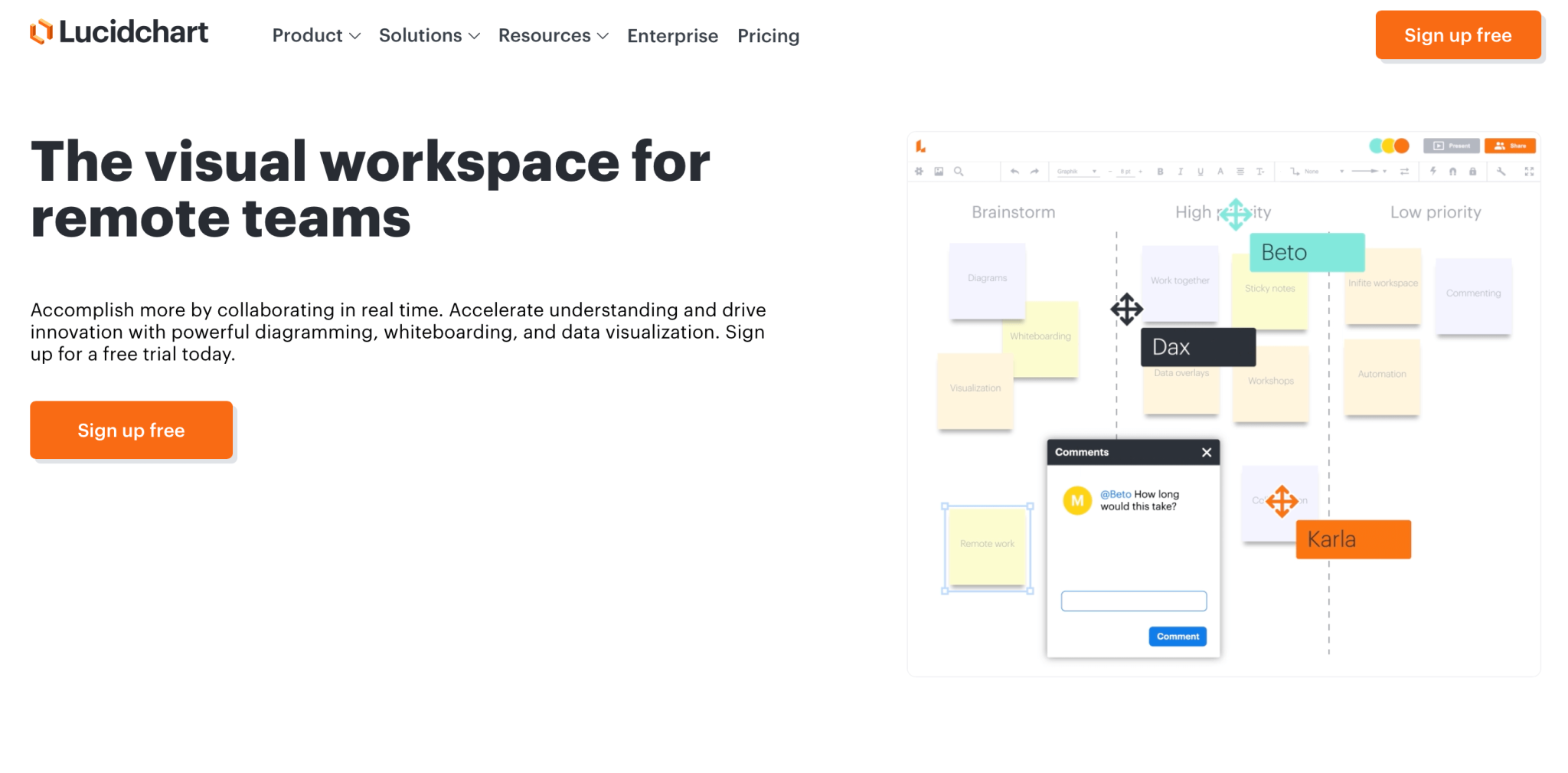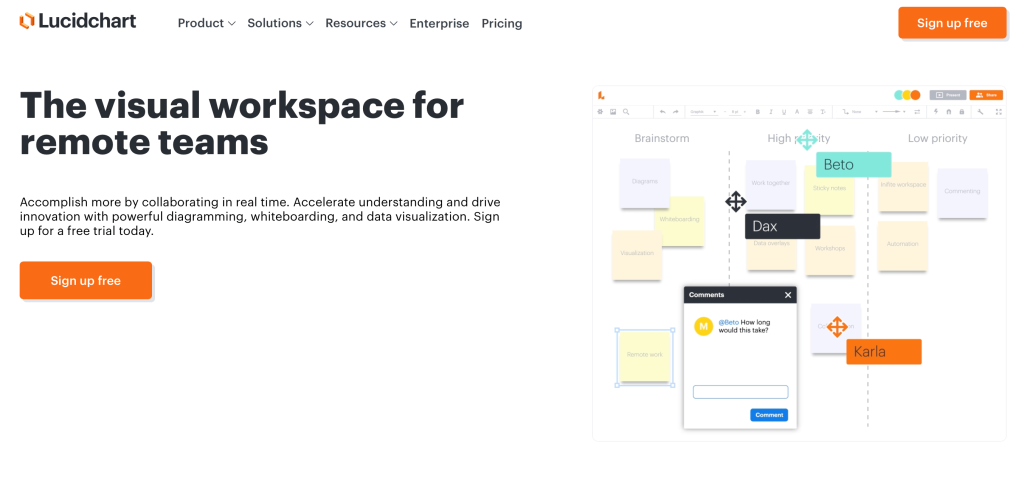 Top Features
Connection: Always be in touch with your team and identify their needs. Connect employee data to organization charts.
Optimization: Follow up on the status of your network and optimize it.
Engineering: Quickly understand what you need to create and easily pass on your ideas to team members.
Options: Choose from over 500 templates to use for your business.
Pros:
An excellent tool for remote teams
Real-time collaboration, version history, and commenting
A free plan that provides access to basic features
Integration with several other programs, making it easy to add flowcharts to documents or presentations
Simple interface
Cons
Only basic shapes and icons are accessible through the free plan
Default appearance settings are not available
Pricing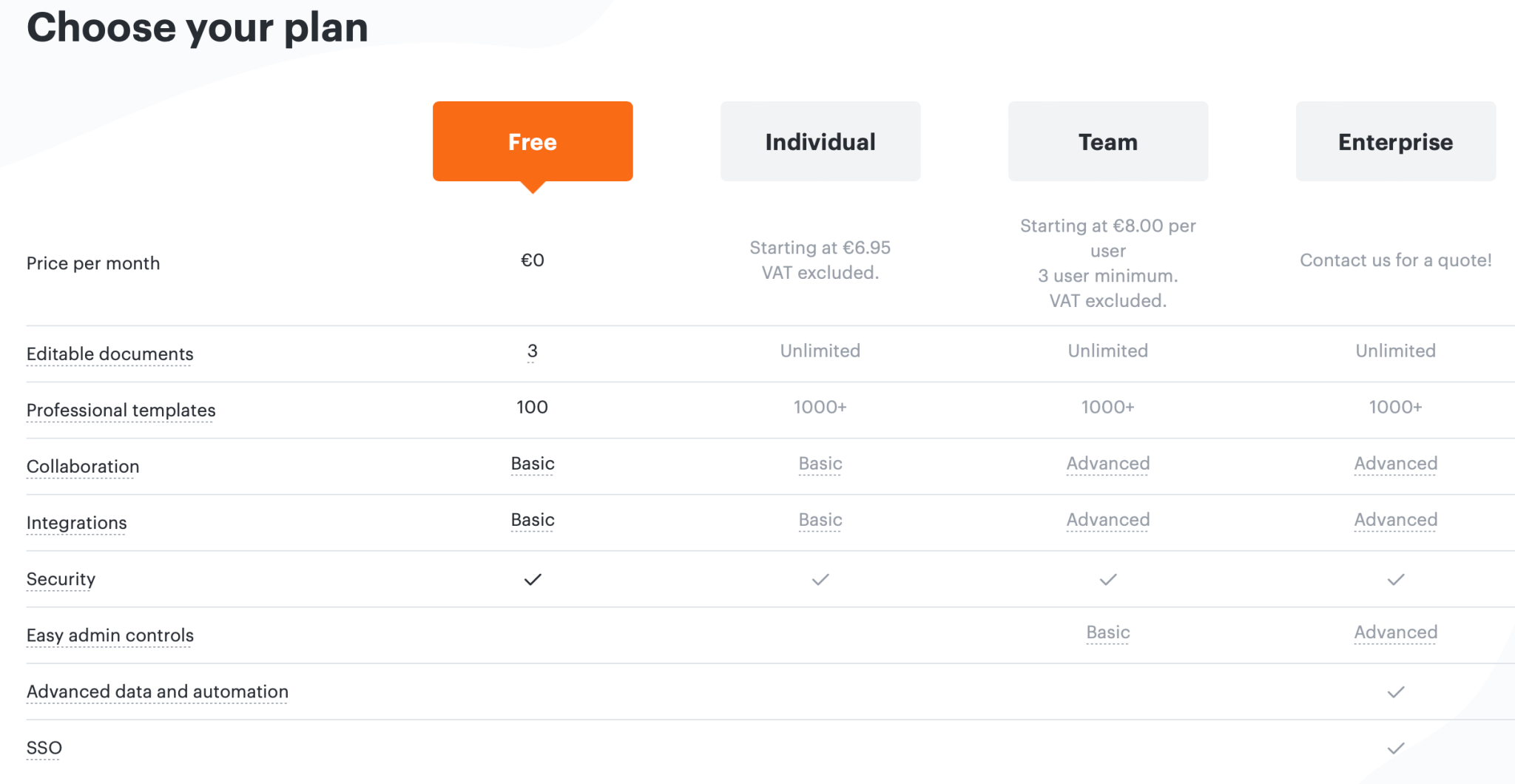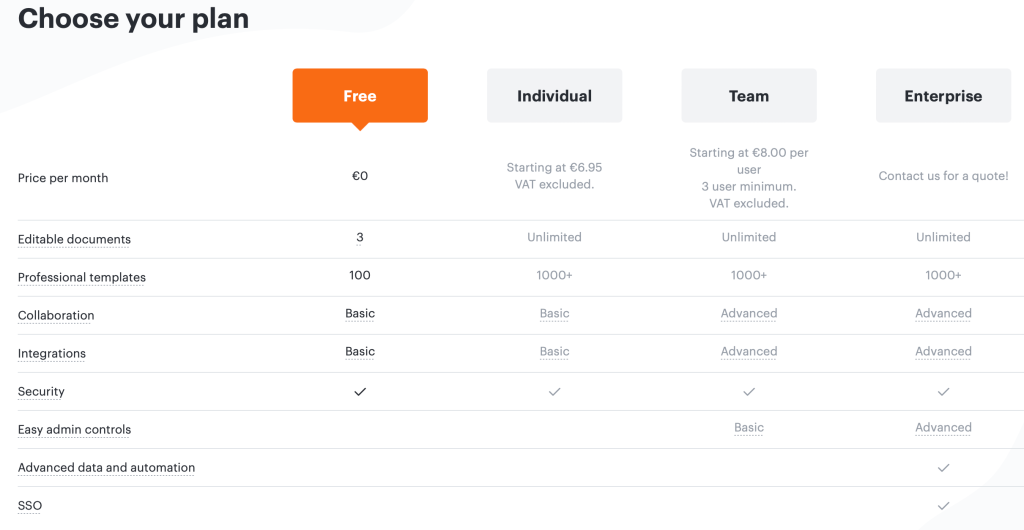 Lucidchart offers four paid plans, with a free option for those who only need the basics:
Free plan: Use this plan as a trial run to see if Lucidchart can provide what you need. It includes basic features and shapes, 100 professional templates, and three editable documents.
Individual (starting at €6.95/mo per user): With this plan, you can use unlimited editable documents, over 1,000 professional templates, and primary features.
Team (starting at €8.00/mo per user): This package has advanced integration and basic admin controls.
Enterprise (contact Lucidchart for details): This plan is a pro plan, unlocking all features, including SSO.
Why we recommend this tool: Lucidchart provides an answer for teams to work together to cooperatively build diagrams in real-time.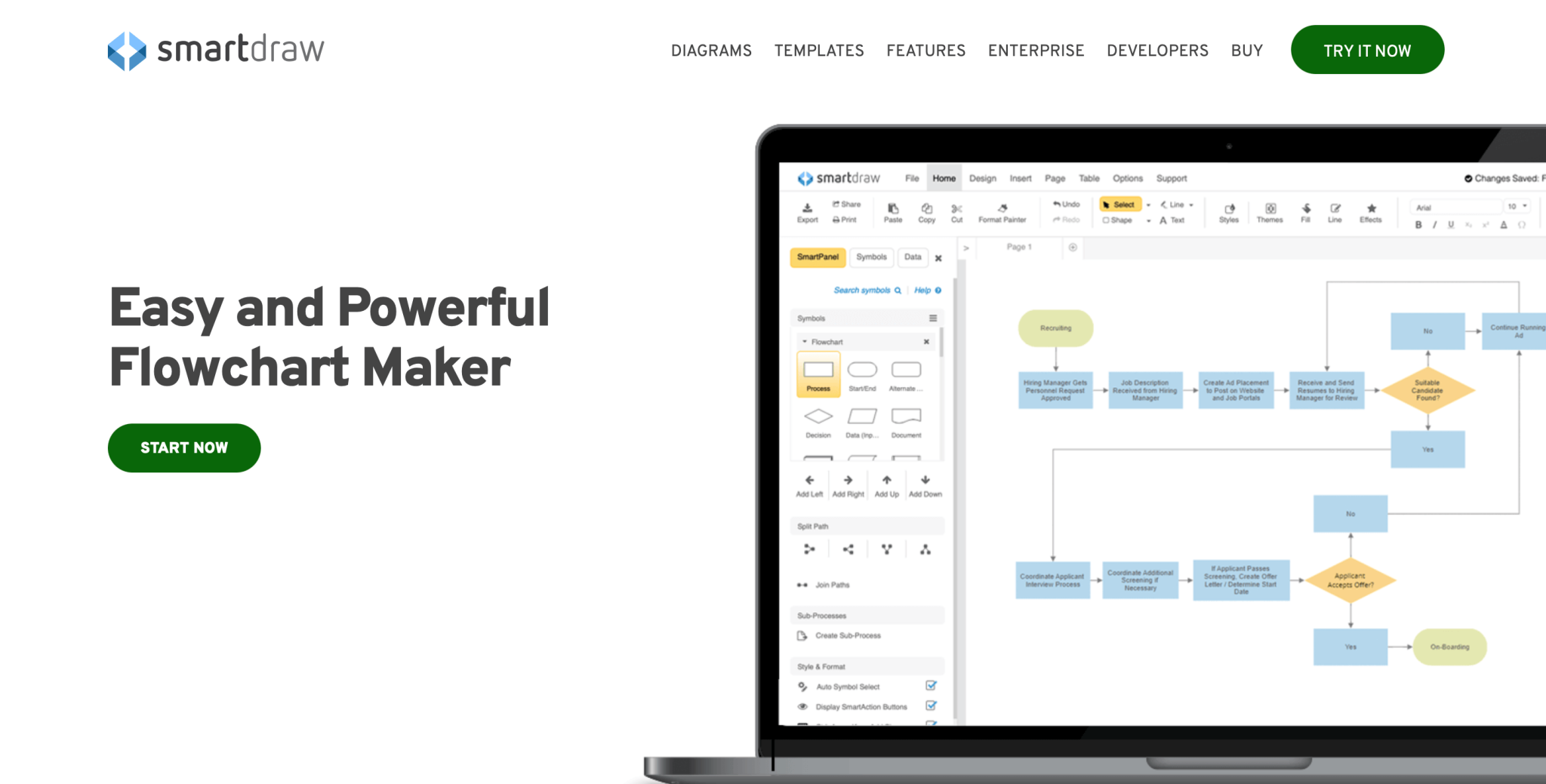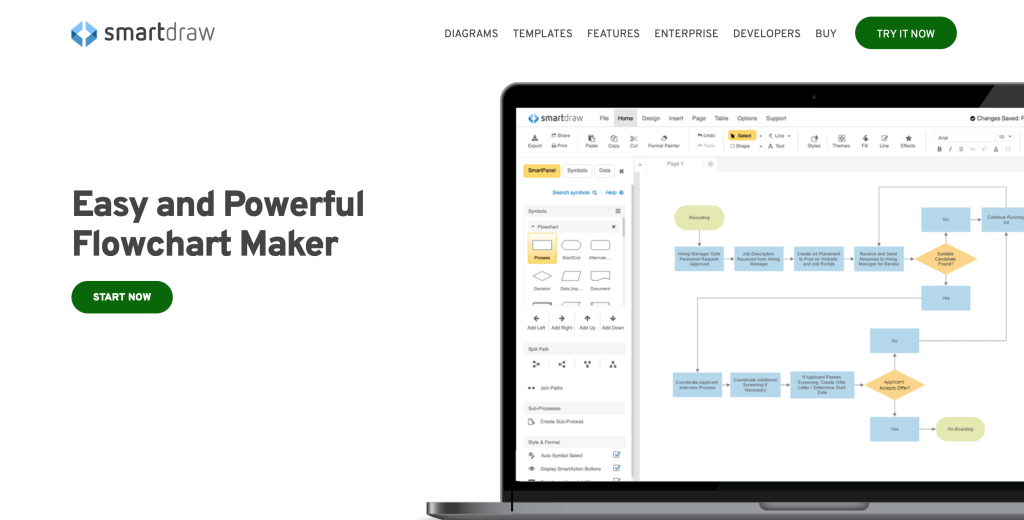 SmartDraw is a flowchart software that has been on the market for over 20 years. It is designed to be used by both business and home users.
SmartDraw includes a number of features, such as templates, shapes, and symbols. It also offers a free plan that provides access to the basic features.
Personally, I like that SmartDraw is an excellent tool with many different templates. It also has a wide range of integration options, including Google Drive, Microsoft Office, and Dropbox. This makes it easy to add diagrams to documents or presentations.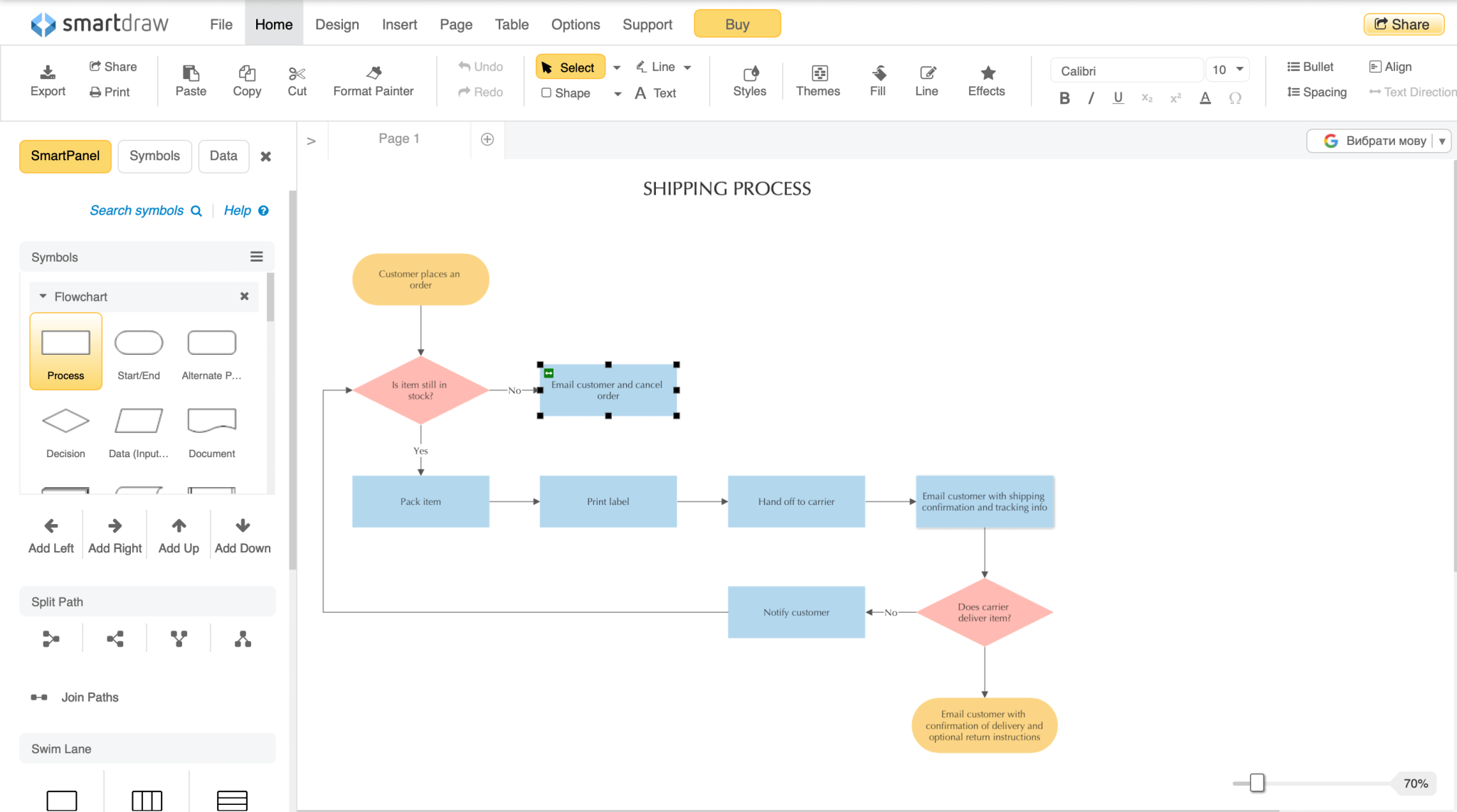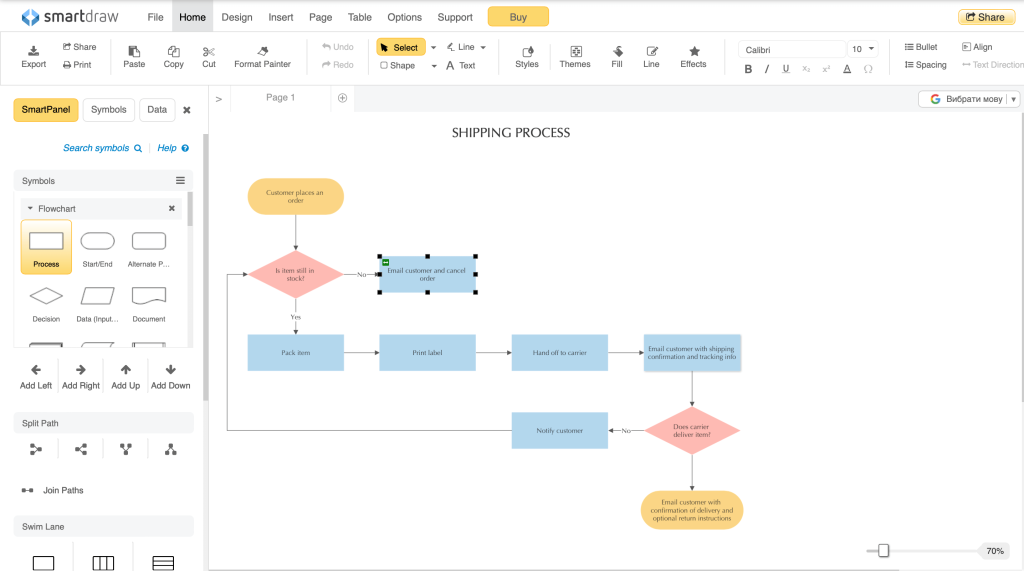 Top Features:
Wide Range of Content: Explore over 70 templates, basic features, and various shapes to customize your flowchart.
Generate Diagrams: Automatically generate diagrams from data, making it simple to create complex charts.
Easy to Use: It is designed to be easy to use, even for people who have no experience with diagramming software.
Integration: Connect with other programs to insert your flowchart with ease.
Professional Results: Improve your documents and presentations with professional-style diagrams.
Pros:
Tons of templates to personalize your flowchart
Many features allowing you to incorporate PR and marketing
Easily share your ideas with a team
Cons:
It takes time to familiarize yourself with the program
There are few examples for beginners
Pricing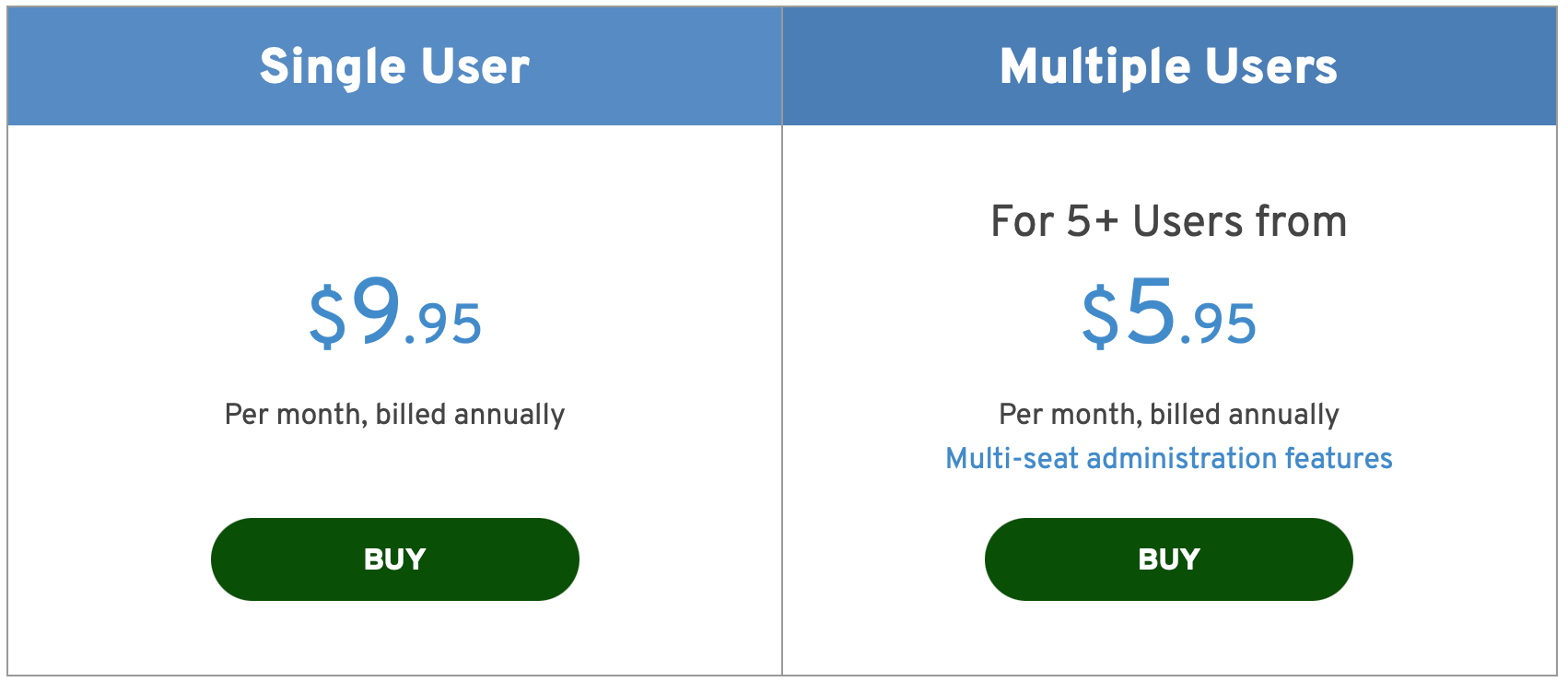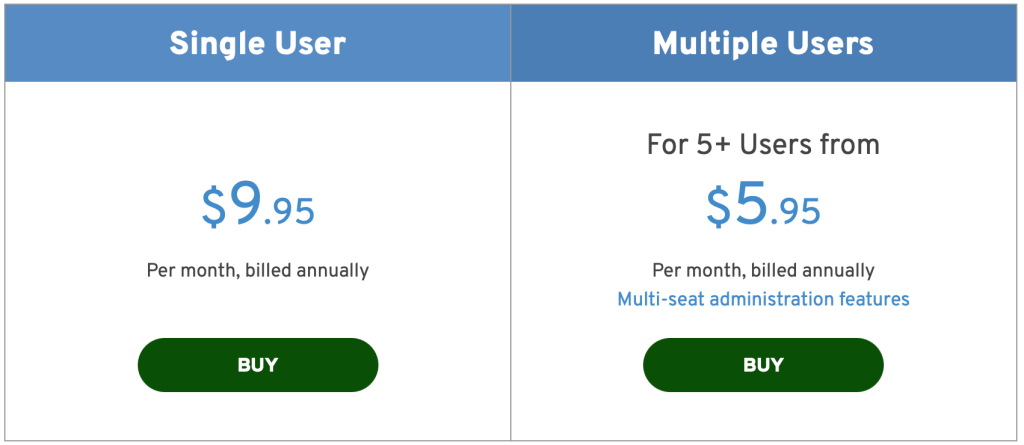 Single User ($9.95/mo per user): This individual plan offers access to basic features.
Multiple Users ($5.95/mo per user): This package offers powerful admin features to help you control your team. 
Why we recommend this tool: SmartDraw is the top-rated flowchart maker. It has an easy and powerful drawing program, floor plan creator, flowchart maker, and org chart maker.


Gliffy is an online diagramming software that offers users the opportunity to create a variety of diagrams, including flowcharts. It allows you to work with your team in real-time, using a drag-and-drop interface and the ability to share.
Gliffy has flexible pricing and offers a free trial for two weeks.
I like using Gliffy as flowchart software because it has powerful integration options and a simple interface.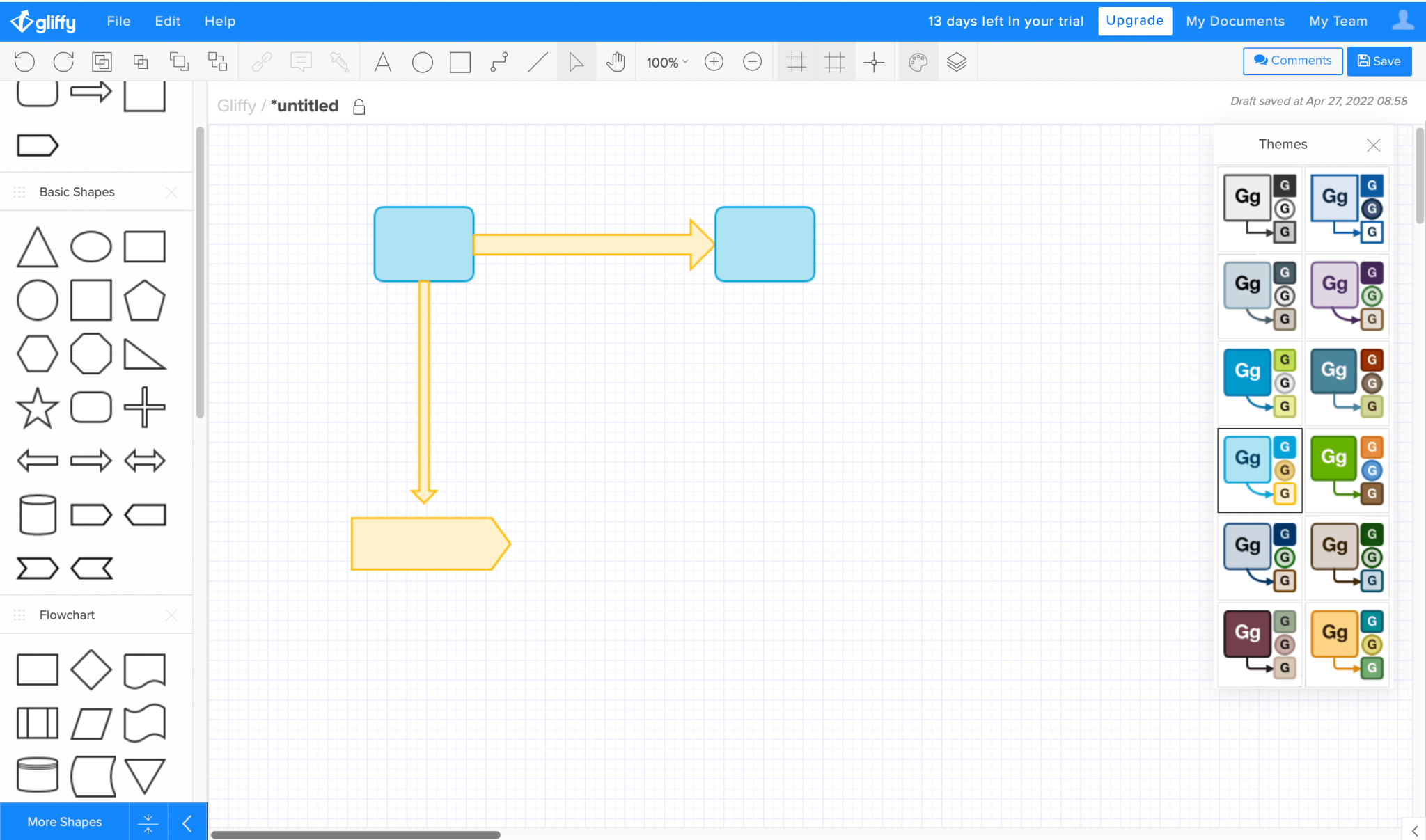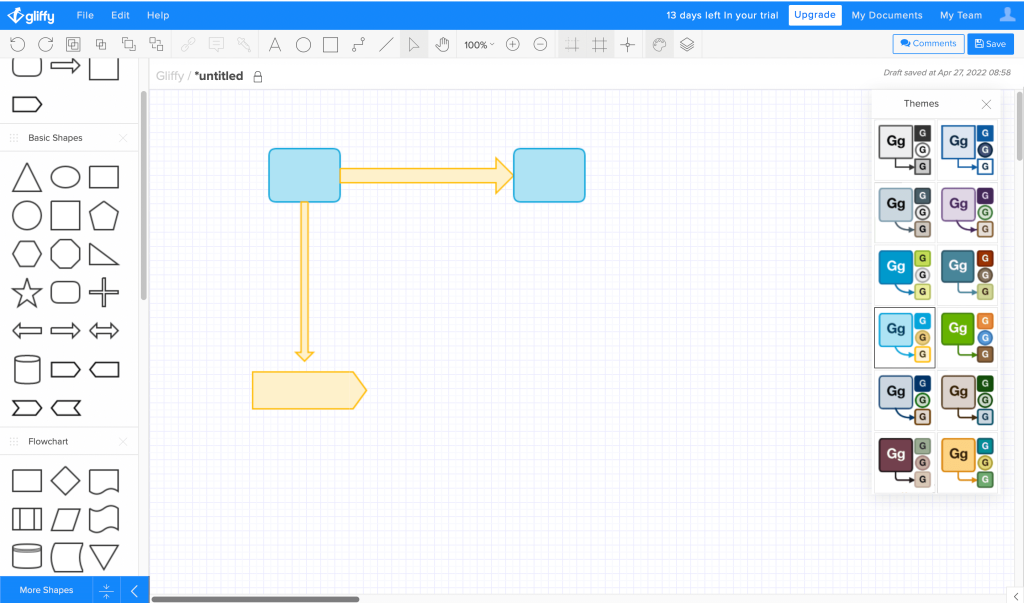 Top features
Collaborate: Work together online with your team in real time.
Export: Export your diagrams in multiple formats, including PDF, PNG, SVG, and JPEG. 
Integrate: Gliffy integrates with Google Apps, Google Drive, Jira, and Confluence.
Support: Gliffy is supported in all modern web browsers such as Google Chrome, Firefox, Safari, and Internet Explorer 9+.
Pros
Reasonable price
Easy to use
A slick user interface and a broad range of icons in their default setup make it easy to construct all sorts of diagrams
A wide range of formats available to export the final product  
Cons
Problems with saving diagrams
There is no copy function in the management and list of charts
Pricing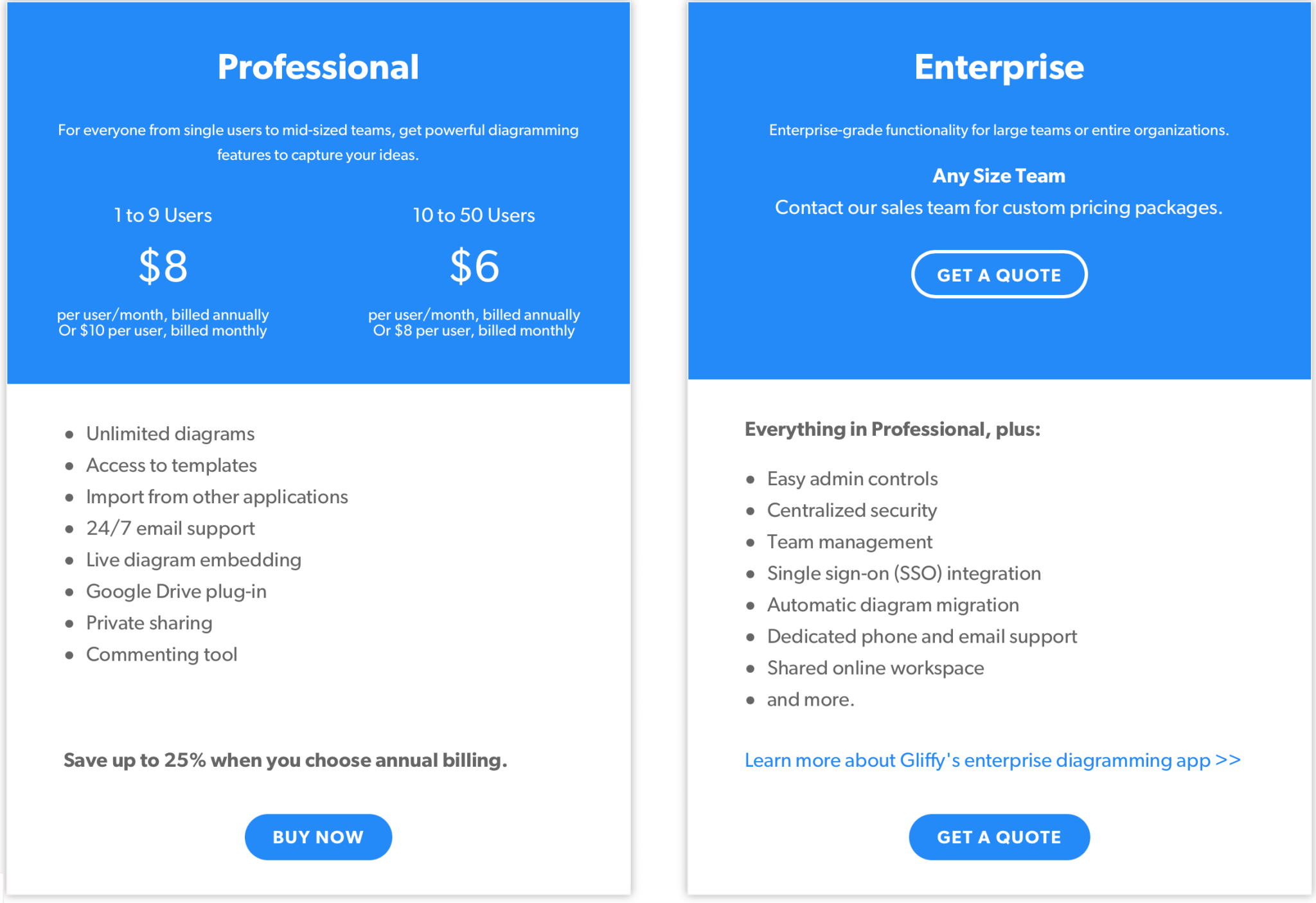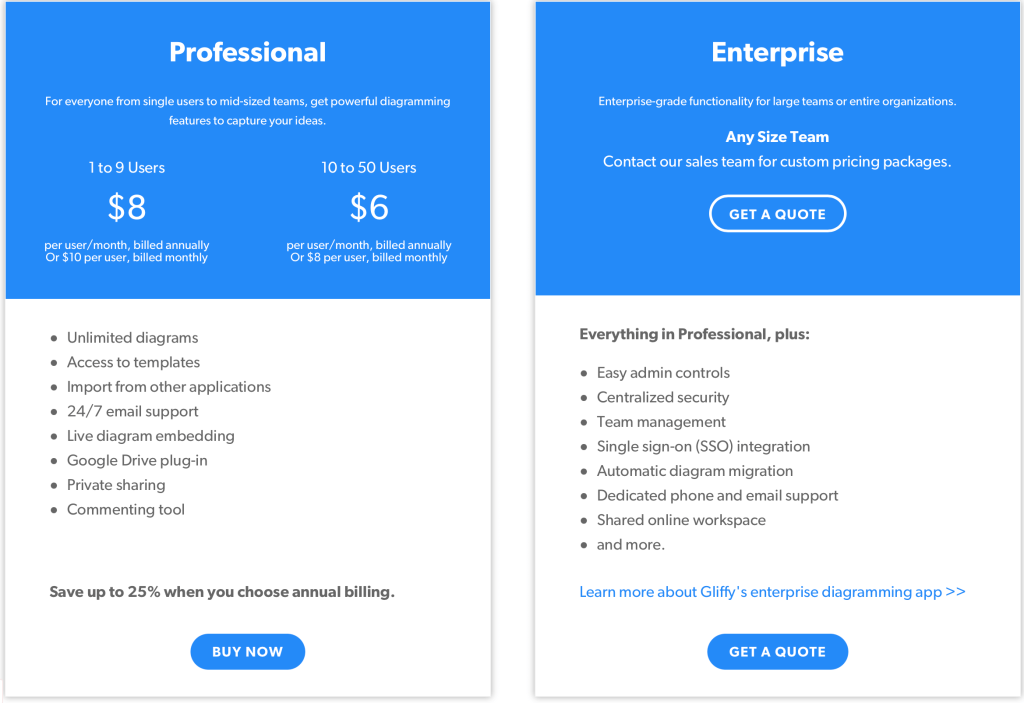 Gliffy pricing is very flexible for everyone, from single users to large teams.
Free 2-week trial plan: This plan offers you a demo of Gliffy's features.
Professional Plan 1–9 users ($8/mo per user): This one is great. If you have up to 9 members in a team, you will have access to the program's powerful diagramming features and templates.
Professional Plan 10–50 users ($6/mo per user): This package includes the same features, just for a bigger team.
Enterprise (contact Gliffy for details): The enterprise plan is suitable for large teams and includes all the features you need to do your best work.
Why we recommend this tool: Gliffy is a simple tool you can use without requiring special knowledge to create flowcharts and professional diagrams, all while sharing with team members.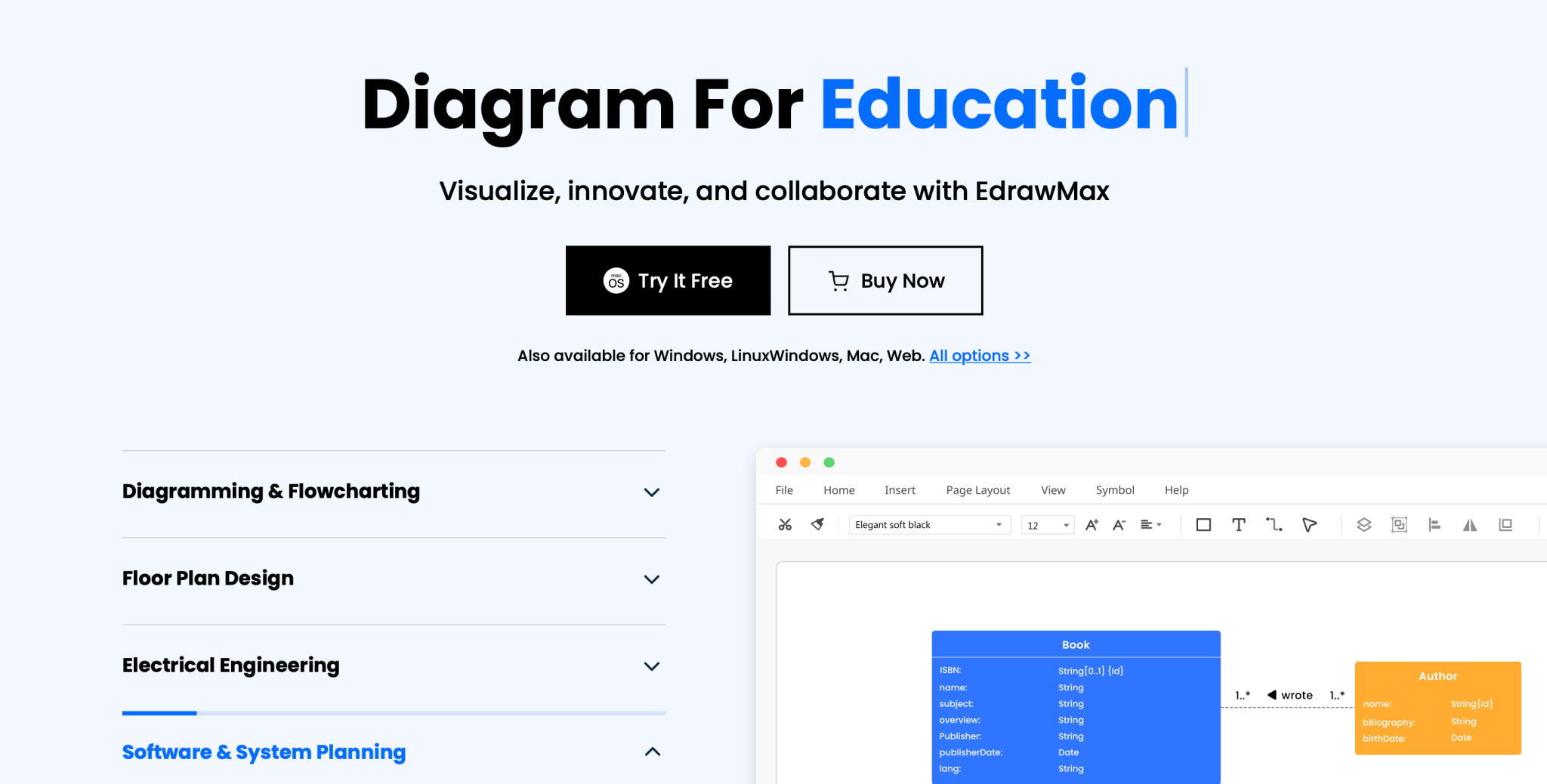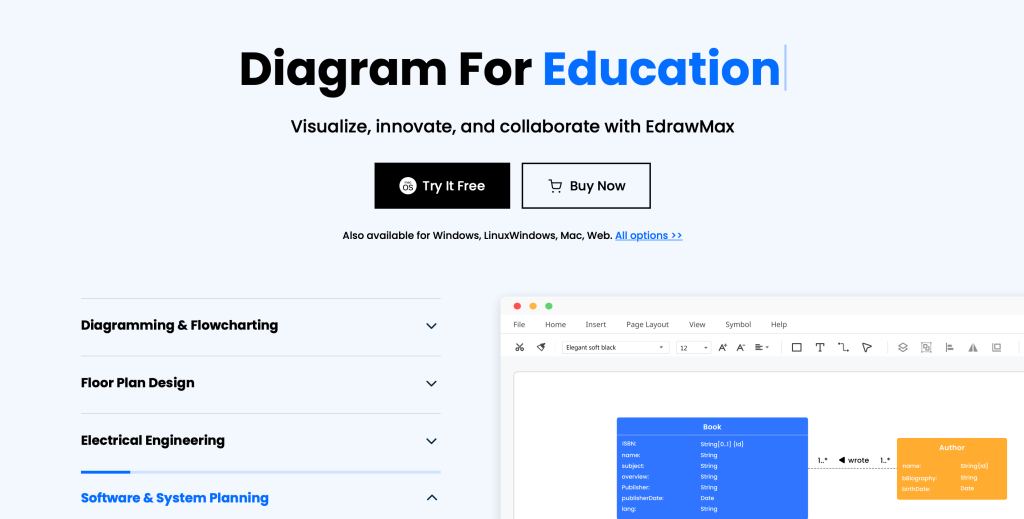 EdrawMax is a comprehensive diagramming tool that supports over 280 diagram types and provides users with powerful drawing tools perfect for creating flowcharts.
With EdrawMax, you can easily create professional-looking flowcharts with just a few clicks.
EdrawMax also provides a vast number of templates and examples for you to work from, along with an extensive range of shapes and objects. You can also collaborate with others on your diagrams and export them to various formats, including PDF, SVG, Visio, Word, PPT, and HTML.
I prefer EdrawMax because of its popularity and the massive amount of available templates to choose from, providing an excellent opportunity to create professional flowcharts.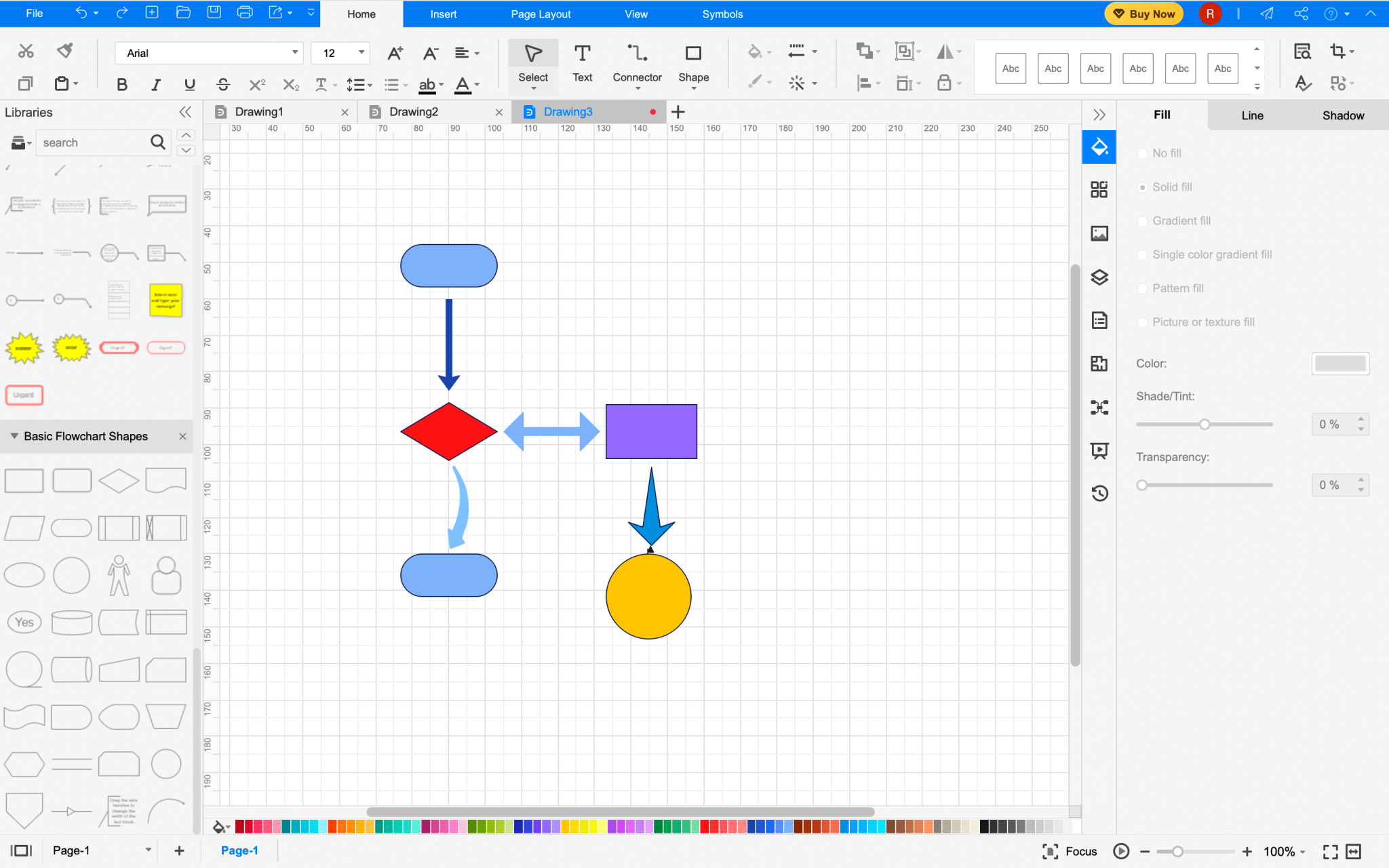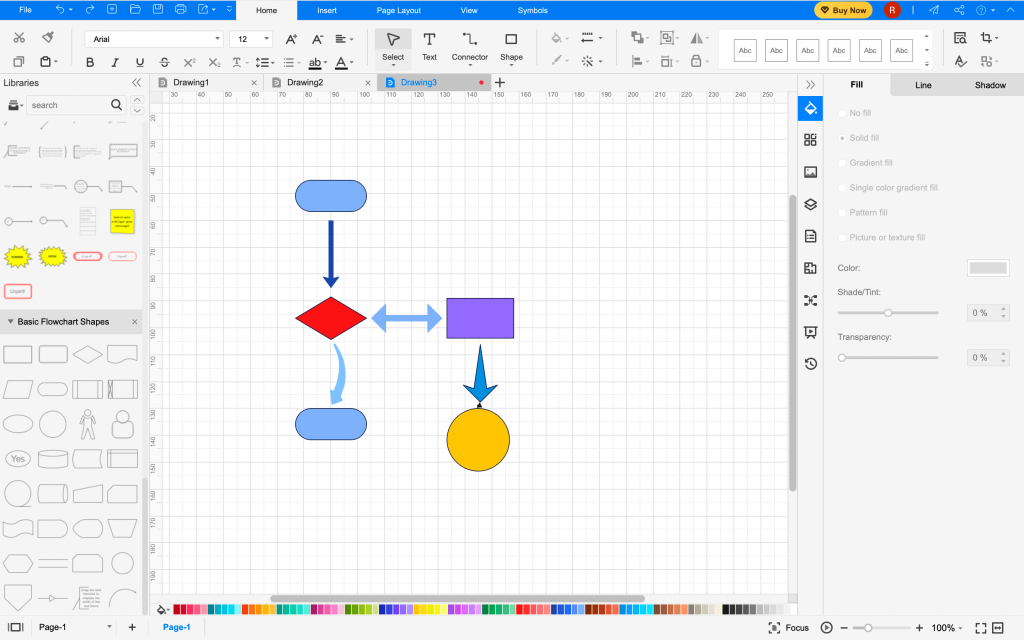 Top Features
Powerful Visualization: Create powerful flowcharts and clear presentations.
Innovative Formatting: With more than 1,500 built-in templates and over 26,000 symbols, you have everything you need.
Collaborative Features: Keep in touch with your team members, sharing ideas using any channel you want, anywhere.
Pros
All-in-one diagramming tool
Use EdrawMax Online on Windows, macOS, or Linux
More than 280 diagrams, over 1,500 templates, and 26,000 symbols
Easy to work with and share with your team members
Cons
 Needs more improvement for UI
Pricing
EdrawMax has multiple flexible pricing plans, including Individual, Team & Business, and Education packages.
Individual Package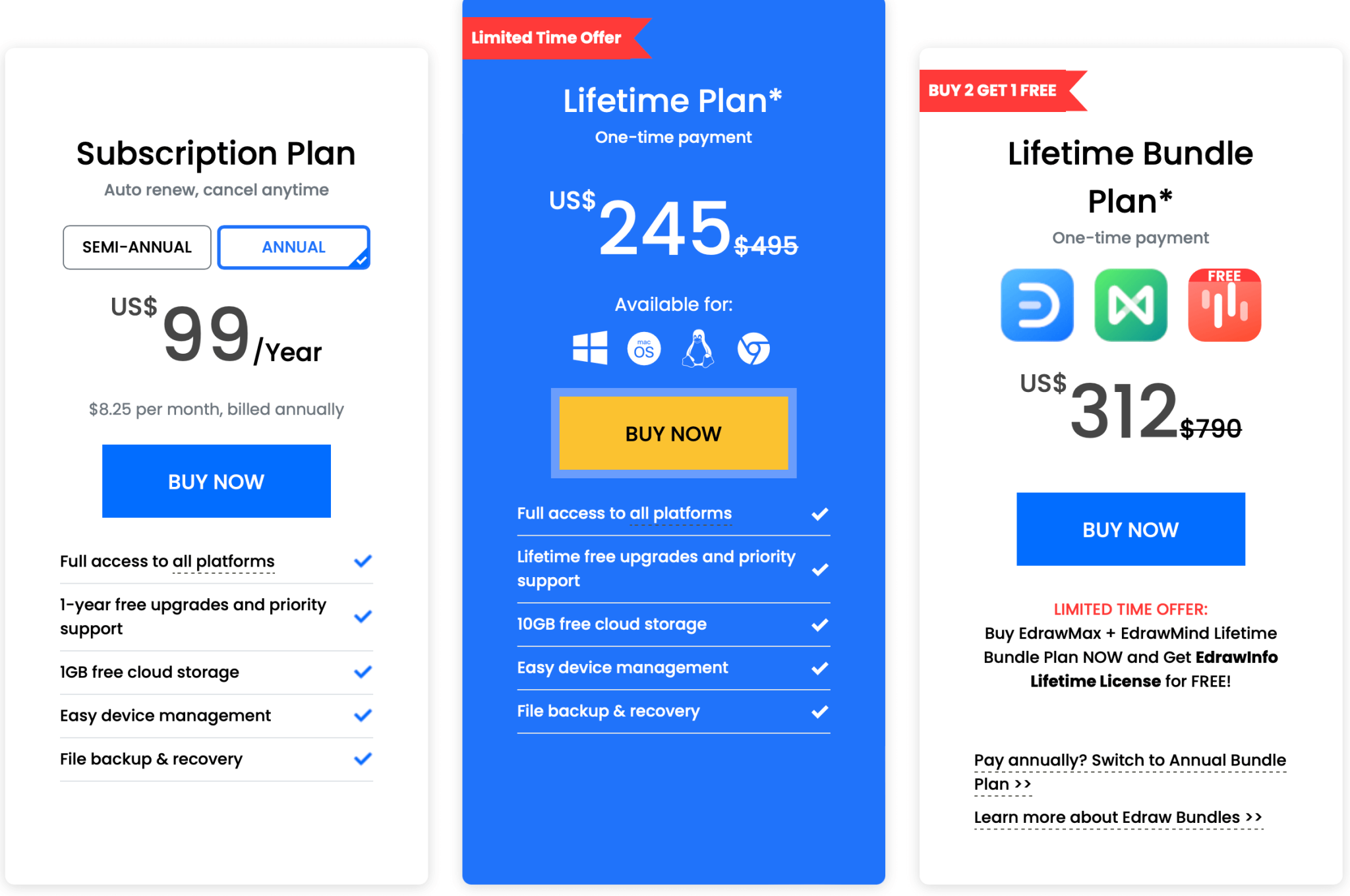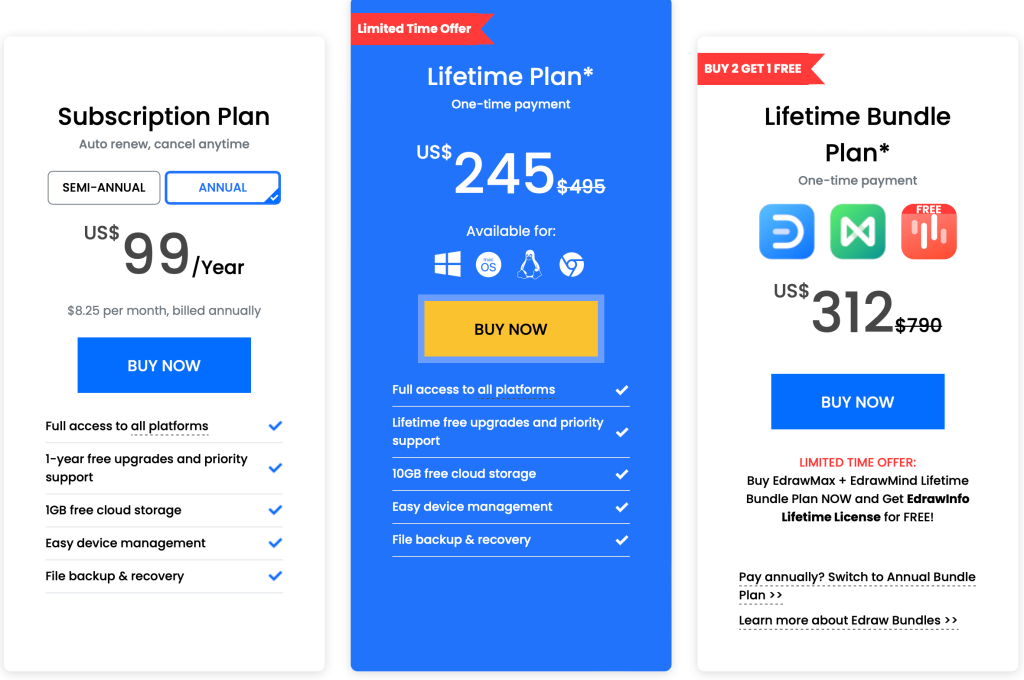 The Individual package consists of three plans:
Subscription Plan ($8.25/mo per user): This plan is for full access to all platforms and 1 year of free upgrades as well as 1GB of cloud storage.
Lifetime Plan ($245, one-time payment): This package is available on most web browsers, giving you full access to all platforms and 10GB of cloud storage.
Lifetime Bundle Plan ($312, one-time payment): All programs of Edraw at one fixed price.
Team & Business Package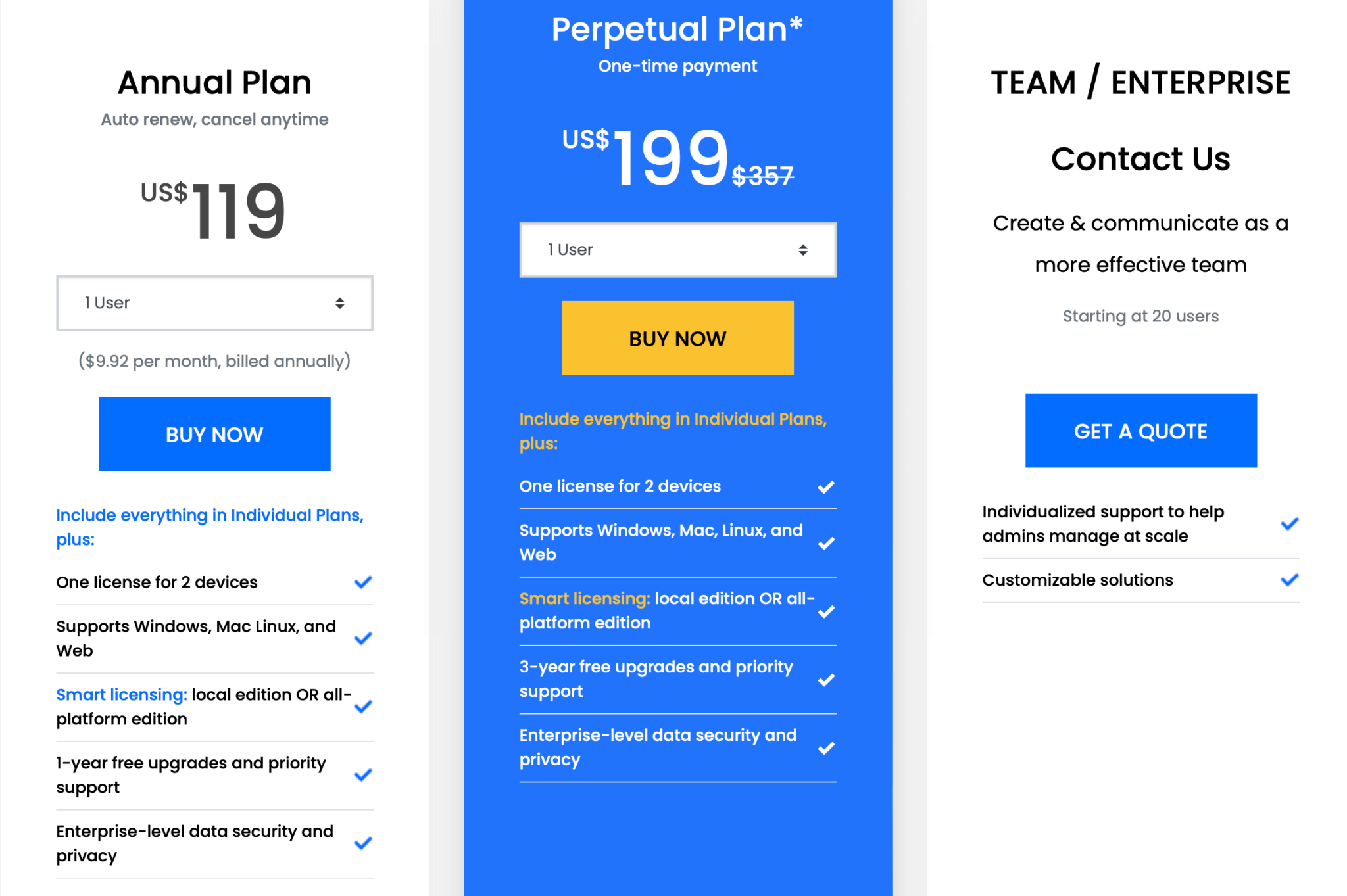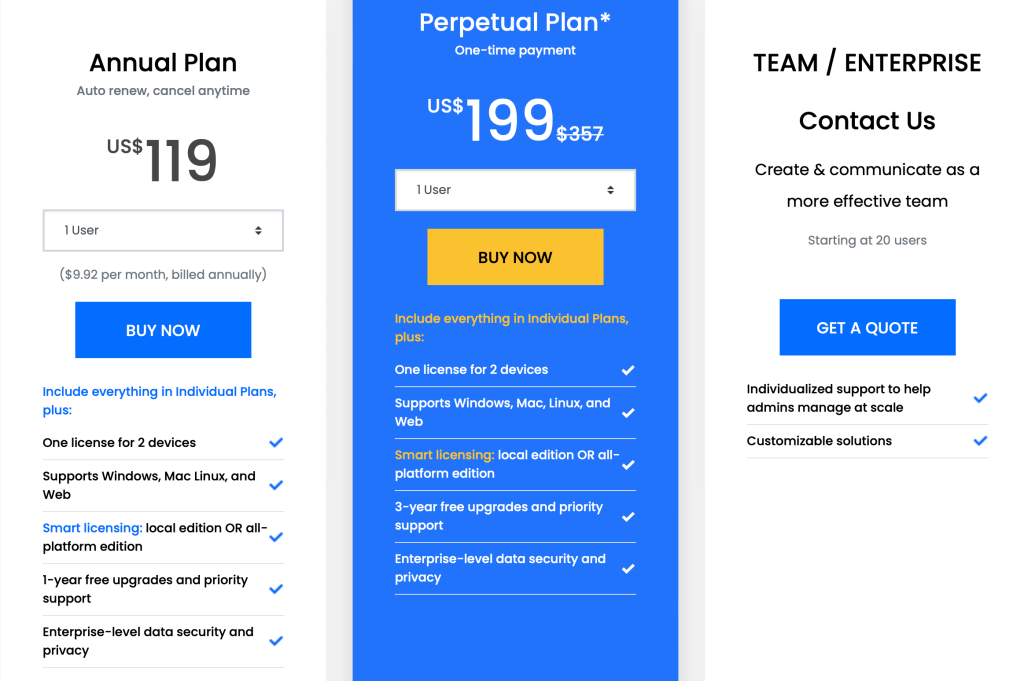 If you work with a team, the Team & Business package also offers three options:
Annual Plan from 1 to 20 users ($9.92/mo per user): This package has one license for two devices and allows you to choose the platform to work with.
Perpetual Plan from 1 to 20 users ($199, one-time payment): Receive access to the same features as the Annual Plan with the advantage of 3 years of free upgrades.
Enterprise: If you have a large team, this plan is for you, allowing you to create and communicate more effectively as a team.
Edraw Education Package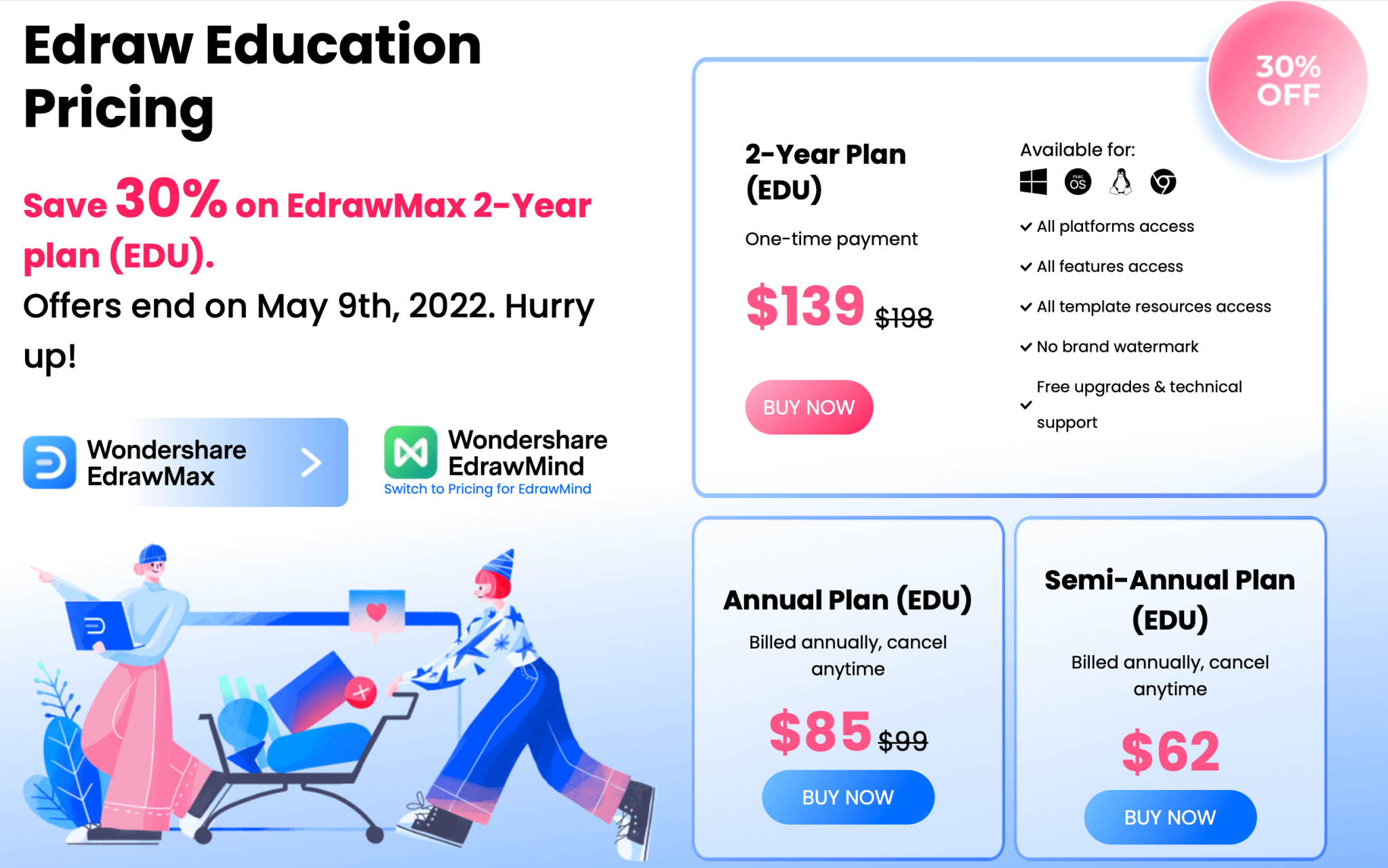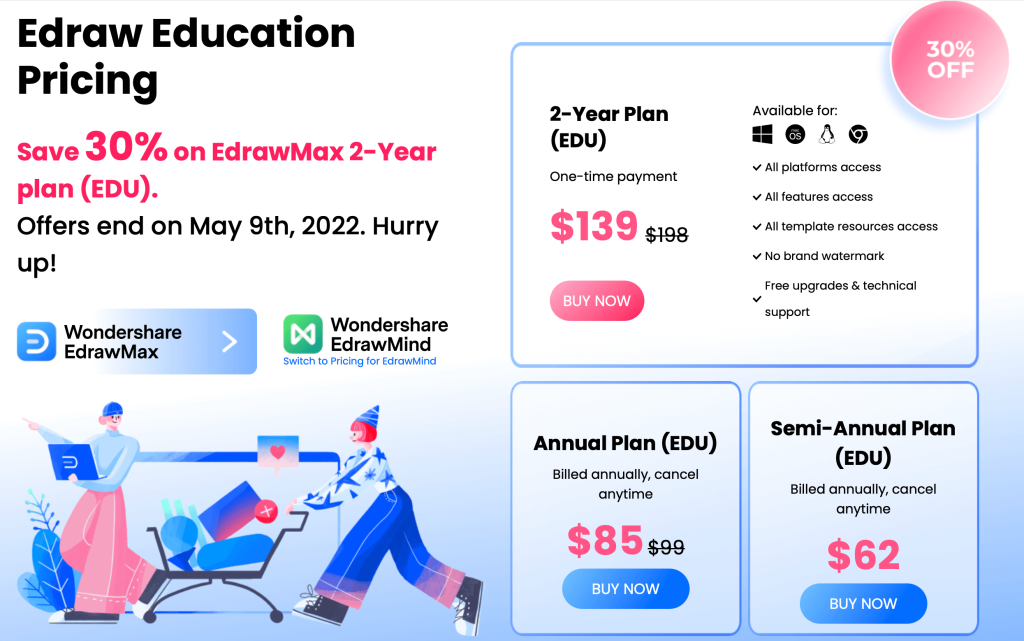 The Education Package includes all possible features to use in EdrawMax: all templates are available and create your flowcharts without a brand watermark. As with the other two packages, it offers three different pricing methods:
2-Year Plan (EDU) ($139, one-time payment)
Annual Plan (EDU) ($85, billed annually)
Semi-Annual Plan (EDU) ($62, billed annually)
Choose the best pricing plan for you to create powerful diagrams.
Why we recommend this tool: EdrawMax provides a huge library of shapes and objects for you to work with, as well as templates and examples to get you started.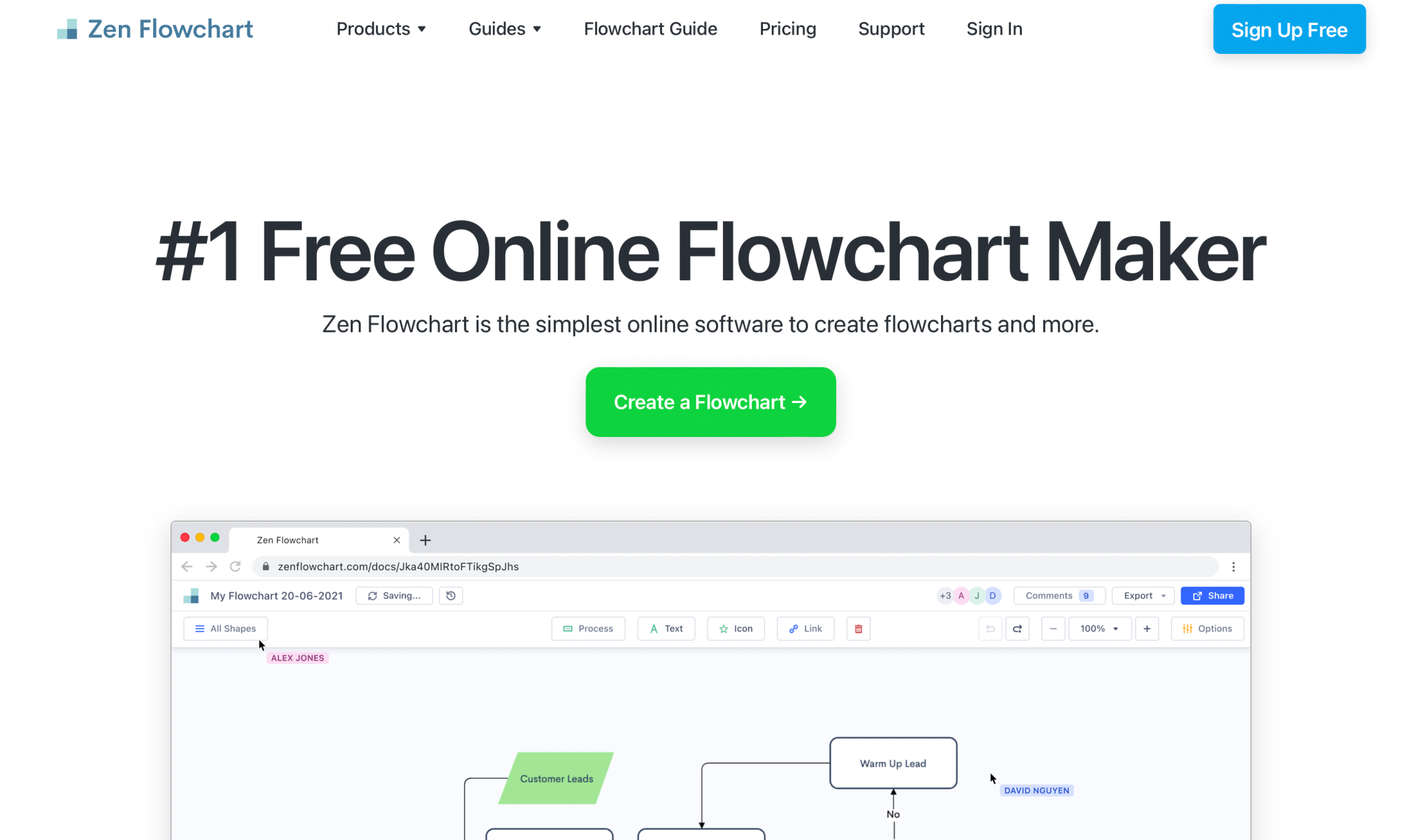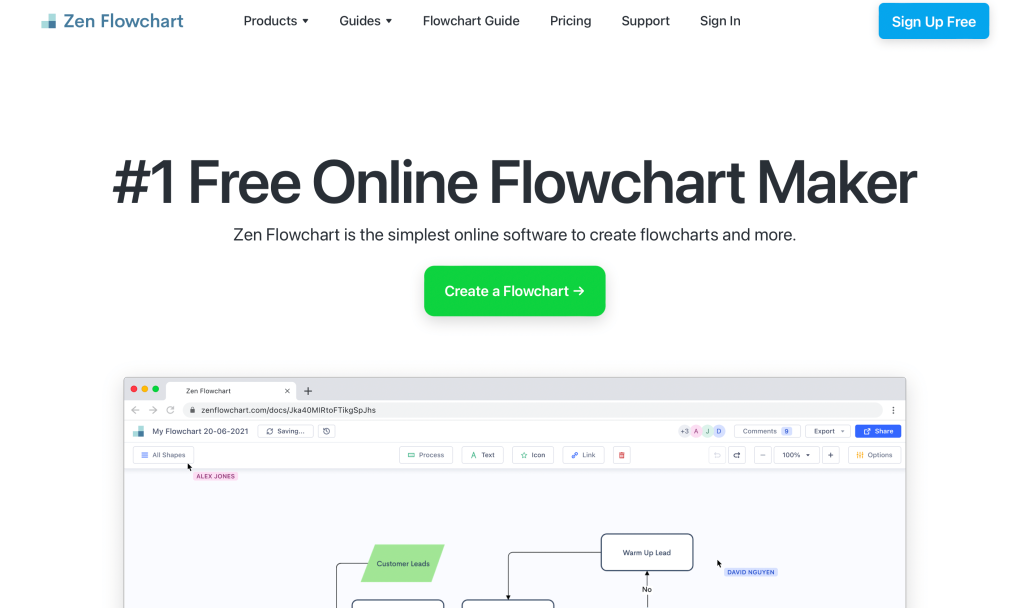 Zen Flowchart is a flowcharting tool that allows you to create stunning, detailed flowcharts due to its intuitive interface and powerful features.
Zen Flowchart is the perfect tool for both beginners and experienced alike. It offers a wide range of features to help you create professional-looking flowcharts quickly and easily.
I like this software because it's easy to use. Just click on the link and start creating.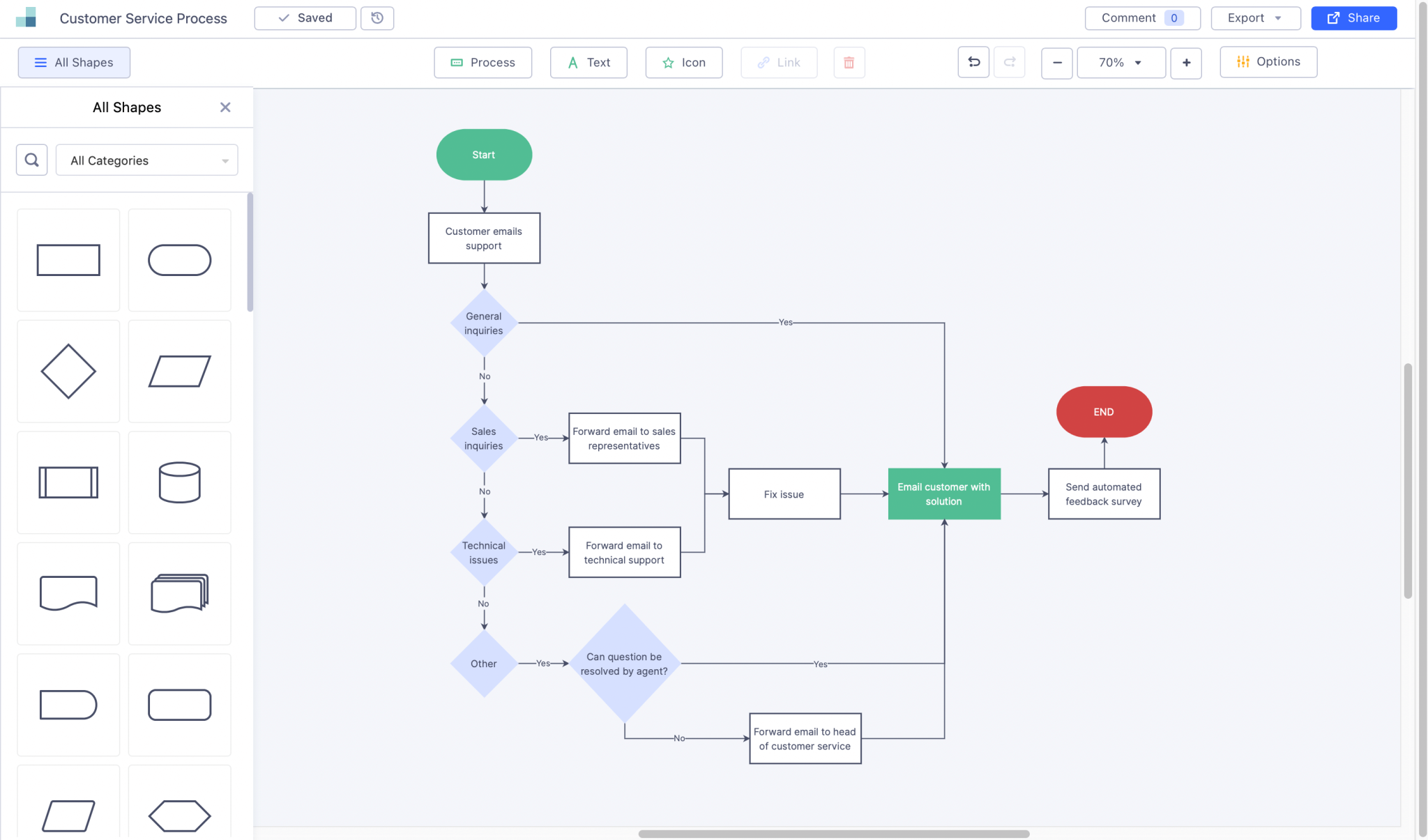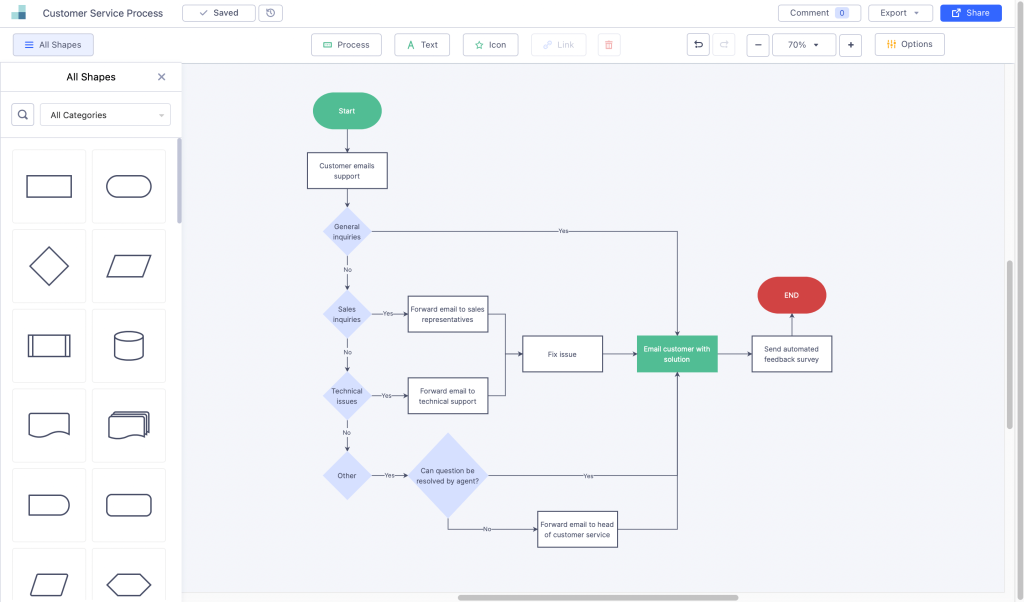 Top Features
Online Use: Just click the link and get to work.
One Click: Create a flowchart in no time at all.
Formatting Library: Zen Flowchart has a great shape library and different templates to help you design your diagrams.
Real-time Collaboration: Communicate, comment, and edit your work with your team in real time.
Pros
Use Zen Flowchart for free, taking advantage of its numerous shapes and templates to create your diagrams without paying anything
Export your chart in PDF, PNG, or JPEG and share via social media or email
Cons
Some limits of customization options to create flowcharts
Pricing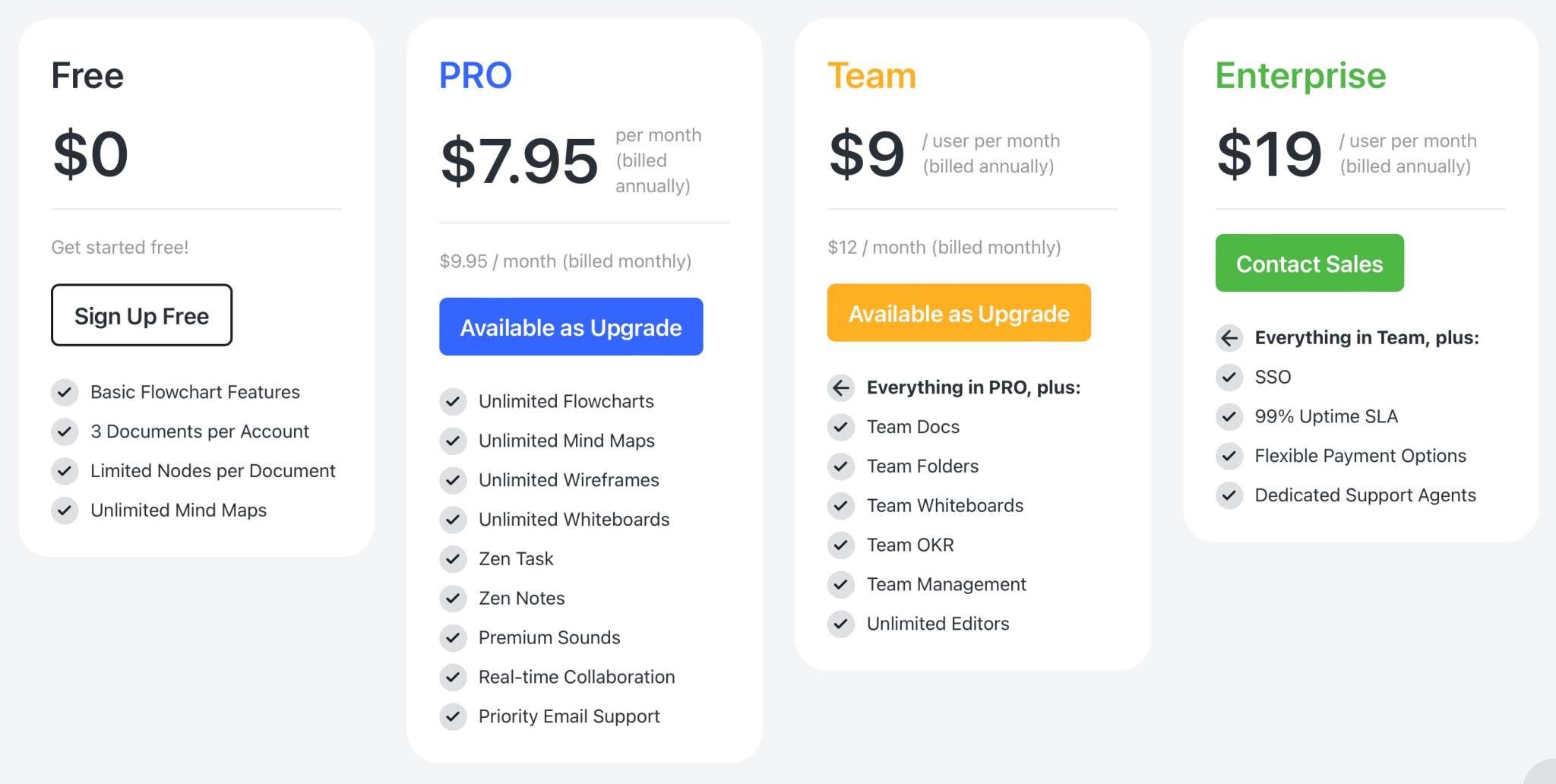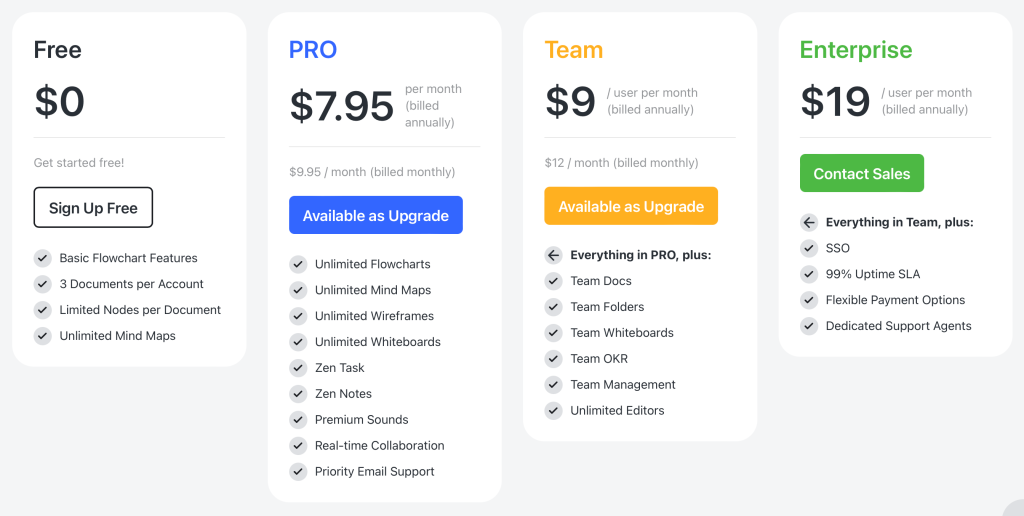 You can use Zen Flowchart for free, but for unlimited features and team collaboration, you'll need to pick up one of the pricing plans:
Free ($0/mo per user): To use the essential features, sign up for a free account.
PRO ($7.95/mo per user): This package includes unlimited access to all software features. Collaborate with your team in real time.
Team ($9/mo per user): This plan is for team members. Work together and share everything.
Enterprise ($19/mo per user): Use this package if you need SSO features.
Why we recommend this tool: We recommend this tool because it is easy to use and has a wide range of features to help you create professional-looking flowcharts quickly and easily.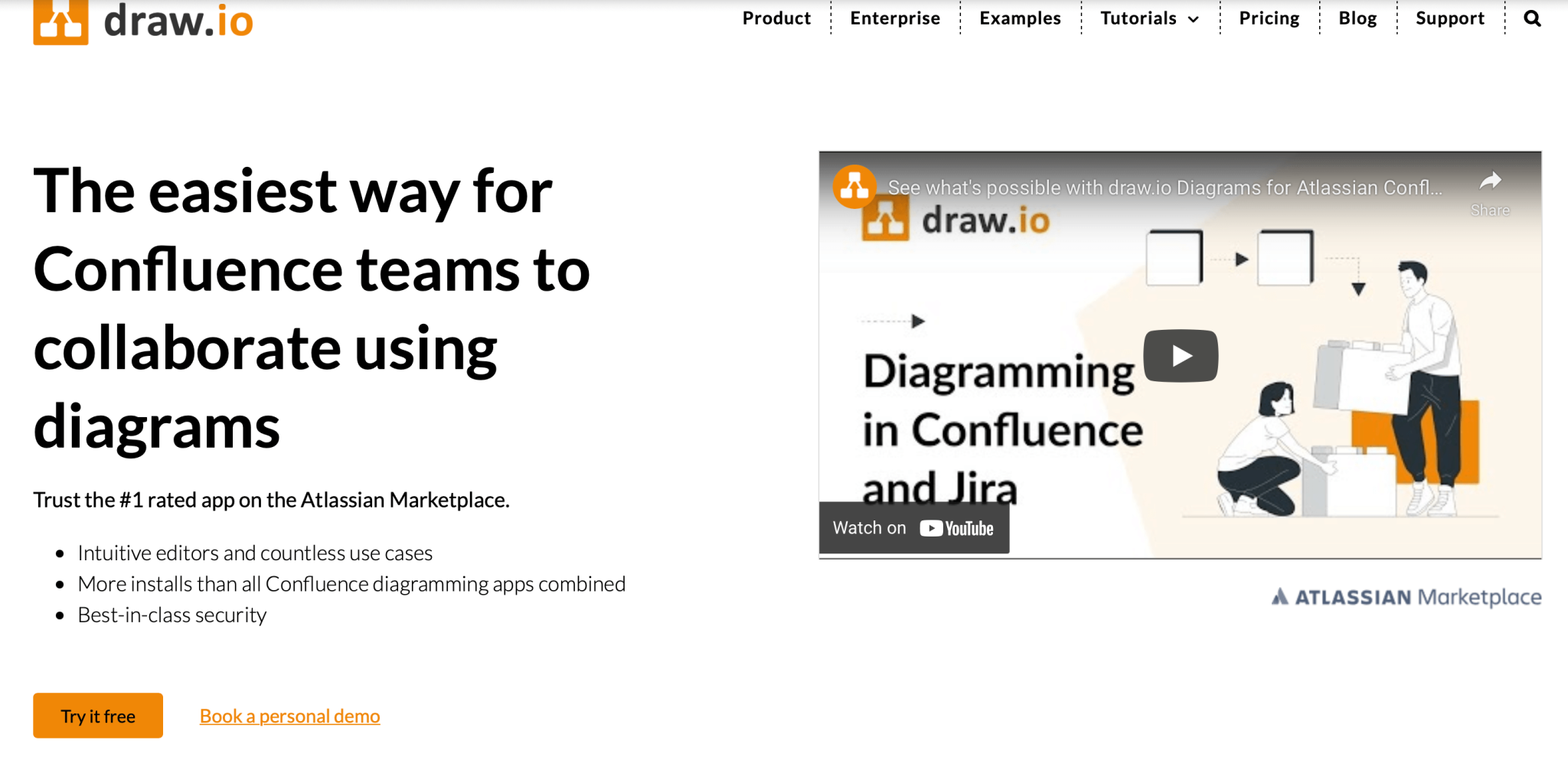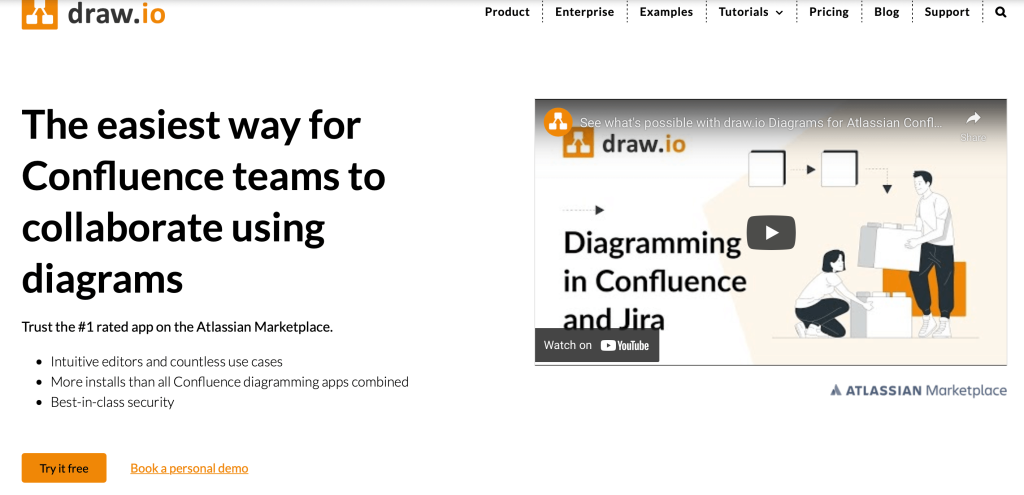 Draw.io is a free online flowchart maker that helps you draw beautiful, professional flowcharts. With its easy-to-use interface, you can create flowcharts without any prior experience.
Draw.io also comes with a wide range of templates that you can use to quickly create clean, polished flowcharts.
One of the main advantages of Draw.io is that you can use it for free online.
Top Features
Visual Communication: Create flowcharts with your team through Draw.io's native collaboration tools.
Bright Formatting: Pull from an extensive library of different shapes to create an effective, eye-catching flowchart.
One-click Export: Import and export your files in one click to Gliffy, Visio, Lucidchart, Google Drive, and One Drive.
Pros
Use Draw.io for free, without the need to sign up
Extensive library of ready-to-go templates
Many shapes and images available to help you style your flowchart
Cons
It needs some improvement if you work via a web browser
Lags with very complex diagrams
Pricing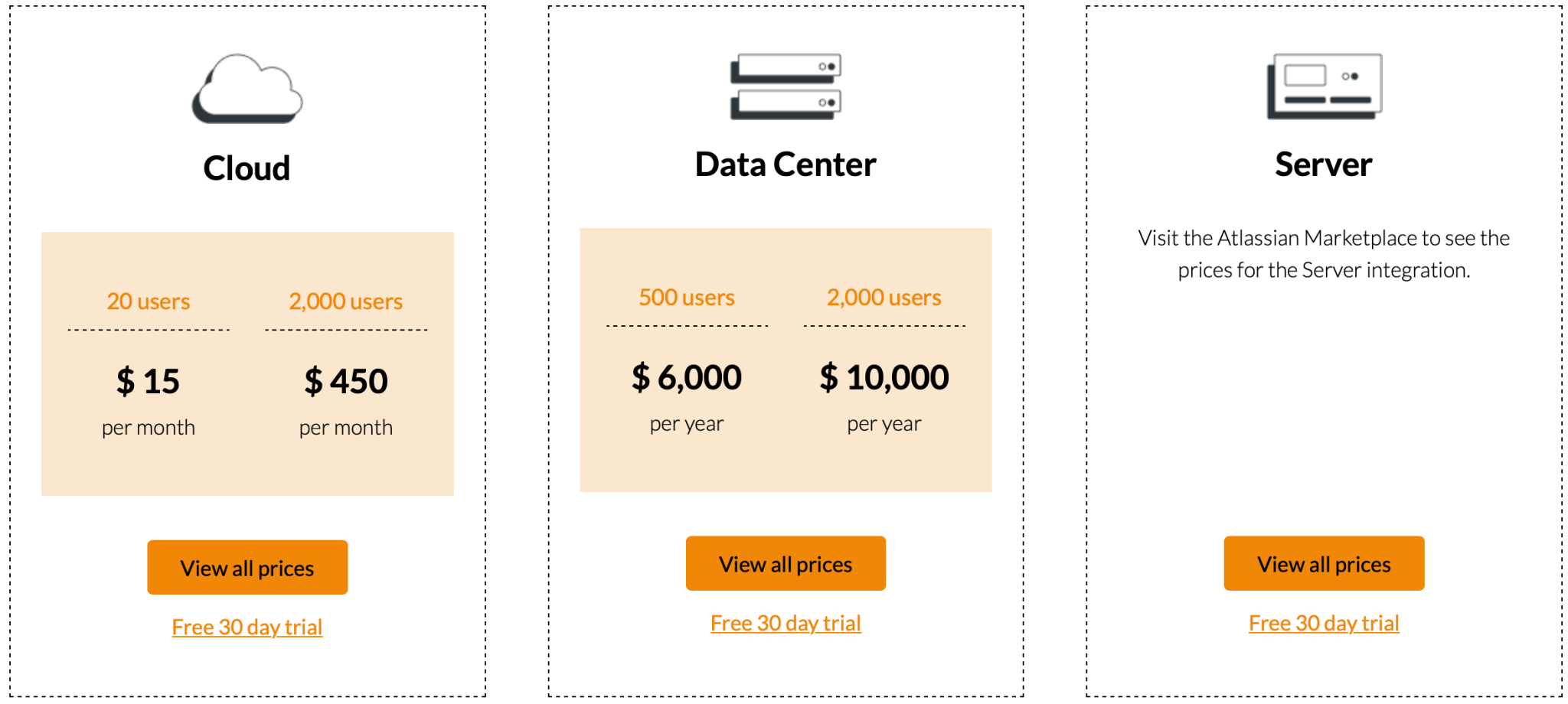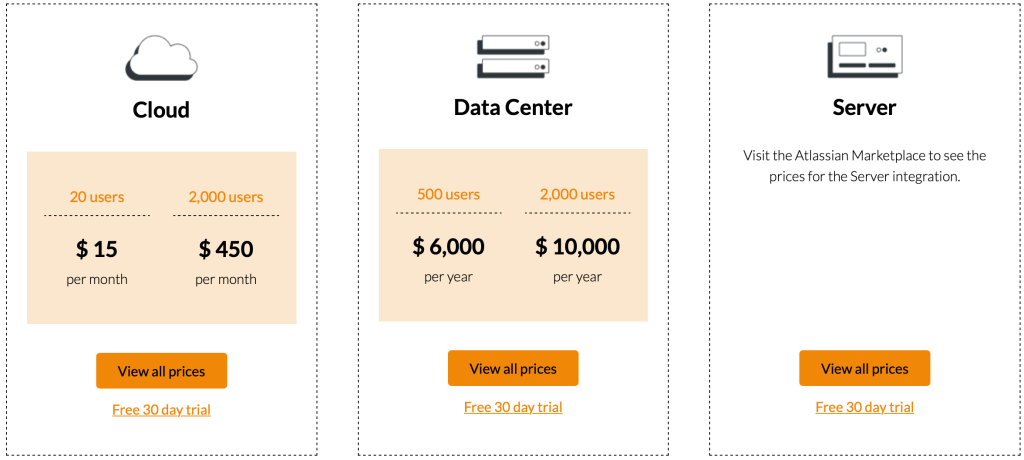 As mentioned before, Draw.io is free online software. However, you will find some pricing plans that offer better collaboration with your team.
Cloud (up to 20 users $15/mo, up to 2,000 users at $450/mo): Collaborate with your team and keep your data under control. You will also get Atlassian Cloud Fortified status for enterprise-grade security, reliability, and support.
Data Center ($6,000 to $10,000/mo, depending on the number of users): This package is built for behind the firewall and includes a core team's support in your timezone.
Server: Visit the site for a price and for more information.
Why we recommend this tool: Draw.io is the most straightforward software for creating professional diagrams simply online for free.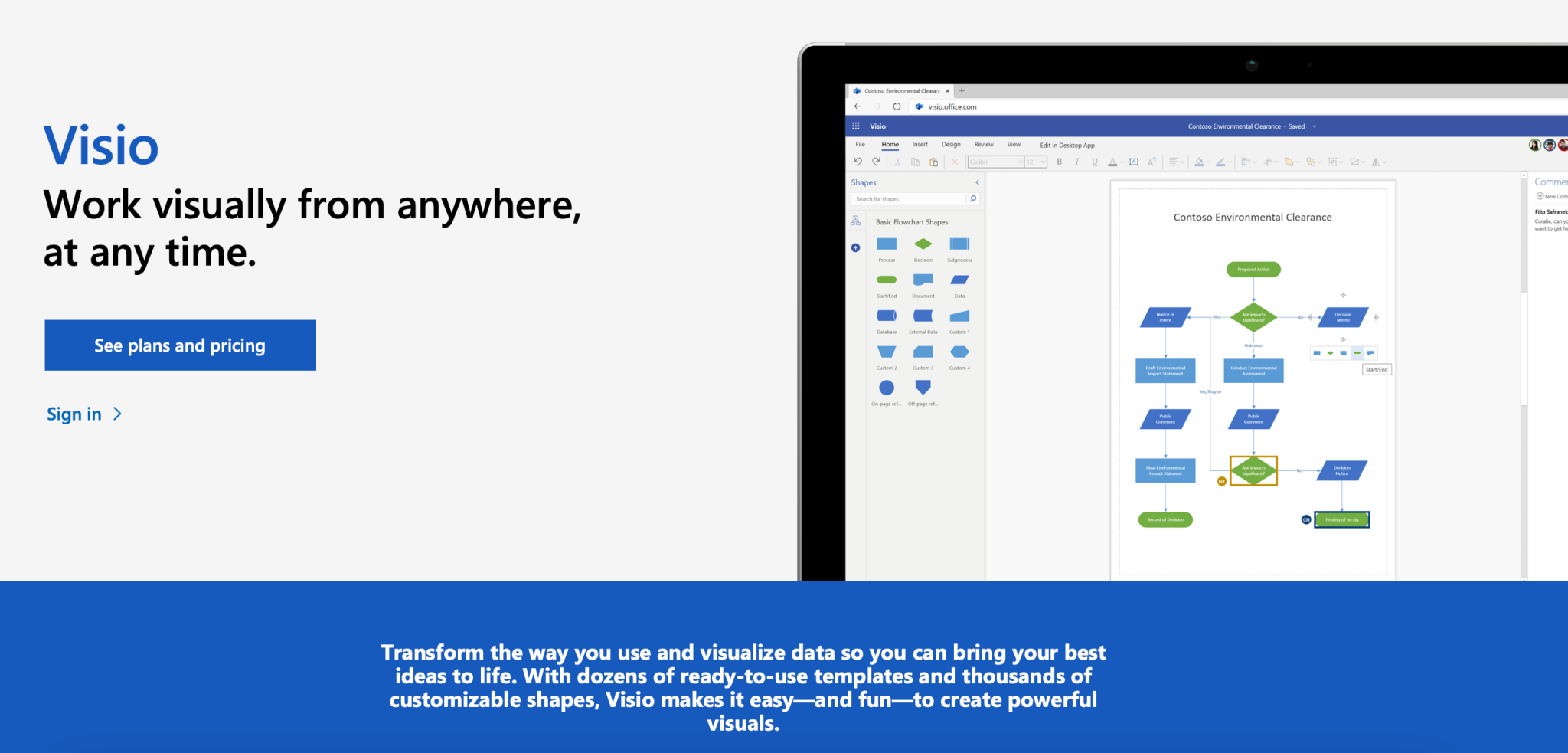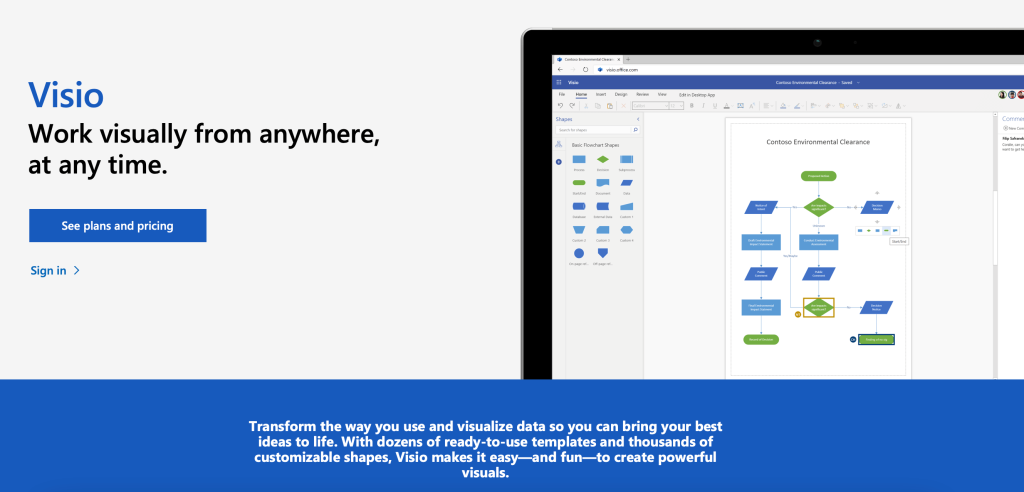 Visio is a powerful flowcharting tool that comes with a wide range of features to help you create professional-looking diagrams quickly and easily. With Visio, you can add shapes and connect them to create stunning visuals.
Top Features
Customizable Shapes: Use Visio to create your shapes and stencils or modify existing ones to meet your specific needs.
Compatibility: Visio is compatible with Microsoft programs such as Word, Excel, and PowerPoint. This allows you to share your diagrams with others without too much trouble.
Real-time Collaboration: Work on your diagrams with others in real time. This makes it easy to get feedback and make changes to your diagrams quickly.
Pros
A potent diagramming tool that has a wide range of features
Easy to use with a great library of built-in shapes and templates
Compatible with Microsoft programs
Cons
Visio can be expensive for some users
Some users may find Visio to be overwhelming at first
Pricing


Visio pricing has a couple of monthly plans to choose from:
Visio Plan 1 ($5.00 user/month): With pricing package, you will get some basic features to create flowcharts with the web version of Visio.
Visio Plan 2 ($15.00 user/month): Intelligent formatting, all possible features, shapes, and templates are included in this plan. Connect your data and easily collaborate with your team.
Visio also offers a couple one-time purchases:


Visio Standard 2021 ($309.99 one-time payment)
Visio Professional 2021 ($579.99 one-time payment)
Why we recommend this tool: We recommend Visio because it is a very powerful diagramming tool with a wide range of features. It is also easy to use and comes with a wide range of built-in shapes and templates.
What Are the Benefits of Using Flowchart Software?
Because flowcharts can be a powerful visual tool for both individuals and businesses, finding the right software for your needs is essential. With the right program, you can create diagrams with ease. 
There are many benefits that come with using software specifically designed to create flowcharts and other similar diagrams:
It can help businesses document and visualize complex processes, making it easier for companies to communicate these processes to employees, customers, and stakeholders. The charts can be as simple or complex as needed.
Flowchart software can also help with the description and layout of each point, offering a variety of shapes and templates to simplify the process.
Create diagrams for presentations or marketing materials, saving and sharing these projects in many different formats.
The Wrap Up
Picking the best flowchart software can be a difficult task. There are many different options available on the market, and it can be hard to know which one is right for you. As with many other things, price is also an important factor to consider.
In this article, we covered seven of the best flowchart software options available today. Choose the one that best fits your needs and create a professional flowchart for your business today.