Organization is an essential part of any event. For those that require a seating arrangement, having the best software to effectively design a seating chart is a must.
There are a variety of methods to construct seating charts, from manual design to the use of software to assist. Different software applications are available to help you create your own seating chart; however, not all are created equal.
What Is the Best Seating Chart Software to Use in 2023?
In the search for the right seating chart software, you will quickly come to realize that there are many options out there. Take a look at the list below to get an idea of some of the top programs available.
Some are entirely free, while others require a paid membership. Find the solution that's appropriate for you and your event.
Planning Pod
AllSeated
Socialtables
SmartDraw
Creately
TopTablePlanner
EdrawMax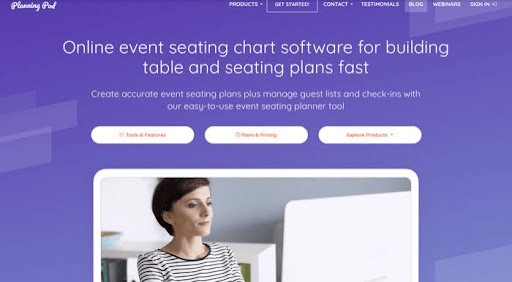 Planning Pod event software includes a seating chart tool that allows you to create both indoor and outdoor seating charts. You can use Planning Pod to run your event from beginning to end—it contains all you need to keep everything moving smoothly. 
With Planning Pod, you can even import data from Excel to get started on designing your event.
I recommend this must-have tool because it is comfortable, and everything can be accomplished in one place. Additionally, it saves time and money.
Top Features
Easy to use: Planning Pod is easy to use due to its drag-and-drop functionality.
Convenient menu: Identify and remove elements and instantly duplicate, rotate, and add/remove chairs.
Extensive library: This software has a huge library of different shapes, table designs, and chairs.
Pros
Easy to use
Massive library filled with different shapes and sizes
Ability to create your logo
Option of reusable templates
Create guest lists
Cons
Not available in all countries
Pricing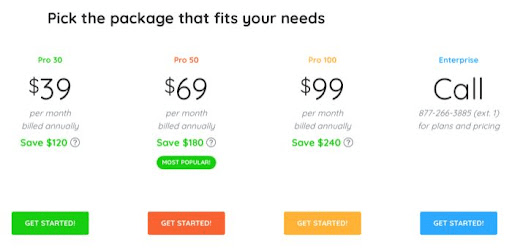 Planning Pod has different packages to choose from, depending on the maximum number of events you can create.
Whatever price plan you go with, all plans come with an unlimited number of users and a vast collection of components and shapes. Every package includes usability and formatting tools.
Pro 30 ($39/mo per user)
Pro 50 ($69/mo per user)
Pro 100 ($99/mo per user)
Enterprise
Why we recommend this tool: If you are looking for an all-in-one software to help you with every step of your event, from planning to execution, then Planning Pod is a great option. Its wide range of features and easy-to-use interface are a top choice for event planners.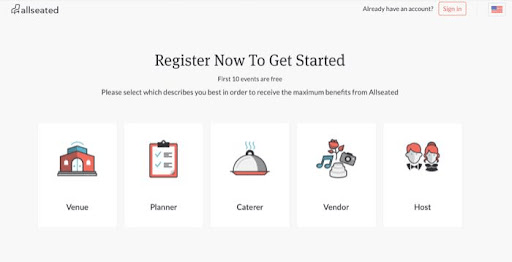 AllSeated is great for creating floor plans for your event. You can use it through the web or mobile app to manage all the details and custom seating charts. The software also offers a guest list manager and RSVP tracking. Monitor your seating charts using the virtual walkthrough option. 
This software provides many different options together with an intelligent menu to help you create the best seating chart for your event.
I like the AllSeated software because of its 3D views and virtual walkthrough.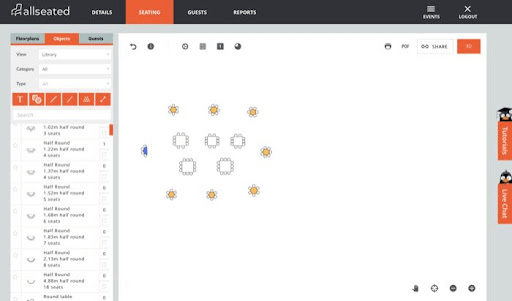 Top Features
Floor plans: AllSeated offers a wide range of floor plan templates that you can use for your events. You can also create custom floor plans.
3D view: The software's 3D view feature lets you see how your event space will look with your chosen furniture and décor.
Guest list manager: With AllSeated, you can manage your guest lists and RSVPs in one place. The software also offers the option in its seating chart tool to assign seats to your guests.
Example of 3D view: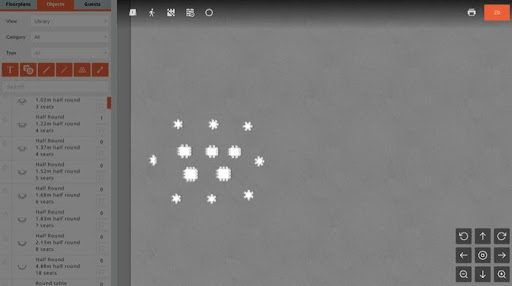 Pros
2D/3D floor plan option
Guest list manager
RSVP tools
Seating chart generator
Cons
The free version has limited features.
Pricing
Contact for more information about pricing.
Why we recommend this tool: This tool has a wide range of different elements and shapes. Given that AllSeated has an app available, you can also use this software on mobile or tablet.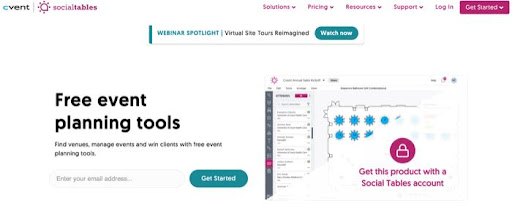 Socialtables is designed for putting together event schedules while also providing the opportunity to create seating charts. Its superb setup and maintenance are impressive. Socialtables offers templates and diagrams to help you to bring your events to life in just a few minutes.
One of the advantages of Socialtables is its 3D view option, which allows you to see the location for the event to help take its size and layout into consideration. Use the program to design unique floor layouts and control your guest list. 
I prefer Socialtables because this software is intuitive, and you can create diagrams in minutes. Its extensive library filled with many different templates allows you to do this with no trouble at all.
Top Features
Large library: Socialtables provides a large selection of floor plan templates to use for your events. 
Simple interface: Create custom diagrams in one click with flexible templates. 
Guest list manager: With Socialtables, keep track of your guest lists and RSVPs in one location. You may also use the software's seating chart builder to assign seats to your visitors.
Virtual walkthroughs: Socialtables' 3D view option allows you to imagine how your event area will look when it's finished.
Real-time collaboration: Communicate with your team regarding all updates.
Pros
Easy to use
Multiple layout options
Customize items to fit your space
Cons
No mobile app 
Some bugs after updating
Not many furniture options
Pricing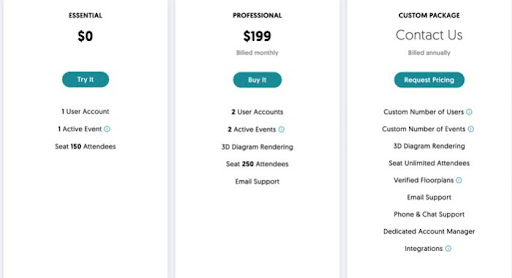 Essential ($0/mo per user): To give the Socialtables software a try, check out the Essential package. It allows you to create one event with up to 150 attendees for free.
Professional ($199/monthly): This package includes the 3D view feature and support via email. It allows two users to create two active events with 250 attendees.
Custom package (contact site for price details): This is a pro package that includes all possible features of the Socialtables software. Don't limit yourself!
Why we recommend this tool: Socialtables is a great tool for setting up seating charts. It has a free trial plan that allows you to create one event so you can get a feel for the program itself. With its vast library and different features, you can set up a seating plan with no trouble at all.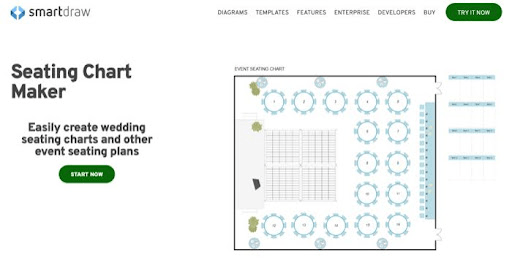 SmartDraw is an AI-powered software that makes it easy to create professional diagrams, including seating charts. There are several different templates in SmartDraw that may be used to produce a seating chart quickly. You can also use drag-and-drop symbols to build your chart. Customize your plan with colors, textures, and even imported graphics in SmartDraw. 
I like this software because you can create your diagram in minutes, using just a few clicks. You can also share with your team in real-time.
Top Features
Intuitive interface: The software's intuitive interface makes it easy to create diagrams, even if you're not a technical expert.
Templates and examples: SmartDraw comes with a wide range of templates and examples that you can use to create your diagrams.
Auto-layout: The software's auto-layout feature automatically arranges your shapes and objects in the most efficient way possible. This saves you time.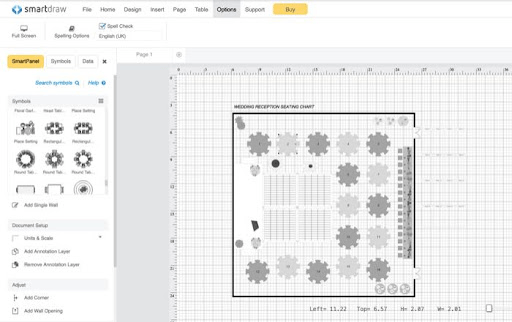 Pros
Drag-and-drop interface
Custom seating charts
Wide range of templates
Free trial plan
Cons 
Too many tools listed in the sidebar navigation
Not enough example shapes
Pricing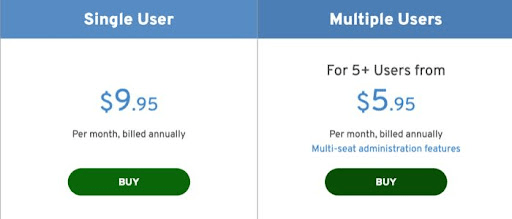 Free plan ($0/mo per user): This package includes essential features to create seating charts.
Single user ($9.95/mo per user): This plan includes all features. Create your charts using a library filled with symbols, templates, shapes, and objects.
Multiple users ($5.95/per month, for 5+ users): This plan offers the multi-seat administration features you will need to create your seating chart.
Why we recommend this tool: Over 70 templates are provided by SmartDraw for every occasion requiring a seating chart. With its simple drag-and-drop interface, you can quickly generate your distinctive seating chart. Give it a try and see if it's the right choice for you.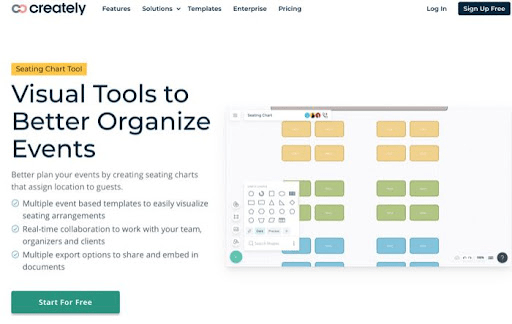 Creately is a great option if you're looking for powerful, easy-to-use seating chart software. With Creately, you can quickly create and share your seating chart online and even export your seating chart as an image or PDF. There are numerous event-based designs available in Creately to quickly display seating arrangements.
I like Creately because this software is made for everyone—for anybody who needs to put into visual form their thoughts, ideas, plans, or procedures: engineers, business analysts, human resources experts, network engineers, designers, educators, business owners, and many others.
Top Features
Intuitive interface: Creately is an easy-to-use app with an intuitive interface.
Event-based designs: In Creately, there is a large library of different shapes and symbols for each type of event.
Export as an image or PDF: Creately's shared charts can be exported as an image or PDF.
Real-time collaboration: Communicate with your team in real-time and share all changes you make.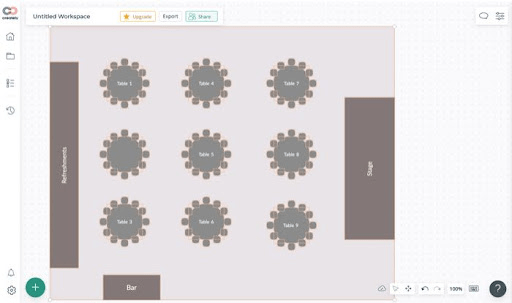 Pros
Easy to use
Numerous event-based designs
Export your charts as images or PDFs
Cons
Limited shapes and objects in the library
Pricing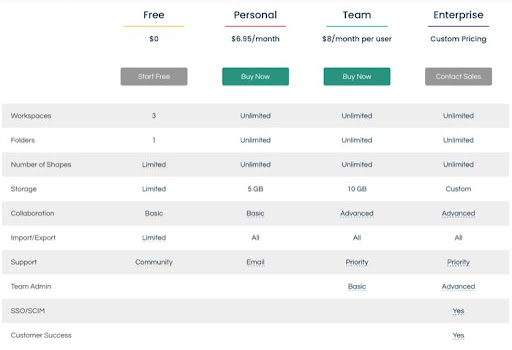 Free ($0/mo per user): You can have up to three workspaces and one folder with the Basic package. This is a great option if you just want to try out the software.
Personal ($6.95/mo per user): This package includes unlimited access to the library, workspaces, and folders. There is also up to 5GB of storage, essential collaboration, and support via email.
Team ($8/mo per user): This plan has more advanced features, collaboration with your team, and support.
Enterprise (contact for details): Using this plan will give you full access to all the features of Creately software. This plan also includes SSO/SCIM.
Why we recommend this tool: Creately is an excellent option for a powerful and simple-to-use seating chart builder. Quickly make and share your seating chart on Creately.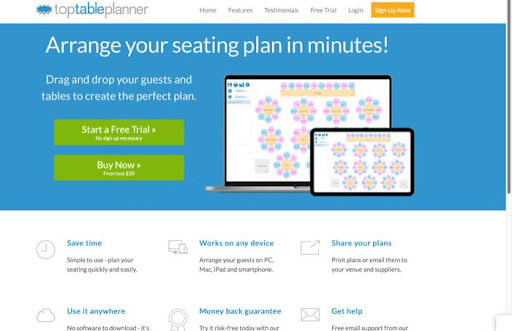 TopTablePlanner is specifically designed for weddings, and it's easy to see why it's so popular with couples preparing for their marriage ceremony.
It's user-friendly and allows you to input all sorts of information about your guests, including names, dietary restrictions, and any special needs they may have. You can then drag and drop guests into their seats, attaching notes to each, and even print out your seating chart on the big day.
You can also share your seating chart with others via email or social media. TopTablePlanner offers a free trial so you can try the software before you buy it.
Top Features
Ease of use: TopTablePlanner software is easy to use and navigate. It has a user-friendly interface that makes it simple to create and edit your charts.
Variety of charts: TopTablePlanner offers a variety of features, templates, shapes, and objects to create different charts.
Customizability: The ability to customize your charts in TopTablePlanner is enormous, so you can create the exact layout you need.
Export options: Once you have created your chart, you may want to share it with others or use it in another program. TopTablePlanner allows you to export your charts in various formats, such as PDF or email.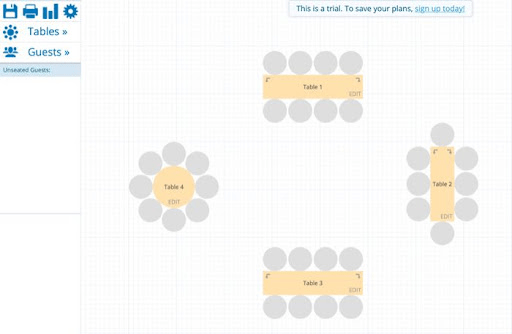 Pros
Choose a table type and the number of seats
Add guests and assign them to tables
Free trial plan
Works with all possible web browsers
Cons
Limited features with a free trial version
Pricing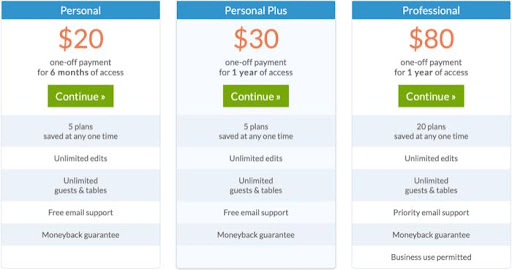 TopTablePlanner offers three packages:
Personal ($20/one-off payment for six months): This plan includes unlimited access to the whole library and the ability to save five plans at one time.
Personal Plus ($30/one-off payment for one year): In this package, you will get unlimited customization tools, free email support, and a moneyback guarantee.
Professional ($80/one-off payment for one year): This plan is for business use, with the ability to save up to 20 plans at any one time.
We recommend this tool: TopTablePlanner has a simple interface, so you can organize your event quickly and easily.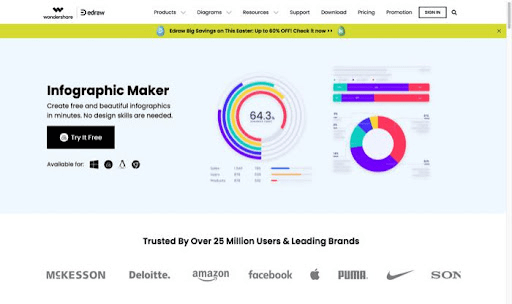 EdrawMax is a versatile diagramming tool that supports over 200 types of diagrams, including seating charts. It offers a wide variety of templates and symbols to help you create professional-looking diagrams while also providing the option to export your diagrams in a variety of formats.
Its ease of use and numerous features make it a great choice for creating seating charts. Add text and images to your diagram and change the color and style of the elements.
Top Features
Powerful visualization: With a simple Microsoft-style user interface, drag and drop system, and expert template resources, you'll be up and running in no time.
Large library: With over 280 diagram type options, 3,500+ templates, and over 26,000 symbols, you and your team can use EdrawMax at each step of the way.
Software support: If you have any concerns, the team at EdrawMax is here to help.
Collaboration with the team: Create sharing links, publish on social media, and help export floor plans as PDF(print to scale), high-resolution PNG, JPEG, or SVG. Visio, PowerPoint, Word, and Excel documents can be edited within EdrawMax.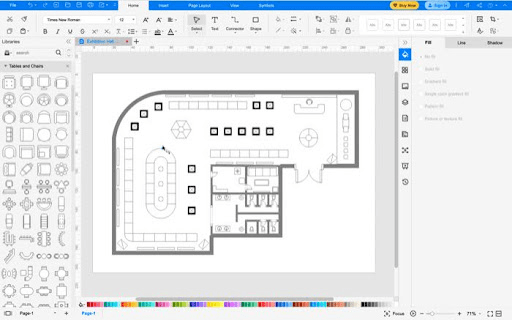 Pros
Highly responsive toolbars and functions
Produce new or change existing financial slides rapidly and simply
Easily export from Visio
Cons
Pricing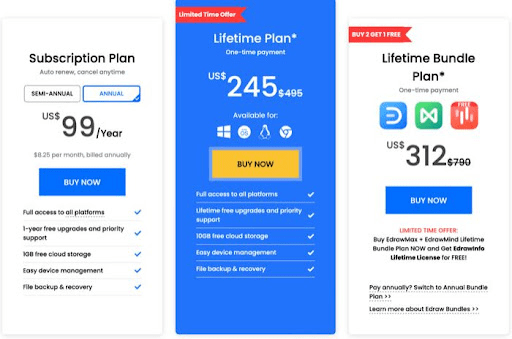 Individual pricing plans include three different packages:
Subscription Plan ($8.25/mo per user): This package gives you full access to all the platforms of EdrawMax and 1GB of free storage to save your goods.
Lifetime Plan ($245 one-time payment): This plan includes all features and 10GB of free storage cloud.
Lifetime Bundle Plan ($312 one-time payment): Gain access to all platforms of EdrawMax, including EdrawMind and EdrawInfo, by buying one package.
Why we recommend this tool: If you need to make a seating chart for an event, we recommend EdrawMax. This tool is easy to use and offers many features to help you create professional-looking diagrams and charts.
The Wrap Up
When it comes to putting together the seating arrangement for an event, there are a number of different software options available to help smooth out the process. It's essential to know what you need so you can make the right choice. 
With this review of some of the top seating chart software available today, may you find the one that will help make your event an event to remember.