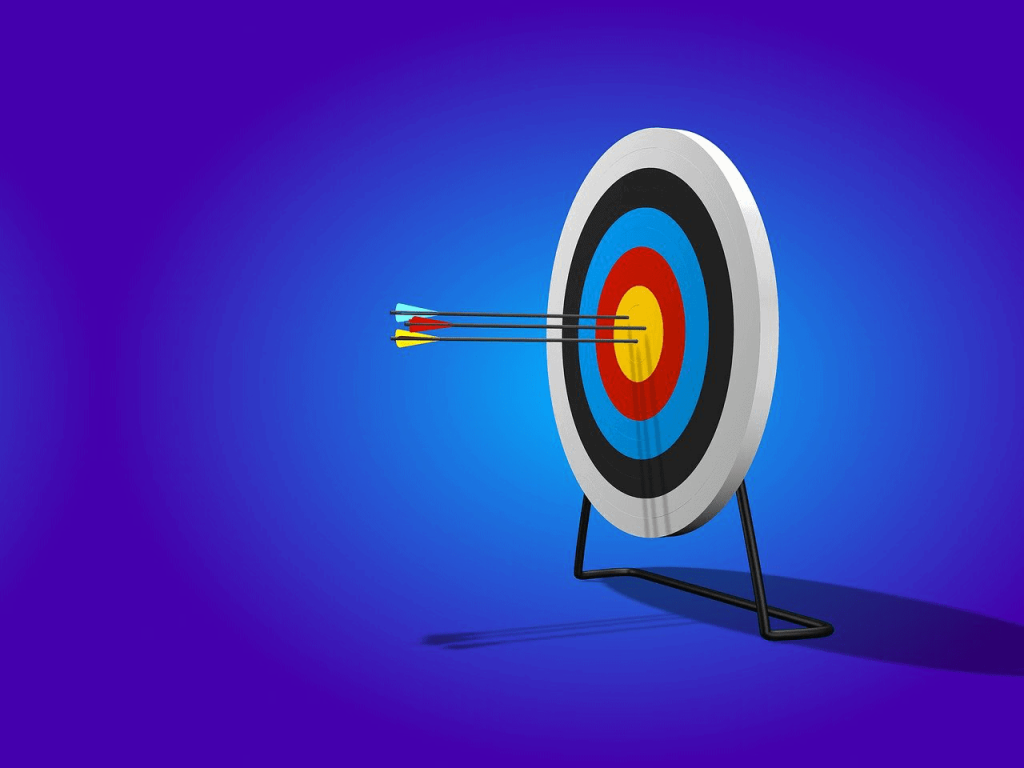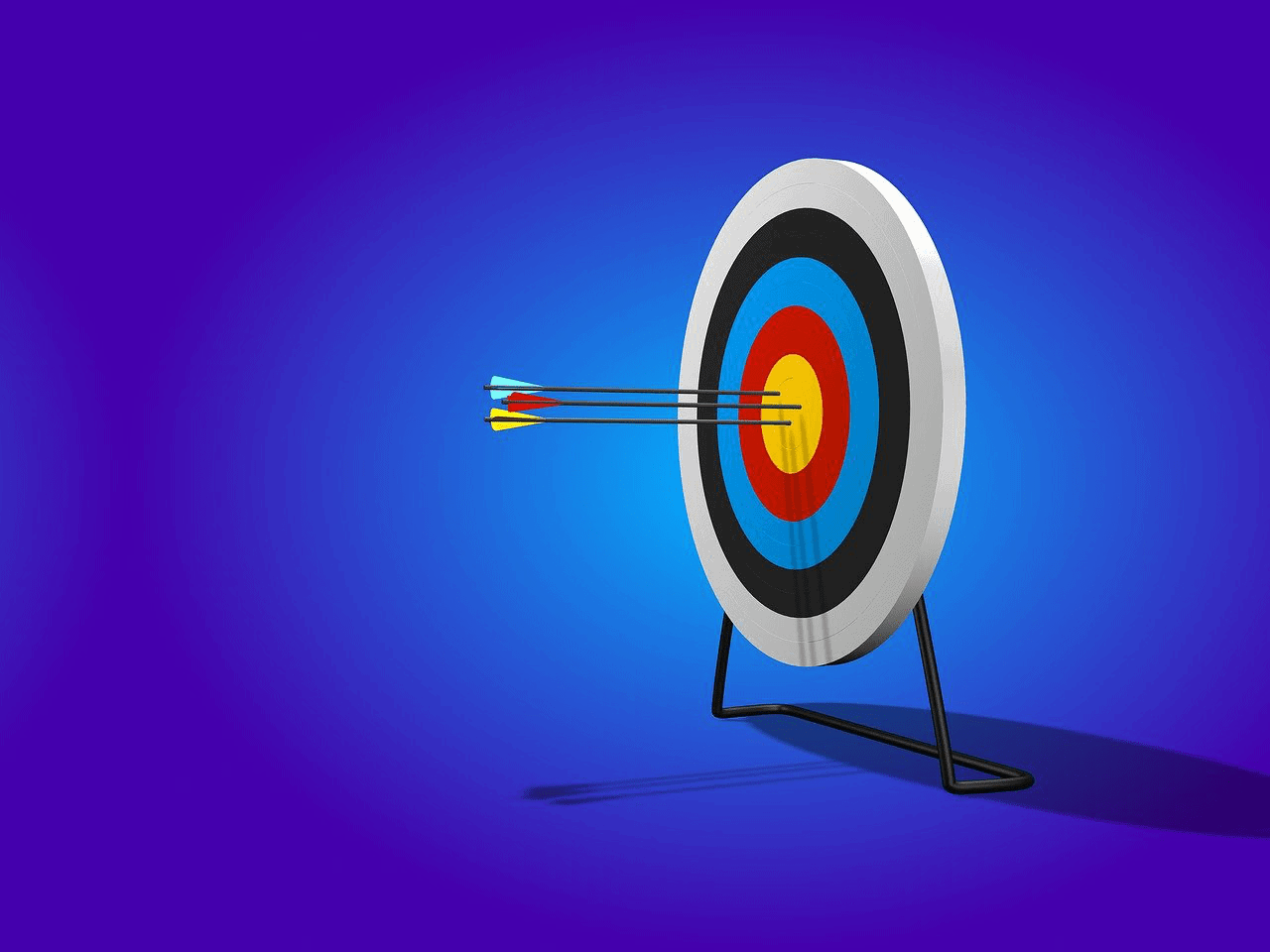 Excel is an incredibly powerful program that can help you with any task, from creating a budget to analyzing data.
Most of us know how to do some simple tasks without ever systematically developing Excel proficiency, drastically missing out on the opportunities to become ten times more effective and save a ton of time in the long run.
The best way to get the most out of this program is by taking an Excel course to fill the gaps in your skills.
In this article, we review the best Excel courses currently available today based on features, duration, pricing, certification, and customer reviews.
What Are the Best Excel Courses?
Here are our top picks for the best Excel courses with certification to try this year:
Microsoft Excel – Excel from Beginner to Advanced (Udemy)
Excel Video Training (Microsoft)
The Complete Microsoft Excel Course (New Skills Academy)
The Ultimate Microsoft Excel Essentials Training Course (Skillshare)
Master Microsoft Excel (LinkedIn Learning)
Acuity Training
Best for beginners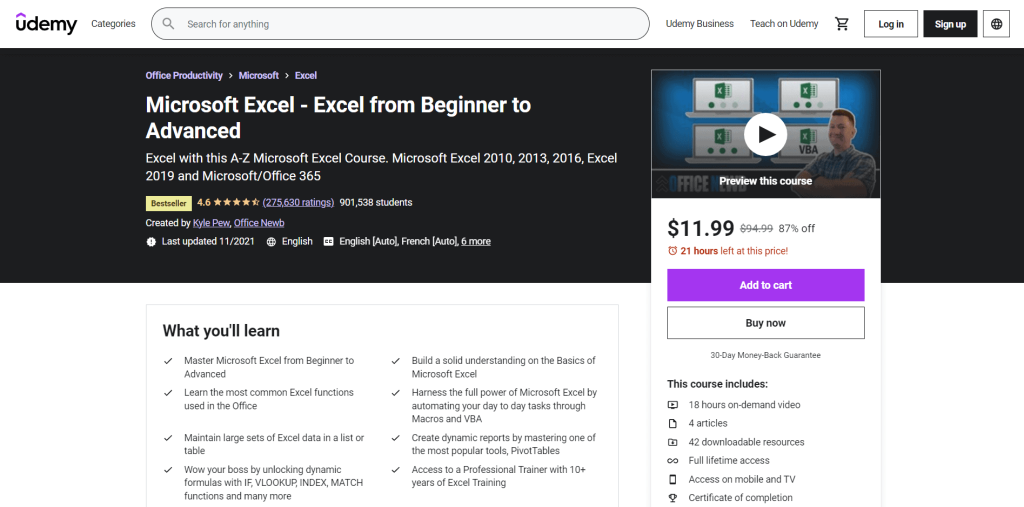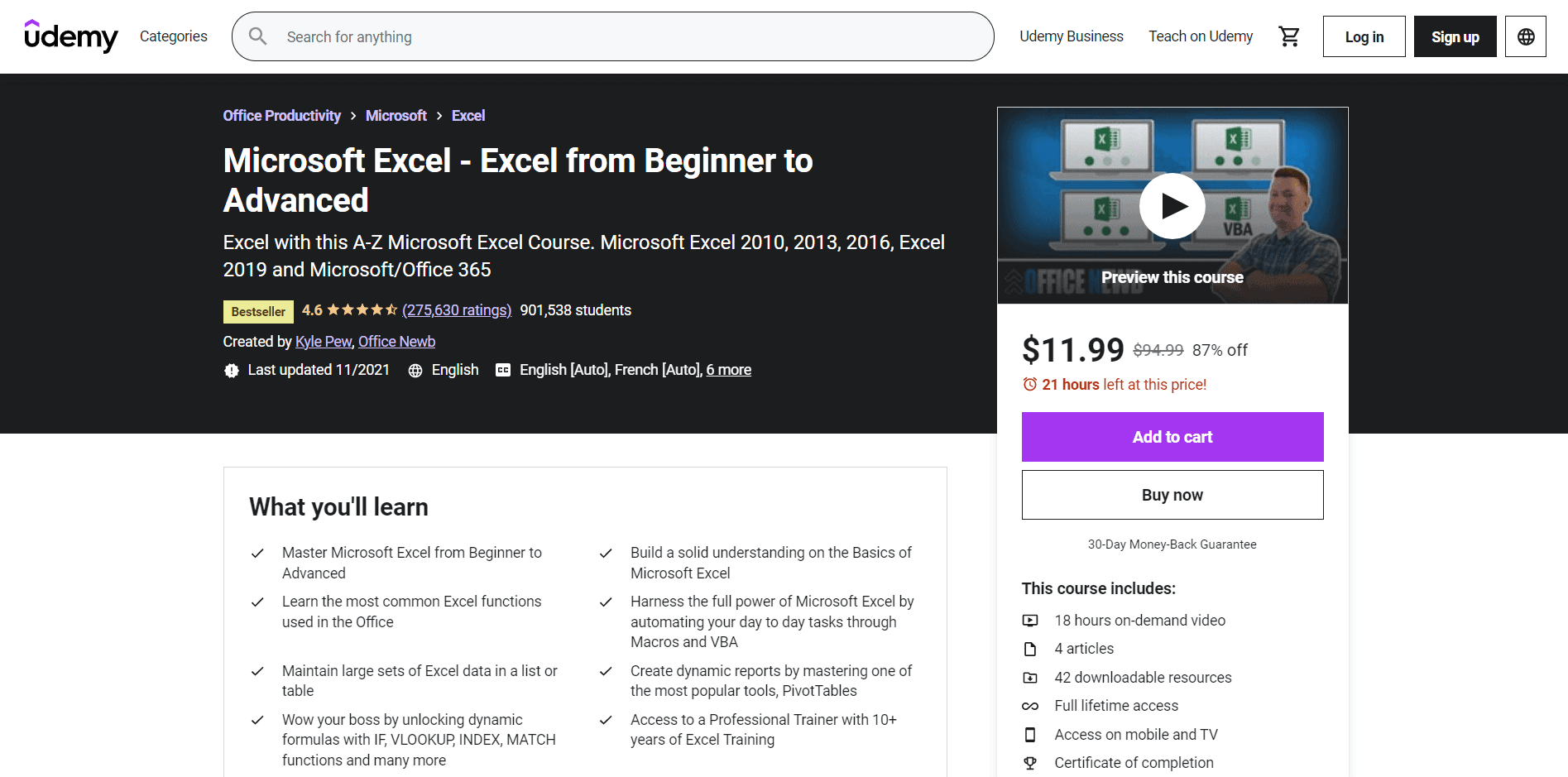 This course is the most optimal option for beginners looking to learn Microsoft Excel from scratch. The course was created by Kyle Pew, a Microsoft Certified Trainer with more than two decades of experience.
It starts with the basics of navigating the spreadsheet and finishes by teaching some more advanced techniques like creating PivotTables, IF statements, macros, and VBA.
Key Topics
The course is broken down into four massive modules to help you quickly become a spreadsheet guru:
An Introduction to Excel Microsoft Excel – the module helps complete newbies make their first baby steps in Excel.
Intermediate Level Excel Microsoft Excel – this module introduces more advanced features and tools like multi-level sorts, deduping, and many more tricks.
Advanced Level Excel – this module covers professional tools like lookup and text functions to supercharge your workflows.
Master Microsoft Excel Macros and VBA – this module will help you become a true power user by teaching you how to master macros and VBA.
Features
18+ hours of video content
Full lifetime access
42 downloadable resources
Certification: Yes
Pricing: $11.99
Why we love this course: This course provides an excellent introduction to Excel for beginners.
Best free Excel training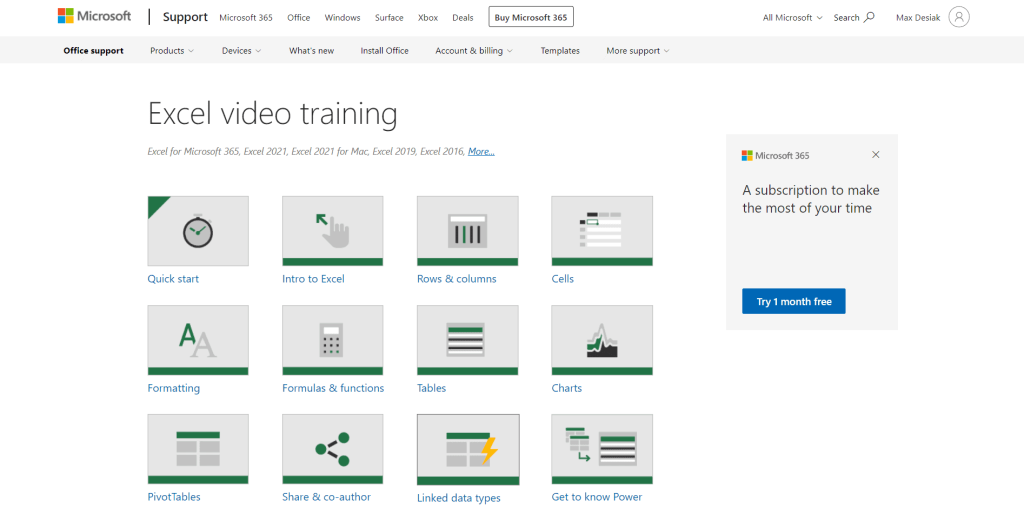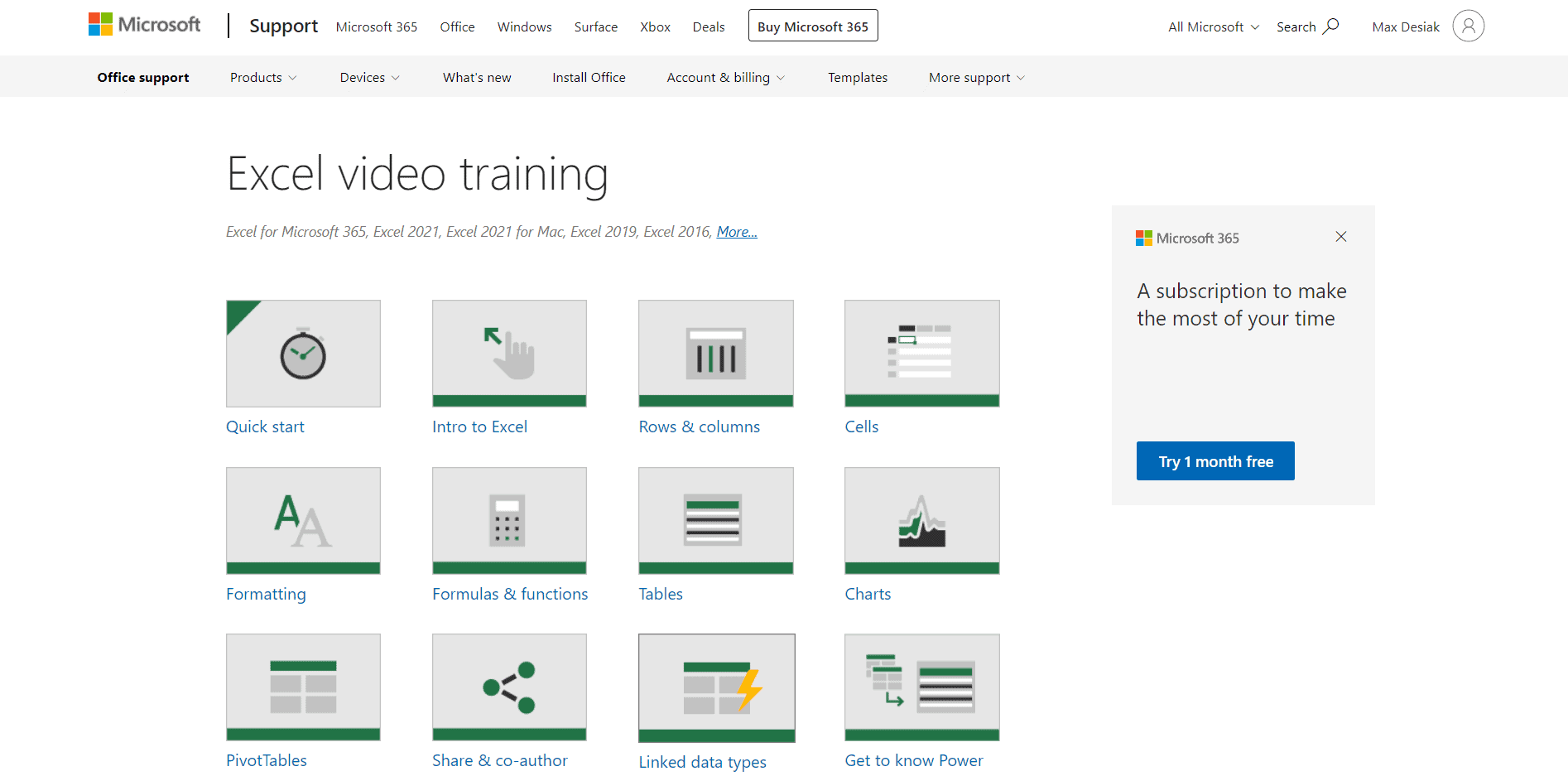 Want to learn useful Excel tricks without paying a dime? This Microsoft Excel resource hub is the best free training you can find.
With easy-to-follow instructions and tons of video content, you can quickly improve your Excel proficiency.
However, the lack of structure and feedback loops typically provided by paid courses can slow down your progress.
Key Topics
Rows & columns
Cells
Formulas & functions
Charts & tables
Data formatting
Features
16 quick modules
Beginner-friendly content
Completely free (no signup required)
Certification: No
Pricing: $11.99
Why we love this course: Though lacking structure, this free Excel course is great for beginners who want to explore the basics of the program.
Best for corporate training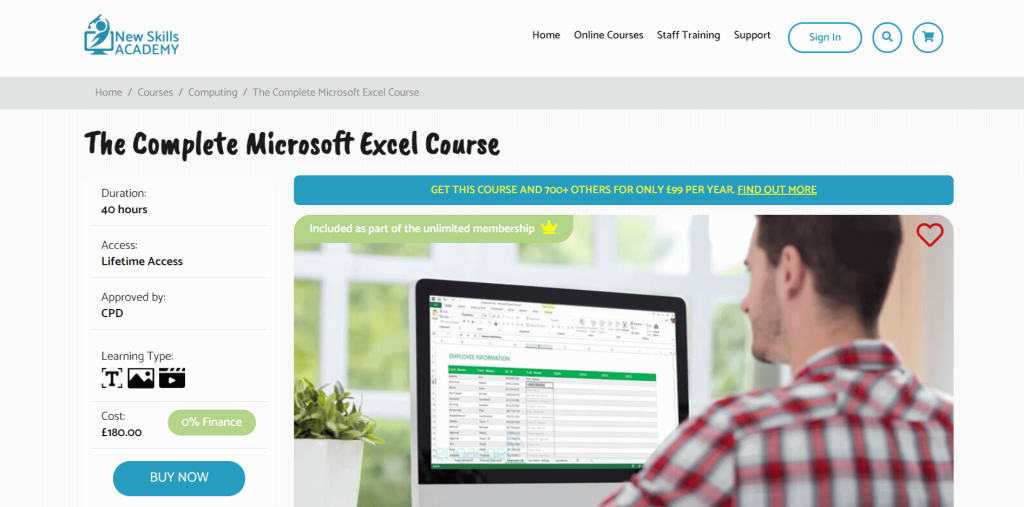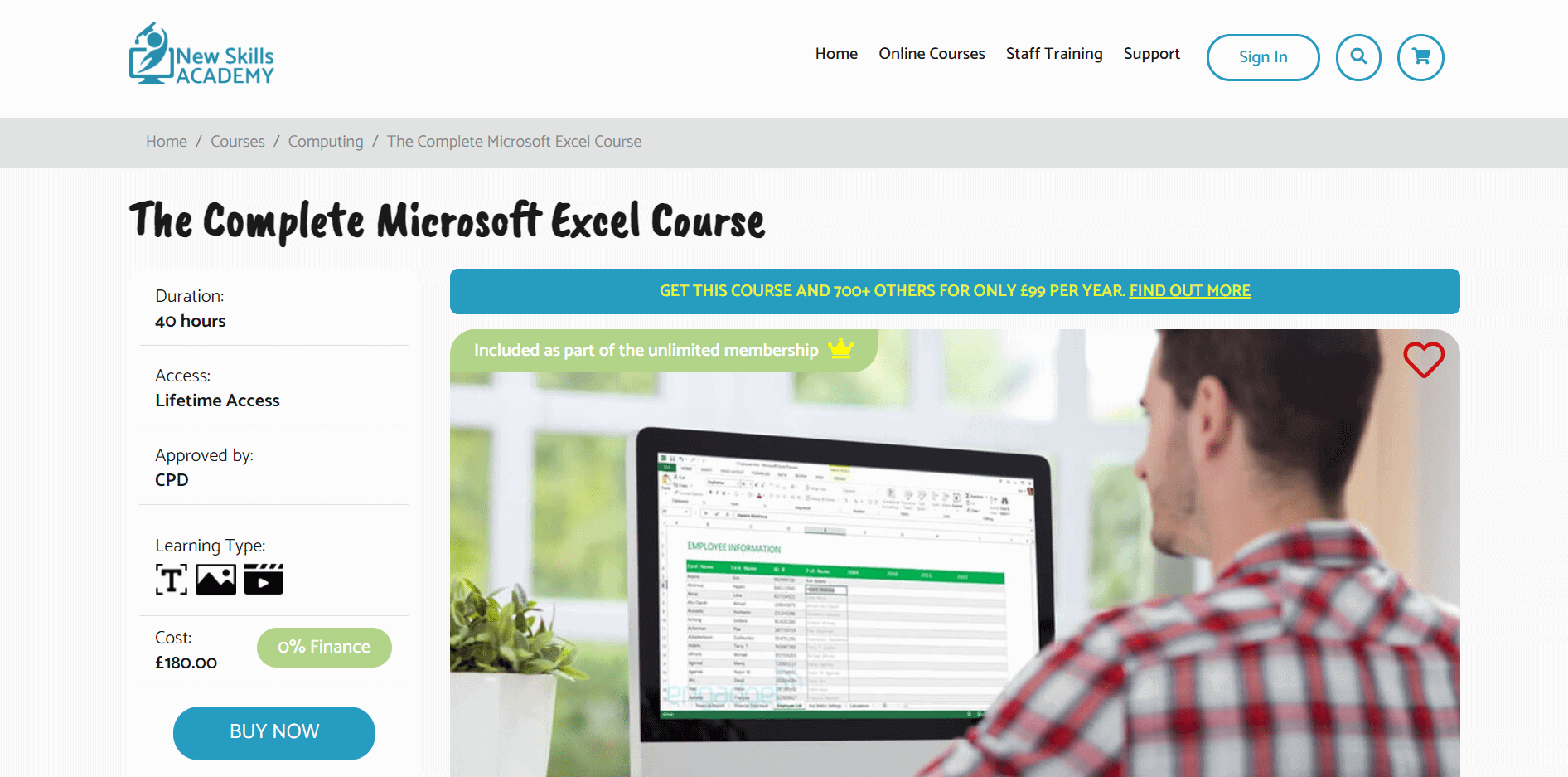 This end-to-end Excel training course is best suited for businesses and organizations that want to train their employees on the ins and outs of Excel.
Help your organization get ahead of the competition with this comprehensive Excel training course.
Key Topics
An in-depth introduction to Excel
Basic data manipulations
Charts & graphs
Formulas & functions
Data analysis
Features
40+ hours of high-quality content
The course is divided into three modules to avoid information overload
Lifetime access & certification
24/7 support
Certification: Yes
Pricing: £180
Why we love this course: This course is a perfect fit for organizations looking to elevate the effectiveness of their employees across the board.
Best for learning on the go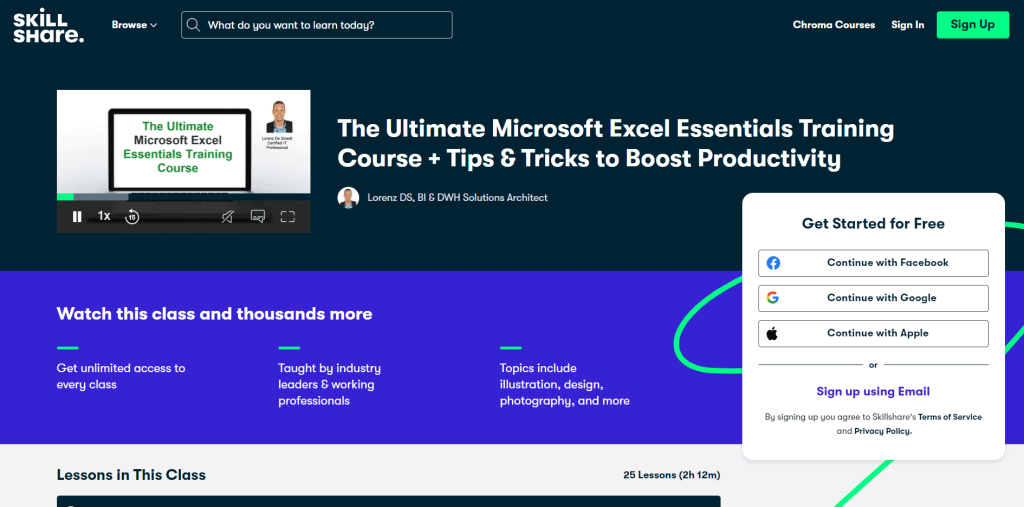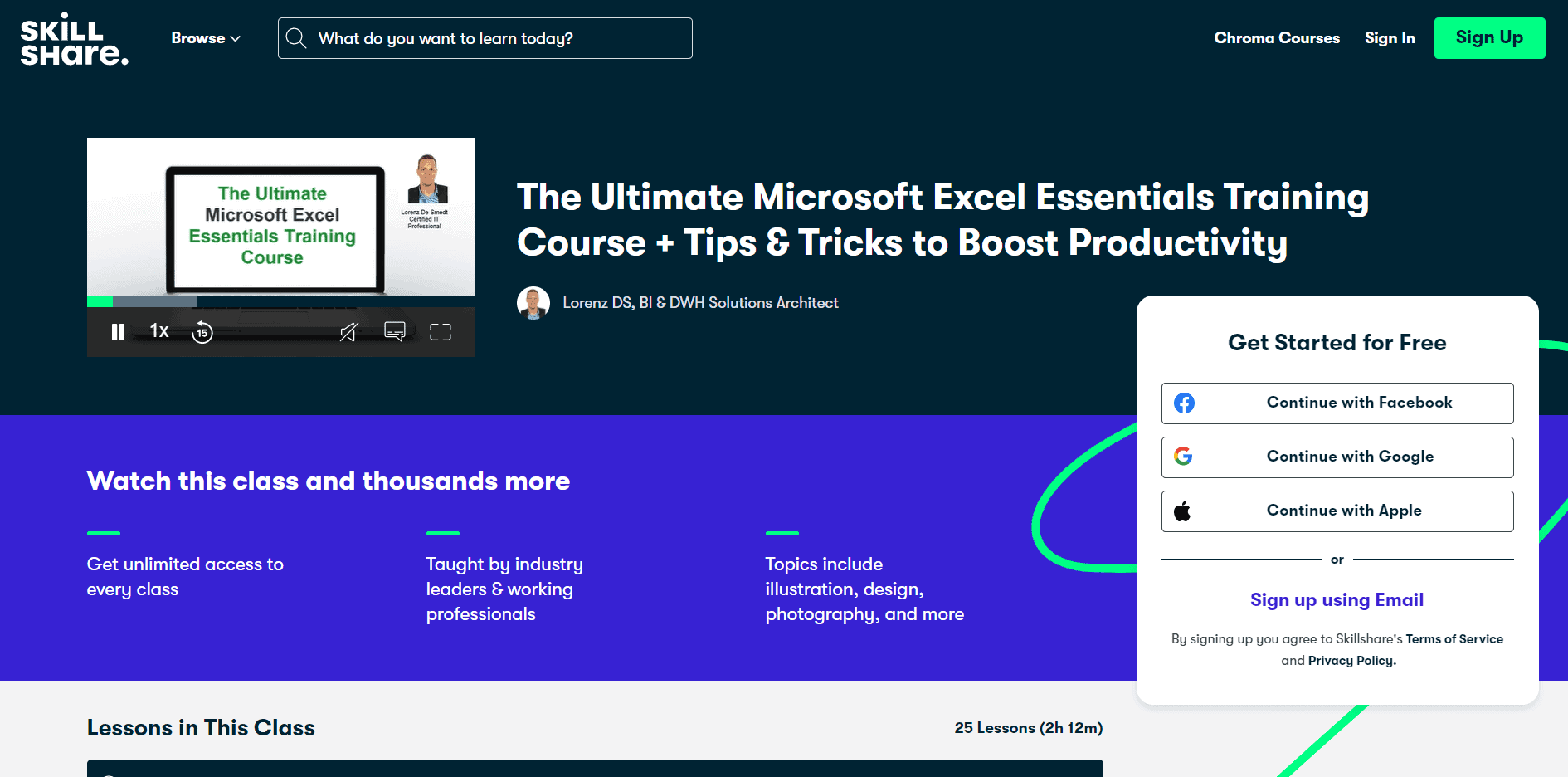 This Excel class from Skillshare is for those who want to increase their productivity and overall Excel skills quickly.
It's an excellent option for new users, freelancers, and entrepreneurs looking to take charge of the spreadsheet side of things.
Additionally, this course provides a beginner-friendly introduction to more advanced features like PivotTables and conditional formatting so that you can start working on your own Excel projects within hours, not days or weeks.
Key Topics
Math and statistical formulas
Excel automations
Data visualization tools – charts, graphs, and PivotTables
Data formatting
Features
Unlimited lifetime access
25 lessons
2+ hours of quick and digestible videos
Certification: No
Pricing: $2.49/month to get access to the entire library of Skillshare courses. 
Why we love this tool: This course is short and to the point, making it perfect for time-constrained users who learn on the go.
Best for non-profit organizations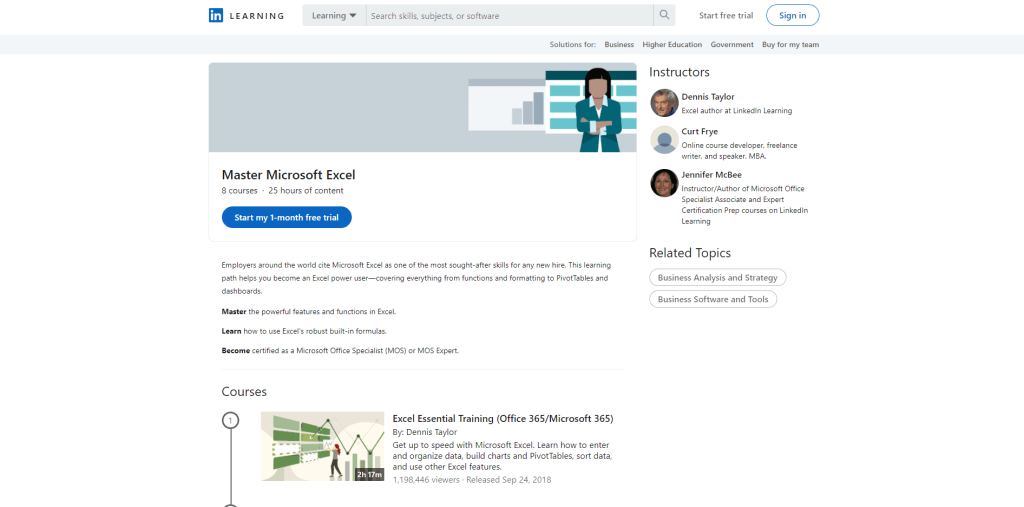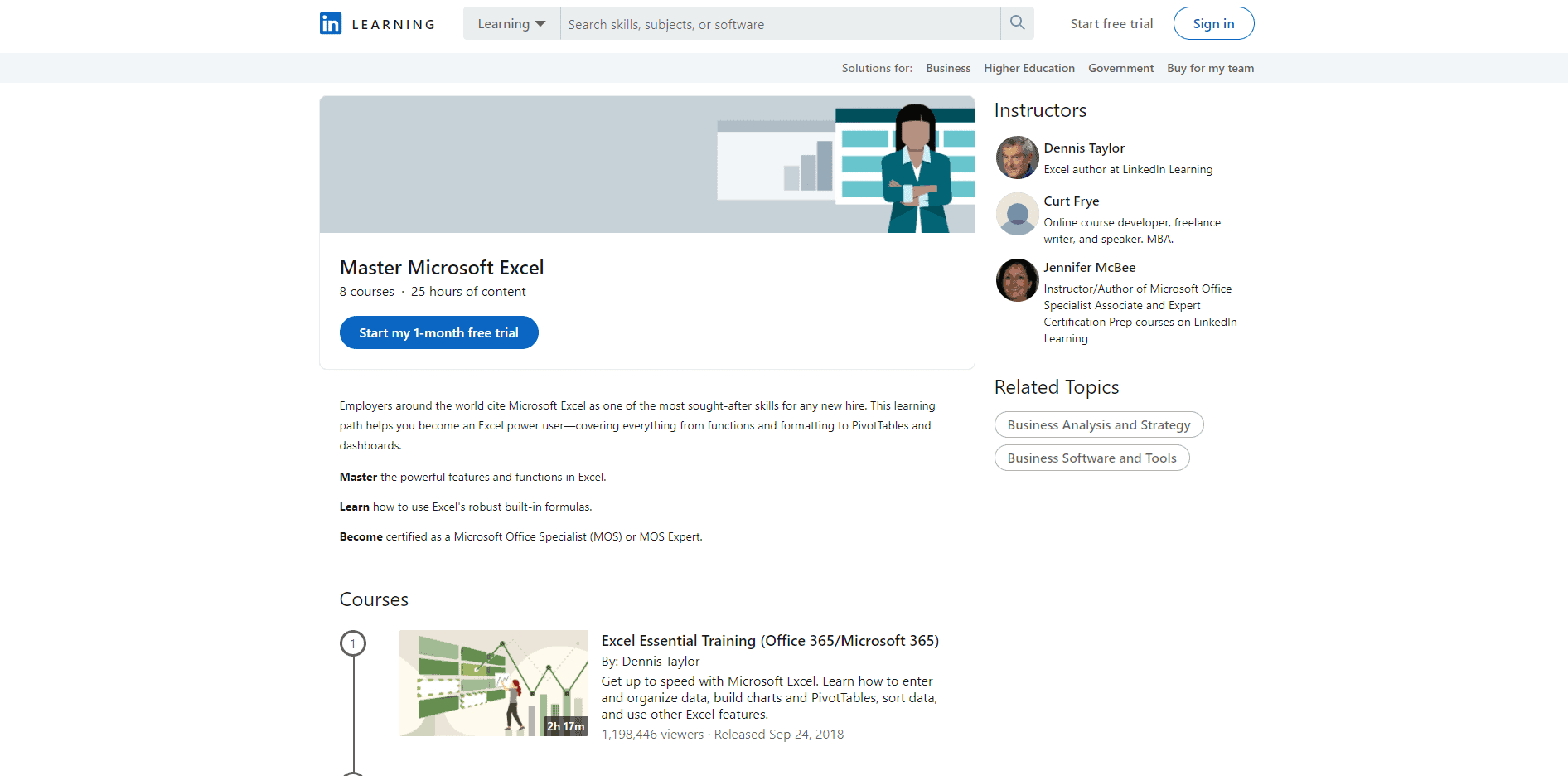 Created by LinkedIn, this Microsoft Excel course is best suited for non-profit organizations looking to turn their team members into power users.
This comprehensive Excel training will help you master the most important features of this powerful software, like PivotTables and data analysis tools, in no time.
Key Topics
Excel 101
Charts & graphs
PivotTables
Features
25+ hours of video training
8 core modules
Certification: Yes, you can become a certified Microsoft Office Specialist (MOS) or MOS Expert.
Pricing: $39.99/month to access the entire LinkedIn Learning suite, unlocking access to 16,000+ professional courses.
Why we love this course: LinkedIn Learning takes quality very seriously, guaranteeing you're not buying a cat in a sack with their video content, support, and certification.
Best for beginners to advanced
The courses provided by Acuity Training are offered in small classes led by an expert. The lessons comprise the basics and advanced features of Excel.
They also offer courses on VBA, Power Tools for Business Intelligence and Data Analysis, Dynamic Array Formulas, and Financial Modeling. 
Key Topics
Excel Introduction – covers all the basics of Excel.
Excel Intermediate – focuses on more advanced features such as charts, conditional formatting, intermediate-level formulas, quick analysis tools, and tables. 
Excel Advanced – become a power user by mastering Excel's most advanced tools and functions. Data import and export, and macros automation are also included. 
Excel VBA – take complete control of Excel using VBA to create your code and procedures. 
Excel Power Tools – learn to use Excel's Power Tools for business intelligence, and advanced data analysis. 
Excel Dynamic Array Formulas – learn how to use Excel 365's new dynamic array formulas. 
Excel Financial Modeling – learn to create financial models in Excel step-by-step. 
Features
1 day training for Excel Introduction
2 days training for other Excel courses
Has an option for on-site, online or client site training
Offers an assessment to assist in choosing the fit course. 
Certification: No
Pricing: £295 plus VAT
Why we love this course: Acuity Training offers courses on more advanced Excel features such as 365's Dynamic Array Formula and Financial Modeling. Each class is limited to 4 students only and led by an expert instructor.
What is an Excel Course?
An Excel course is a training program that helps you master the best features of this spreadsheet software.
These courses typically include an in-depth introduction to Excel, data manipulations and analysis tools, charts & graphs, formulas & functions, and other advanced features like PivotTables or conditional formatting.
What Are the Benefits of Taking an Online Excel Class?
Taking an Excel course allows you to learn from the best at your own pace.
Excel courses are best suited for those who have a lot of responsibilities and don't have much time on their hands, as they can be completed in quick chunks without taking too much out of your daily routine.
Additionally, online training provides a great opportunity to develop new skills, as you can access courses from anywhere and at any time.
How to Pick the Best Excel Course?
There are a few aspects worth taking into account when looking for the best Excel course:
Content: What is covered by this Excel class? Is it comprehensive enough? Does it include easy-to-digest course materials like videos or downloadable resources?
Delivery: Is this training for beginners, intermediate users, and power users alike? Does it include interactive activities to help you learn best practices and master new skills more effectively?
Instructors: Do the instructors have experience in teaching Excel? Are they working professionals who use this software every day?
Certification: Can I get certified once the course is completed?
Price: What's the best price I can find for this course? Is it worth its price tag?