A timeline is a chronological display of important events. This simple yet powerful data visualization tool can be used for different purposes, from putting together a marketing plan to managing your daily tasks.
Creating timelines manually may be a pretty menial and time-consuming task – and that's where timeline software comes into play.
And if you don't know which option to choose, you've come to the right place.
In this article, we review the five best timeline software and timeline makers based on their pricing, templates, customization tools, collaboration features, and more. Also, if you're looking for something simple without having to pay a dime, check out our quick guide walking through the process of how to create a timeline chart in Google Sheets.
What Is the Best Timeline Software in 2023?
Without beating around the bush, here are our top picks for the best timeline software to use this year:
Preceden
Venngage
Tiki-Toki
Timeline Maker Pro
Office Timeline
Best for freelancers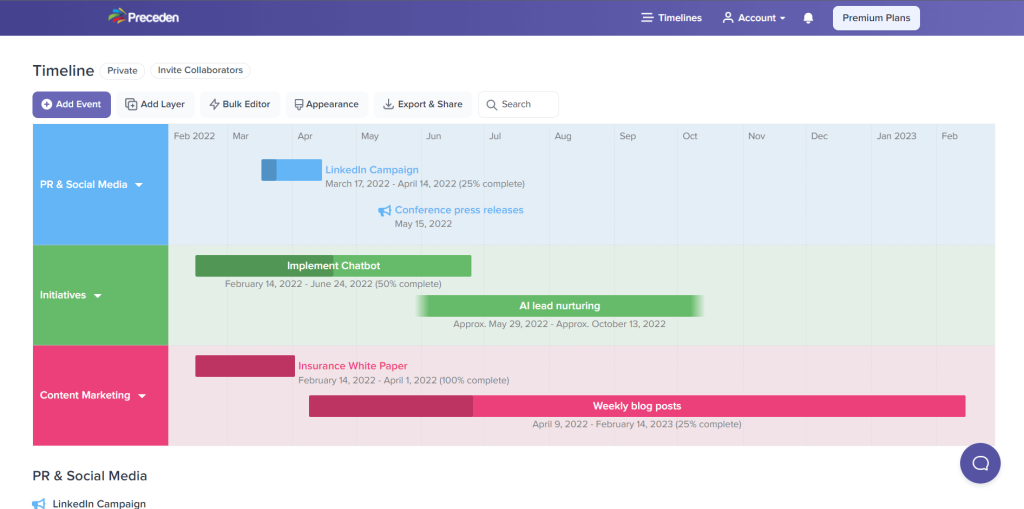 Preceden is timeline maker software that makes it easy to create timelines for personal and business use.
As an easy-to-use tool, Preceden allows you to create and edit your timelines using the drag-and-drop editor that makes it a terrific project management solution.
Personally, I like Preceden for its straightforward onboarding process and simplicity. On top of that, the tool provides a vast library of pre-built templates to save you a bottomless well of time.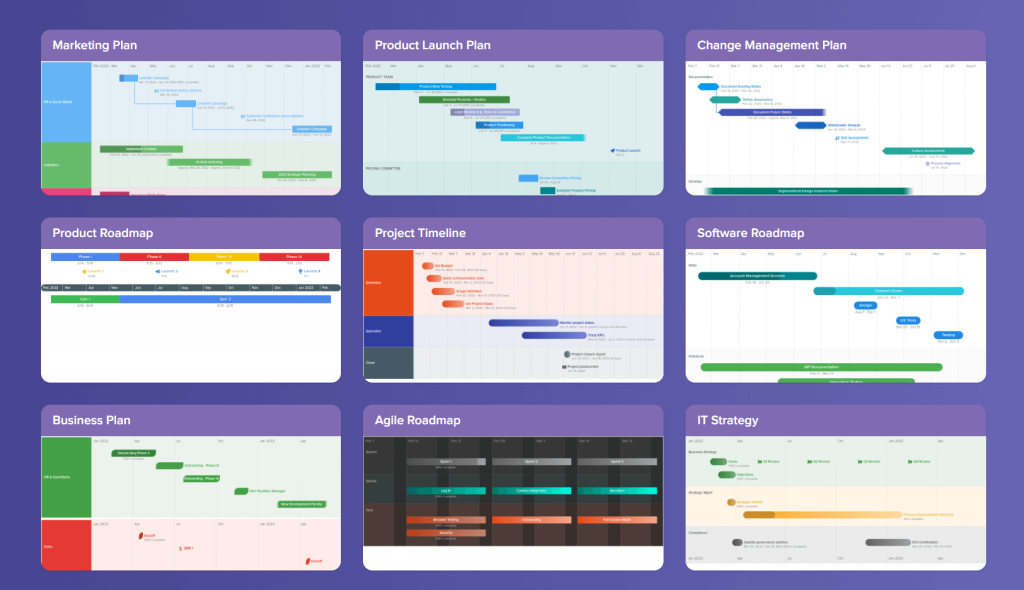 Top Features
Layers: Group similar tasks into layers to avoid cluttering your timeline as you add more items to the equation.
Sharing & Exporting: From CSV, PNG, and PDF exporting to site embeds, Preceden makes it ridiculously easy to export your timeline and share it across the Web.
Branding Tools: Create timelines that align with your brand styling by adding your company's logo and changing the color palette to match your corporate branding.
Collaboration: Bring your team members on board to help you improve your timelines with simple collaboration tools.
PowerPoint Integration: Easily turn your timeline into a PowerPoint slide to blow away your colleagues and partners.
Pricing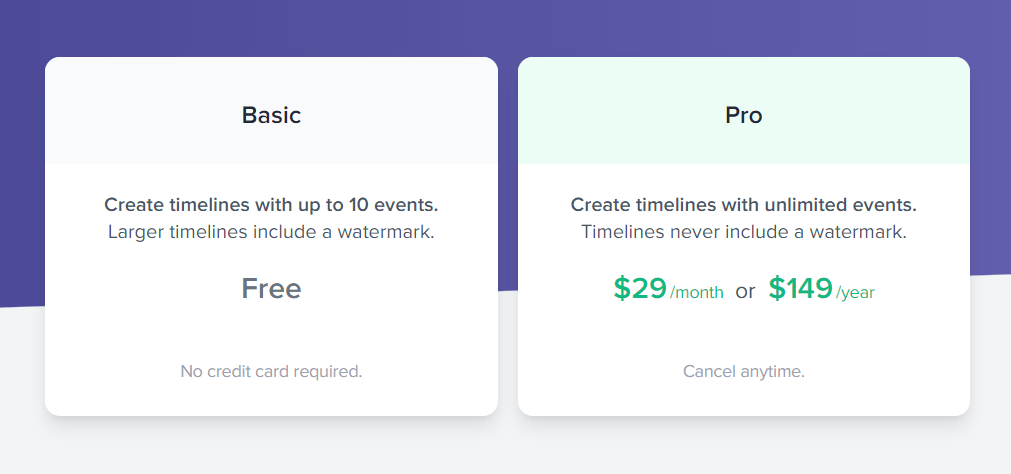 Preceden offers two pricing plans that allow users to test out the platform without paying a dime:
Basic (free) – This free plan allows you to access everything the tool has to offer while limiting the number of events you can include in your timelines and slapping a watermark on large timelines.
Pro ($29/month) – The premium pricing plan removes all the restrictions, allowing you to unleash your inner artist.
Overall, Preceden is an excellent tool for individuals and freelancers that rely on timelines to visualize their data.
Best free online timeline maker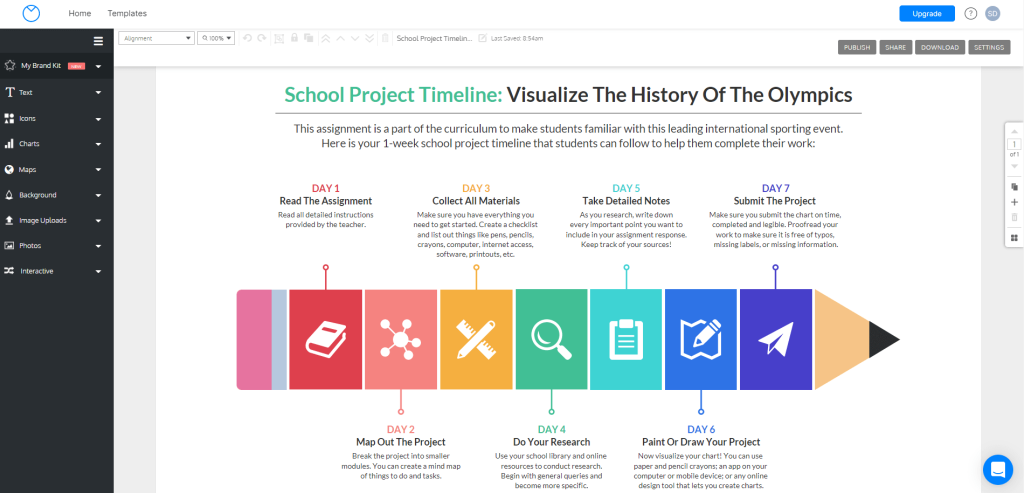 Venngage is a cloud-based infographic maker that allows you to create stunning, professionally-looking timelines within minutes.
Used by over 40,000 organizations across all industries, this tool is a perfect match for businesses that want to elevate the quality of their graphics without hiring pricey graphic designers.
Using their built-in editor, you can customize your timelines however you see fit.
Venngage stands out from the crowd because of its stylish design templates, simplicity of use, and customizability.
Top Features
Cloud-based Interactive Timeline Maker: No need to download, install, and upgrade your timeline software as Venngage is a fully cloud-based solution.
Professional Templates: Get up and running in just a few clicks by using Venngage's massive library of timeline templates.
Export as a PNG, PDF, or PowerPoint Slide: Easily export your timelines or generate a sharable link to collaborate with your team members.
Massive Asset Library: Access over 40,000 icons, fonts, and other graphic assets to supercharge your timelines.
Pricing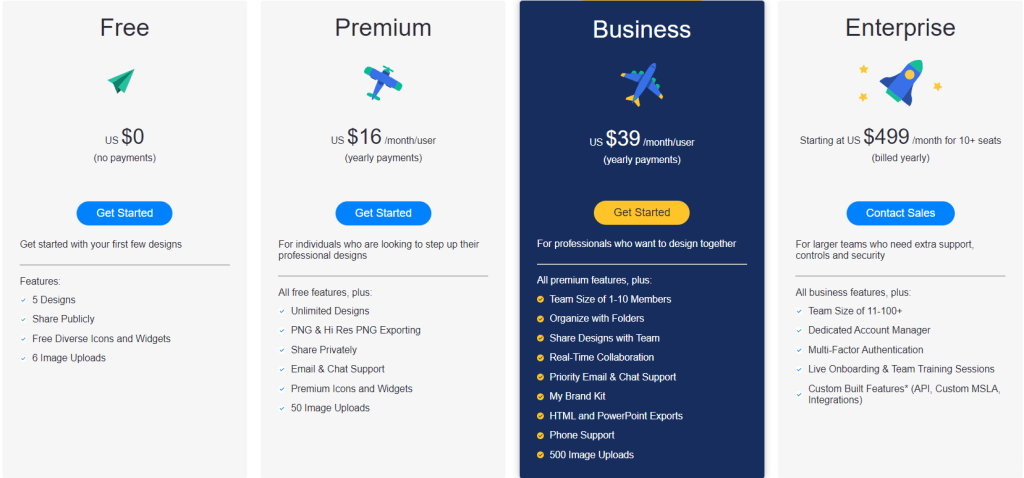 Venngage provides four pricing packages to make it affordable to individuals, small businesses, and large corporations alike:
Free – With five designs and six image uploads, this plan works best for individuals who need to get a few simple designs done here and there.
Premium ($16/mo per user) – Unlock unlimited designs, premium icons, and PNG exporting.
Business ($39/mo per user) – Unlock HTML and PowerPoint exports, real-time collaboration, and other features that small- and mid-sized businesses need to get the most out of this tool.
Enterprise (starting at $499/mo per user) – Unlock enterprise-level features like custom API calls, multi-factor authentication, MSLA, and integrations.
I like this tool because it offers so much more than a timeline maker, making it the go-to tool for meeting all of your graphic design needs.
Best 3-D timeline maker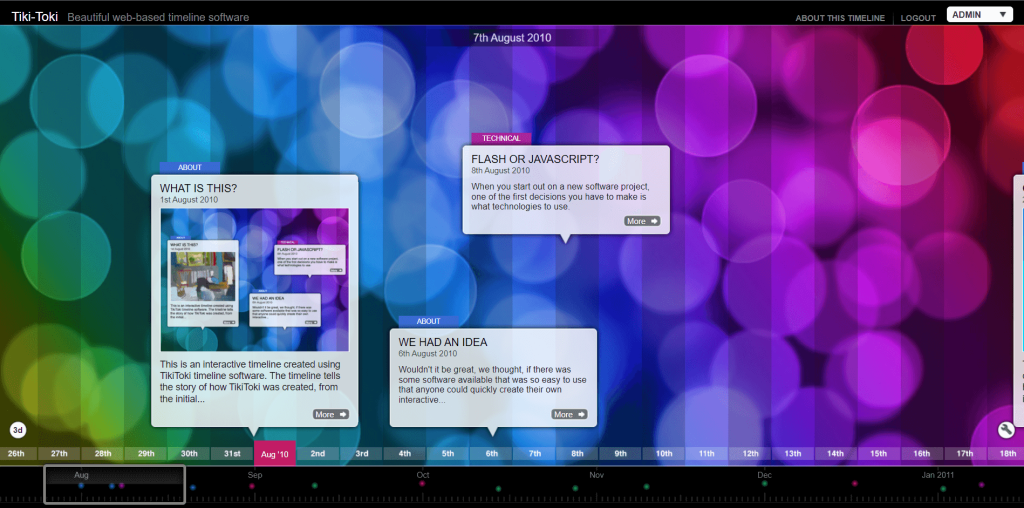 Tiki-Toki is a timeline maker that lets you create custom interactive timelines to commemorate milestone events.
Tiki-Toki is a simple yet effective way to share life stories as they happen with your coworkers, friends, and family around the world.
Top Features
3-D Timeline Maker: Display your timelines in three dimensions to impress your coworkers and superiors.
Interactive Multimedia Timelines: Spruce up your timelines with images, videos, and audio files and let them tell your story.
Flexible Exporting Options: Download your timeline as a PDF, embed it on your site, or export it JSON code.
Pricing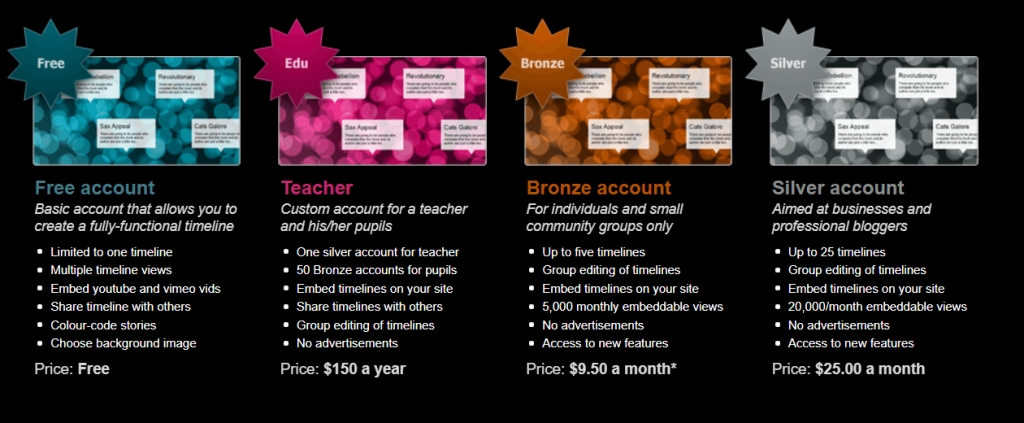 Tiki-Toki offers four flexible pricing plans that cater to both individuals and businesses:
Free – Best for individuals that want to create a simple timeline and call it a day.
Teacher ($150 per year) – This pricing package is tailored specifically for educational purposes and includes 50 student accounts.
Bronze account ($9.50 per month) – Best for small teams that use timelines to visualize data to empower better decision-making.
Silver account ($25 per month) – The ultimate pricing package unlocks up to 25 timelines and access to advanced collaboration tools.
Tiki-Toki is, hands down, one of the most flexible timeline makers out there, allowing you to create aesthetically pleasing timelines and have a lot of fun while doing it.
Best timeline maker to use without an internet connection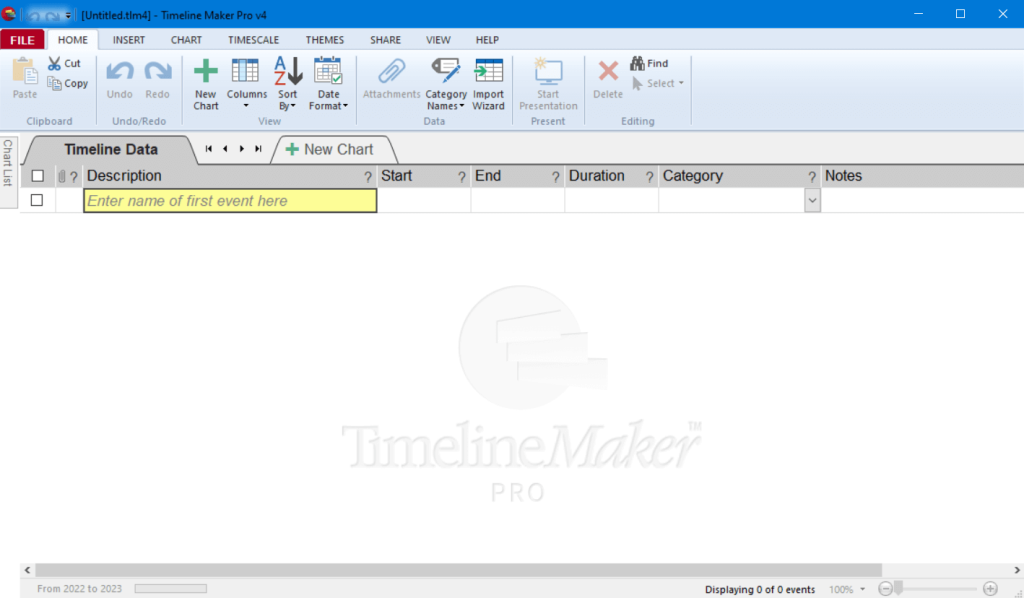 Timeline Maker Pro is a simple but powerful tool that you can use to create interactive timelines without being connected to the internet.
Timeline Maker Pro is an offline solution for history educators or anyone on a field trip where internet access may not be readily available.
Top Features
Offline Mode: Create your timelines without a stable Internet connection.
Powerful Customization Tools: Customize every aspect of your timelines to meet your unique organizational needs.
Intuitive User Interface: Eliminate the need to go through a steep learning curve with a user-friendly UI.
Pricing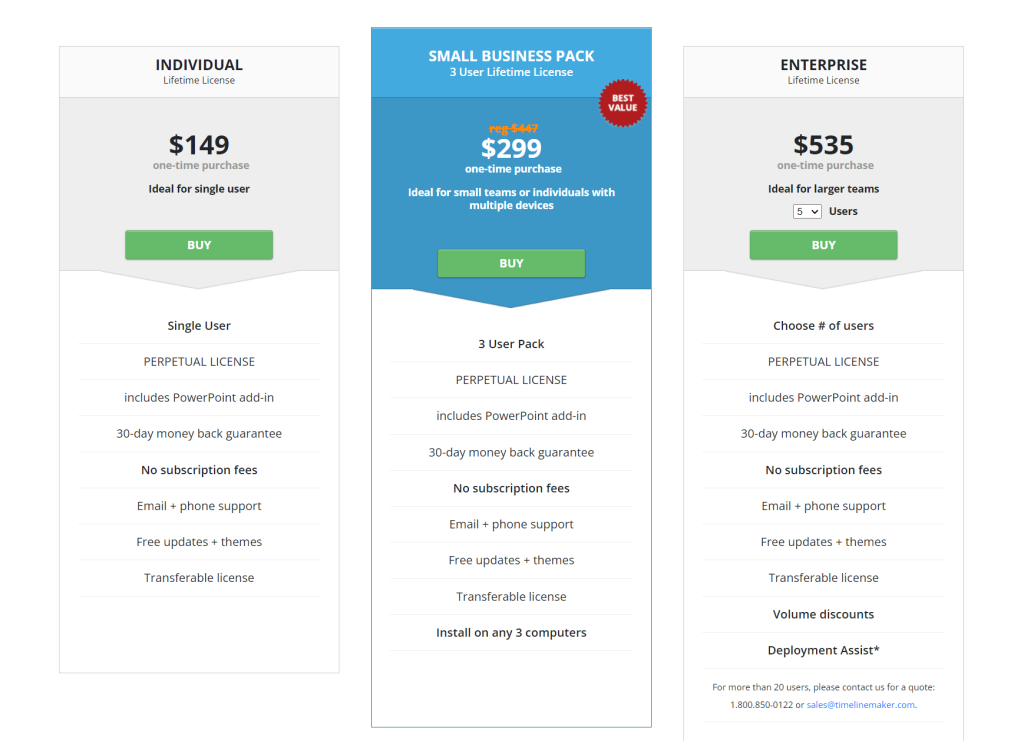 Timeline Maker Pro offers three pricing plans. The pricing packages start at $149 for a lifetime license.
Best for creating PowerPoint timelines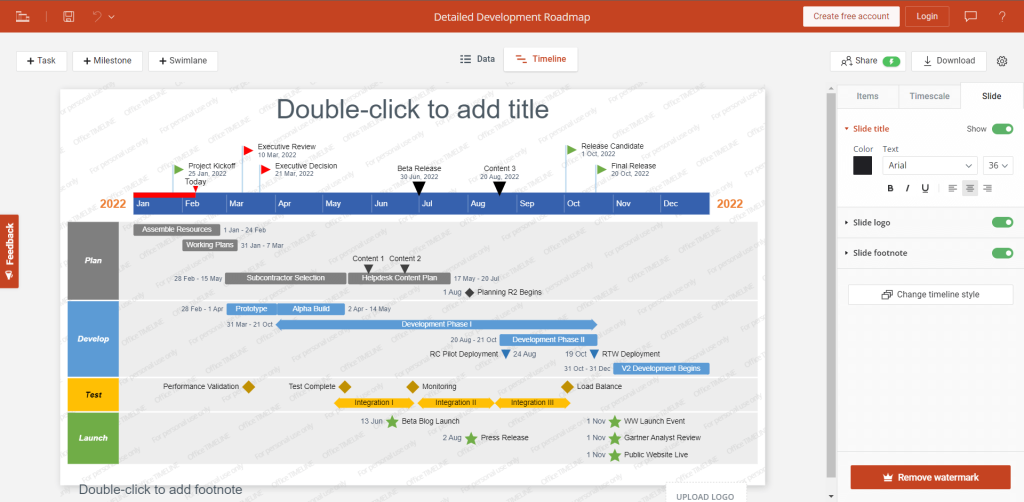 Office Timeline is designed for PowerPoint users looking to create stunning historical timelines and easily integrate them into their slide decks.
Opt for Office Timeline if you need to get your timeline up and running quickly, without the hassle of learning a new tool or dealing with glitches.
The tool has two primary tabs – Data and Timeline. In the Data tab, just enter the data you want to visualize and switch to the Timeline tab to see the result and customize the look and feel of your timeline.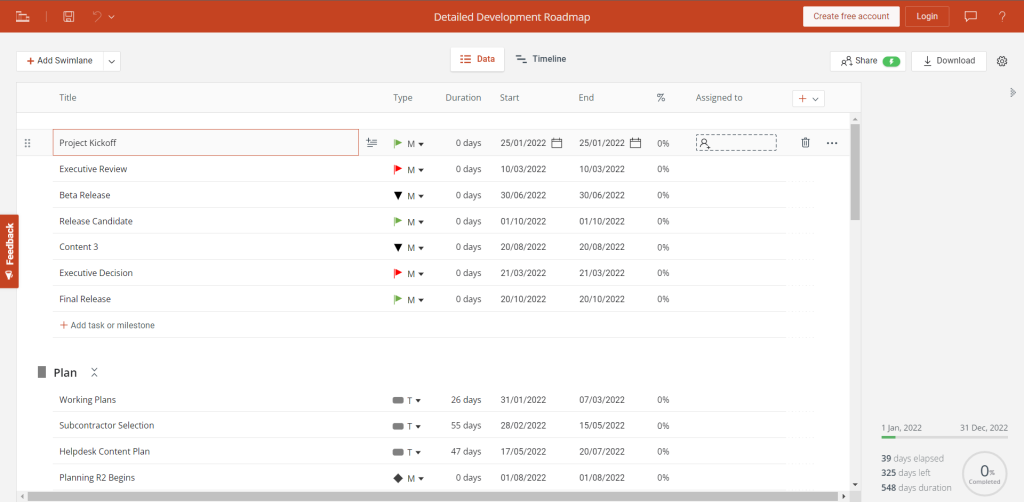 Top Features
PowerPoint Add-in: Create your timelines directly in PowerPoint, without the need to leave the comfort of MS Office.
Easily Integrates with Existing Data: Import data from spreadsheets or databases and visualize it as a timeline right away.
Drag-and-Drop Functionality: Customize every aspect of your graph for maximum impact on your audience.
Pricing
The pricing packages start at $99 for a lifetime license.
Best Timeline Makers: FAQ's
Now that you know the best timeline software to use in 2023, let's address some of the most commonly asked questions.
What Is a Timeline Maker?
A timeline maker is a type of software that allows users to create a timeline to display tasks or events in chronological order. Students, professionals, and historians often use this software to track and organize important events or create project timelines to keep track of complex projects.
There are many different types of timeline software, but all allow users to add events, photos, videos, and text to their timeline. Some also allow users to collaborate with others and share their timelines online.
What Are the Benefits of Using a Timeline?
There are many benefits of using a timeline. Some of the key benefits include:
Organizing your thoughts and ideas more effectively.
Helping to clarify the sequence of events.
Providing a visual representation of your project timeline.
Allowing for greater flexibility and creativity.
Facilitating communication with others.
How Do I Choose the Right Timeline Software for My Needs?
There are a few key factors to consider when choosing timeline software:
Ease of Use: The software should be easy to use, with a user-friendly interface.
Supported Data Types: The software should support the type of data you want to include in your timeline.
Features: The software should have a range of features that allow you to create a comprehensive timeline, including the ability to add text, images, videos, and links.
Pricing: The software should be affordable.