Most people have a love/hate relationship with Excel spreadsheets. They make our lives so much easier when they work and are structured the way we want, but can be incredibly time consuming and complex when building them from scratch. In the case you're at your whits end and are looking for a solution, you might have found Simple Sheets, which provides ready-made Excel spreadsheet templates for many different business tasks.
In this article, we dive into what exactly Simple Sheets is, how to use their templates, pros vs. cons, and if it's worth the price of admission.
Disclaimer: This post may contain affiliate links from which we earn commission from recommending products at no additional cost for you. Learn more
What is Simple Sheets?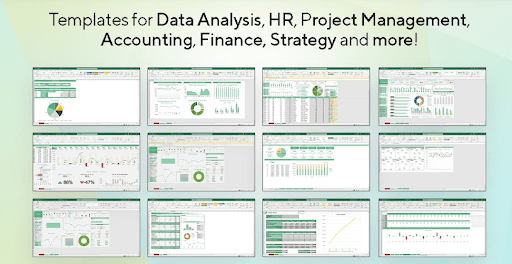 If you've ever had to recreate a spreadsheet for a specific function, you'll know that this can be a taxing exercise, not to mention time-consuming and even a little frustrating if you're not up to speed in this area.
Cue Simple Sheets – an all-in-one platform that takes the hassle out of formulating an in-depth Excel spreadsheet from the bottom up, intuitively designed with the applicable layouts already prepared for you.
Add to these tutorials and step-by-step instructions for each and every template, and you have an easy-to-use solution for all your spreadsheet needs.
What Are the Key Features of Simple Sheets?
Simple Sheets makes your life easier when it comes to understanding Excel and its complex functions and formulas.
Let's take a look at some of the core features of Simple Sheets.
1. Template Catalog
As you probably know by now, the process of creating spreadsheet templates can be anything but simple.
This is where Simple Sheets provides you with over 100 predesigned spreadsheet templates for specific business purposes and functions.
With Simple Sheets, you can take advantage of ready-to-use, expertly designed Excel spreadsheets that cover categories ranging from Project Management, Real Estate, Sales and Marketing, Supply Chain and Operations, Strategy and Management, Human Resources, Accounting, and Finances.
Although predesigned, they are still completely customizable to account for your unique needs.
Once you sign up to Simple Sheets, you unlock its massive template library. Here's what the template catalog page looks like: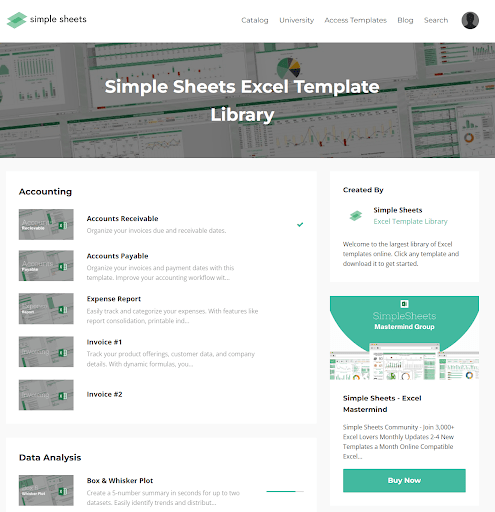 Once you select any template, you land on a page containing a link to download your template as well as a dedicated video covering the setup process to get you up to speed in no time.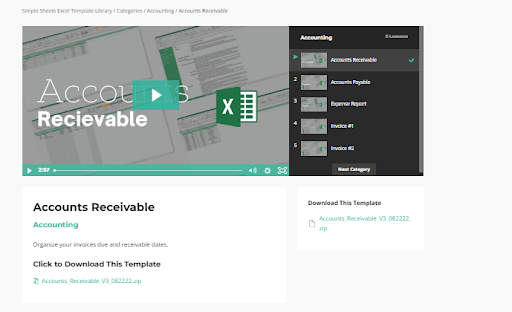 If you're not sure whether Simple Sheets offers templates for your unique needs, here's a quick breakdown of the main categories and core templates:
Accounting
Data Analysis
Finance
General

Templates

HR
Marketing

Accounts

Receivable

Box & Whisker Plot

Break Even

Analysis

COVID-19 Employee Health Tracking

Annual Leave Tracker

Email Campaign Management

Accounts

Payable

Fishbone

Diagram

Budget Goal

Seek

COVID-19 Excel Dashboard

Employee Performance Appraisal

Email Marketing Planning and Sending

Expense

Report

Panel

Analysis

Cash Flow

Planning

Family Tree

Diagram

Employee Scheduling

Lead Generation Analysis and Dashboard

Invoice #1

Pareto Diagram

Analysis

Cap Table

2022 Excel Calendar Template

HR Metrics Dashboard

Marketing Budget Analysis

Invoice #2

Scatter Diagram

Analysis

Loan Amortization

Schedule

Org Chart

Public Relations Campaign Management

Stratification

Mortgage Calculator

Payroll

What IF

Analysis

Net Worth Calculator

Recruiting Management

Personal Budget

Time Management System

Personal Budget Analysis

Timesheet
| | | | | | |
| --- | --- | --- | --- | --- | --- |
| Operations | Project Management | Real Estate | Sales | Small Business | Strategy & Management |
| Bill of Materials | Earned Value Analysis | Commercial Property Management | CRM | Employee Timesheet | Affinity Diagram |
| Capacity Planning Analysis | Event Planning & Management | Lease Tracker | Daily Call Report | Learning Mapping | Balanced Scorecard |
| Check Sheet | Gantt Chart | Property Management Maintenance | Sales Management Tracking | | Business Risk Analysis |
| Cost of Quality | Gap Analysis | Property Valuation | Customer Sales Transaction | | Business Valuation |
| Cost-Benefit Analysis | Kanban | Hotel Reservation System | | | Competitor Price Analysis |
| Failure Mode Effects Analysis | Plan Do Check Act | | | | Contract Management |
| Farm Machinery Management | RACI Matrix | | | | Flow Chart |
| Idle Time | Weekly Team Meeting | | | | Gap Analysis |
| Inventory Management | 12 Week Year Planner | | | | Internal Audit Evaluation |
| | | | | | Product-Consumer Wise Analysis |
| | | | | | SaaS Metrics Dashboard |
| | | | | | SWOT Analysis |
| | | | | | Year Wise Analysis |
| | | | | | Energy and Power Management |
| | | | | | Objectives and Key Results |
Individual Template Breakdown
Unlike marketplaces such as Etsy where you're supposed to figure out how to set up the template you bought on your own, Simple Sheets provides a comprehensive breakdown for each template.
Let's take a look at their Expense Report Template.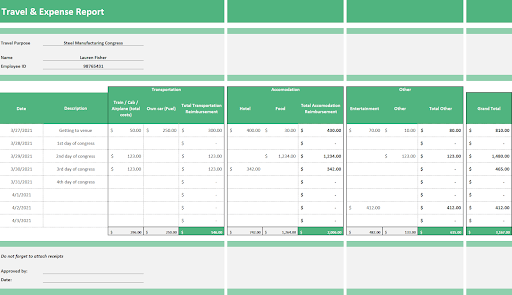 Aside from providing you with a pre-built template where all the formulas were set up for you, you get detailed, step-by-step instructions.
The Introduction Tab includes a template overview, Optimization Difficulty, an explanation of how to customize the sheet, and a Navigation Tab that lets you switch between the relevant tabs easily.
Employee Data

: Enter all relevant information about the employee filing the expense report. The drop-down list will then allow you to choose from them and bring in the relevant information onto the "Expense Report" sheet.

Expense Report

: This is where employees can enter their expenses, neatly split into categories.

Consolidation

: Copy-paste the information from the "Expense Report" to allow for an easy analysis on the "Consolidation Pivot" sheet.

Consolidation Pivot

: After bringing in all relevant information on the previous sheet, refresh the pivot table to see all of the data organized by dates and expense categories.
As you can see, Simple Sheets makes it ridiculously easy to set up your template – no matter how complex it is.
2. Simple Sheets University
You don't have to stress your way around Excel spreadsheets alone anymore with Simple Sheets University.
They have over 48 lectures for you to enjoy and learn from as you build your knowledge and skill set around creating a useful spreadsheet relatively quickly as well as easy-to-understand tutorials for every Simple Sheets spreadsheet.
Learn all the ins and outs of their spreadsheet compilations with modules that cover key areas in the design of a typical spreadsheet. You'll even receive a certificate upon completion as proof you've mastered the course!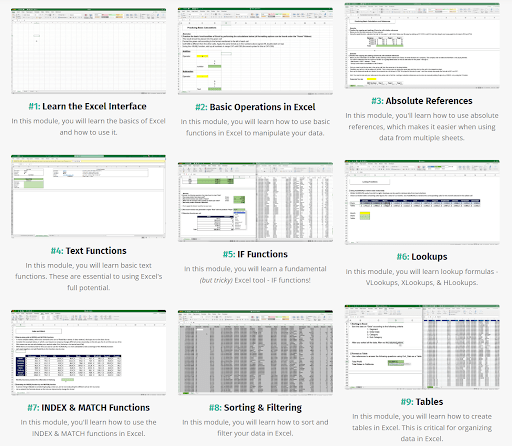 3.
Private
'
Problem-Solvers' Community
Join a community of Private 'Problem-Solvers' when you buy any one of the Simple Sheets packages, and never miss out on opportunities to become an even better user of Excel spreadsheets.
This community is there to support you every step of the way so that help is always a few clicks away should you ever find yourself stuck.
The Pros and Cons of Simple Sheets
A thorough review would be incomplete without mentioning the arguments for and against using Simple Sheets.
Pros
Spreadsheets that are ready for use with built-in formulas and formatting. Learn how to use them with easy-to-understand videos that describe the functionality and benefits of each unique spreadsheet.

Simple Sheets functions within the interface of Excel. So you can apply your learning in real time as you populate your spreadsheet.

Simple Sheets is a massive time saver. You don't have to spend hours upon hours designing a comprehensive spreadsheet, hoping that it will cover all you need it to cover.

Although predesigned, Simple Sheets are completely customizable according to your business or personal specifications.

You don't have to figure it all out alone – there are helpful FAQs, blogs, videos, and instructions for each template to help you understand the ins and outs of your Excel template much better.

Make sense of data more easily and reach decisions quicker with over 300 graphs, slicers, and charts to choose from – all compatible with Google Sheets.
Cons
Automated responses still need to be worked into the site.

Popular courses usually require payment before you can unlock premium features.
Pricing
If you want to have access to these expertly designed templates, there are various non-subscription pricing tiers you can choose from.
The Starter Pack

is $49 and includes over 100 templates that you can customize. It doesn't come with access to the full library and is only valid for one user. However, it does offer 24/7 email support and a community of private 'Problem Solvers' should you require technical support at any stage.

Enjoy bundle savings on Excel, PowerPoint, and Word 101 courses with

the Premium Pack for $99 (valued at $2327)

. You get access to the whole library with this option, which includes over 100 ready-made templates and additional versions of Google Sheets templates. 24/7 technical support is provided. Again, it's limited to just one user.

The Premium + University Pack

is $199 and is worth $3316, meaning you can access virtually everything, including full access to their Google Sheets and Excel courses, exclusive access to updates and the newest template releases, your own membership portal, the full library of templates, and two-user access.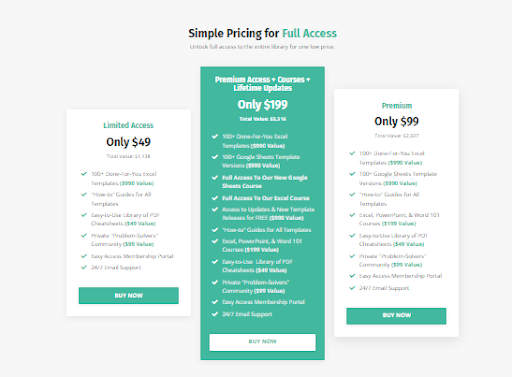 As a recommendation, if your Excel spreadsheet knowledge is at beginner level, you'll probably want to opt for the last two packages (the Premium and the Premium + University Pack) just because there is so much on offer and so much for you to learn that you wouldn't want you to miss out on to improve your spreadsheet knowledge.
However, if your knowledge of Excel is quite advanced, and you're merely looking for well-designed templates to work on, then the Starter Pack should suffice.
Generally speaking, the larger the organization, the greater the need for the Premium and the Premium + University Pack, especially if you have multiple departments to track and analyze and require tailor-made templates designed specifically for various functions.
Our Verdict
If you're tired of managing Excel spreadsheets on your own, then you can breathe a sigh of relief with Simple Sheets, which basically provides you with the framework you need to execute a well-designed spreadsheet successfully.
With Simple Sheets, all you need to focus on is inserting the relevant data, which you can then drill into further, extracting meaningful insights from the various tools that are available.
We'd say Simple Sheets is well worth trying out if you value your time and resources and don't have the capacity to train yourself and your staff regarding the inner workings of Excel spreadsheets.
Getting Started
Signing up for Simple Sheets couldn't be any simpler. Simply determine your needs as an individual or company, and enter your email address for the option that'll suit your requirements best.
You can even try out Simple Sheets for free, with five free templates and five free lessons to get you started.