Budgeting can be tricky if you don't have a clear idea of where you want to be financially or how to get there.
The 50/30/20 rule helps you budget for three specific categories – needs, wants, and savings, respectively by showing how you should allocate your income after tax, i.e., 50% on needs, 30% on wants, and 20% on savings or retirement.
If the thought of having a budget tracker with a predetermined formula excites you, then take a look at our review of some of our best 50/30/20 Google Sheets budget templates for you to get started in no time.
We'll also show you how to create a 50/30/20 budget from scratch if you need more customization options.
Just remember to copy these versions over into your Google Sheets account to make these your own.
50/30/20 Budget Tool from Clearly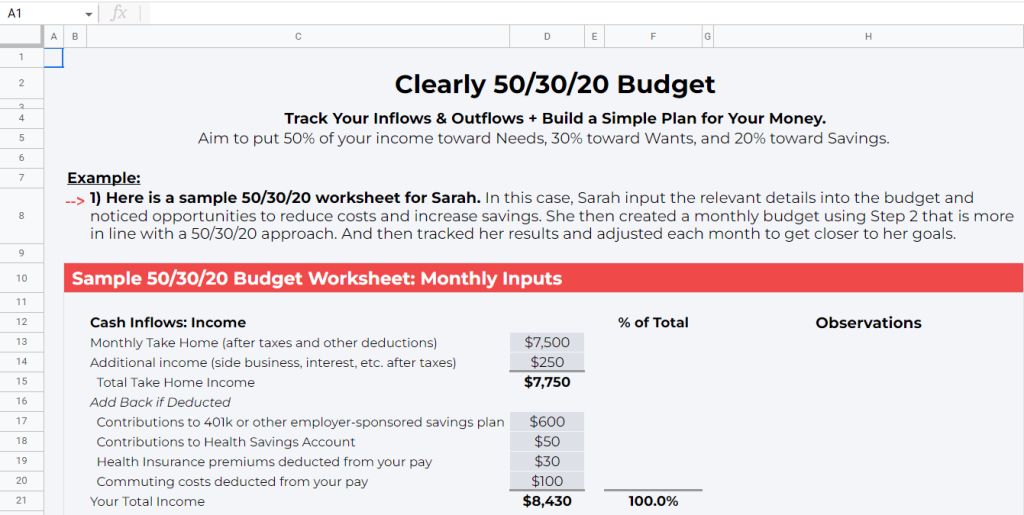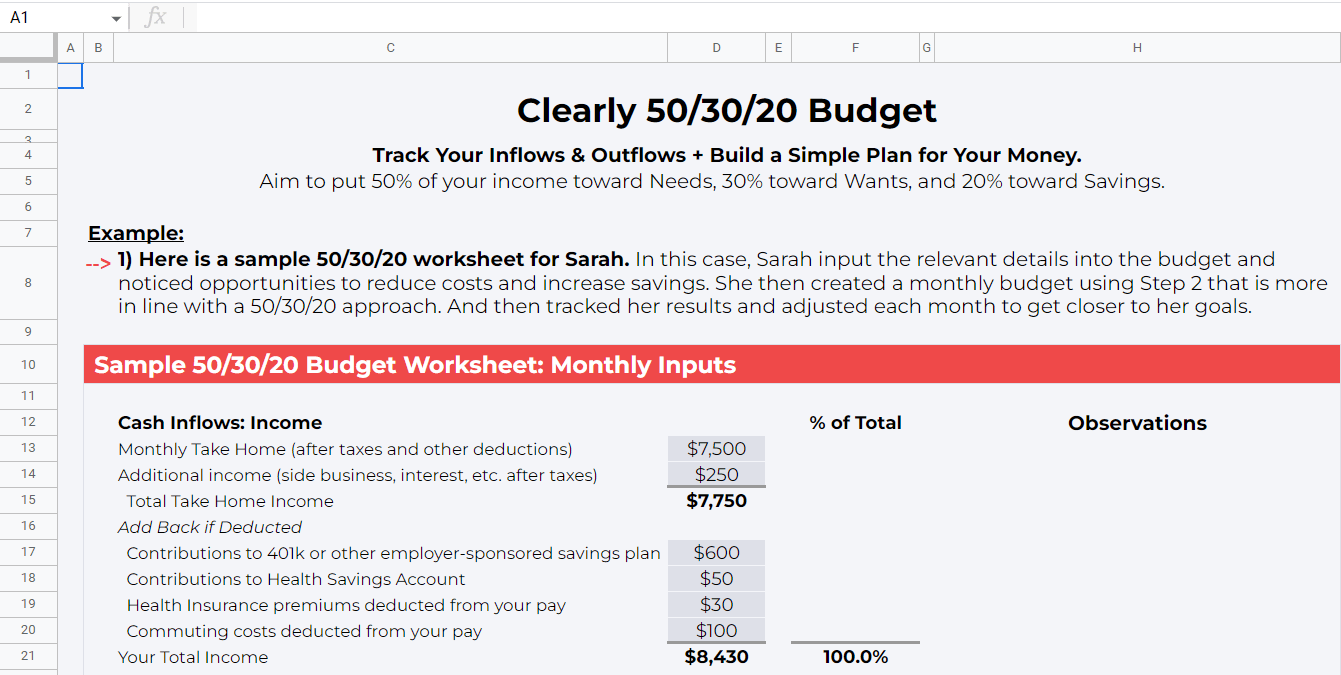 Designed by Clearly
The 50/30/20 Budget Tool by Clearly walks you through the 50/30/20 money management principle by allowing you to, firstly, analyze your spending habits on the Current Spending Sheet on the first tab.
Then you can use the Budget and Money Management Tab to tailor your spending habits to ensure you are sticking to spending 50% of your yearly income after tax on needs, 30% on wants, and the remaining 20% on savings and/or a retirement fund.
50/30/20 Budget from Mooch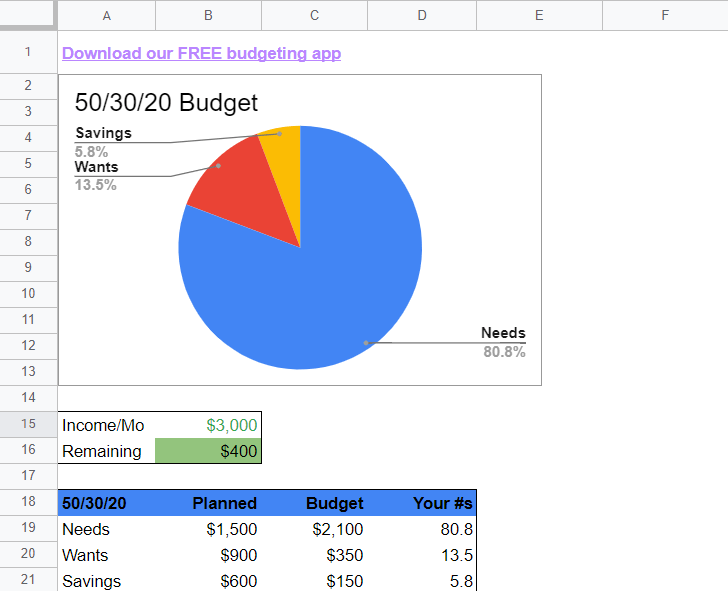 Designed by Mooch
The Mooch 50/30/20 Budget is very helpful if you like to use infographics, such as a pie chart, to illustrate your total income and expenses.
Get to grips with what you need to spend on certain non-negotiables, such as car payments, household expenses, health insurance, and gym membership.
Then decide what you would like to spend on wants such as streaming services or even an overdue holiday. Lastly, you can decide how much you'd like to put towards savings – all within these dedicated parameters.
Simple Financial Snapshot by Tiller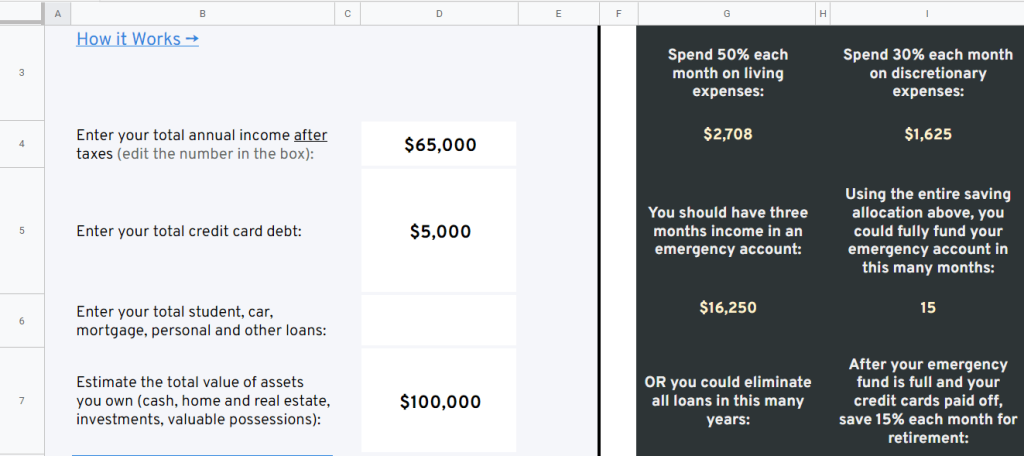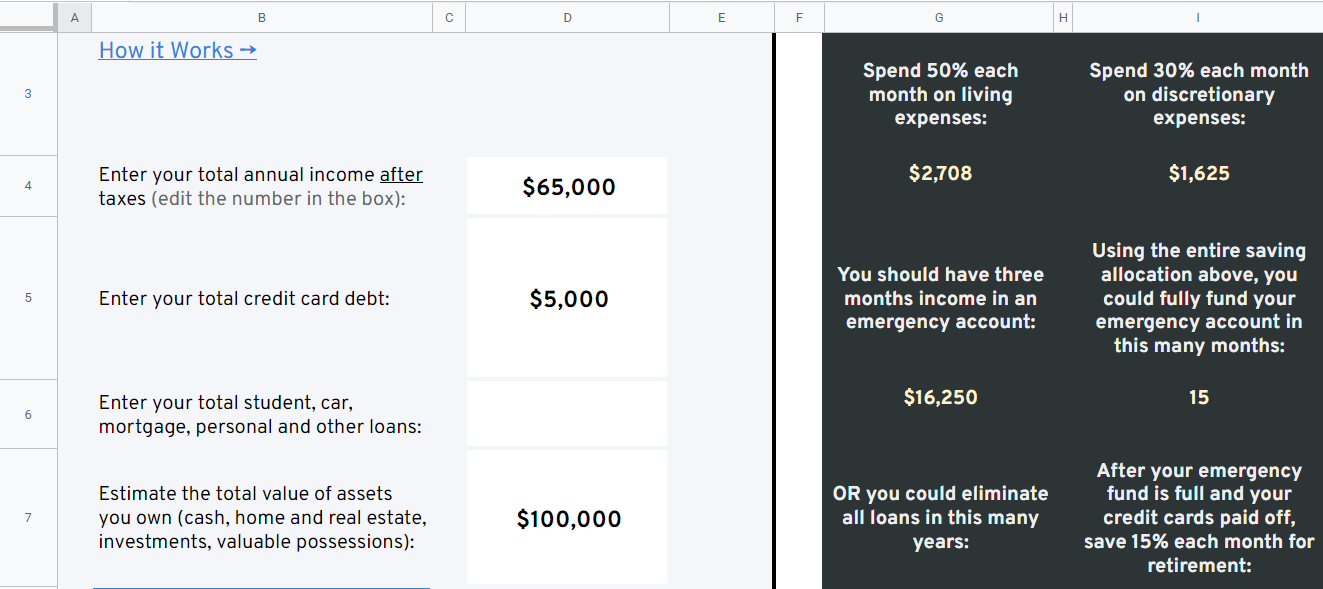 Designed by Tiller
The Simple Financial Snapshot by Tiller provides a valuable snapshot of how you should be implementing the 50/30/20 rule, using numbers provided by you to paint a picture of what you should be doing with these three categories each month.
This budget spreadsheet is great for personal use, providing various spending scenarios and what this could potentially mean concerning your net worth after all your expenses have been taken into account.
50/30/20 Spreadsheet Calculator from Travel Wander Grow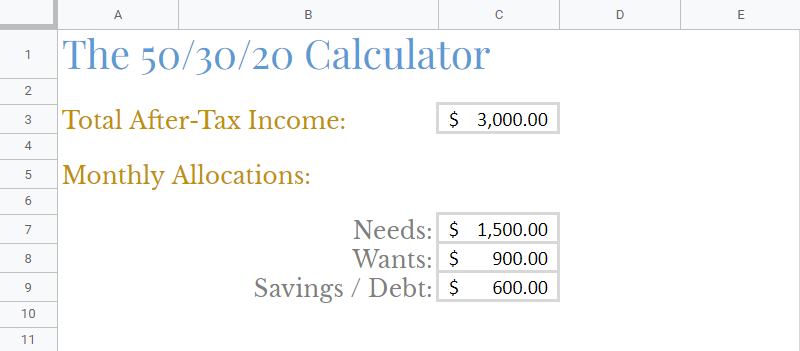 Designed by Travel Wander Grow
The 50/30/20 Spreadsheet Calculator by Travel Wander Grow is a neat, ready-to-use budgeting spreadsheet that provides ample space for you to list all three categories and their subcategories to enable you to track expenses better.
This spreadsheet also provides a nice overview of the totals of these categories in a neat table, so you can check you're not spending any more than you need to in any one of these areas to put your monthly after-tax income to good use.
50/30/20 Budgeting Template from Money Pantry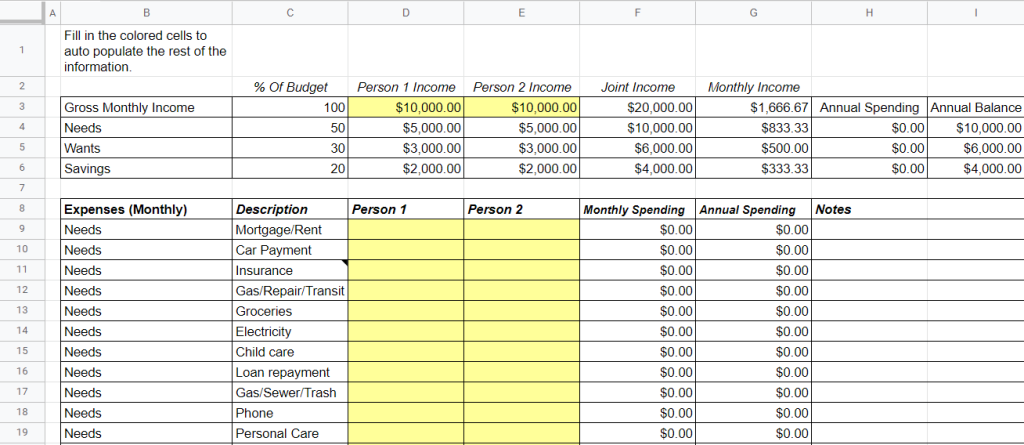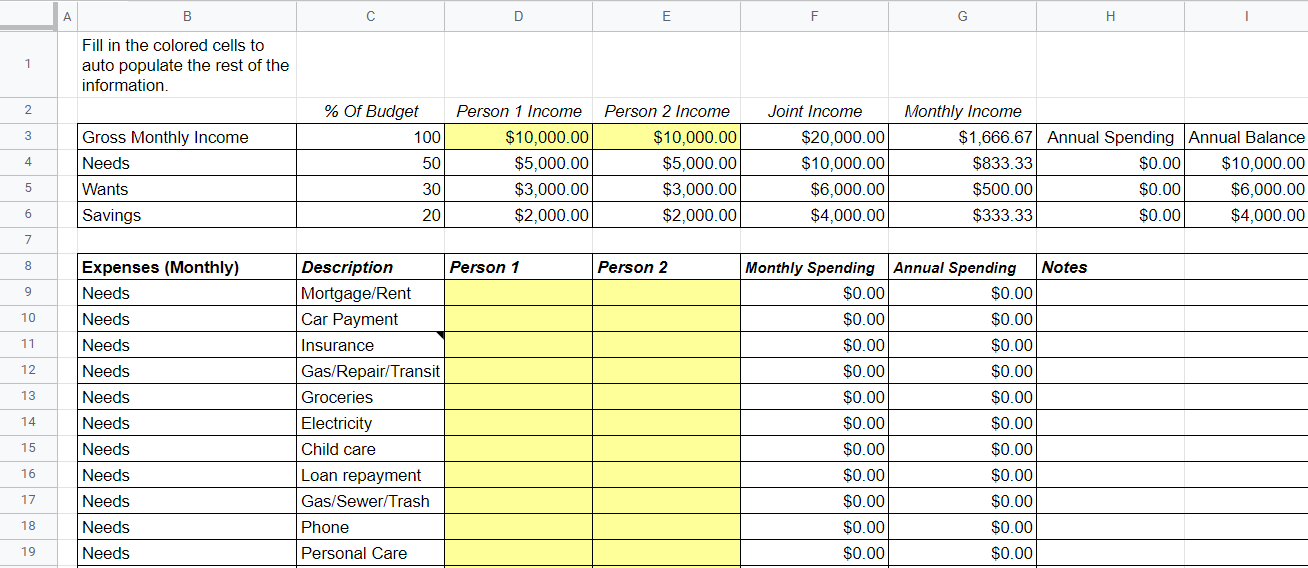 Designed by Money Pantry
The Money Pantry's 50/30/20 Budgeting Framework is a collaborative budgeting template designed to assist you in making smarter financial decisions both as a couple and individually.
This one-of-a-kind spreadsheet provides a dual budgeting perspective on how to allocate your expenses on a monthly basis to reach a joint objective.
50/30/20 Rule Budget Worksheet from Financial Stress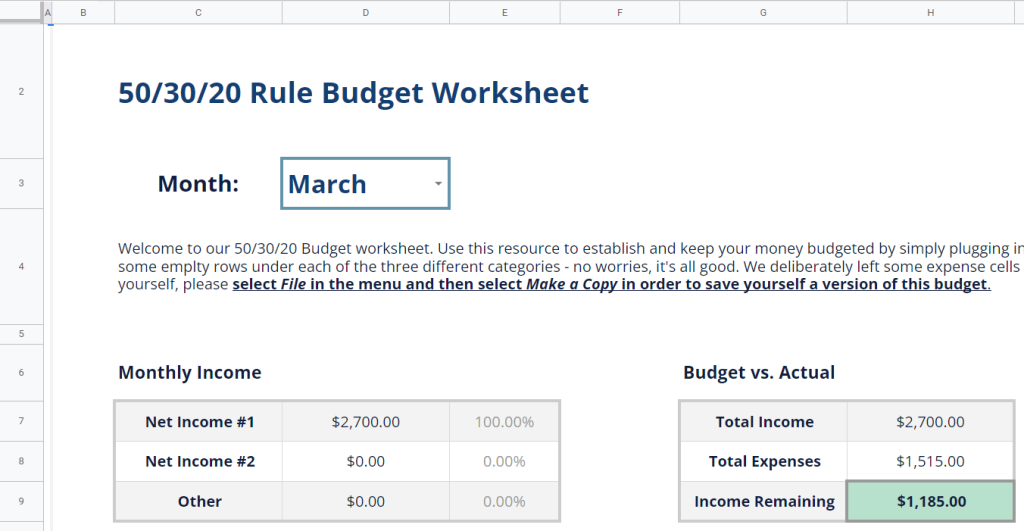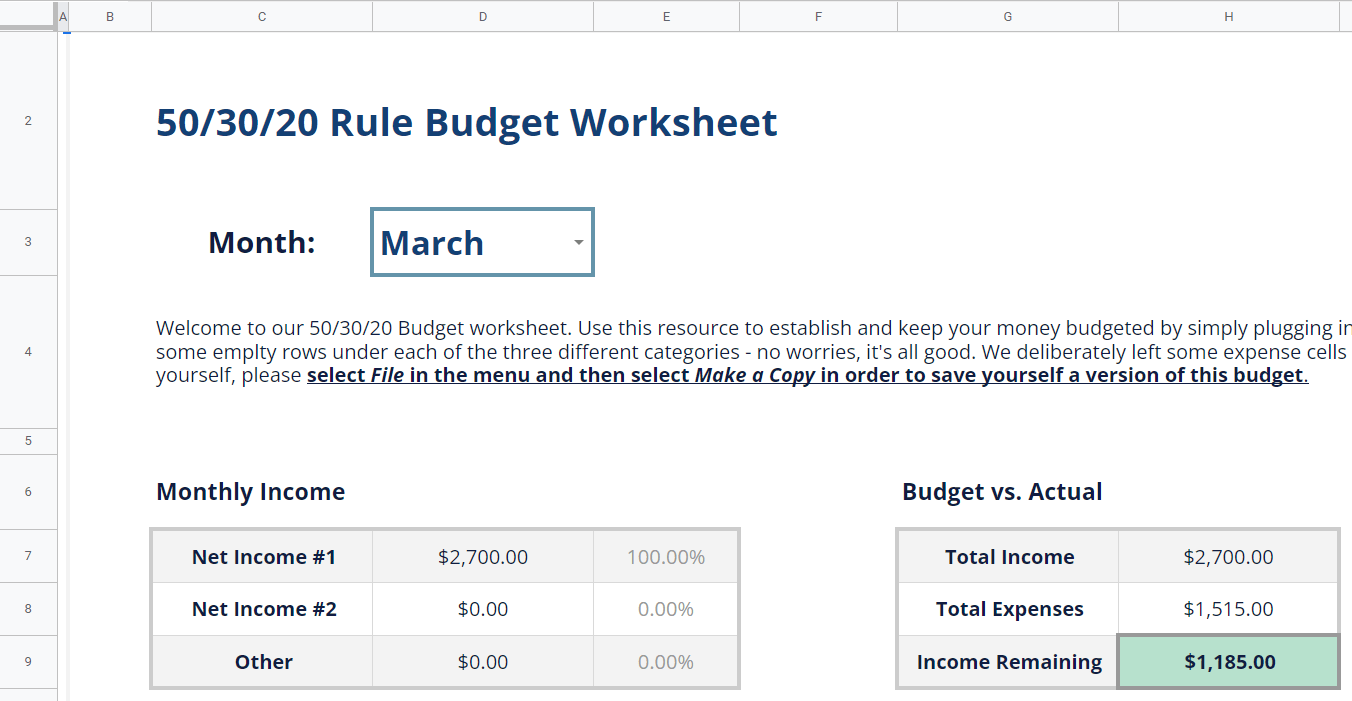 Designed by Financial Stress
The 50/30/20 Rule Budget Worksheet by Financial Stress is an expertly laid out 50/30/20 budget spreadsheet that can be used on a weekly basis to help take the stress out of budgeting.
Simply utilize the different tables as well as the graph provided to spot any budgeted versus actual discrepancies. You can then analyze this information further according to the 50/30/20 principle with this simple budget.
50/30/20 Budget Calculator from Globe Funder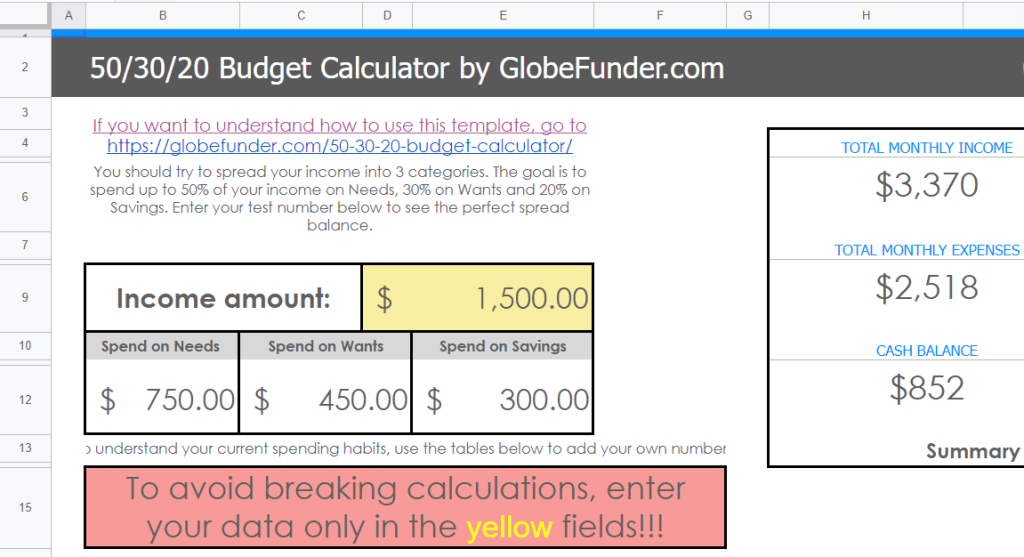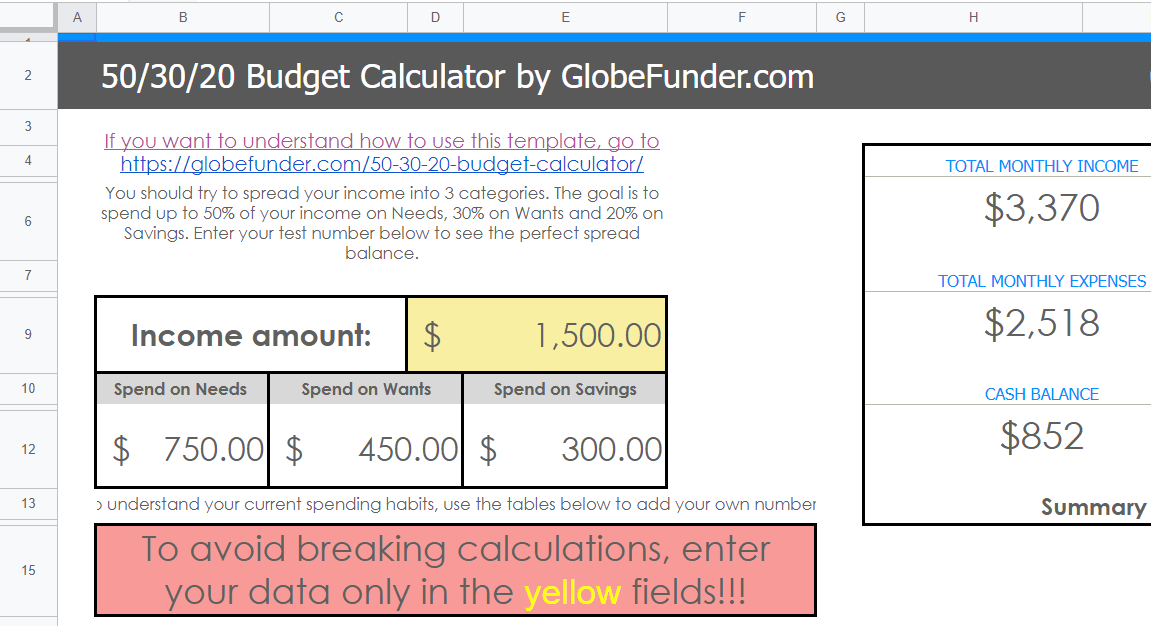 Designed by Globe Funder
The 50/30/20 Budget Calculator by Globe Funder is a Google Sheets budget template that is as colorful as it is helpful as you work your way towards not only spending wisely but building up a nice nest egg, too.
It has a nifty pie chart at the very top of the spreadsheet to see how these spending categories translate into a visual format.
There is a total summary table at the top, as well as a summary by categories table at the bottom to further highlight in which areas you need to be more stringent in order to stick to this tried and true recipe for financial success.
How to Create a 50/30/20 Budget Template in Google Sheets
Let's now dive into the process of creating a 50/30/20 budget template and later you will be able to make a template just like this that speaks to your needs.
Step 1. Start by entering the data for your template and customizing the text using the toolbar menu.


Step 2. Afterward, select the cells, click on the Border icon, and choose the border's color, style, and type.


Step 3. The next step is to highlight the cells, then click on the Fill color option, and choose a color from the palette.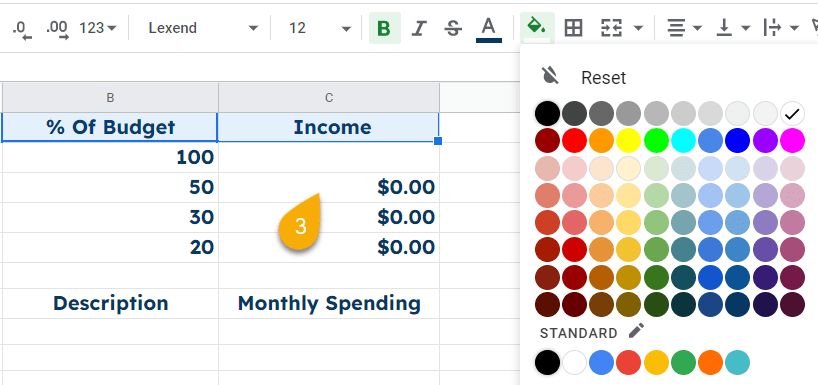 Step 4. Finally, add formulas that will calculate the data by simply clicking on the required cell and entering the formula you need.

Wow! Here is the result!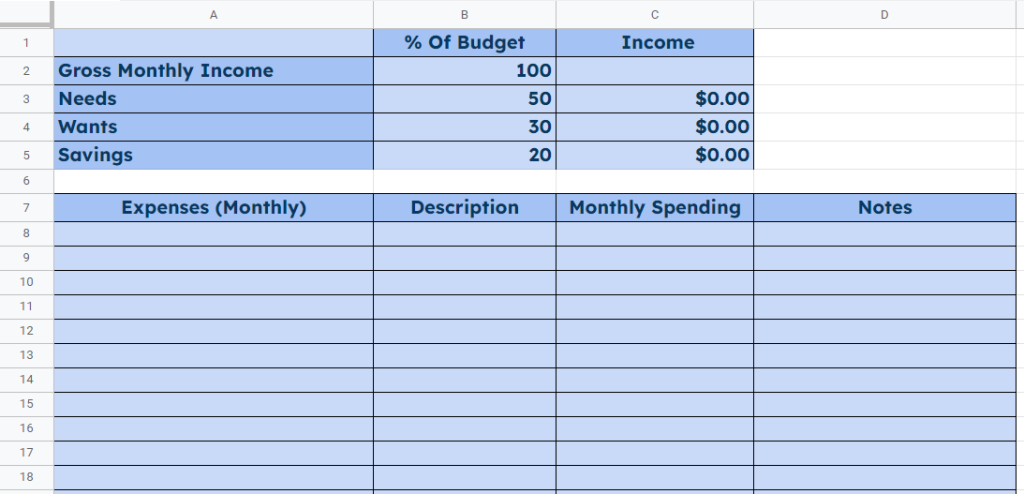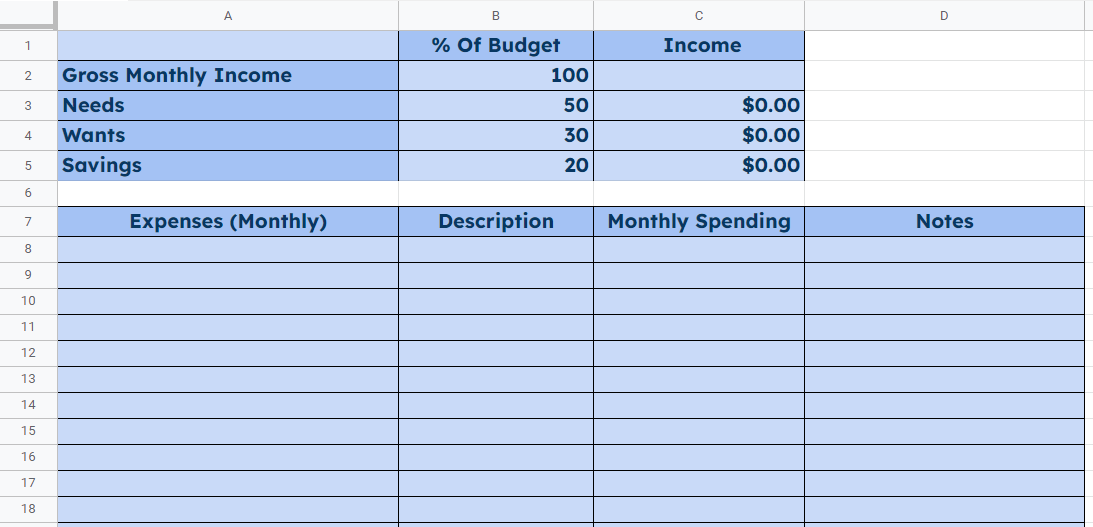 FAQs
Does the 50/30/20 budgeting strategy actually work?
The 50/30/20 principle can be a good budgeting rule to abide by if this seems feasible and realistic according to your lifestyle needs.
This budgeting method provides a framework to account not only for necessary living expenses but also certain luxuries, too, so that you can enjoy your hard-earned money while still saving for a rainy day.
What is one negative thing about the 50/30/20 rule of budgeting?
The one negative about the 50/30/20 rule is that these percentages may not be adequate to meet your financial requirements.
For example, you may require more than 50% of your allocated income to cover your primary needs if you live in an area with a high cost of living, leaving you with less than ideal funds to put towards wants and savings.