Personal budgets are essential to have if you want to stay on track regarding your personal spending habits. Knowing where your money is being allocated daily can help you work better with your earnings so that you can save money for those much-deserved luxuries every now and again.
If you're looking for personal budget template Google Sheets options, see the free budget templates below to help you stay on track with your income and expenses. In this article, you'll explore the various free budget planning tools that can help make your life easier financially.
Planning on tying the knot soon? You can even plan a wedding budget with a ready-made Google Sheet template!
1. Free Downloadable Personal Budget Template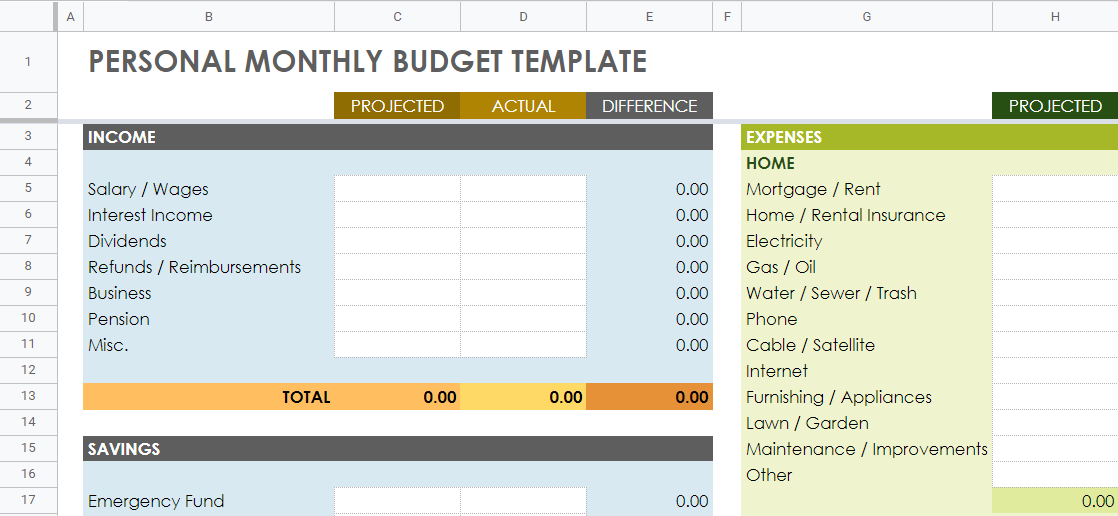 Designed by Smartsheet
The free downloadable Personal Budget Template by Smartsheet is an invaluable resource that can help keep you up to speed with incoming funds and outgoing expenses on a monthly basis. As far as expenses go, this personal monthly budget template lists almost every imaginable ordinary everyday expense so that you don't have to remember to.
It also breaks down certain expenses into simple income and expense categories such as home expenses, transportation expenses, entertainment, health, vacation, and daily living expenses to help you budget for these categories independently of one another. This detailed budget is one to use if you have many expenses to remember, and it'll help highlight which areas you fall short in the "Difference" column.
2. Annual Personal Budget Template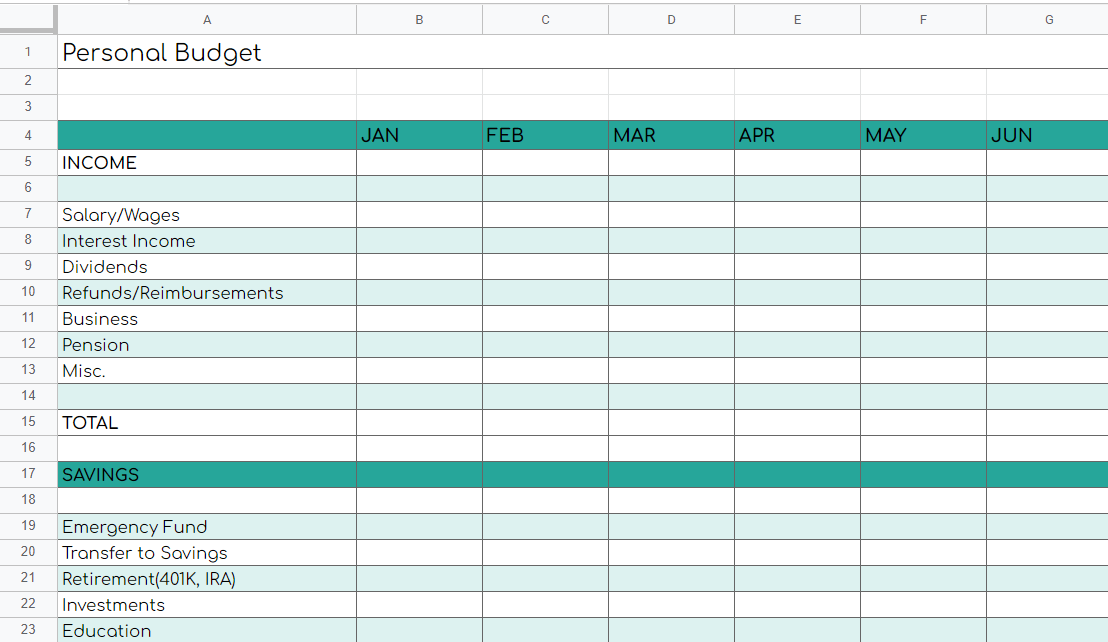 Designed by Spreadsheet Daddy
The Annual Personal Budget Template by Spreadsheet Daddy is a template that should assist you in planning better for the year ahead.
It allows you to budget for most of your common monthly expenses to help you achieve your medium and longer-term financial goals.
This annual budget is super helpful if you want to have a clear picture of your spending habits, so you can be better prepared financially for yearly tracking as you get closer and closer to your end goal.
3. Monthly Personal Budget Template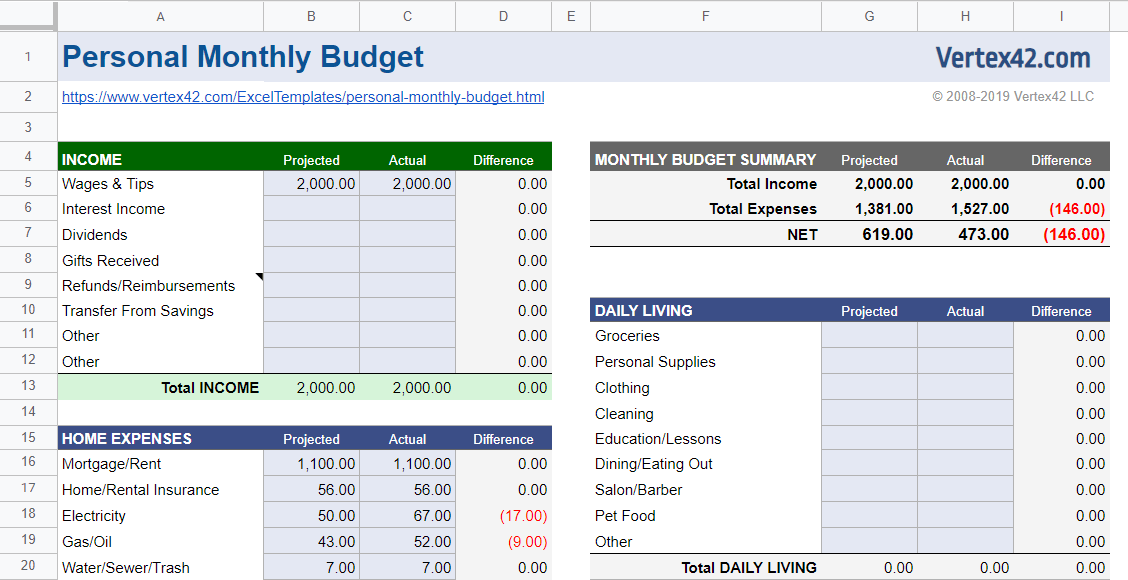 Designed by Vertex42
The Monthly Personal Budget Template by Vertex42 is a tool you can use to manage your monthly spending better. This free monthly budget template immediately notifies you when you overspend in a certain budget category by showing negative amounts in red, as it can automatically calculate when you go over budget. You can also amend the categories depending on the income and expenses that are suited to your lifestyle.
4. Weekly Personal Budget Template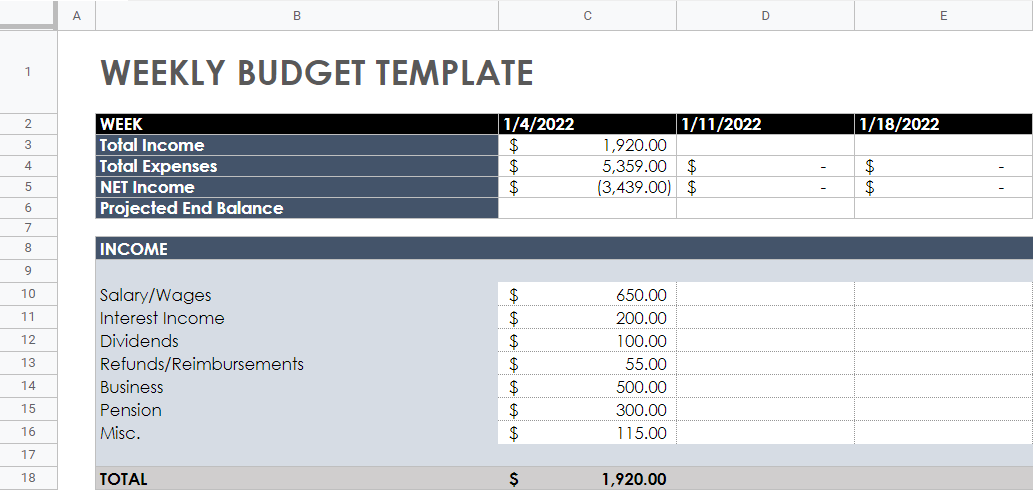 Designed by Smartsheet
When it comes to budgeting, it is small and steady steps in the right direction that can end up making the most difference as to whether or not you achieve your financial goals. This is where budgeting weekly may be more helpful in this regard, helping you stay more in line with what you're trying to achieve financially in the short term. With the Weekly Personal Budget Template by Smartsheet, you can see how your actual expenditure deviates from your projected expenditure by looking at the summary of your weekly projected net balances at the top of the sheet.
5. Personal Budget Template With Pie Chart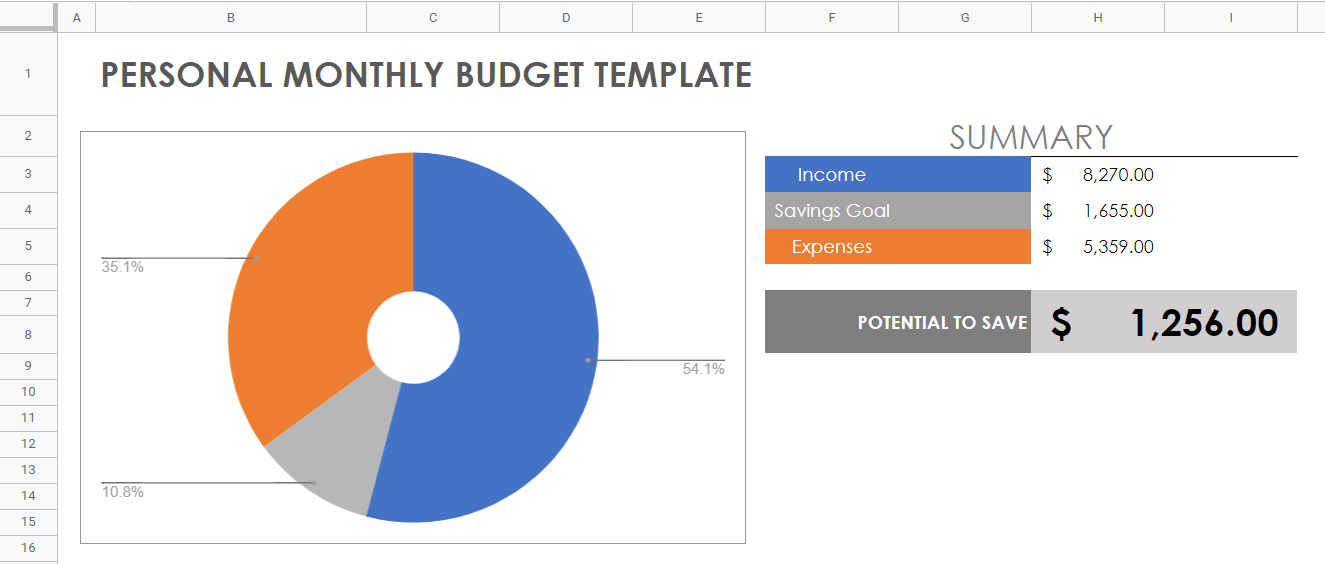 Designed by Smartsheet
The Personal Budget Template with Pie chart by Smartsheet is a visually helpful budget planner if you appreciate the value of infographics.
Savings should be a significant component of one's personal budget in this day and age, as one can never have too much of a safety net stored away for a rainy day. The neat thing about this personal monthly budget is that it actually motivates you to save by highlighting your potential to save with a pie chart that changes according to how much you can save over time.
6. Personal Budget by Paycheck Template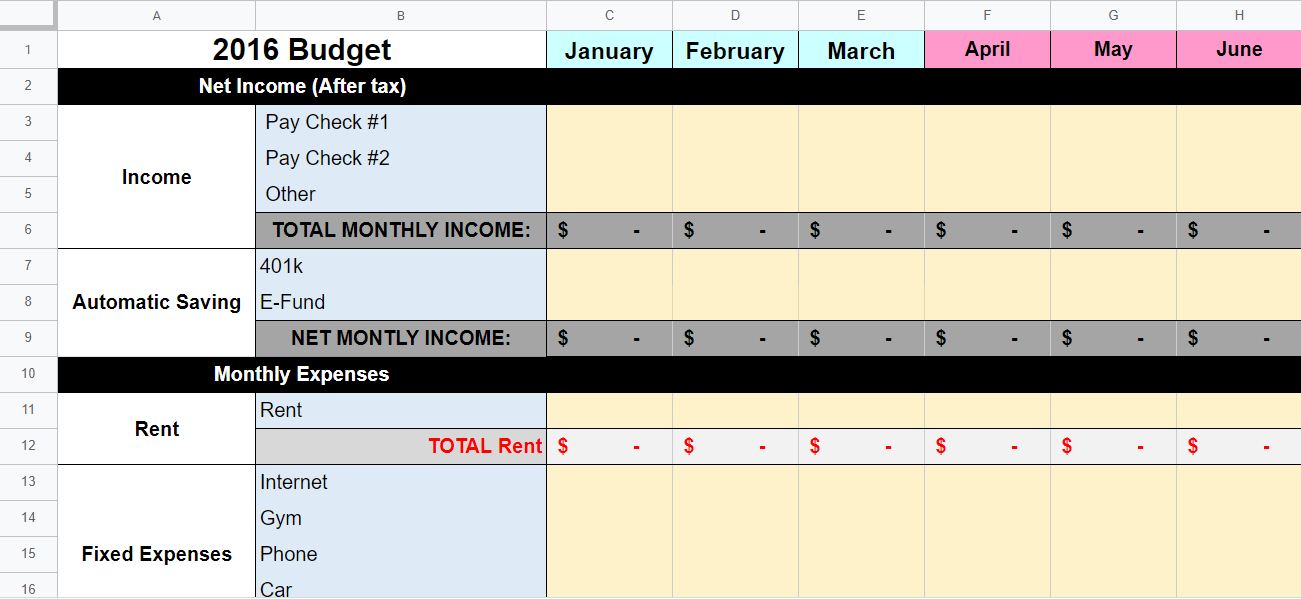 Designed by Reddit
The Personal Budget by Paycheck Template by Reddit is excellent to use if you're a freelancer or contract worker with an inconsistent monthly income, but still want to have a firm grip on your income and expenses. But it can also be used if you have multiple revenue streams, and you want to see how this additional income impacts your overall budget.
But sometimes, it's not so easy to see where you're going wrong in your budget if it's long and extensive. And with limited time at our disposal, it can make it all the more difficult to go through each and every line on your spreadsheet with a fine-tooth comb. This is where this budget helps you keep your focus on each and every designated category with its simplistic and well-organized layout to help you reach your budgeting goals.
7. Personal Budget Analysis Template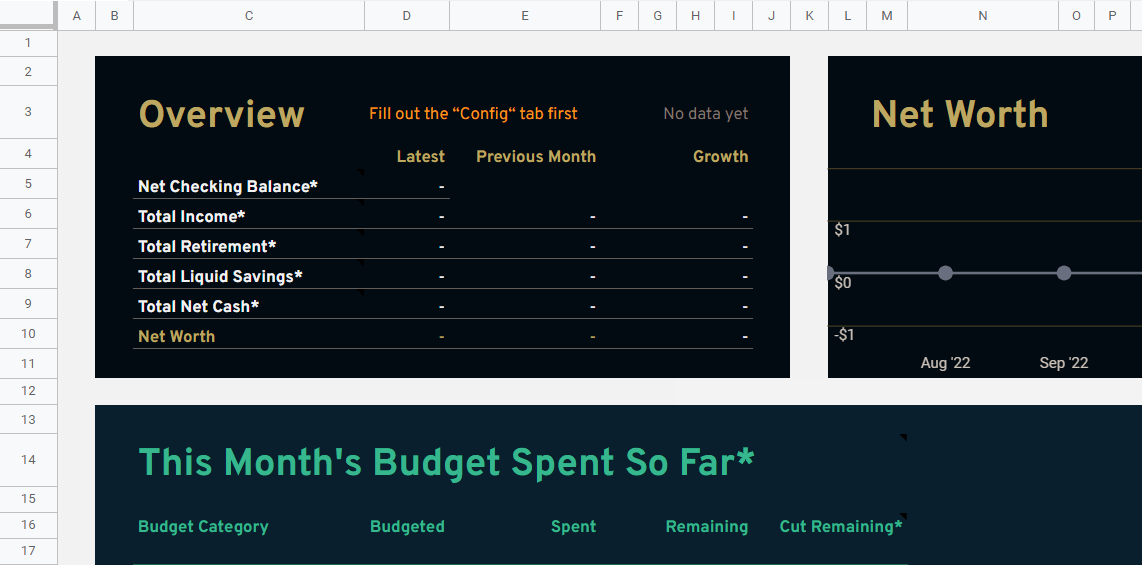 Designed by RegPaq
The Personal Budget Analysis Template by RegPaq is an intuitive template that is interactive and helps you see your budget from different vantage points.
Zoom in and use the dashboard to get a quick overview of your income and expenses, as well as compare it to previous months to see how you're progressing. Horizontal bar graphs also show how well you're doing in specific spend categories versus others.
8. Dave Ramsey Personal Budget Template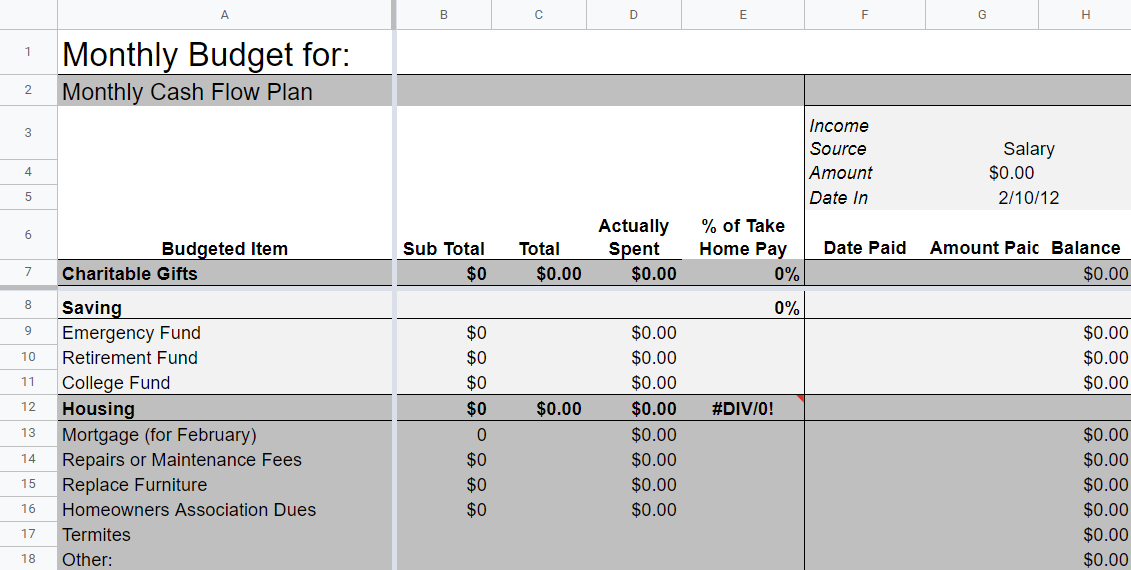 The Dave Ramsey Personal Budget Template should be an easy choice if you've heard of and admire this financial guru. Again, it's a template that highlights typical examples of incomes and expenses that you'll encounter if you're a homeowner and/or have children to provide for. This spreadsheet is functional and easy to follow if your spreadsheet is long with many lines to keep track of.
9. Personal Cash Flow Statement Template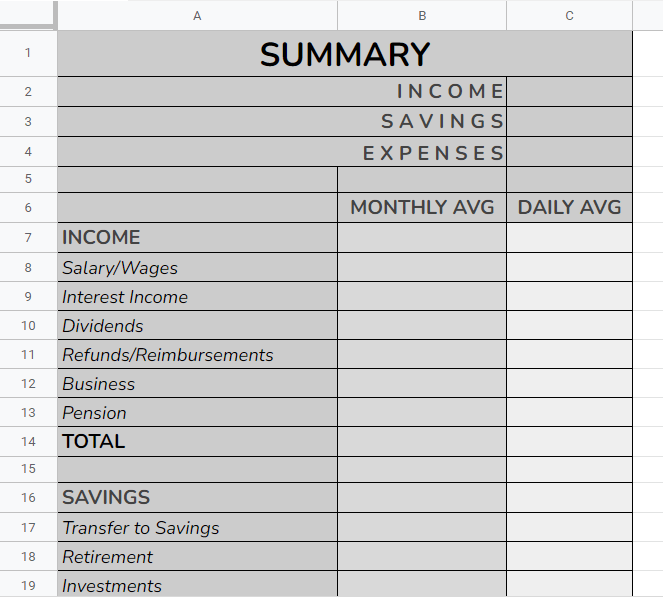 Designed by Smartsheet Daddy
The Personal Cash Flow Template by Smartsheet Daddy is a simple yet effective budgeting tool, giving you a broad overview of how your monthly expenses compare to your daily expenses based on overall averages.
10. Projected Personal Budget Template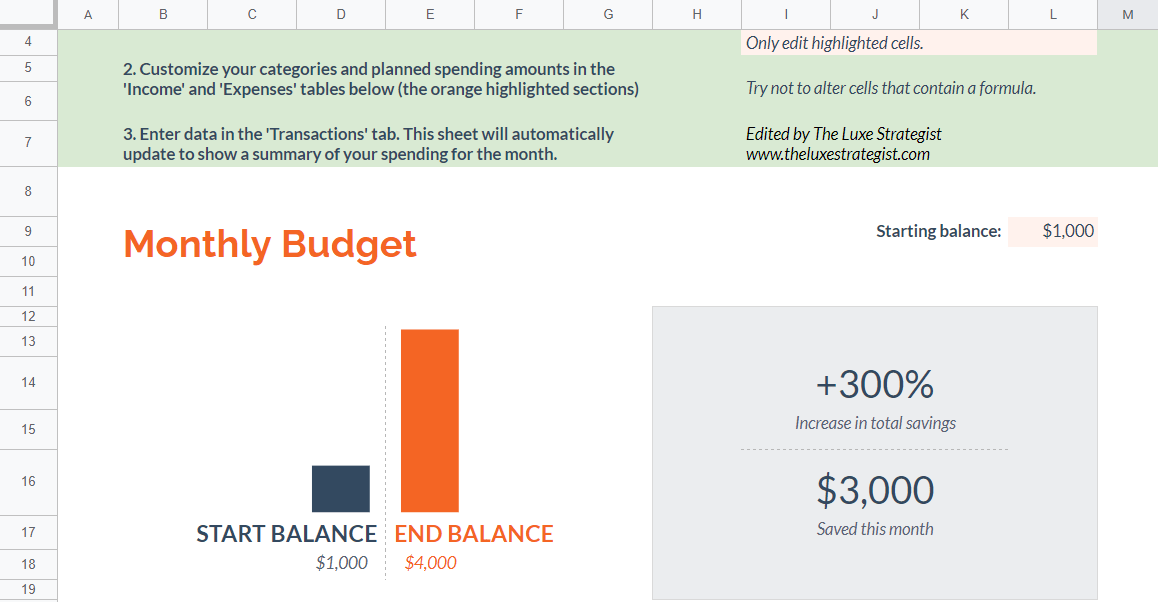 Designed by The Luxe Strategist
The Projected Personal Budget Template by The Luxe Strategist is another extremely helpful budget planner if you aim to make budgeting – and savings – a priority. Use this budget to track your spending against your savings, so you can start seeing positive results in terms of reaching your financial goals.
Just like any typical free Google Sheets budget template, this spreadsheet is easily adjustable to slot in your own expenses and has the necessary formulas already built-in in the spreadsheet, precalculated for you, so you don't have to do any additions or subtractions yourself.
How to Create a Simple Personal Budget Template in Google Sheets
Are you looking for a simple way to create a personal budget template in Google Sheets that does not require a lot of work or time on your part?
Then we advise you to use the step-by-step guide below to create a budget planner to your liking!
Step 1. Start by entering the content for your template. To do so, click on a blank cell and type the text you need.
Step 2. To merge cells, select these cells, click on the Merge icon, and finally, choose the Merge all option.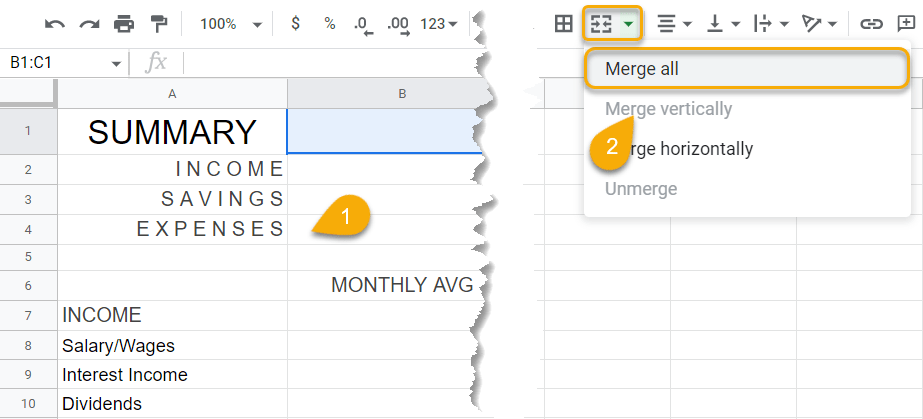 Step 3. The next thing you need to do is customize the content that you have added to the spreadsheet. So, go to the toolbar menu and change font, size, color, and alignment.

Step 4. After that, select your data, click on the Border icon, and then choose the color, style, and type of border.

Step 5. The last step is to highlight those cells that need to be painted. Click on the Fill color option, and then select a color from the palette that will appear. You should now have a budget template for Google that's ready for action!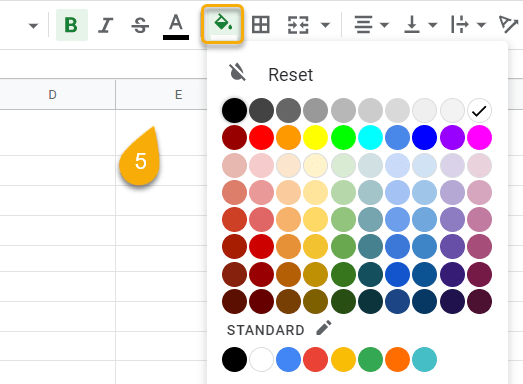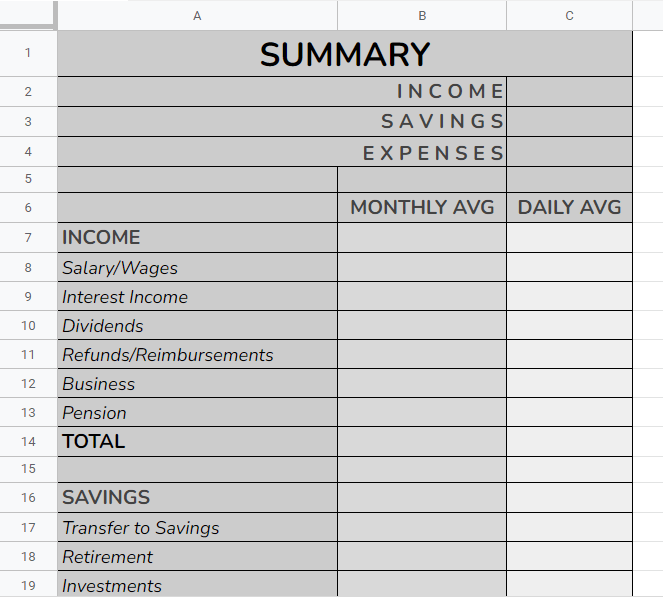 FAQs
Does Google Sheets have a personal budget template?
Yes, it does. In fact, you have plenty of personal budget templates to choose from with Google Sheets and the various free templates listed above!
What's more, you can adjust a Google Sheets template and convert it into a customizable template that will track your daily spending down to a tee.
You can even use Google Sheets templates for business purposes too. See these marketing budget templates if you're a marketer.
How do I make a personal budget spreadsheet in Google Sheets?
Creating your own budget in Google Sheets couldn't be any easier if you follow these simple steps:
If you have a Google account, you'll need to log into your Google Drive.

From there, you can either select a premade template by clicking on the links provided above. Or you can create a new one from scratch by clicking on New, then Google Sheets from the dropdown menu, and then 'blank spreadsheet' to create your own budget template.

Once in, you can list your personal income and expenditures according to the various budget categories (be sure to list all of them, so you can track expenses as accurately as possible). It's also a good idea to specify a timeframe for your budget spreadsheet so that you don't miss the mark regarding planned spending. For example, you can insert the relevant months to create a monthly budget template to track income and expenses from January right through to December.

Do include three primary columns: anticipated expenses, actual expenses, and a column that automatically calculates the differences between the two.

Then you can go about inserting your figures, taking care to ensure that your sum and subtraction formulas include the correct cells and work correctly.

Finally, adjust your budget with the applicable categories and amounts as you go along to make your personal budget as realistic and as accurate as possible.