Since there is so much to remember in a marketing budget, it is helpful to have a workable spreadsheet at your disposal to help keep track of every expenditure.
Budgeting for your next sales quarter has never been easier with Google Sheets marketing budget templates; simply plug in what you have available to spend for each category and what you're actually spending on to spot the differences.
In fact, Google Sheets is so handy it can assist you with a wide range of tasks, from project management to planning for a wedding! See these Google Sheets budget templates for more information.
1. Simple Marketing Budget Template

Designed by HubSpot
The Simple Marketing Budget Spreadsheet by HubSpot is a budgeting tool that will give you peace of mind that every one of your marketing activities has enough spend to excel without overly stretching the available resources.
From a visual perspective, interactive graphs that adjust with their respective formulas provide a simplistic view of changes within the budget so that you can revise these accordingly. Collaborate with your team with this easily shareable document to ensure you meet your ROI objectives.
2. Annual Marketing Budget Template

Designed by Ganttpro
If you are looking for free marketing budget templates that list most (if not all) of your marketing expenses from A to Z, then the Ganttpro Annual Marketing Budget is for you. Not only is this annual budget template as detailed as they come, but you can also share it with team members, track their progress, prioritize tasks, estimate costs against actual expenses, and more.
Take advantage of this annual budget template with over 300 line categories already listed for you so you can concentrate on the more important stuff – allocating, monitoring, and adjusting marketing spend to ensure you stay within budget while still reaching your marketing objectives.
3. Monthly Marketing Budget Template

Designed by Spreadsheet Daddy
If you have your own methodologies and ways of creating a marketing strategy and would like to make use of one of the best marketing budgets that allow for this creative freedom, then look no further than the Monthly Marketing Budget Template by Spreadsheet Daddy.
This no-fuss spreadsheet covers the broader category marketing expenses that you can adjust to include marketing expenses unique to your brand. Spread over the duration of a month, you can keep tabs on your expenses as they occur to ensure you stay close to the allocated marketing spend you created from the start.
4. Social Media Marketing Budget Template

Designed by Ganttpro
With social media at the cutting edge of most marketing plans these days, it is vital to take into account the costs that come with the marketing channels you want to use. More importantly, it's about seeing which areas are not performing that well. Or conversely, which channels are outperforming the rest so that you can readjust your spend and allocate more towards the budget to those areas that are doing well.
Once again, the social media marketing budget template by Ganttpro is one of the best free budget templates as it is also a collaborative tool that can be shared with the marketing team to ensure there is measurable success in every area of your marketing plan from clicks per cost to followers to reach to promotions, to advertising, content management, graphic design and more. This free Google spreadsheet is one to use if you want to keep your finger on the pulse of what's happening in your marketing budget day by day.
5. Small Business Marketing Budget Template

Designed by Ganttpro
The Small Business Marketing Budget Template not only covers essential components of what makes up a solid marketing plan, but it also allows you to monitor these expenses as your marketing plan unfolds. Check out this free Google resource if you want to stay on top of these key areas in your marketing plan:
Business overview

Your market

Your marketing strategy

Operations

Management

Financial plan and projections
6. Content Marketing Budget Template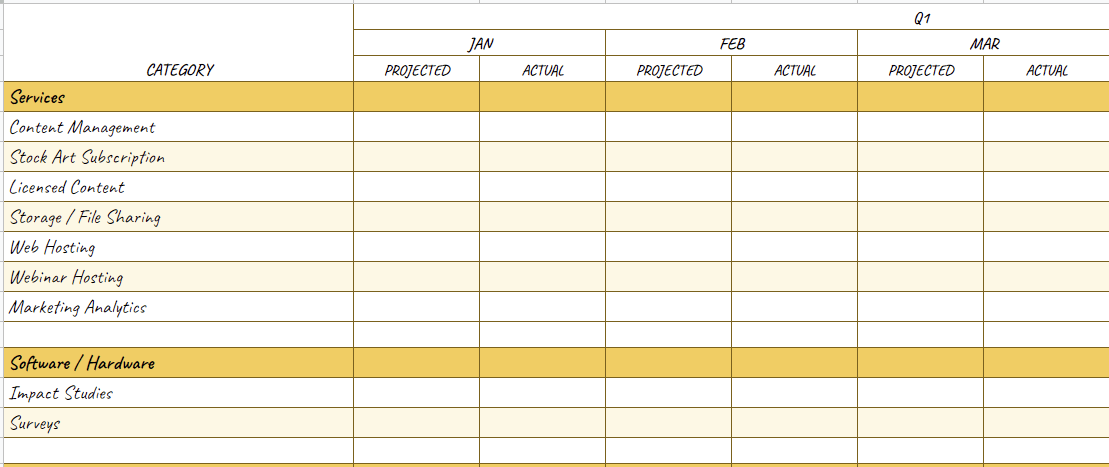 Designed by Spreadsheet Daddy
As you already know, content marketing is a huge deal concerning growing awareness for your brand. Therefore, it only makes sense that there should be a content marketing budget just for this. The Content Marketing Budget Template by Spreadsheet Daddy details the costs involved in creating, managing, and executing content every quarter so that you can keep on top of projected and actual costs as these play out.
7. Event Marketing Budget Template

Designed by Ganttpro
The Event Marketing Budget Template by Ganttpro is one of those Google sheets you just have to see for an all-encompassing free budgeting template that highlights all the core components in event marketing so that you can budget for these accordingly.
And as time equals money, Google sheets allow you to monitor deadlines to avoid overspending in a certain area. Prioritize tasks, track expenses, delegate duties and keep a close eye on every aspect that makes for a successful, well-executed marketing event budget.
8. Digital Marketing Budget Template

Designed by Ganttpro
The Digital Marketing Budget Template by Ganttpro will help you stay in the know regarding the best digital practices to follow through with, as well as how to execute these timeously and within budget.
Stay on top of the digital costs associated with branding, marketing performance metrics, audience acquisition, your competitors, modes of marketing, internal and external resources, and more to ensure you cover all the bases in the multi-faceted, continually evolving space that is digital marketing.
9. Marketing Communication Budget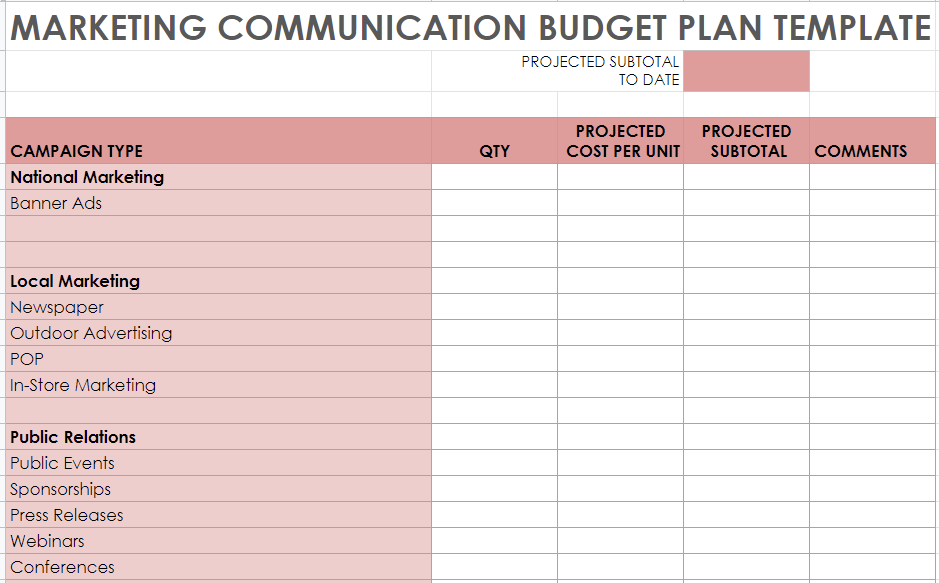 Designed by Spreadsheet Daddy
Since a marketing communications plan is so involved and will require a lot of your time and resources to get through, this free Marketing Communication Template by Spreadsheet Daddy keeps things simple by listing all the costs involved in a typical marketing communications budget in a clear, easily readable format.
All you need to do is add the relevant projected budget amounts and any comments that key people involved in the marketing communications plan need to know about. And you should stay on track to projecting a budget amount that is close enough to the marketing communications budget you set out to achieve in the beginning.
10. Startup Marketing Budget Template

Designed by Ganttpro
The Startup Marketing Budget is similar to the other free templates designed by Ganttpro, but as the name suggests, it is designed specifically for businesses that are in the initial phases of creating a marketing budget.
Get up to speed and monitor your marketing efforts by keeping a close eye on expenditures to see your all-inclusive marketing budget come together.
11. Law Firm Marketing Budget Template

Designed by Spreadsheet Daddy
Every industry needs a budget to work with, including law firms. Keeping tabs on monthly expenditures to keep your law firm up and running requires a spreadsheet that lists every type of expenditure you might encounter in the day-to-day running of your practice.
If you're too busy to stay on top of both major and minor considerations in the daily operations of your business, the Law Firm Marketing Budget Template is a neat expense report template to assist you in keeping on top of your bills every month.
12. Music Marketing Budget Template

Designed by Ganttpro
If you're a marketer for a musician or a band, then the Music Budget Template by Ganttpro is sure to be a most valuable free resource to plan and budget for all the elements that go into creating music and building a brand for well-known as well as up-and-coming musicians.
13. B2B Marketing Budget Template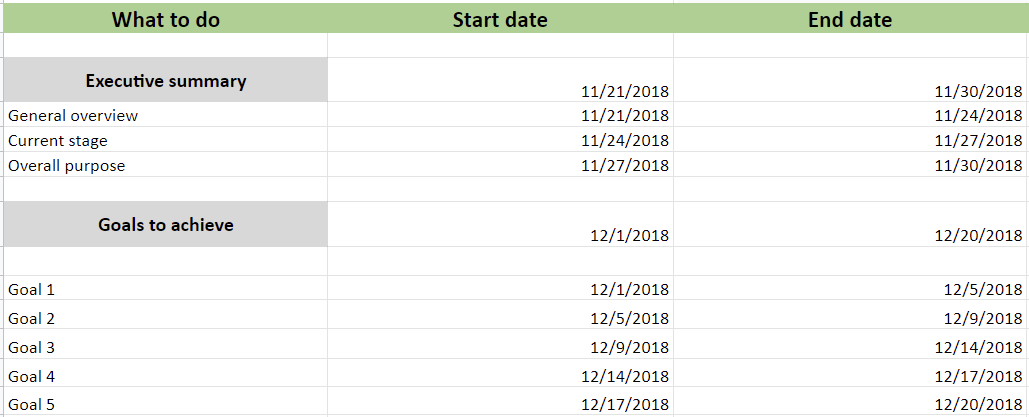 Seeing as B2B marketing is a bit different from B2C marketing, it takes a special budgeting plan to cater to marketing to businesses. Take charge of your marketing goals to increase leads whilst minimizing costs with the B2B Marketing Budget Template by Ganttpro.
14. Marketing Strategy Budget Template

Designed by Ganttpro
Your marketing strategy plan will comprise many components. This extensive list will need to cover every core element in executing a marketing strategy from start to finish. Details like these cannot afford to be missed, as each missed expense can quickly add up to a loss which, of course, won't bode well for your bottom line.
Looking for a measurable spreadsheet that covers your budgeting process from A to Z? Then test this free Google Sheet by Ganttpro out for size!
15. Restaurant Marketing Budget Template

Designed by Ganttpro
The Restaurant Marketing Budget by Ganttpro is another one of those well-devised budget templates specifically for the restaurant industry.
You don't want to miss out on this exceptional free tool if you want to budget and plan for every last detail concerning the management of your restaurant.
16. Email Marketing Budget Template

Designed by HubSpot
Email marketing has continued to cement its position in digital marketing. Hence, the need for email marketing budget templates like the one from HubSpot to minimize missed opportunities.
Keep track of the time and resources spent on all your email marketing campaigns for a noticeable difference in your ROI.
17. SEO Campaign Budget Template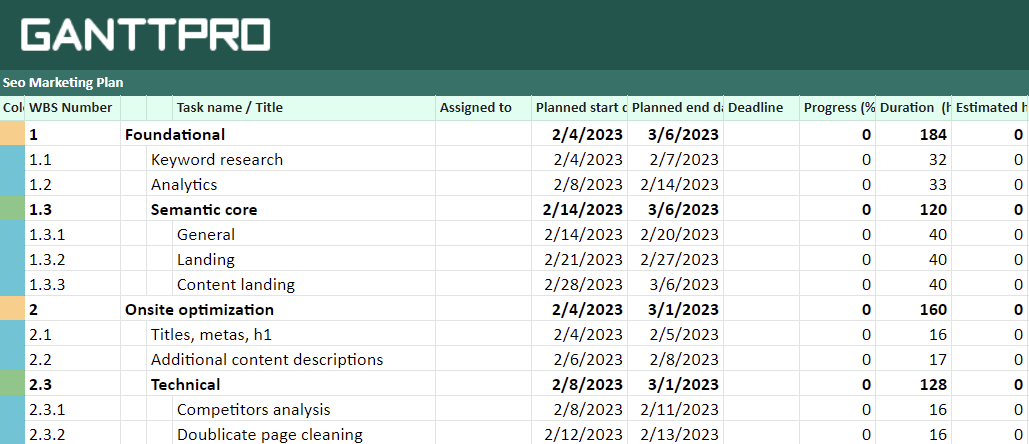 Designed by Ganttpro
The SEO Campaign Budget Template by Ganttpro is great for SEO budgeting. Use this comprehensive list to ensure you maximize every opportunity to let your brand shine online – and profitably too!
18. Film Marketing Budget Template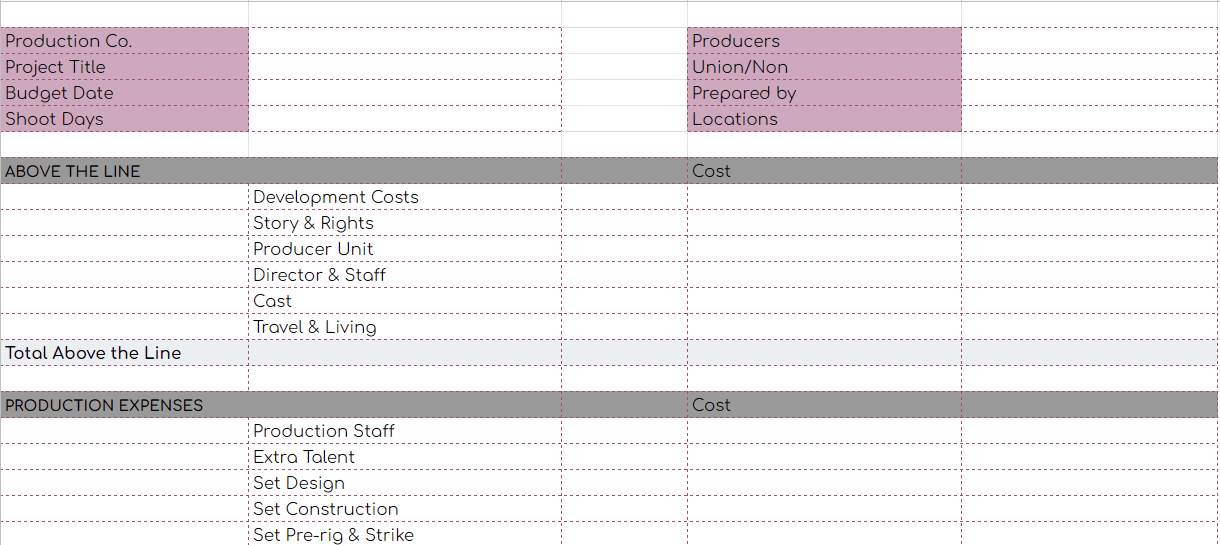 Designed by Spreadsheet Daddy
The Film Marketing Template by Spreadsheet Daddy should be incredibly helpful when planning resources for a production or shoot. Yet again, this simplistic spreadsheet delivers on efficient and effective budgeting for the film industry.
19. PPC Сampaign Budget Template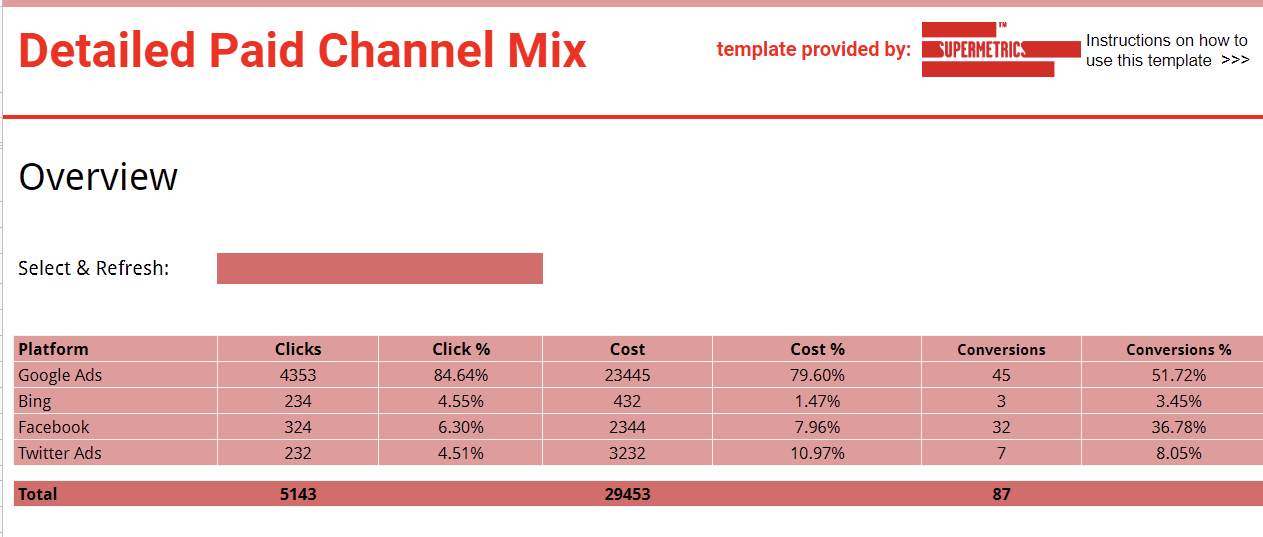 The PPC Campaign Budget Template by Supermetrics should help with all your paid campaign expenses. Compare performances based on key metrics such as click rates, conversions, and cost per acquisition to ensure your paid campaigns are delivering as they should.
How do you structure a marketing budget?
A marketing budget allocates predetermined funds to specific functions that make up a marketing plan. The basic components of a typical marketing budget will, therefore, include expenses relating to advertising, content creation and content management, marketing software, staff resources, and anything else pertaining to your marketing strategy.
What is the best budgeting method for marketing?
Widely acceptable approaches to budgeting for marketing include:
Basing a budget on the previous years marketing budget and increasing it and/ or decreasing it in the relevant areas based on previous years' performance.

Basing a budget on the percentage of sales means basing it on a percentage of the company's sales revenue.

Task-Based budgeting, the allocation of funds toward your marketing budget as per your marketing objectives.

Any, or a combination of, either of the above.