Let's be honest—do you ever find yourself forgetting things that are important to you somewhere in the course of your day? Perhaps it's crucial papers for work or college, a charger for your phone, sunscreen for a trip, or even your grandmother's favorite vase when moving to another apartment. Does that sound familiar to you?
Often, we forget things at home or elsewhere, things that are essential, making our lives more difficult than necessary. It happens to everyone at some point in their lives. Fortunately, there is a simple solution that can make it easy for us to always have everything we need with us at all times.
Google Sheets offers a number of packing list templates where you can easily list the items you need to take on your trip and check them off when you have them. Let's dive into this article and learn more about these templates and how to utilize them.
What Is a Google Sheets Packing List Template?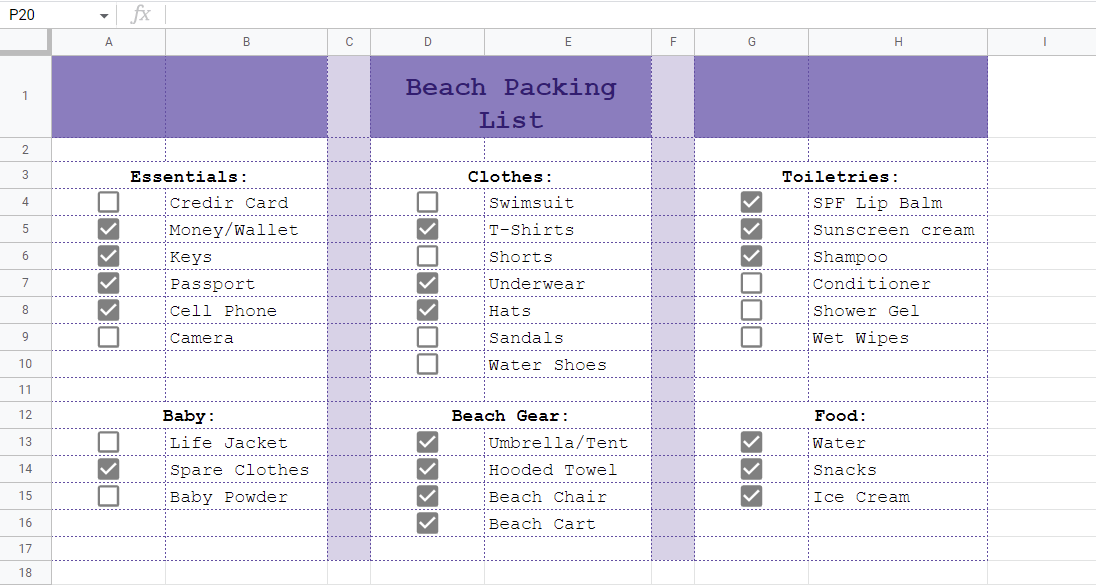 The Google Sheets packing list template is a spreadsheet that contains a list of items you need to keep track of for one reason or another. A packing list can entail any number of things. It may be characterized by a checklist, a table, or simply a list of units that you will mark off in Google Sheets. Ultimately, it's all down to personal preference.
Keeping a packing list will ensure that you do not forget important items, that they are arranged correctly, and that you are able to use them effectively.
Why Use a Packing List Template in Google Sheets?
There are a number of reasons to use a packing list template in Google Sheets. Let's take a closer look at some of the most common ones to see what they have to offer:
Vacation packing list

:

Create and use a list template to make sure nothing slips through the cracks when planning your next trip or vacation.

College packing list

:

Study effectively and rest assured that everything you need to study will be with you.

Baby packing list

: Mark all the items you need to bring with you for your child to be comfortable.

Medical kit packing list

:

Think about what medicines might be useful for you to keep on hand in certain situations and make a list to keep close by.

Work packing list

: Stay organized at work with a packing list template by providing yourself with the essentials.

Apartment packing list

:

Make sure you tick off on your list all the items you should bring when you move to a new apartment.
Hopefully this list has inspired you with ideas where a packing list may prove useful in your own life. You can customize a list to whatever you need!
What Are the Benefits of Using a Google Sheets Packing List Template?
Now let's explore the advantages of using a packing list template:
Save time

: Use the packing list template to mark the items you need so you don't have to worry later about what you forgot. This will save a lot of time and unnecessary stress.

Improve tracking

: Use the packing list template to track the availability of your items in real time. That way, you will know exactly what you have with you.

Manage personal items

: Use a packing list template to keep on top of what you have as well as the condition of each item in your care.
After reviewing these benefits of using a Google Sheets packing list template, it's time to see some template examples.
What Should a Google Sheets Packing List Template Include?
When you make a packing list, the categories for your list will be determined by the purpose of the list (e.g., what you need to keep track of for moving won't necessarily be the same as what you need to manage for going on vacation). The great thing about these templates is that you can personalize them as needed.
Even so, here are some common categories for packing lists that could help you put together your own personalized list:
Essentials

: Be sure to include this column in your list. Every list has essentials! Some common essentials include keys, wallet/purse, cell phone, bank cards, and cash (local currency).

Electronics

: Don't forget to take whatever electronics you need, such as phone, computer/laptop, and camera, along with the various accessories, such as chargers, earphones, memory cards, adapters, cables, etc.

Toiletries/hygiene

: When going on a trip, you do not want to leave without these. Make a list so you don't forget anything you'll need for hygiene, including shampoo, shower gel, toothbrush, toothpaste, soap, hairbrush, etc.

Clothes

: Be sure to have the appropriate clothes you need for your trip, taking into consideration the time of year and the type of weather to expect.

Food

: If you can take food with you, don't forget to include a list of your favorites!

Documents

: Whenever you do any type of traveling or moving, you need to make sure you have all the necessary documents in place and protected. You don't want to find out too late that you forgot your passport at home!

Apartment items

: Many times when moving, it's a wise idea to mark down which items belong in which rooms, to help keep everything organized. Your packing list can help you do just that.

Medicines

: When you are going on a trip, it is very important that you remember to carry a first-aid kit and any medicines you may need. Some of these could be considered essentials as well if you have medication you must take every day.

Miscellaneous

: This category is a great place to include any extra items that you want to bring that may not fall into any of the other categories, such as a blanket/pillow or umbrella.
5 of the Best Google Sheets Packing List Templates
Let's now take a look at five of the best Google Sheets packing list templates available. These templates can help you get a head start on making your own packing list.
Trip Packing List Template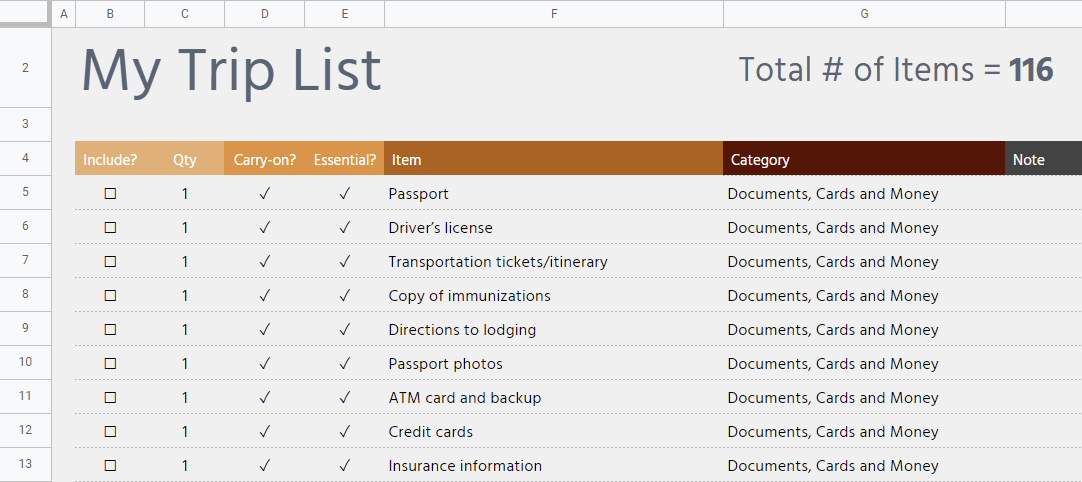 The Trip Packing List Template is one of the most popular template styles on Google Sheets. It provides an array of items for you to choose from, helping you make sure you put together everything you need for your vacation.
The format of the item list is quite simple and convenient to use. In order to facilitate the process of preparing for a trip, each unit has been assigned its own category.
Additionally, this document shows the total number of items on the list, so you can easily check off the items that have already been packed. Simply put a check mark next to each item as you pack!
Medical Kit Packing List Template

The Medical Kit Packing List Template is arranged in a logical manner to help you manage your list of medications, the quantity of each, and information regarding to which category they belong.
If you would like to include notes or caveats, you can do so in a separate column. Simply adjust the template as needed.
To use the list, type the necessary information into the table and mark off what you have already packed.
We have provided a link below where you can download this document and see just how easy it is to use.
College Packing List Template

Are you a student? If so, this College Packing List Template can be a great tool for you!
This document is quite extensive and has a large amount of items to include. There are several different categories for the Google Sheets College Packing List, such as items needed for studying and items useful for daily living. This list will help everything go much smoother for the prospective student!.
The template is available below for download. Simply upload it and type the relevant item names into each section as indicated. Additionally, you can customize the appearance of the table by changing its color, font, and style.
Apartment Packing List Template

If you find yourself moving into an apartment, the Google Sheets Apartment Packing List Template will help you keep track of everything you need and where it should go.
This spreadsheet is divided into separate sections that are visually distinguishable from one another by color to help avoid confusion. Include information about individual furniture pieces and items of home equipment in each section. Each item in this document can be assigned to a specific room column.
We highly recommend this template if you are moving, as its benefits are excellent. You can modify it by entering the names of the required items, changing its color scheme, or adding additional columns and rows if you want to include more information.
Beach Packing List Template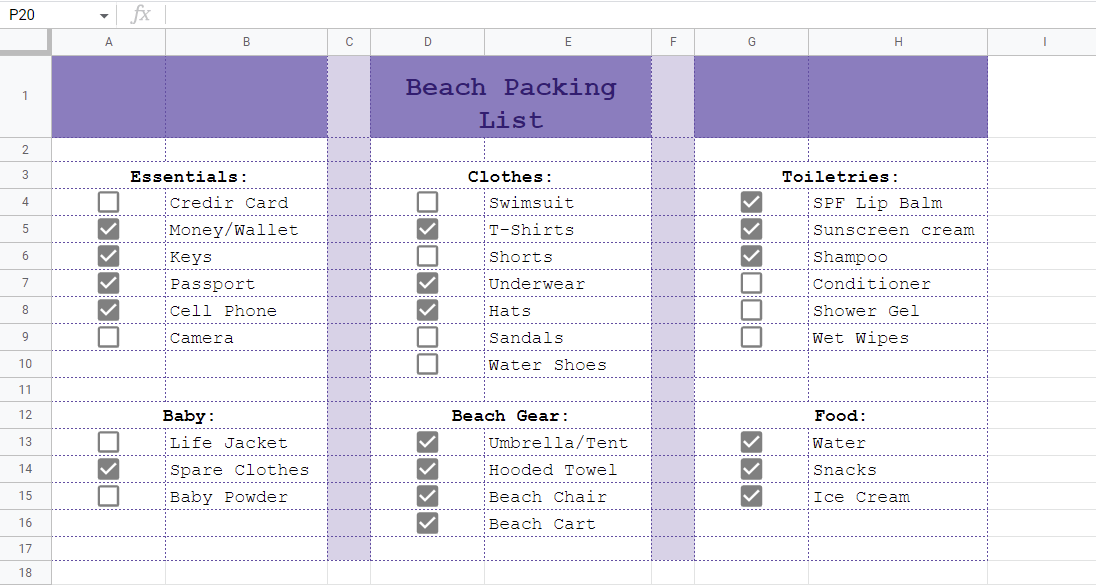 Are you planning to sunbathe on the beach? Make sure your sunny excursion goes according to plan by using the Google Sheets Beach Packing List Template to keep track of everything you need!
This example provides a number of common beach items that you can mark off as you put them in your bag.
Use this packing list and adapt it to your needs so nothing spoils your time at the beach. Feel free to add items to the list as needed, expanding it to fit your outing.
How to Make a Google Sheets Packing List Template
Below is an easy step-by-step guide that will take you through the process of creating your own packing list template. So let's see how it's done!
Step 1. Firstly, create a header for your packing list. For our example, we will create a beach packing list. Type the name of the list in a blank cell at the top.
If your header takes up a large amount of space covering more than one cell, you can merge the cells together by clicking on the Merge cells icon in the toolbar above the spreadsheet.

Note. If you need more guidance, we have a separate guide covering how to merge cells in Google Sheets just in a few seconds.
Step 2. Secondly, create columns for the items you need to bring with you, typing them into the spreadsheet. It might be a good idea to create subheaders for different categories for your list. You can see how we did it in the screenshot below.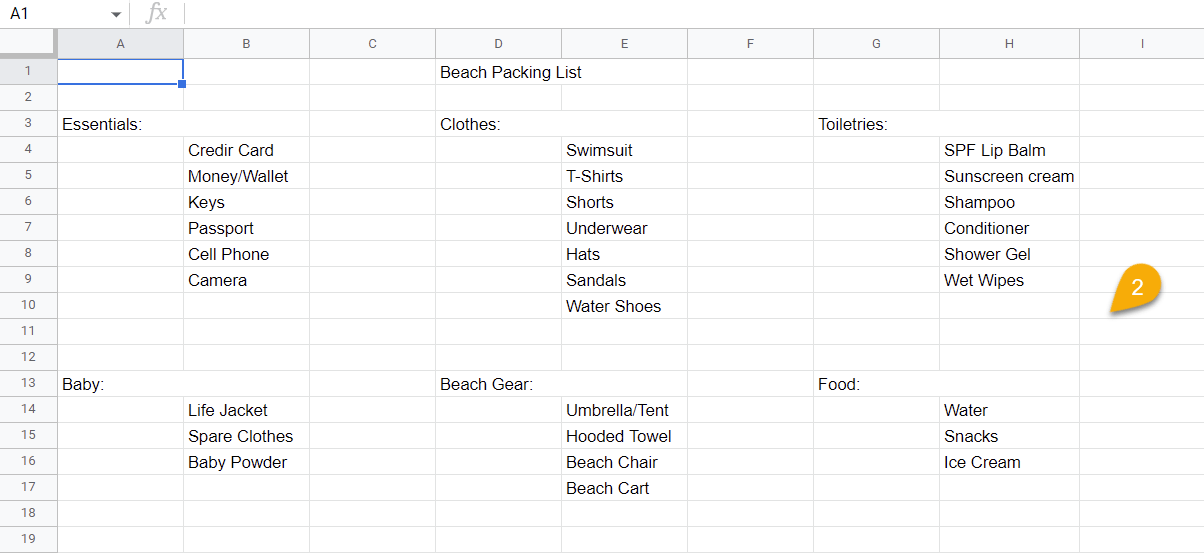 Step 3: After the text has been input, it needs to be formatted. Select the cell with your text and use the toolbar to personalize the text. There is a wide range of options available to you in regard to font type, size, color, alignment, etc.

Step 4: Now we want to add checkboxes beside each item in order to make it easier to keep track of what you have and what you don't have. Select the cell where you want to add a checkbox, then go to the Insert menu and click on Checkbox.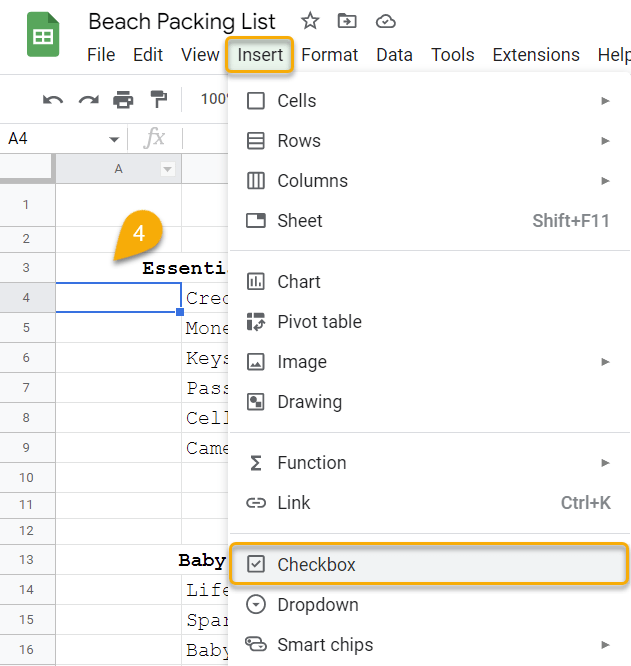 To easily and quickly apply this function to other cells in your list, click the bottom right corner of the cell with the checkbox and drag the cursor down through the rest of the list while holding the left mouse button. This will copy the checkbox into each of the highlighted cells.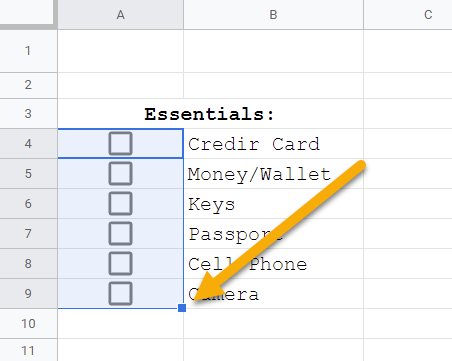 Note. If you are interested in learning more, you can learn how to create a checklist in Google Sheets with little effort.
Step 5: Now that the main content has been added, we need to move on to the next step: changing the appearance of our beach packing list in order to fully personalize it.
To change the size of columns or rows, right-click on the column or row you want to change, select the Resize column or Resize row option, enter new column width or specify row height, and press OK.

In order to change the color of your Google Sheets beach packing list, select the cells you want to color, click on the Fill color icon in the toolbar, then choose the desired color from the options that appear. Follow the same process for the remaining cells that need to be modified.

You can also add borders by selecting the cells where you want a border, clicking on the Border icon, and then selecting the color, style, and type of border you want to add.

Check out our result below: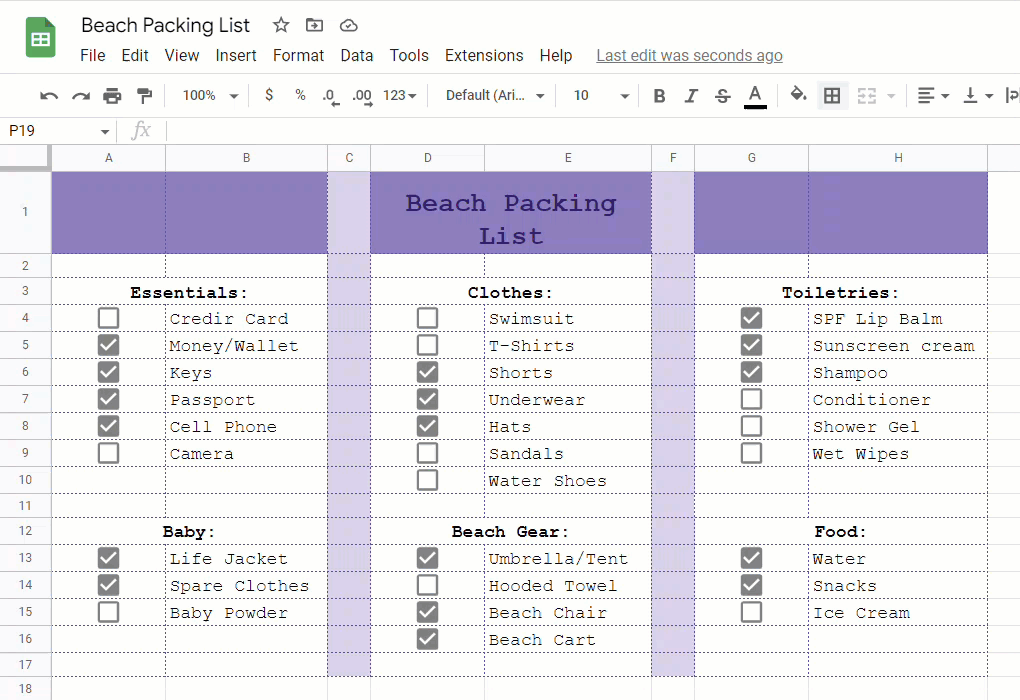 The good news is that now you can create your own template and use it for whatever you need!
Frequently Asked Questions
This section will answer all your questions relating to this topic, so please take a moment to read through it!
How do I create a Google Sheets list template?
To create Google Sheets list template, all you need to do is enter a list of items into the Google Sheets spreadsheet, then select the cell that is next to the item's name, click on the Insert tab, and select the Checkbox option. This will allow you to tick the necessary items off your list as you pack them.
Does Google Sheets have checklist templates?
No, Google Sheets do not have a built-in template, but you can easily make your own template or use the templates we have prepared for you above.