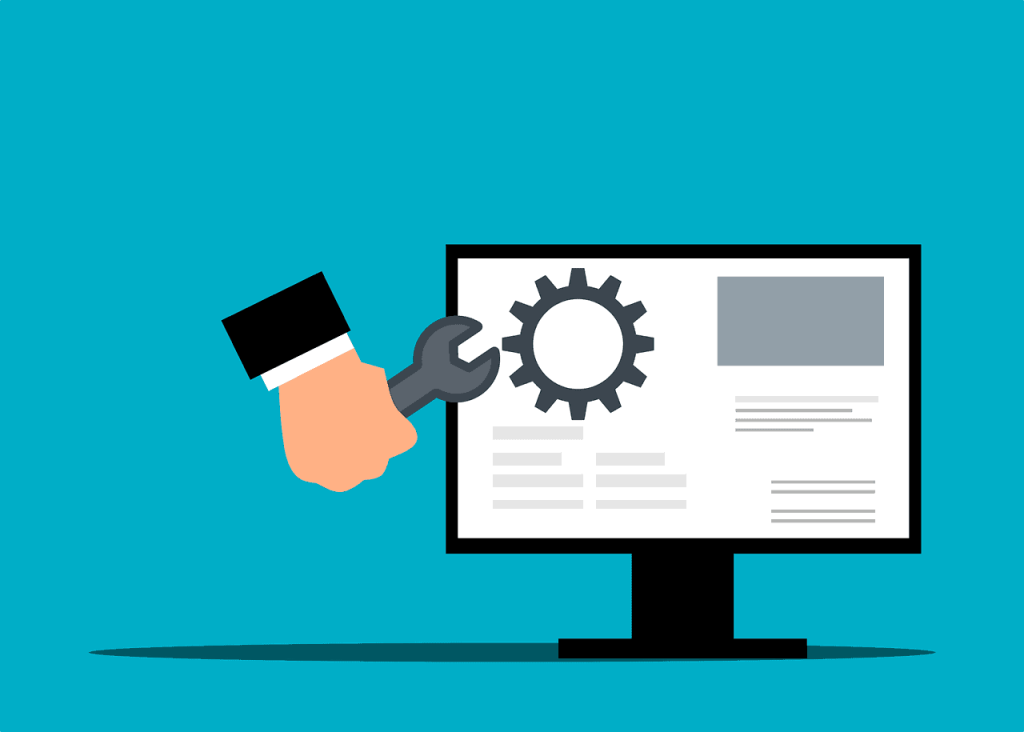 No matter what your job is, chances are, you use Excel.
Whether it's for work or personal purposes, this spreadsheet juggernaut makes our lives so much easier, saving us tons of time and resources on a daily basis.
While Excel is, hands down, a power to be reckoned with, the built-in functionalities just can't solve every problem under the sun.
That's where Excel add-ins come into play, helping you dramatically expand the core functionalities of this web-based spreadsheet software.
In this article, we rank and review the seven best Excel add-ins for data analysis based on their features, pricing, customization options, and use cases to help you reach the levels of productivity you thought were impossible.
Disclaimer: This post may contain affiliate links from which we earn commission from recommending products at no additional cost for you. Learn more
What Are the Best Excel Add-ins?
Here are our top picks for the best Microsoft Excel add-ins to use this year:
XLTools
Ablebits
Professor Excel Tools
Peltier Tech Charts for Excel
Analysis Toolpak
Best for data analysis and data management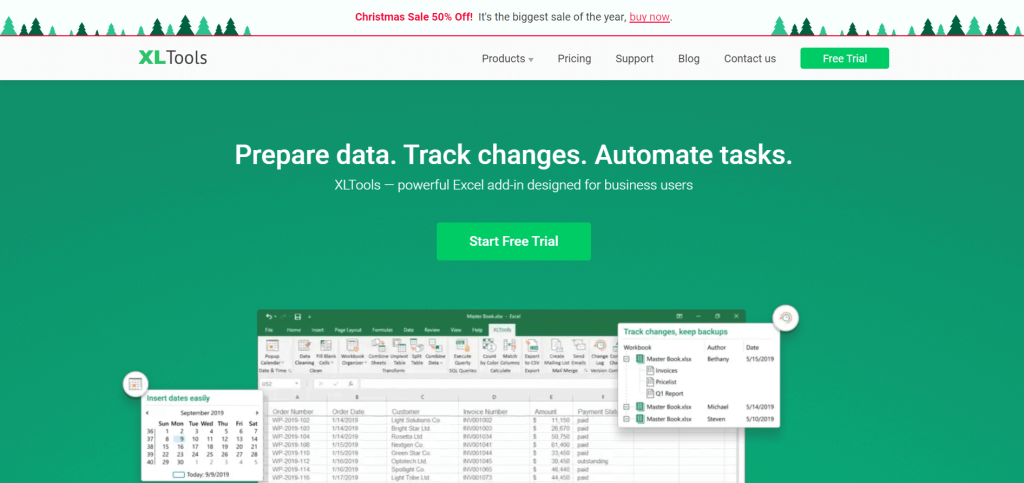 XLTools is an Excel add-in beloved by power users and beginners alike because of its simple, intuitive design. It offers tons of features to help you with tasks like data cleansing, analysis, and reporting.
The add-in adds an XLTools tab to your Excel Ribbon that houses over 30 tools – with a little something to suit everyone's needs.
And best of all, it runs lightning-fast and lets you work as usual without any slowdowns.
Top Features
Pop-up calendar tools – easily manage data values
The data prep module – clean up messy formatting and unify your data
Versioning & backups – track changes and create backup copies
Automations – create automations without having to use VBA
System Requirements
XLTools is compatible with Microsoft Excel 2010 and newer versions
Windows 7+
Pricing
The pricing packages for a lifetime license start at $7.47 and range up to $99.97 based on your needs.
Sign up today to get a two-week free trial to test it out!
Why we love this tool: XLTools is incredibly simple and easy to use while providing powerful functionalities, making it accessible for non-technical users.
Click here to start your 14-day free trial. Full version. No credit card required.
Best for organizations looking for ways to optimize their processes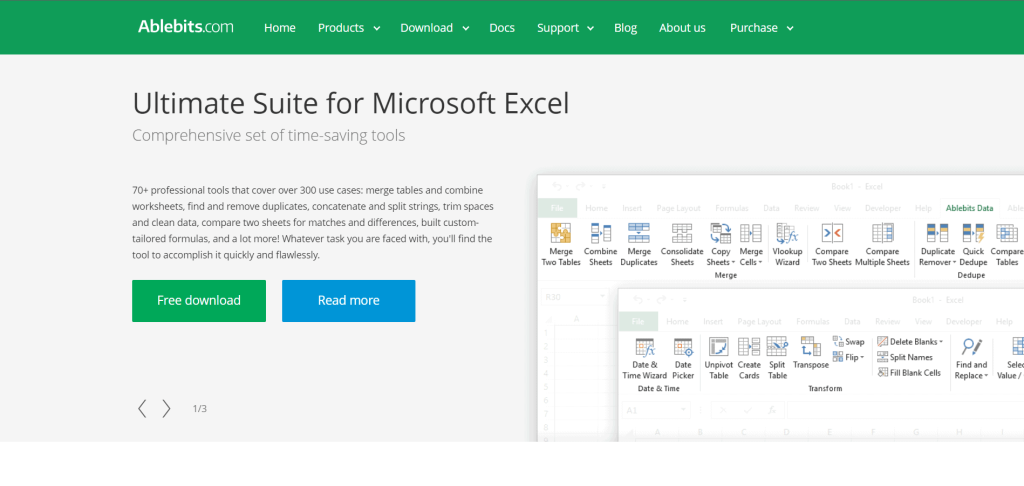 Interesting fact about Excel: there are more than 450 built-in functions available in Excel, but even this number is not enough to provide a regular user with everything they need to comfortably work with spreadsheets. This is where Ablebits comes into play. It's a comprehensive suite of tools that cover almost every need you could possibly have when it comes to data input, manipulation, and analysis.
The add-in adds two separate tabs to your Excel Ribbon: Ablebits Data and Ablebits Tools.
Ablebits Data is made up of numerous tools that empower you to perform complex data manipulations that typically require custom formulas or macros in just a few clicks: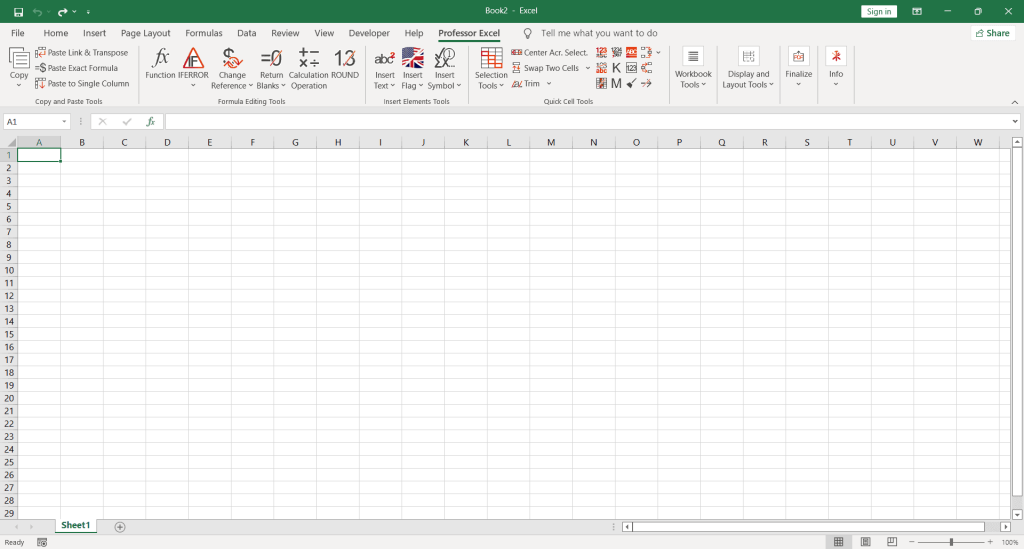 Ablebits Tools provides a broad spectrum of tools to format and move your data around with ease:

It's one of the best-rated add-ins on the market, with an impressive array of features and a very reasonable price.
Top Features
Remove duplicates
Merge sheets and values
Build custom pivot tables
Perform complex data manipulations
System Requirements
Excel 2010, 2013, 2016, 2019, 2020, and 2021 – including Microsoft 365
Windows 7 and later versions
Pricing
The pricing packages for a lifetime license start at $99 for individuals and $149.95 for businesses that need to deploy the add-in at scale.
Get started today to get a 14-day free trial!
Why we love this tool: Albebits is the best tool for businesses and organizations across all industries, helping streamline processes across the board.
Best for expanding the built-in toolset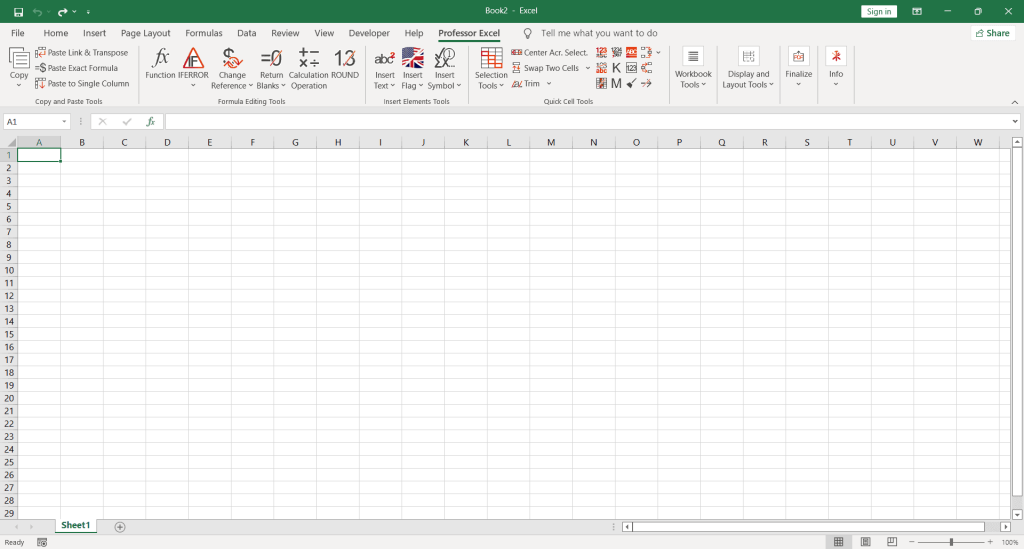 Professor Excel Tools combines over 120+ tools and features to drastically extend the default functionality of Excel.
Have you ever been in the middle of solving a complex problem only to stop the train of thought to google how to do a simple task like selecting all cells ending with whitespace or merging sheets?
Well, with this Excel add-in, that will become a thing of the past. For instance, here's how you can quickly break all hyperlinks across the entire workbook using this add-in: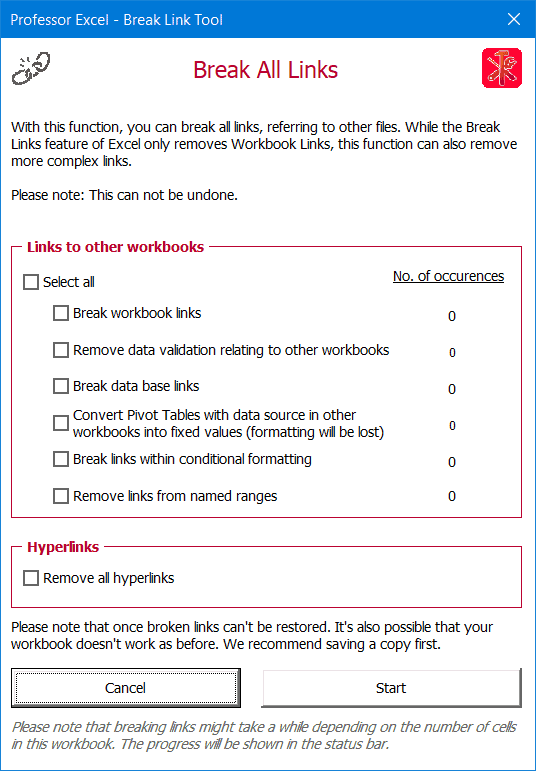 It doesn't matter whether you're an accountant, a business owner, or just a regular user – you need this tool to automate the most common tasks like removing duplicates, saving you a bottomless well of time in the long run.
Top Features
Bulk edit formulas and functions
Quickly insert a flag or special character
A powerful export manager
Professional formatting capabilities
System Requirements
Excel 2010, 2013, 2016, 2019, 2020, and 2021 – including Microsoft 365.
Windows 7 and later versions.
Pricing
The pricing packages start at $59.99 for a lifetime license – with massive discounts for organizations buying multiple licenses at once.
Why we love this tool: Professor Excel Tools is a multifaceted tool that significantly streamlines the process of working in Excel.
Best for building advanced charts and graphs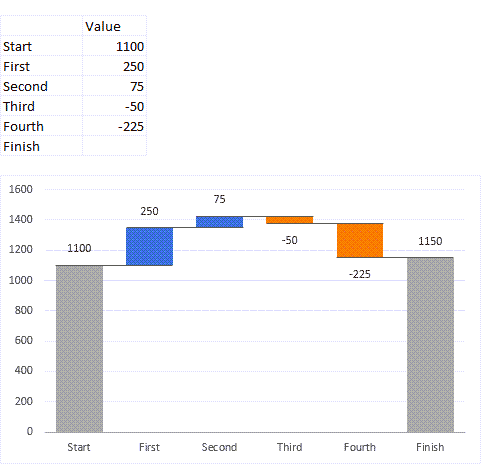 Peltier Tech Charts is an advanced Excel add-in for data visualization designed to help users create advanced charts and graphs that Excel does not support.
While Excel supports only 11 built-in chart types, Peltier Tech Charts expands the default data visualization toolset with 27 additional chart types.
From simple step charts to mind-blowing Marimekko graphs, the add-in adds a separate tab to your Excel Ribbon with all the tools you need to create any type of chart or graph.
Top Features
27+ advanced chart types – including waterfall charts, bullet charts, and dot plot variations
Easily edit the underlying data series
Extensive tools for chart editing
Export your charts to Word, PowerPoint, or turn them into images
Pricing
The price tag is $99 for a lifetime license – with generous discounts for bulk purchases.
System Requirements
Excel 2013+ (including Microsoft 365)
Windows 7 and later versions
Compatible with Mac OS
Why we love this tool: Charting tools can be extremely valuable for data analysis, and this Excel extension provides users with everything they need to create almost any type of graph or chart they can imagine.
Best free Excel add-in for data analysis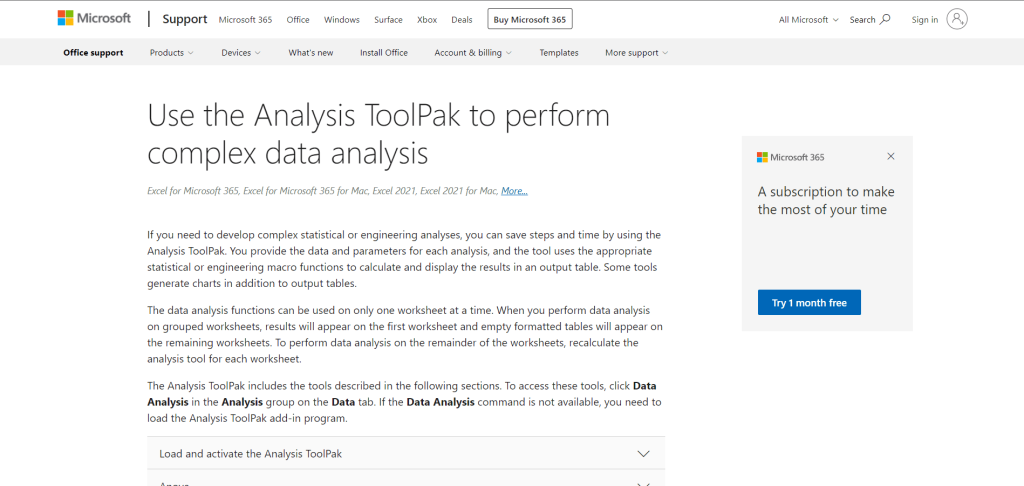 Analysis ToolPak is an add-in that comes preinstalled in Excel to help users analyze data.
As an advanced version of the Quick Analysis tool in Excel, the ToolPak offers a range of features to help you with tasks like descriptive statistics, regression analysis, ANOVA, and more.
Top Features
Descriptive statistics
Regression analysis
ANOVA
Correlation and covariance
Exponential smoothing
Two-sample F-tests
Moving average analysis
System Requirements
Pricing
The Analysis ToolPak add-in is free and comes preinstalled in Excel.
Why we love this tool: Analysis ToolPak is one of the best data analysis Excel add-ins out there, helping users make the most out of their data.
What Is a Microsoft Excel Add-in?
An Excel add-in is a software extension that adds new features and functionalities to Microsoft Excel.
They can be purchased or downloaded for free from various sources, including the Microsoft Store, third-party developers, and more.
How to Enable or Disable an Excel Add-in?
Here's how to find a list of your Excel add-ins to enable or disable them however you see fit:
1. Go to the File tab.
2. Hit the "Options" button.
This will open up the "Excel Options" window.
3. Click on the Add-Ins tab, and you'll see a list of all the active Excel add-ins.
4. Next to "Manage," select "Excel Add-ins" to click "Go."
5. To enable or disable an add-in, either check or uncheck the box next to the name of the add-in you want to turn on or turn off and click "OK."