Kanban boards offer one of the best ways to visualize your work, keep track of your tasks, and boost your overall productivity.
As a superior alternative to physical Kanban boards, online Kanban tools offer an unprecedented level of flexibility, making it possible for small and large teams alike to stay on top of their workload.
But with so many options out there, it's hard to choose the right tool.
To help you make an informed decision, we have reviewed this year's best Kanban board software based on features, pricing, collaboration tools, customization options, and more.
What Is the Best Kanban Board Software in 2023?
Here are our top picks for the best Kanban software to use in 2023:
Trello
LeanKit
KanbanFlow
ClickUp
Kanbanize
Best for visual project management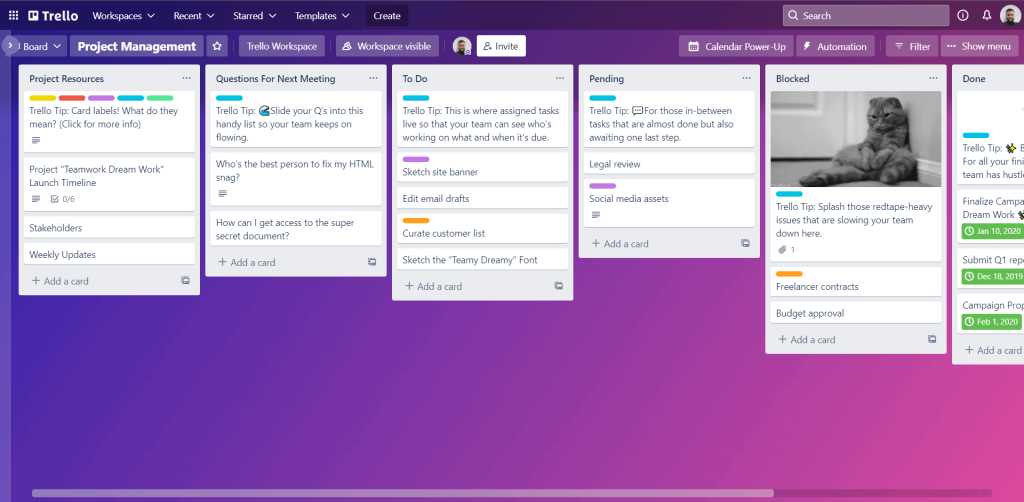 Trello is one of the most popular cloud-based Kanban boards available on the market, allowing you to easily track projects, create boards, cards, and lists to visualize your work.
Personally, I like Trello for its intuitive design and well-polished drag-and-drop Kanban boards—you can get up and running in minutes without any prior training or experience working with project management tools.
What's more, I absolutely love Trello for its vast template library that saves me a ton of time on building my Kanban board from scratch. Check out how extensive it really is: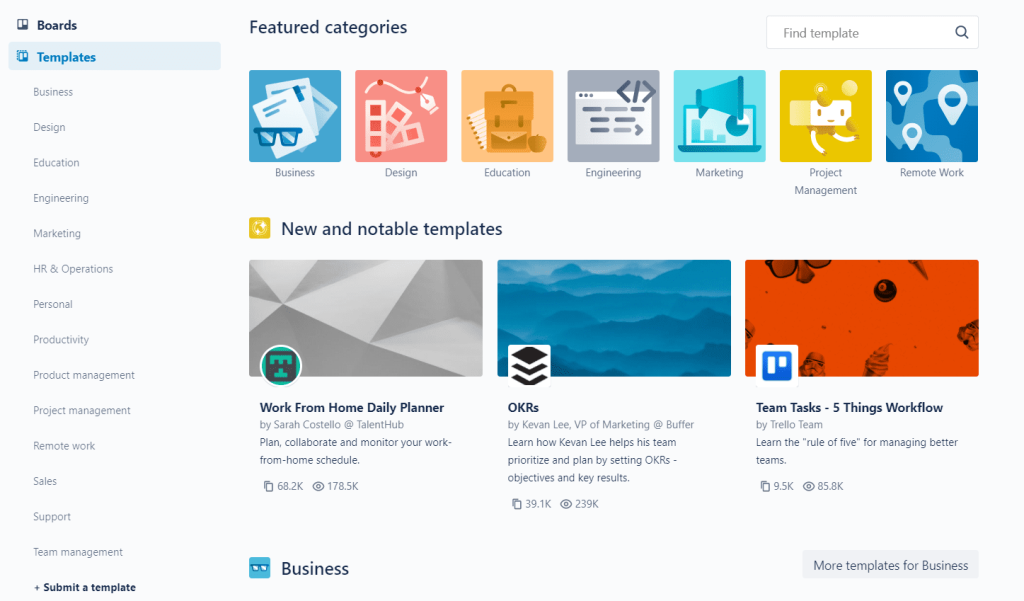 Top Features
Trello Views: This Kanban board solution supports multiple views to make it easier for you to keep track of everything, including the Board, Table, Dashboard, Timeline, Map, and Calendar views.
Power-Ups: Trello Power-Ups are pre-built add-ons that empower users to drastically expand the core functionalities of the tool. From voting and email to forms and custom fields, your customization options are virtually endless.
The Template Library: For those looking for an easy way to jump into action, Trello offers a vast library of pre-built templates that cover the most common-use cases, from onboarding customers to managing game development projects.
Enhanced Kanban Cards: Trello allows you to supercharge your regular Kanban cards with features like checklists, attachments, due dates, task dependencies, labels, automations, power-ups, and activity history—all while keeping your board clean and organized.
Powerful Automation & Integration: Automate your workflows by leveraging the power of Trello automations and easily integrate hundreds of third-party platforms and applications such as Gmail, Jira, Slack, and Zapier into your Trello board.
Pricing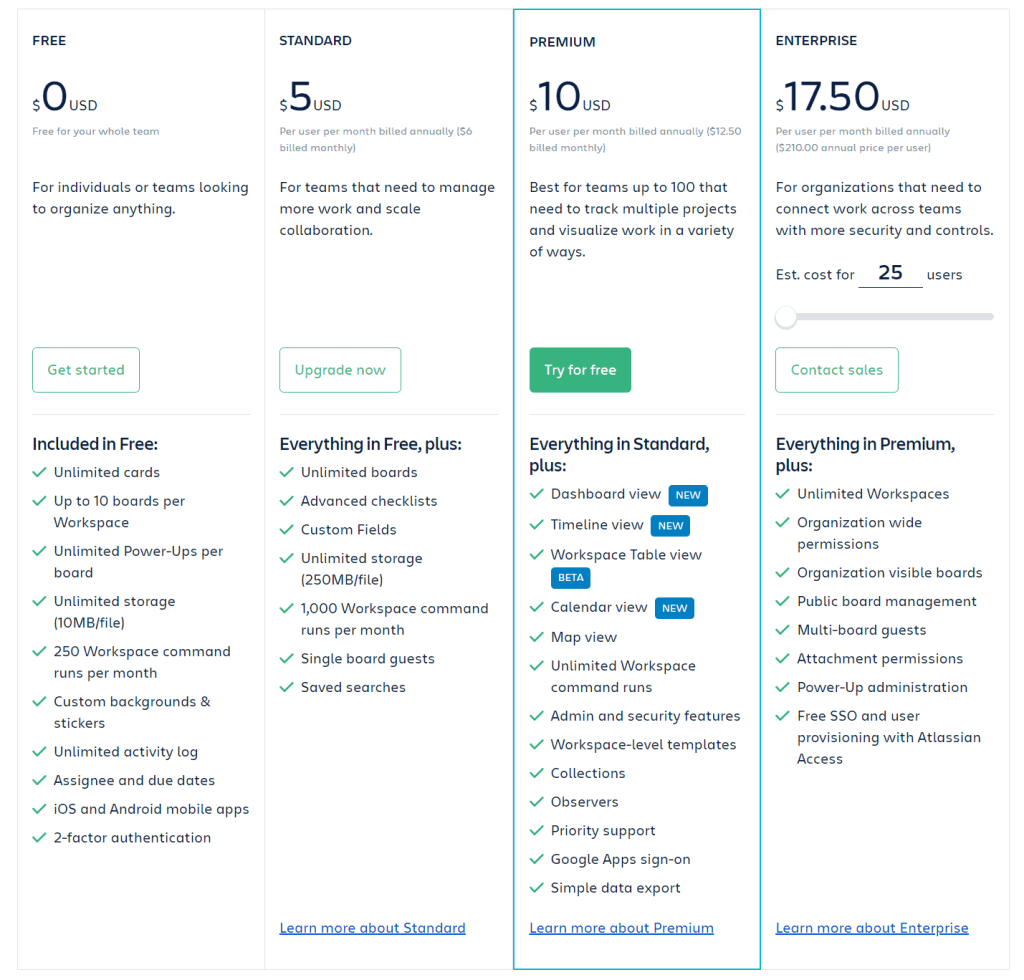 Trello offers four pricing plans to help you affordably scale your project management needs as your organization grows:
Free – This pricing package is perfect for individuals or small teams just starting out. It includes access to the core functionalities, unlimited cards, 250 workspace command executions monthly, and up to 10 Kanban boards per workspace.
Standard ($5/mo per user) – This package unlocks unlimited boards and cloud storage to help organizations scale along with powerful features like custom fields and advanced checklists.
Premium ($10/mo per user) – The Premium plan contains everything included in Standard while unlocking vital features for growth, including Table, Dashboard, Timeline, Map, and Calendar views to help you analyze your workload on a granular level, as well as basic security features and custom templates.
Enterprise ($17.50/mo per user) – This option is a great fit for large organizations that manage multiple teams across various departments. The Enterprise plan unlocks critical features to enhance scalability, including SSO, multi-board guest users, organization-wide access control, and more.
Overall, I recommend Trello because it's a well-polished Kanban board software option that works equally well for freelancers, small teams, and large organizations.
Best enterprise Kanban software solution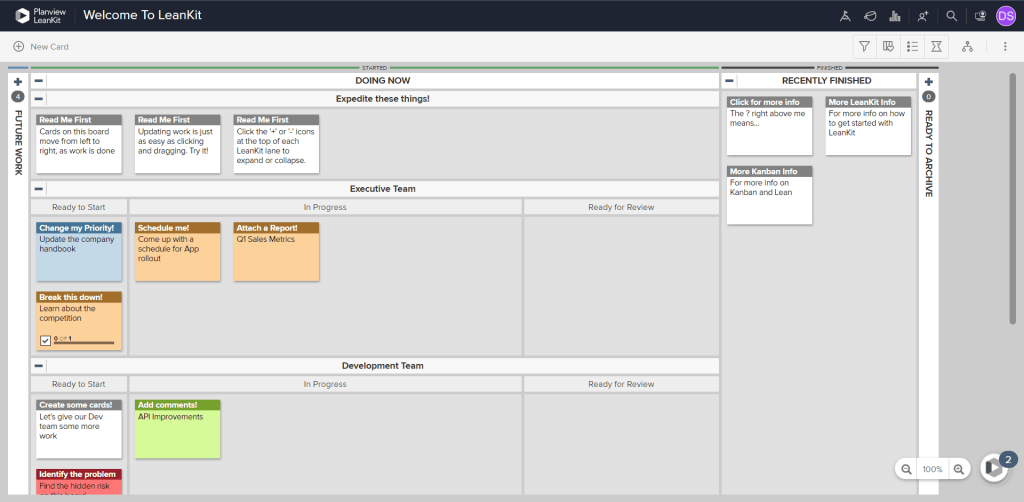 Planview LeanKit is a cloud-based Kanban software tailored to the needs of large teams and corporations, helping them identify bottlenecks, eliminate waste, and increase their team's agility.
While other tools prioritize simplicity at the expense of flexibility, this Kanban tool on steroids has everything a large organization may need to manage their projects and streamline day-to-day operations.
What I like the most about this tool is that Planview LeanKit went above and beyond to cover the issues that stunt the growth of large teams with features like work-in-progress (WIP) limits and cross-team collaboration.
In addition, their reporting capabilities are second to none with numerous options to visualize your performance: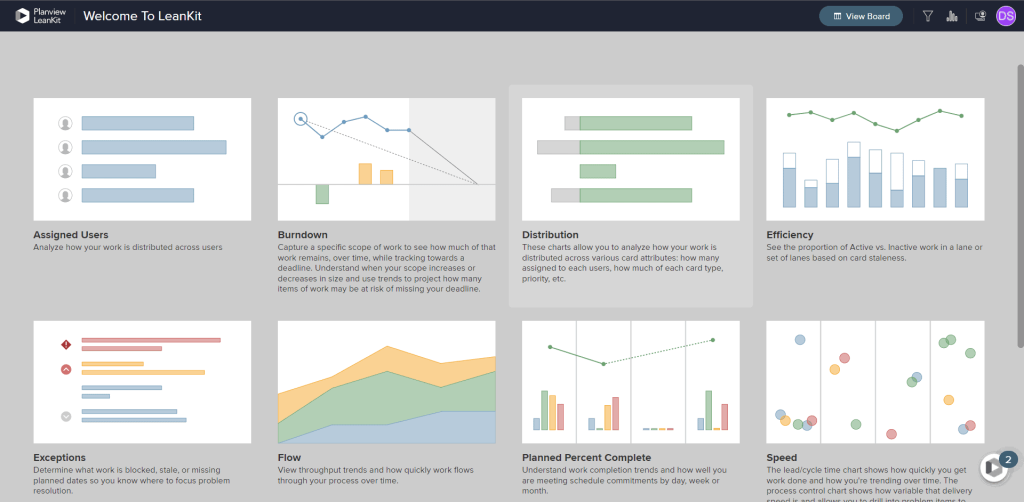 Top Features
Enhanced Kanban Boards: Leverage the power of Kanban boards tailored to the needs of large teams.
Powerful Analytics & Reporting Tools: From drilling down into agile and lean metrics to traditional BI tools, Planview LeanKit allows you to deeply analyze the performance of your teams to identify areas of improvement.
Visually Highlight Blocked Work Items: Visually display bottlenecks and risks to meeting deadlines to address the issues before they negatively impact your delivery.
WIP Limits: Manage your workload and prevent burnout by limiting the number of cards that can be assigned to each team or team member.
Process Policies: Ensure that the work you receive is up to your standard by communicating your process policies related to each task.
Pricing
Planview LeanKit offers one pricing plan starting at $20/mo per user, which unlocks everything this Kanban software has to offer.
With all the enterprise features provided by this tool, Planview LeanKit is, hands down, one of the best Kanban board tools for large organizations.
Best for small businesses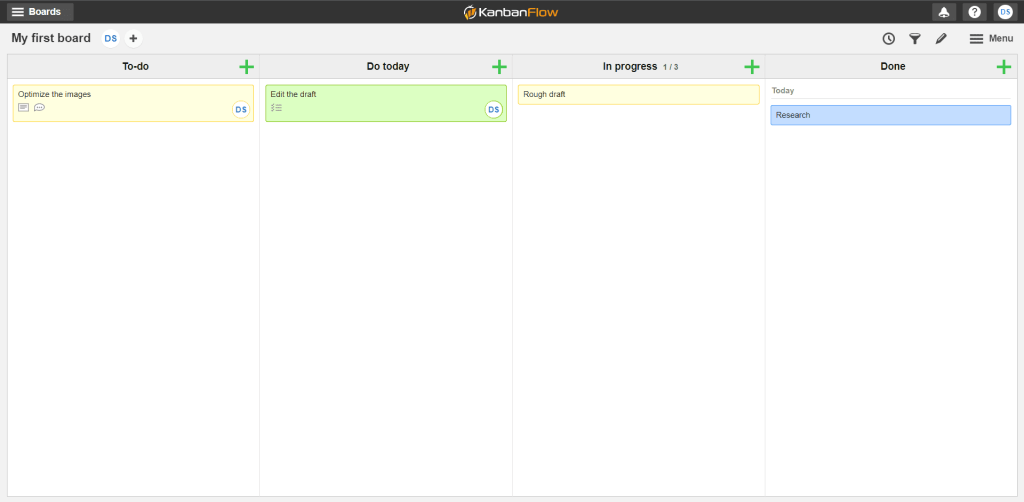 KanbanFlow is a Kanban board and task management software that helps individuals and teams get the work done in a manageable way.
KanbanFlow has a very minimalistic user interface that lets you fully leverage the Kanban methodology and get started quickly, organizing your work without going through a steep learning curve.
I like how the tool doubled down on simplicity and user-friendliness with the minimalist user interface instead of stuffing the product with features to boost the perceived value.
At the same time, the Kanban cards have everything you may need to effectively collaborate with your team in the cloud: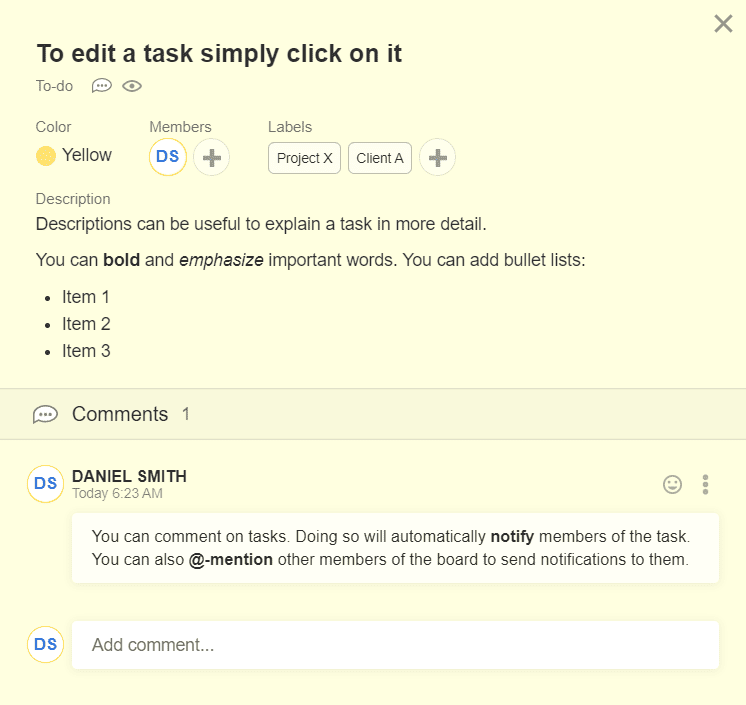 Top Features
Highly Kanban Boards: Easily customize the columns to structure your Kanban board.
Highly Customizable Kanban Boards: Easily customize the columns to structure your Kanban board.
Sleek Kanban Cards: From checklists and assignees to labels and comments, KanbanFlow grants you the ability to create powerful Kanban cards to see a granular view of your tasks.
WIP Limits: Reduce multitasking and manage your workload more effectively by capping the number of tasks you're allowed to have in each column.
Recurring Tasks: Automate the process of creating and assigning repeatable tasks to streamline your workflows.
Pricing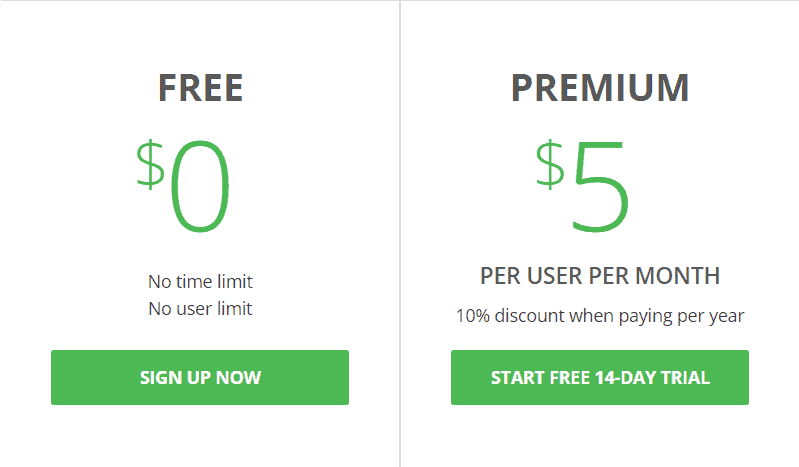 KanbanFlow offers two core services packages:
Free – The free plan offers the core features that individuals and small teams need to get started.
Premium ($5/mo per user) – The premium pricing plan unlocks a wide range of features, including time management, workflow management, analytics and reporting, powerful integrations, security and access control, and priority support.
Overall, I recommend KanbanFlow because it's a simple and affordable Kanban board tool, making it perfect for small businesses and individuals.
Best for running day-to-day operations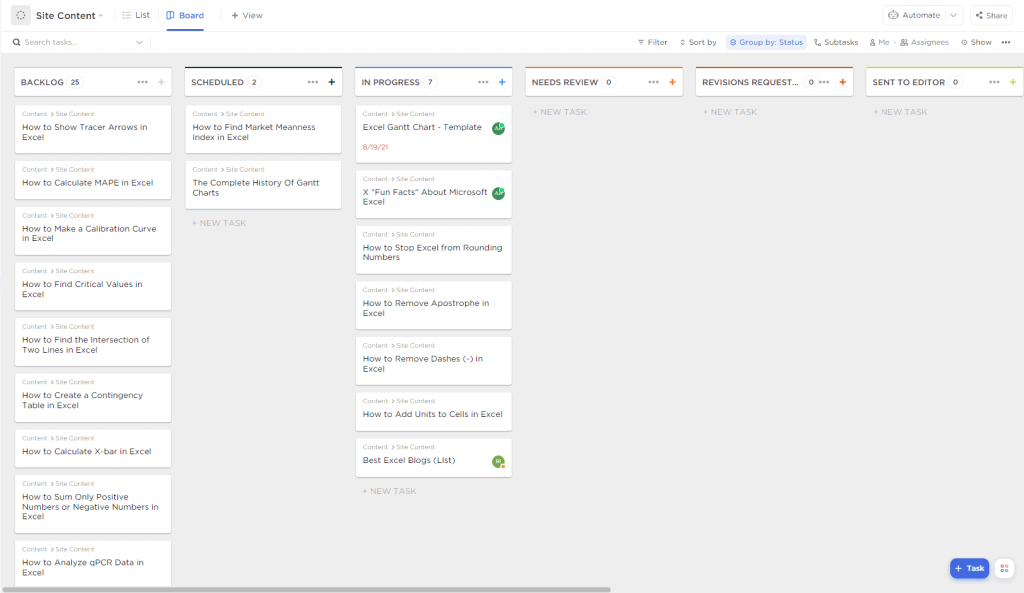 ClickUp is a powerful project management suite that combines the features offered by multiple tools to create an ecosystem for you to run your entire organization in one place—with features such as task management, real-time chat, and integration with other applications.
We use ClickUp to manage the process of content creation and regularly take advantage of its Kanban boards to stay on top of things.
And while our process is pretty straightforward, ClickUp makes it possible to create advanced Kanban boards to easily manage even complex projects with hundreds of variables.
As for me, one of the most significant benefits to ClickUp is its pricing—it's free for individuals and small teams that just need a robust tool to get their work done.
However, what I like the most about this tool is its flexibility. Kanban boards have their limitations, so relying solely on the boards to manage your workflow might not be the most efficient or effective way.
With ClickUp, you can use their Kanban project management software along with its massive suite of apps and tools to make up for the shortcomings of Kanban boards.
Top Features
Easy-to-use Kanban Boards: There's no need to spend a lot of time learning the tricks as ClickUp makes it ridiculously easy to start using Kanban boards within minutes after you sign up.
Unrivaled Kanban Card Customization Options: ClickUp offers a plethora of project management tools and features—from time tracking to custom checklists—to supercharge your Kanban cards however you see fit.
Advanced Automations: Set up complex custom automations to significantly improve your workflows and optimize your processes.
Stellar Customer Support: ClickUp is always around to help you get up to speed and navigate their ecosystem. The team is incredibly responsive and willing to go above and beyond to get the most out of this tool.
Pricing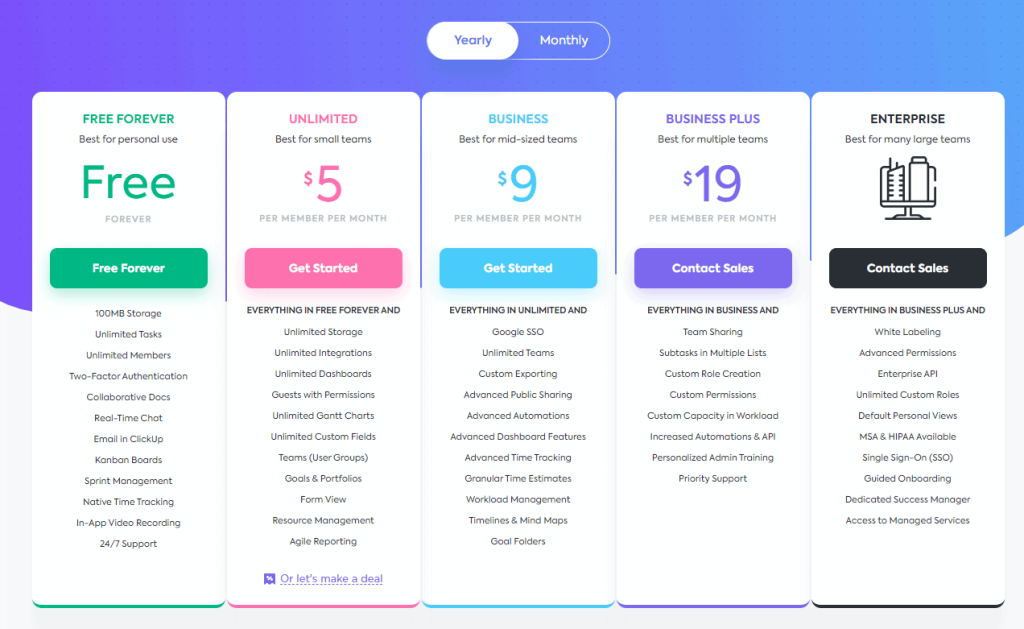 ClickUp offers five flexible pricing plans that allow organizations to seamlessly scale their project management needs as they grow in size and complexity:
Free – This free trial plan works best for individuals and freelancers looking for an effective way to organize their work.
Unlimited ($5/mo per user) – This pricing package offers unlimited storage and extended functionalities, making it a perfect fit for small teams.
Business ($9/mo per user) – The Business plan offers additional security and advanced workload management tools to help mid-sized teams stay on top of their game.
Business Plus ($19/mo per user) – The Business Plus package adds mission-critical features to enhance scalability, including custom role creation and complex API calls.
Enterprise (custom pricing) – This plan unlocks features that are tailored to large organizations, including MSA and HIPAA as well as access to ClickUp's enterprise API.
If you are looking for an easy way to get started on managing your work without spending money, ClickUp is the best thing since sliced bread.
Best for lean software development teams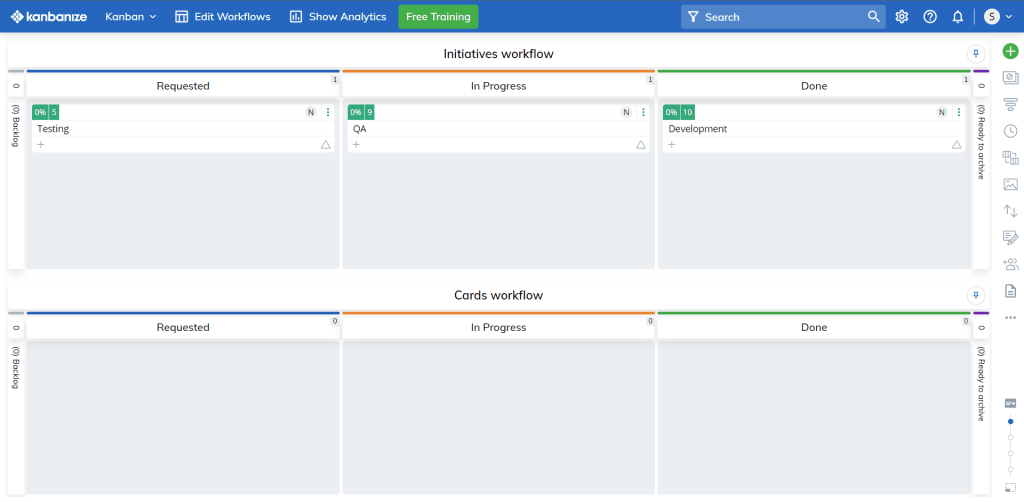 Kanbanize is great Kanban board software for IT specialists and software developers.
One of the most significant benefits of using Kanbanize is that it is available in multiple languages. Users can view their Kanban boards in English, Spanish, Portuguese, German, and French.
The Kanban cards are pretty neat, containing the core features you'd need to manage your day-to-day tasks: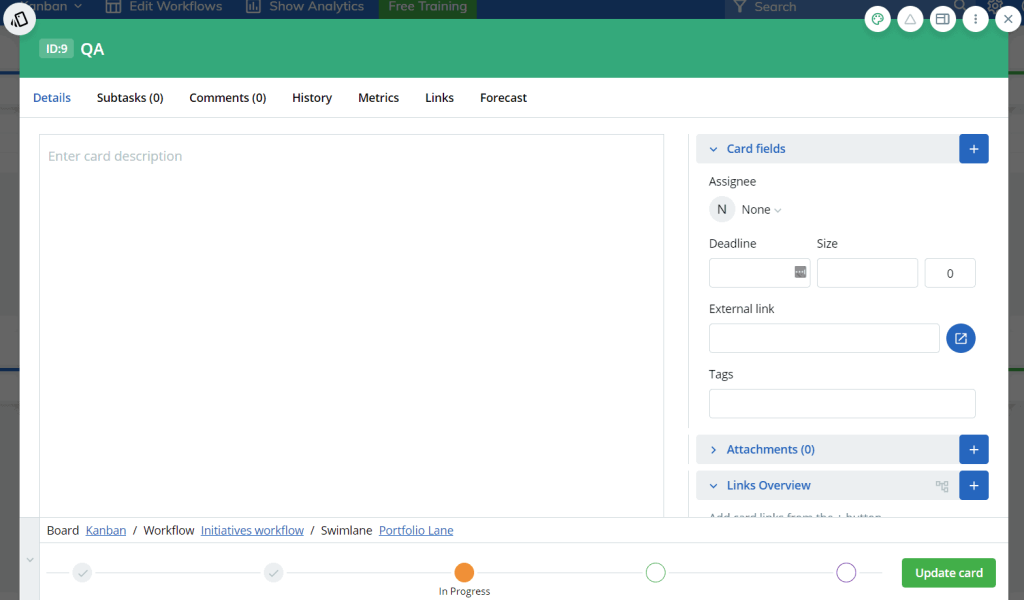 I like this standalone Kanban tool because it works well for organizations of any size that need a granular view of their progress thanks to its project management features.
Top Features:
Advanced Customization Tools: From changing your Kanban board's background to creating custom card templates, Kanbanize allows you to fine-tune the details to match your unique workflows.
Reporting & Analytics: Use the built-in dashboards as well as search and filtering tools to dive deep into the performance of your teams across the board.
Forecasting Tools: Leverage the power of a Monte Carlo simulation to make projections about the duration of your project so your operations can be more predictable.
Powerful Automations: Use "if-this-then-that" automations to drastically reduce the amount of admin work needed to keep your organization up and running.
Pricing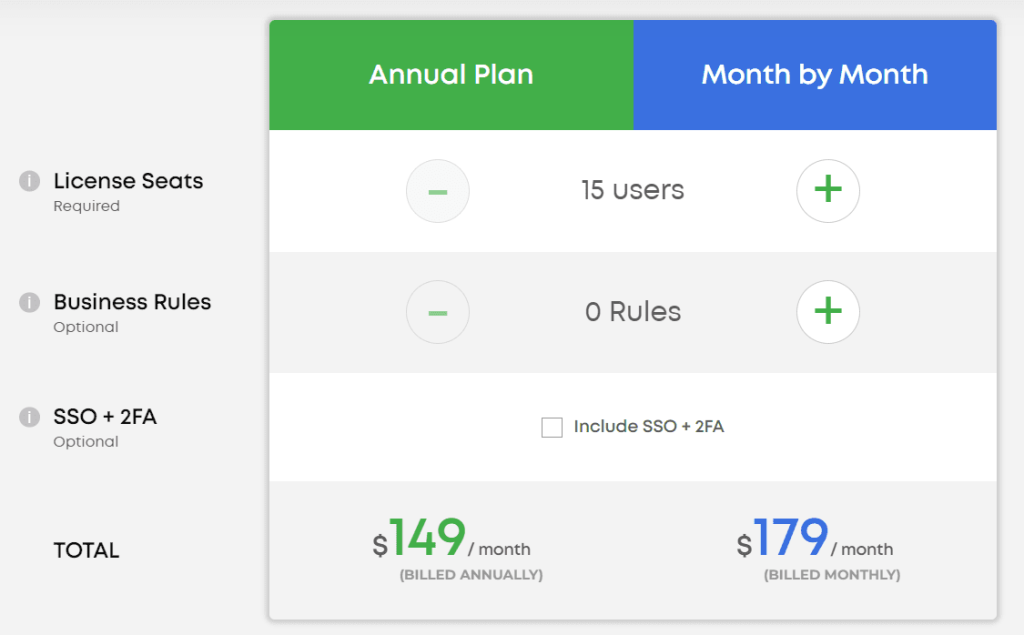 Kanbanize requires you to buy at least 15 license seats. The pricing packages start at $149/mo and scale as your project management grows.
Kanban Board Tools: FAQs
Now that you've had a chance to learn about some of the top Kanban board software available, let's take a look at some frequently asked questions on the topic.
What Is a Kanban Board?
A Kanban board is a visual work management system that lets you map and track your workflow and tasks. Each task has its own card that you can move from column to column depending on what stage it is in.
As a user, you can add new work items (cards) to the board, arrange them in columns depending on what stage they are at (for example: "To Do," "In Progress," or "Done"), and edit the tasks on each card.
You can also assign specific tasks to individuals, tracking who is responsible for what and when something should be finished.
At the end of the day (or week or month), you can look back at where all your cards are to see if anything is slipping through the cracks. This can help you determine if you need to allocate more people to a specific task or if a particular step in the workflow is taking too long.
What Are the Benefits of Using Kanban Boards?
A Kanban board is one of the easiest yet most effective ways to visualize your work.
This is why Kanban boards are so popular—they are simple, fast, and easy to use, which means that you can start using them right away without investing a ton of money into software or training employees on how to use complicated tools.
What Are the Essential Features of Great Kanban Board Tools?
There are certain features that separate great Kanban tools from everything else:
User-friendliness: The best Kanban boards are easy enough for anyone on your team to pick up and start using right away, minimizing the need for training or onboarding.
Flexibility: Kanban boards should be flexible enough to handle your specific workflow/needs.
Reporting & Analytics: Kanban board software should provide robust data analytics functionalities to help you uncover hidden bottlenecks and areas of improvement.
Alternatively, you ]create a Kanban board in Excel and Google Sheets without paying a dime – but the capabilities don't cut it as a project management tool.
Now, over to you! Armed with our list of the best Kanban software, you can easily find a reliable project management tool for your unique business needs.